5 Reasons Why the 9-5 Job No Longer Makes Sense
In five years, none of us will have jobs. At least, those are the findings according to Intuit, which predicts that by 2020, more than 40% of the American workforce will consist of "contingent" workers — that is, freelancers, temps and those with flexible alternative schedules.
Of course, this fact begs the question: why?
5 Reasons Why the 9-5 Job No Longer Makes Sense
Why are companies increasingly relying on contingent workers, and why are workers so eager to make the change? Just what is it about the 9-to-5 workday that isn't working anymore?
Here are 5 reasons why the 9-5 job no longer makes sense.
1. It's Misguided
Part of the problem with the 8-hour-day model is that while many employers view it as a floor, it was originally intended to be a ceiling.
The 8-hour day, synonymous with the 40-hour workweek, finds its roots in the American organized labor movement.
That's right: we only have weekends because of unions. Beginning in the late 1800s, in response to shifts as long as 12 or 14 hours, American workers began demanding a schedule similar to that espoused by Welsh social reformer Robert Owen: 8 hours labor, 8 hours rest and 8 hours recreation.
That demand was met with heated debate by both politicians and industrialists.
Over the next several decades, union workers sweated (and bled) in an effort to turn the tide. In 1869, those efforts bore fruit, when President Ulysses Grant passed the National Eight Hour Law Proclamation, granting the 8-hour day to all government employees.
Then in 1898, United Mine Workers made private-sector history, when they won the battle for an 8-hour day in a series of back-to-back strikes. Finally, in 1914, Henry Ford — recognizing the productivity gains to be made — voluntarily instituted the 8-hour day for all workers at his company, and the rest of the world followed suit.
(Though it should be noted that Henry Ford was otherwise no friend to organized labor. In 1932, he would oversee one of the worst acts of anti-union violence in American history, ordering his security officers to open fire on a crowd of striking workers in an event known today as the Ford Massacre.)
The point of this history lesson is that the 8-hour day wasn't established because it was the most efficient length for a shift. It was established as an upper limit, like a reverse version of the minimum wage.
It was an agreed-upon threshold that said, "If you cross this line, you're exploiting your workers."
But here's the key point: most workers are paid more than the minimum wage, because most companies are sane enough to realize that stopping just shy of exploitation is a terrible way to go about business. So why should the length of a shift be any different?
2. It's Inefficient
Have you ever reached 3 in the afternoon and felt like you're no longer getting anything done? There's a reason for that. Studies show that worker productivity starts to decline above 30 hours a week, slows to a crawl at 40, and stops dead at 55.
They also show that the most efficient amount of time to work is just under an hour, accompanied by 20-minute breaks.
The 9-to-5 does not encourage these habits. It wrongly conflates butt-in-chair time with getting things done — something we all know isn't actually true.
3. It Punishes Workers for Sincere Effort
It is a statistical fact that workers today create more profits for their companies on an individual basis than the workers of yesteryear. Thanks in part to advancing technology, worker productivity has risen almost 80% since 1973.
Yet employees haven't been given a piece of that increasingly-large pie. Instead, they've been treated to stagnant wages, decreased benefits and slashed retirement plans.
Why, then, should a salaried worker on a 9-to-5 schedule bother to go the extra mile?
If they'll be paid either way, and know their extra efforts won't be rewarded, what incentive do they have to give anything more than the absolute minimum?
In today's economy, an inflexible schedule decouples pay from performance.
Rather than creating an environment that fosters the smartest, most efficient efforts, it encourages doing the least amount of work for the most amount of time. It punishes those who strive to do better, and rewards those who run out the clock.
4. It Treats All Work as Equal
I once knew someone who worked as a ride operator at an amusement park, and was surprised to learn that park policy mandated employees switch between rides once every 45 minutes, take breaks every 2 hours and not work more than 8 hours in a day.
Why? Because the park had run studies and discovered these were the optimal intervals for maximum employee attentiveness, and therefore guest safety.
What they knew, and what more businesses are learning every day, is that not all forms of work are created equal. Operating a roller-coaster is a much different exercise than sweating in a coal mine, flipping burgers or collating spreadsheets.
They're all vastly different activities, require varying levels of physical and mental effort and produce different levels of fatigue over time.
That's probably why more companies like Best Buy are exploring goal-based scheduling, which stipulates that salaried employees can come and go whenever they like, so long as they get the job done.
These companies recognize that a one-size-fits-all approach doesn't work, and a rigid 9-to-5 simply doesn't make sense.
5. It's Not Flexible Enough
Numerous surveys have shown that flexibility and a proper work-life balance are consistently ranked among employees' top desires. This is particularly true of millennials, who report they'll even take less pay or relocate to achieve it.
The benefits of a reasonable flex-time policy are well known: workers with increased freedom are happier, healthier and more productive. As a result, more workplaces are adopting such policies every year.
Companies like VRM also place importance on a healthy work-life balance that feels rewarding for their employees.
Keeping employees engaged through volunteer work not only allows employees to switch up the pace from the gruelling 9-5 office time – but also fosters positive team spirit.
As modern life grows increasingly busy and the needs of business expand beyond daytime hours, the 9-to-5 just isn't agile enough to keep up.
The Workday Isn't Working Anymore
For these reasons and more, a growing number of employers and employees have simply realized that a monotonous, inflexible daytime slab of a schedule is detrimental to everyone involved.
It's no surprise, then, that the strict 9-to-5 schedule is on the way out — and frankly, good riddance.
What's your take on the 9-5 job? Leave a comment below.
10 Success Lessons from Warren Buffett
Want to hear some of Warren Buffett's success lessons?
Warren Buffett, the pinnacle of success, especially when it comes to trading stocks. His net worth is now over $80 billion, and one of the richest men in the world, which is absolutely crazy! 

Buffett has made his billions through making smart investments in the world of stocks and shares, essentially making him the smartest investor to ever walk the planet.
Warren Buffett's Success Lessons
Naturally, people want to hear Buffett's advice when it comes to being successful in your own life, which is why you're viewing this article!
Here are 10 success lessons from Warren Buffett:
1. Spend Your Money Wisely
The first of Warren Buffett's success lessons is to spend your money wisely. This also ties in with a few of the other lessons Buffett explains, but will get to those shortly.
Try not to waste your money on the things that you don't need, and spend it wisely on the stuff that you do need. Also make you save so that you can invest in yourself later on when you're ready to.
"If you buy things you don't need, you will soon sell things you need." – Warren Buffett
2. Be Careful When it Comes to Borrowing
If you're someone who takes out loans quite a lot and maxes out your credit card, then you're not going to become rich are you. You're going to end up with debts that are ever increasing and it'll start snowballing if you're not careful.
Warren Buffett has never borrowed a large amount of money, and he suggests to those with outstanding loans that once they've repaid and are free of debt, they should begin saving what they can to be able to invest later.
3. Have a Clear Definition of Success
You'll find that despite being a billionaire and one of the richest people in the world; Warren Buffett doesn't really measure his success based on the amount of money he has.
There was actually a point in his lifetime where he was willing to give almost all of his cash to charities.
Instead of gauging success based on wealth, Buffett states that success is more about having lots of people around you that love you and that you love too, especially as a man of his age.
So have a think about what you're definition of success actually is. Check out this post I've written on redefining your definition of success, which will help you to understand more about why this is crucial in life.
"That is the ultimate test of how you've lived your life." – Warren Buffett
4. Don't Be Afraid to Be Different
The truth is that most people will copy others that have already become successful.
I don't blame them, I do it too more often than I should, but it's not always a great way to go. If you're forever copying others, you're never able to give anybody your own personality and image, your own ideas and visions.
It's normally always the people that dare to be different, who are discovering the next big thing which people fall in love with. Warren has stated that the average person will be the one that is copying other people, but he didn't want to be average.
He wanted to be different and judge himself by that of his own standards.
5. Reinvest Profits
In business reinvestment is always a great key to consistent growth, but especially when it comes to something such as stock trading.
After all, if you make money in the stock market and spend the profit, you're only going to have the same amount to invest next time. And that's not going to help you with quick growth at all.
This was something that Warren Buffett learned fairly quickly. One of his first ventures was purchasing a pinball machine with a friend and putting it in a local barber shop.
He didn't go out and spend his share of the profits from this machine on stuff he didn't need. He went out and purchased more machines to place in other shops.
Then when this venture ended, he again reinvested the profits into the stock market, which served him very well in the future from doing so.
6. Persistence is Key
Persistence is the key to mastering any skill, you know that. You've just go to keep pushing until you get through the barriers to success.
In 1983, the Nebraska Furniture Mart was purchased by Warren Buffett, mainly because the way that Rose Blumkin, the founder of the mart, did business appealed quite well to him.
Rose was an amazing negotiator and she used to completely undersell the big shots as part of her business strategy. The Furniture Mart didn't start out as a large store. Over time it grew from just a small pawnshop into North America's biggest furniture store.
The reason this furniture mart became so successful and was able to beat its competitors was because Rose had the persistence and determination to turn it into what it eventually became.
7. Think About Things in the Long Term
When it comes to stocks and shares in particular, investing in the long term will most likely be able to reap more benefits than hoping to make a quick buck.
It's the same with bank interests. The longer you're prepared to tie your money up for, the larger percentage of interest you will get.
"No matter how great the talent or efforts, some things just take time. You can't produce a baby in one month by getting nine women pregnant." – Warren Buffett
8. Don't Let Small Expenses Creep Up on You
Small unexpected costs can kill businesses without them even realizing until the last second. Whether it be postage costs, packaging costs, missing stock gone unnoticed, you name it.
If this happens too often without people realizing, then costs will be a lot higher than what people make them out to be and the business could potentially be losing large amounts of money.
9. Always Assess Risks
When you're an entrepreneur, taking risks is pretty much essential, but you should always be assessing the risk that you are thinking of taking.
When you assess a risk and weigh up the potential advantages to disadvantages, it will always help you make a better choice for yourself.
10. Know When to Quit
The last of Warren Buffett's success lessons is to always know when to quit.
In stock trading, particularly, knowing when to quit is so damn important. If you don't know when to accept mistakes and losses, you will make the whole much bigger, and begin to lose even more.
Buffett says you need to know when it's time to accept a loss and move on, before it ends up sinking your entire ship.
Summary
Here's a quick recap on Warren Buffett's success lessons:
Spend your money wisely
Be careful when it comes to borrowing
Have a clear definition of success
Don't be afraid to be different
Re-invest profits
Persistence is key
Think about things in the long term
Don't let small expenses creep up on you
Always assess risks
Know when to quit
What do you think about Warren Buffett's success lessons? Leave a comment below.
The 30 Major Causes of Failure By Napoleon Hill
Have you ever read the book 'Think & Grow Rich'?
If you're a regular visitor to Wealthy Gorilla, then you definitely should have read the book by now!
Think & Grow Rich was written by Napoleon Hill and is considered to be one of the best self-development books of all time.
The book teaches the 13 principles of turning your desires into riches and contains hundreds of golden nuggets you can use to transform your life…
The 30 Major Causes of Failure
Within one of the chapters of Think & Grow Rich, Napoleon Hill lists the 30 major causes of failure. These are the reasons why 99% of people are failing in their lives.
The purpose of featuring and explaining these 'major causes of failure' within this article, is to show you why people fail, and how you can avoid doing the same thing in your own life.
Here are the 30 major causes of failure as described by Napoleon Hill:
1. Unfavourable Hereditary Background
The reason why this was put first on the list, was because Hill says it's one of the toughest issues for people to overcome.
This basically means that someone is perhaps not naturally intelligent, and lack's certain brainpower. They can take all the measures needed to improve their knowledge and become smarter, but they are still at a disadvantage.
2. Lack of a Well Defined Purpose in Life
If you don't have a definitive goal that you're setting out to achieve, a purpose that you're trying to fill, you won't become successful. You have nothing to hit, nothing to aim at. And therefore your direction is unidentified.
3. Lack of Ambition to Aim Above Mediocrity
There are many reasons why people might not have the ambition to aim above mediocrity. Whether it's that they're too lazy, too comfortable, too spoilt, or have no belief in "success".
If you never have the ambition the aim higher, you never will aim higher than average. This means, you guessed it, you will never achieve more than average.
4. Insufficient Education
Another one of the major causes of failure is insufficient education. Don't get this wrong. This does not solely mean a lack of formal education leading up to adulthood.
In many cases, and especially in various parts of the world, formal education is an issue. However, another big issue is that many individuals leave school and decide that they've done all the learning they needed to do.
When it comes to your career, specialized knowledge is a must, and it can only be learnt through experience on the job, and studying outside of working hours. Just turning up to work every day isn't enough education.
5. Lack of Self-Discipline
Becoming successful isn't easy. It takes a lot of discipline to consistently work hard at something until you finally start to achieve success from it.
There's a lot of productive habits that need to be adopted in order to get the most out of your day, and therefore your week, month, and year.
6. Ill Health
Nobody can enjoy their success without good health, and in fact poor health can still hold you back from achieving it in the first place.
Here's what causes ill health:
Lack of exercise
Over-eating junk foods
Poor daily habits
Over-indulgence in sex
7. Unfavourable Environmental Influences During Childhood
This essentially means that many people fail due to the environment they grew up in. Poor parenting, bad neighbourhoods, born into poor families etc.
It's not a death sentence, but more people than not let these circumstances dictate their future. Something can be done, no matter what.
8. Procrastination
Everybody has a dream, but when it comes to taking action, most procrastinate. They wait until they're 'ready', or until the 'perfect time'.
Time goes by, but they've gone nowhere. Truth is, that they'll never be a perfect time to start working on your dreams. You have to stop procrastinating and create a sense of urgency within your life.
9. Lack of Persistence
You won't get anywhere without persistence. And persistence can be tough when you're not seeing immediate results from all the hard work you're putting in.
The truth is. Persistence is the key to everything. Every successful individual has had their own failures during their lifetime, but persistence meant that they got back up, and didn't have to remain a failure.
10. Negative Personality
You know those people that always seem to complain about things, but never change them? How about the people who always tell you that they can't do something?
Thinking negatively will only ever bring you a negative life. This is one of the biggest causes of failure, and changing your mindset from negative to positive should be a very high priority.
11. Lack of Controlled Sexual Urge
Most people will deny that this one affects them, but it does. The sexual stimulus has the power to influence people into action more than any other type of energy.
This means you're likely to be spending a lot of your time chasing this, becoming distracted, and losing sight of your goals.
12. Uncontrolled Desire for 'Something for Nothing'
Ever come across people who want something for nothing?
They believe that they can try and get what they want without helping anyone else get what they want. And that's a big mistake.
You see, you only start to get the things you want in life when you're able to help other people. Every business that succeeds, does so because it is helping enough people to be profitable.
13. Lack of a Well Defined Power of Decision
Napoleon talks about how good decision-makers are able to make quick decisions and then change them slowly, as opposed to the other way around. The ability to make quick decisions is incredibly important for success.
After all, if you're unable to make decisions, then you're not going to be able to build a business, that's for sure. We make thousands of decisions every day, so this ability is key.
14. One or More of the Six Basic Fears
In Think & Grow Rich, Hill also describes the basic fears that all humans have in life. The basic fears are:
Fear of poverty
Fear of criticism
Fear of ill health
Fear of loss of love
Fear of old age
Fear of death
Possessing one of these six basic fears may also be one of the major causes of failure. It's important to remember in this circumstance, that we all eventually die. Therefore we have nothing to lose, and the fear above should not keep us from living our dream life.
15. Wrong Selection of a Mate in Marriage
Your marriage is going to affect your career. That's a given. If you're in a marriage where your partner supports you, and you are both happy, then it'll be beneficial to your career.
If however, you're always arguing, then it's going to affect your performance during work. Choose your life partner wisely.
16. Over-Caution
In order to get far in life, you have to take risks. You'll only get so far by playing it safe. Risks are often necessary, and they don't always work out. But eventually, they do.
Those who are too cautious, and afraid to venture into the unknown, will often fail.
17. Wrong Selection of Associates in Business
Who you choose to do business with can often be another huge cause of failure. Choosing someone who lacks the right qualities can often end up in them making the wrong decisions, and ruining all your hard work in business.
Another choice you need to make wisely.
18. Superstition & Prejudice
Superstition is a big issue people face with their mindset. In fact, if you follow Tai Lopez, you'll know that he likes to give away free cars every so often.
Many of the people who have won the free cars, did not believe they'd really won. They thought it was fake. So guess what? Tai gave the car to someone else.
19. Wrong Selection of a Vocation
So many people make this common error. Picking the wrong line of work. Unless it's something you can't go a day without thinking about, then you shouldn't be doing it.
However, 95% of people hate waking up on Monday because they have to travel to jobs they do not like. They are only there to get that paycheck. Why?
I'll never understand. Find something you love.
20. Lack of Concentration of Effort
Do you know how long the human attention span is?
It's not very long at all. This means concentrating on something for a long period of time is ridiculously hard. And it's even harder if you're trying to concentrate on something you don't like.
21. The Habit of Indiscriminate Spending
Do you often buy things you don't really need?
How much money has that new T.V made you recently? $0? That's strange…
Wasting money instead of investing it in yourself, is what separates the rich from the poor. Think about that the next time you want to buy a whole new wardrobe.
22. Lack of Enthusiasm
Enthusiasm is a key to achieving success with anything you do. Without enthusiasm or a real passion for your work, you will be unable to go the distance.
This is the same reason why people who chase money will never find it. When money is a driving force, instead of passion, you will give up on the activity long before you become successful at it.
Passion for something means you want to do it every single day, regardless of how much money you're earning, or the number of setbacks you're experiencing.
23. Intolerance
Being open-minded is something every good businessman should be. Open to new ideas, new ways of thinking, new types of people.
Intolerance of others, and their ideas, is going to hurt your reputation. Especially when the people you're intolerant of are people you work with or do business with.
24. Intemperance
Intemperance, similar to intolerance in many ways, is another one of the major causes of failure. If you're someone who has a tendency to get angry, you're going to end up annoying a lot of people. You're also going to end up ruining your productivity.
25. Inability to Cooperate With Others
Collaboration with others is inevitable. After all, every business is in the business of people. If you are unable to cooperate with other people, then you won't get very far at all.
The only way to get what you want is to help other people get what they want; and that won't happen for anybody who refuses to cooperate with others.
26. Possession of Power Not Acquired Through Self-Effort
People who have been given power, and not earned it themselves, are destined to fail.
They are destined to fail because in most cases they will not have adopted and mastered the essential habits and skills required to earn this power in the first place.
They also most likely lack the experience and knowledge required to use their power properly.
People who acquire power without this effort will not be able to control it, use it efficiently, nor should they be trusted with it.
27. Intentional Dishonesty
It doesn't matter whether you're lying to yourself or to other people. A lack of honesty will come back to haunt you in the end. People won't want to work with you. They won't trust you. You won't be true to yourself.
The whole thing's a house of cards.
28. Egotism & Vanity
Ego often gets in the way of people improving their knowledge and education. It also gets in the way of collaboration.
I've come across many people who are either too stubborn to understand why they're wrong or collaborate with other people because they think they're bigger than everyone else.
29. Guessing Instead of Thinking
If you're guilty of this, you're just asking for failure. Guessing instead of thinking? Come on.
There are a lot of people who start arguments because they have this type of mindset. They just assume, and then forget to actually do the research before forming their opinion.
Don't be one of these people.
30. Lack of Capital
Lastly, lack of capital is 30th on the list of major causes of failure. Money is obviously an issue for many people who have dreams and ideas, in most cases to build the business they desire.
Often, if their business plan is good enough, they'll be able to seek investors or be able to start smaller with lower costs.
Summary
Here's a recap on the 30 major causes of failure from Think & Grow Rich:
Unfavourable Hereditary Background
Lack of a Well Defined Purpose in Life
Lack of Ambition to Aim Above Mediocrity
Insufficient Education
Lack of Self-Discipline
Ill Health
Unfavourable Environmental Influences During Childhood
Procrastination
Lack of Persistence
Negative Personality
Lack of Controlled Sexual Urge
Uncontrolled Desire for 'Something for Nothing'
Lack of a Well Defined Power of Decision
One or More of the Six Basic Fears
Wrong Selection of a Mate in Marriage
Over-Caution
Wrong Selection of Associates in Business
Superstition & Prejudice
Wrong Selection of a Vocation
Lack of Concentration of Effort
The Habit of Indiscriminate Spending
Lack of Enthusiasm
Intolerance
Intemperance
Inability to Cooperate With Others
Possession of Power Not Acquired Through Self-Effort
Intentional Dishonesty
Egotism & Vanity
Guessing Instead of Thinking
Lack of Capital
How many major causes of failure have you been guilty of? Leave a comment below.
5 Success Lessons from Kobe Bryant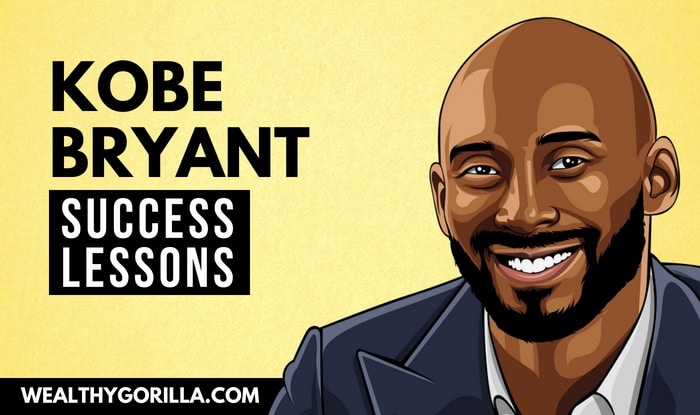 Want to hear some of Kobe Bryant's success lessons?
Kobe Bryant is a beast;
I remember reading a story where he was called up his trainer at 4am to come and help him practice, and 20 minutes later when his trainer arrived, Kobe was already drenched in sweat.
They trained for a few hours on court and in the weight room, until his trainer went back to get some practice before the team practice at 11am.
When he came back, Kobe was on the other side of court practicing jump shots. He'd only just finished his morning training, right before team practice. Kobe had been there for at least 7 hours before the team training had even begun.
Kobe Bryant's Success Lessons
There are many success lessons we can learn from Kobe Bryant and his sickening work ethic. And I'm not just talking about within basketball, but within life itself. Here are 5 of Kobe Bryant's success lessons.
1. Reach Out to People in Different Areas
Besides the obvious ritual of reaching out and connecting with people in the same industry as you, something we can learn from Kobe Bryant is reaching out to those in different areas.
It would be foolish to narrow down the people you listen and learn from to just those on the same career path as you. Whether you're an athlete, entrepreneur etc.
Since Kobe's NBA career may be coming to an end within the next couple of years, he's been reaching out to the likes of Oprah Winfrey and Arianna Huffington. In order to find out more about what they do, why they do it and how they became successful in their fields.
Kobe Bryant's continuing his learning process and planning his future after the NBA by reaching out to others for great inspiration. Which brings me onto my next point, after his official quotes on the subject.
"I cold call people and pick their brain about stuff. Some of the questions I ask seem really really simple and some of them seem stupid, quite honestly, for them. But if I don't know, I don't know. I have to ask. I'll just do that and ask questions. I want to learn more about how they build their business and how they run their companies and how they see the world." – Kobe Bryant
2. You Can Always Learn More
It doesn't matter how good you become at your chosen skill or craft, there is always potential for more learning and development. Many successful people might let their achievements go to their head, and make them think there's nothing they can improve upon.
This really isn't true; there's always room for people to improve and learn more, which is exactly why Kobe Bryant and many other people have continued to grow year by year. It's all about being hungry to learn more, always.
"It's really about wanting to learn and feeling like your cup is always empty, because there's always more that you can fill it with. That's really the important thing and just continuing to learn, learn, learn." – Kobe Bryant
3. Respect People Close to You
Earlier on in Kobe's career, he was very aggressive towards his team mates, and would often give them plenty of orders that they didn't seem to happy about, because he knew the game and knew what had to be done.
However, as he progressed through his career and got older, he realized it was more about respecting his team mates and communicating better. Not only to produce better results, but also to have happy relationships with everyone else.
"Oh, God. I was barking orders left and right. And these grown men are looking at me, like "Who the hell are you?" But I had studied the game so much. As I got older, I started understanding it's not just about the game. People carry emotions with them. They have lives off the court. That helped me communicate better." – Kobe Bryant
4. Where There's Challenge, There's Opportunity
A challenge is your opportunity to show the world what you can do, and that you can overcome any obstacles in your way. Where there's a challenge, there's a chance to prove people wrong.
Not only that, but it means your constantly bettering yourself and giving yourself more opportunities in the future. When you overcome challenges you grow stronger as a person, and that can only be a good thing.
In Kobe's case, the strongest example of this was when he came back from his Achilles tendon injury, proving everybody wrong. Kobe had the confidence and belief that he could come back from the injury, and he did just that.
The fact that the chances of coming back after such an injury were low, made the challenge even more exciting, said Kobe.
"I have moments and I have days where I doubt myself. But to me, that's the exciting part of the challenge.That's when I realize this is a great opportunity to come out and show everybody this is how you bounce back. This is how you respond to a challenge." – Kobe Bryant
5. Break Your Problems Down Into Smaller Pieces
If you have an incredibly big problem that looks too large to be solved, chop it down into smaller pieces. This way, it allows you to focus on specific issues individually which gives you a better chance of fixing them.
As Kobe explains below, this is what he did back in 2003, after all the endorsements he had dropped him and told him the situation couldn't be fixed.
And this problem also relates back to the "where there's challenge, there's opportunity" success lesson. This was a big challenge for Kobe to overcome, but he did it and proved people wrong.
"In 2003, I was going through the Colorado situation, and it was very tough. I had to ask myself what I wanted to accomplish. I want to keep my family together. Have to focus on that. I'm a good basketball player: I want more championships. Focus on that. Every endorsement I had, they dropped me. Every marketing person said, "You can't be fixed." So I start chopping the problem into smaller pieces, and I focus on them. What else are you going to do?" – Kobe Bryant
Summary
Here's a quick recap of Kobe Bryant's success lessons:
Reach out to people in different areas
You can always learn more
Respect people that are close to you
Where there's challenge, there's opportunity
Break your problems down into smaller pieces
How many of Kobe Bryant's success lessons do you agree with? Leave a comment below.