The 10 Best Cryptocurrency Exchanges
What are the best cryptocurrency exchanges?
The best cryptocurrency exchanges offer traders access to a wide selection of cryptocurrencies and attractive low fees for trading.
Some popular crypto exchanges allow you to get started immediately and deposit funds with fiat currencies, while others deliver extensive tools indispensable to experienced traders.
Whether you're an entry-level cryptocurrency trader looking to get their foot in the door, or a serious crypto investor with years of experience, this list will help you find the best crypto exchanges on the market.
The Best Cryptocurrency Exchanges
Our lists are created by researching and rounding up information from the most reputable web sources.
Here's our list of the 10 best cryptocurrency exchanges:
10. Gemini – Best For Nifty Gateway Users
If you're looking to get started with crypto trading, Gemini delivers an easy-to-use and versatile service for beginners and experienced traders alike.
SOC 1 Type 2 and SOC 2 Type 2 compliant, it's a secure platform that uses hardware security keys for extra peace of mind for its users.
Getting started is simple; you can set up a crypto wallet quickly, and there are over 45 cryptos to acquire, including ether, bitcoin, and Dogecoin.
It doesn't require a huge investment on your part, with just $5 sufficing to get the digital assets trading ball rolling and discover your bitcoin cash value.
For the pros, there's Gemini's ActiveTrader platform, which unlocks a host of additional features, including multiple orders, block trading, and auctions.
Since Gemini owns Nifty Gateway, users can start collecting their favorite non-fungible tokens (NFTs) with the same peace of mind.
Pros:
Easy to use
Decentralized exchange
Good selection of available currencies to trade
Available throughout the United States
Cons:
Higher fees than some other exchanges
9. FTX – Best For More Experienced Traders
If you're not based in the United States and are looking for a cryptocurrency exchange that supports other fiat currencies such as Euros or British pounds, FTX is a great option.
There's also FTX US, a subsidiary that deals exclusively in USD, although the fundamental basics of each system are the same.
A more advanced exchange than some, FTX was established by traders seeking to develop a platform for first-time users and professional trading firms.
It's geared towards the former, and the extensive selection of derivatives, futures, and other tradable instruments might be overwhelming for newer traders.
There's a wide selection of tokens available, including FTX's native token, which forms the backbone of its ecosystem.
Traders with more experience dealing with complicated financial instruments and handling leverage and automation will find the FTX platform's wide range of features indispensable.
Pros:
Comprehensive trading options
Cryptocurrency purchases can be made with credit/debit cards
Available in over 100 countries
Cons:
Very complicated for beginners
Limitations on access for some US residents
8. Gate.io – Best IEO Platform Cryptocurrency Exchange
Gate.io was established in 2013, making it one of the oldest and best crypto exchanges available for traders.
Services available on Gate-io range from margin trading, lending and borrowing, and trading in cryptocurrencies, of which over 180 are available.
There's a wealth of great features to access, which can initially overwhelm new users, but mastering the site's learning curve is shallow.
Fees are relatively low, and while some other platforms offer lower fees than here, you can often pick up discounts for additional savings on your digital assets.
It's also a highly secure crypto trading platform, rated as one of the top exchanges in this department by Crypto Exchange Ranks (CER), using two-factor authentication, SMS 2FA, and other security measures.
Gate.io has established a strong reputation as the go-to platform for IEO trading, and the mobile app version makes this easy to access crypto assets while on the move.
Pros:
Excellent selection of currencies
Feature-rich platform
Renowned IEO platform
Cons:
Not for beginners
Fiat deposits aren't accepted
7. Cash App – Best For New Traders
If you're after something on the more basic end of the crypto exchange spectrum and only want to trade in Bitcoin cash, the Cash App service is an entry-level platform to consider.
Offering users peer-to-peer money transfers and a clean and simple user interface, Cash App acts more like a bank account with Bitcoin added on than a full-blown exchange platform.
Created by Square Inc. in 2003, Cash App charges no fees when sending money to your bank account, while the in-app security lock and encryption means transactions are safe and secure.
The app also allows users to invest in stocks and exchange-traded funds, although this feature is only available to US residents over 18.
Cryptocurrency investments can be withdrawn to a user's wallet, making it a good option for newcomers to Bitcoin trading who want an easy-to-use system.
Long-term traders aren't going to find what they're looking for with Cash App, but as a gateway into the trading community, its basic tools will more than suffice.
Pros:
Easy to set up
No fees to send money to your bank account
Simple user interface
Cons:
Only supports Bitcoin
Withdrawal limits
6. Huobi Global – Best For Asian Market Tokens
Huobi Global is an extensive cryptocurrency platform with an emphasis on Asian-based digital assets and trading pairs.
Setting up a crypto exchange account is easy with a straightforward verification process, and accessing the markets once you've configured your 2FA account is instantaneous.
Fees are kept to a minimum thanks to their native token-based economy built around the Huobi Token, which gives users the option to cut their trading fees in half.
There are also options for engaging in market trading and derivatives trading, while institutional traders are also drawn to the platform.
Huobi Global's customer service is exceptional, with the company often responding within an hour to queries, far faster than many other cryptocurrency exchange platforms.
While some aspects of the service can take a little time to get to grips with, these cause negligible issues and are balanced out by the wealth of options available.
Pros:
Great security
Decentralized exchange
Top tier customer support
Access cryptocurrencies from the Asian market
Cons:
User interface is occasionally confusing
VIP membership could be improved
5. KuCoin – Best For Non-US Residents
Unfortunately, KuCoin isn't licensed to operate in the United States since it hosts some excellent advanced features along with attractively low fees.
However, for non-US residents, KuCoin is well worth considering signing up for, offering a wide range of coins for trading and a solid user base (the company claims 1 in 4 crypto holders worldwide use its service).
There's an option to earn interest on your crypto investments, which you can do by staking coins through Pool-X or loaning your Crypto out.
Advanced users can leverage their position with margin trading, although this makes an already potentially risky investment even riskier.
KuCoin isn't as intuitive as some entry-level cryptocurrency exchanges, but their support responds to queries promptly, so they can help if you get stuck.
Overall, KuCoin offers versatile cryptocurrency trading for global crypto traders who already have some experience in the field.
Pros:
Low fees
Potential to earn interest on Crypto
Great customer service
Cons:
Not available in the US
Payment methods are limited
Not ideal for first-time traders
4. Kraken – Best For Margin Traders
Another great trading platform that has been around since the early days is Kraken, featuring over 80 cryptocurrencies and a diverse selection of user options.
It's a fully functioning exchange, which means new traders will experience a steep learning curve if this is their first time working with cryptocurrency exchange platforms.
That aside, Kraken's array of options makes it one of the top choices for retail and institutional investors, with margin and futures trading also available.
Since Kraken is well-established, users can operate with confidence knowing that the security measures are top of the line – in short, this is a platform you can trust.
It's also one of the few cryptocurrency exchanges that allow users to trade in more risky tokens such as DOGE, ideal for traders willing to take more of a gamble on their investments.
If you want to access their exchange's consultation and account management services, you'll need to be one of their high-net-worth clients.
Pros:
80+ cryptocurrencies available
Feature-rich platform
Trades in nearly 200 countries
Cons:
Steep learning curve for beginners
Poor customer service ratings
3. Crypto.com – Best For Selection of Currencies
With more than 150 currencies listed on their exchange, and some of the most competitive fees on the market, Crypto.com is one of the most prominent crypto exchanges available.
Founded in Hong Kong in 2016, Crypto.com is available in 90 countries and features a great balance of tools that suits established traders as well as first-timers.
Popular assets such as Bitcoin, Ethereum, and Dogecoin are easily traded after a smooth sign-up process, and you can also trade in their unique coin, the CRO.
When viewing their service via the app, the central trading hub is easy to use, and you can access popular assets or your portfolio in a couple of steps.
Linking your debit card to an account is nice and simple, and there's also a Crypto.com credit card you can sign up for.
While some users report poor customer service, Crypto.com manages to strike a good balance between usability and complexity.
Pros:
Supports a huge number of tokens
Access to NFT sales
Pays interest on cryptocurrency savings
Cons:
Customer support is limited
Not available on desktop PC
2. Coinbase – Best For Investing in USD
One of the main restrictions traders often experience when using crypto exchanges is the inability to make purchases with fiat currency, particularly USD.
Coinbase is a great choice for investors who want that fiat currency option, allowing users to pick up Ethereum, Bitcoin, and over 80 other tokens on the platform using regular dollars.
It's built around an incredibly easy-to-use interface, with a good selection of investment options for the more savvy traders and institutional clients.
There's also Coinbase Prime, which focuses on high-net-worth clients (those with at least $1 million) and institutions, and Coinbase Pro, geared towards advanced traders.
Coinbase Pro is also useful for those looking for depth and range in their exchange's selection of charts and indicators.
Security-wise, members are in good hands since Coinbase is insured against data breaches, while your cash is stored in a Federal Deposit Insurance Corporation for safekeeping.
Pros:
Good selection of tokens
Easy-to-use interface
A wider ecosystem of crypto products
Cons:
CRO required for lower fees
Customer support is lacking
1. Binance – Best Overall Cryptocurrency Exchange
A global cryptocurrency exchange, Binance, features a combination of low fees and multiple currencies, making it one of the most popular decentralized exchanges available.
Signing up to their platform takes minutes, and unlike most crypto exchanges, it even allows for US dollar deposits by global users via the SWIFT system.
You can also directly purchase some cryptocurrencies with a debit or credit card, making cryptocurrency trading more accessible.
Currencies available here are often not found anywhere else, so traders looking to invest in some rarer tokens will be able to pick up currencies such as Neo and Cardano easily.
There are two versions of Binance, with Binance US limited in its options compared to the worldwide version, so if you're trading from the States, it's worth bearing this in mind.
It's a robust, comprehensive crypto trading platform that allows investors to bring in additional earnings of approximately 6-9% from staking rewards.
Pros:
Competitive fees
Nice variety of currencies
Fast and secure transactions
Cons:
Not available in all US states
Customer support is limited
FAQs About Cryptocurrency Exchanges
If you still have some questions or concerns about the best crypto exchange platforms, our answers to these FAQs should point you in the right direction.
Q: How does a Cryptocurrency exchange work?
Crypto assets have had a huge impact on how the world's financial system is structured and look set to continue its shake-up of the monetary system as time passes by.
A cryptocurrency exchange allows users to buy cryptocurrencies with different altcoins or fiat currency and sell them to other users on their platform.
The exchange functions as the intermediary between the buyer and seller and takes a small fee for each transaction as part of the costs of providing this service.
Q: What is the safest crypto exchange?
Whether you're using a centralized exchange or decentralized exchanges, those with the best overall security are subject to change as new technologies emerge and company policies are updated.
At the time of writing, Coinbase is widely considered the safest and most secure cryptocurrency exchange since all funds held there are insured by the FDIC.
That said, the top crypto exchanges will store your crypto assets securely and help you to trade Crypto with confidence.
Before choosing an exchange platform to invest in, make sure you take the time to research the security measures they have in place, so you're satisfied your investments will be in safe hands.
Q: Should I keep my Crypto on an exchange?
If you are using a mainstream cryptocurrency exchange, there's a low level of risk depending on the security measures put in place by the exchange in question.
However, most investors prefer to store their cryptocurrency in a hard wallet or cold storage to avoid centralized exchanges.
This means they are safely stored offline and are inaccessible to anyone aside from the owner of specific access codes for this wallet.
Q: Which crypto exchange has the lowest fees?
Fees associated with crypto exchanges are liable to change over time, so when choosing an exchange to use, you should always check for the most up-to-date information.
Trading fees can vary from 0.01% to over 1%, which can make a big difference when trading in high volumes of tokens, so it pays (quite literally) to check these fees before making investment decisions.
Q: What crypto exchange should I use?
There is a wide selection of crypto trading platforms available for people to invest and trade crypto assets, each of which has its advantages and disadvantages and offers decentralized or centralized exchanges.
This review covers some of the best crypto trading exchanges on the market, so if you haven't already checked through to see which one suits your needs, head back to the top of the page and check out our selection.
Summary
With a vast number of top crypto exchanges available, choosing the best cryptocurrency exchange to invest your time and money in can be time-consuming.
The best crypto exchanges deliver various currency options while offering competitive fees and advanced trading options.
For those looking to avoid centralized exchanges in preference for decentralized exchange, the best crypto exchanges offer this feature for crypto investors.
What's your favorite cryptocurrency exchange? Leave a comment below.
The 10 Cheapest Countries To Retire To
What are the cheapest countries to retire to?
While some people dream of retiring on a sunny beach drinking cocktails, others prefer the idea of remaining active and exploring exciting new wilderness.
But whatever your vision of retirement looks like, how much it's going to cost to enjoy a good standard of living is an essential factor everyone has to consider.
This guide explores the ten cheapest countries to retire to based on the annual global retirement index, breaking down everything from the cost of living and infrastructure to the food and entertainment you can expect to enjoy.
The 10 Cheapest Countries To Retire To
We've analyzed some of the most popular countries, from the cost of living to culture, to bring you this list of the cheapest countries you can move to when it's time to retire.
Here's our list of the 10 cheapest countries to retire to:
10. Uruguay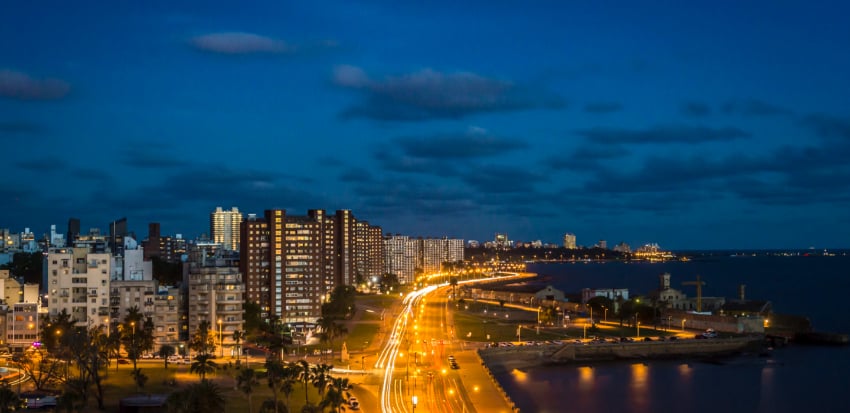 With its consistently warm climate, biodiverse rain forests, and rich and varied culture, Latin America is a popular region of the world to retire to on a budget.
Uruguay is one of the more popular Latin American countries for retiring abroad, nestled between Brazil and Argentina, with regular flights to and from the United States.
While Uruguay is among the smaller Latin American countries, there's plenty on offer for retired expats looking for a relaxing climate where they can live comfortably.
Its capital city, Montevideo, brings the lush green hues of the forests into its urban setting, with tree-lined streets and public parks available for leisurely strolls.
Foodies will appreciate the selection of exceptional street food on offer, with a particular emphasis on Italian and Mediterranean dishes drawn from a population mainly of Italian descent, alongside ethnic food and coffee shops.
Uruguay's culture matches the colorful flora and fauna, with regular carnival parades transforming the streets into parties and street tango performances livening up the coastal promenades.
Expect to invest around $1500 of your retirement dollars becoming a legal citizen, with a monthly cost of living between $2500 and $3500, giving a comfortable lifestyle.
If you'd prefer to avoid the bustle of Montevideo's city center, Uruguay's more remote coastal resorts, such as Punta del Este, offer some of the country's most impressive beaches, although you can expect your cost of living to increase for these locations.
9. Spain
If you'd prefer to retire abroad away from the American continent but would still like to brush up on your Spanish language skills, you should consider heading to Western Europe and settling in Spain.
A Mecca for expats from the UK, Spain offers a blend of year-round sunshine complemented by a cool Mediterranean Sea breeze, with delicious seafood and all the amenities you can expect from a fully developed country.
Hit the Costa del Sol for hot weather, endless bars, cafes lining the seafront, and freshly caught seafood straight from the sea, with a well-established expat community to welcome you.
For a more cultured retirement abroad, there are several major cities where you can find theaters and opera houses, and while the cost of living in places such as Milan and Barcelona is higher, the excellent food and rich history make it a worthwhile investment.
This rich culture is perfectly reflected in Spain's diverse architecture, with centuries-old Romanesque and Gothic structures sitting alongside the modernist works of architects such as Antoni Gaudi.
Life in one of Spain's many coastal towns is surprisingly cheap, and their affordable healthcare and efficient public transportation systems mean you can make additional savings from your monthly budget.
If you're interested in visiting a Unesco World Heritage Site in Spain, there are 49 to choose from, ranging from mountain landscapes to prehistoric rock art sites, a factor that makes the country one of the most popular tourist destinations in the world.
The Global Retirement Index's statistics for international living place Spain especially high when it comes to healthcare and development, ranking higher than most other countries on this list based on these measures.
8. Malta
Malta made international headlines when it was used for some of the footage for HBO's blockbuster series, Game of Thrones, where its baroque buildings, sandy stoned beaches, and 17th-century fort were used for a variety of settings.
Retiring to Malta isn't just for those who want to head out on a tour of the Game of Thrones locations; this deceptively small country is steeped in thousands of years of history, with a culture that reflects its role as a hub of international activity.
This tiny country boasts an abundance of activities to entertain expats, from the restaurants and festivals of the more populated settlements such as the capital Valetta to excellent hiking routes and places to scuba dive.
While the capital is an expensive city to purchase property, exacerbated by high property taxes, a single person can expect to pay in the region of $900 to $1600 for a one-bedroom apartment in the metro area.
Permanent residency can be achieved either through the costly Permanent Resident Program – which requires €500,000 in assets and other financial contributions – or through the "self-sufficiency" visa.
For this, you'll need to bring in an income of €50,000 per year, which can partly be social security), with evidence of medical insurance.
Malta isn't the cheapest of retirement destinations overall, but you can make huge savings on your overall cost of living with low transportation costs since it only takes a few hours to drive around the entire country and take in the stunning scenery.
It's a wonderful mixture of the ancient history of the Phoenicians, Arabs, and Normans, with a modern European sensibility woven into the food and culture of its small but vibrant cities.
7. France
Popular retirement locations have several things in common, including high-quality food and drink, a pleasing climate, attractive landscapes, rewarding culture, and excellent healthcare services.
France is no exception, a beautiful country that boasts everything from the world's "city of love," Paris, to countless medieval villages and a string of quaint coastal towns scattered along the west coast.
One of the key attractions for France as a place to retire to is its excellent social security benefits, with universal healthcare coverage available for all residents at an exceptionally low cost.
Overall cost of living is accessible, meaning you'll have plenty of your retirement income left over after your monthly expenses to enjoy France's many fine restaurants and entertainment venues.
Living expenses vary depending on where you choose to settle in France, with a lower cost of living expected in more rural regions compared to living the high life in urban areas.
Those who prefer the great outdoors over built-up urban conurbations may wish to settle in the Dordogne region, notable for its beautiful river and charming agricultural heritage.
Cannes and the Cote d'Azur bring a touch of elegance to the coast, although visiting these luxurious resorts, which feature some of the most expensive hotels in the world, will have less of a dent on your pension income than taking up permanent residence.
Sports fans in general – and cyclists in particular – can enjoy the world's most celebrated cycling tournament firsthand, with the Tour de France race taking part each year and spanning over 3,000 kilometers of this stunning country.
6. Ecuador
Returning once again to Latin America, Ecuador is another gorgeous country boasting extensive tropical rain forests where you can retire abroad and enjoy a low cost of living.
What Ecuador lacks in terms of modern amenities and services when compared to the European countries we've discussed, it more than makes up for with its incredible landscapes.
You'll still find modern conveniences such as high-speed internet here, so keeping in touch with friends and loved ones back home isn't going to be an issue.
Indeed, Ecuador is one of the most ecologically diverse places in the world, maintained by the protected status of its 11 national parks, which help to limit oil exploitation and protect the ecosystem.
Ecuador already hosts a well-connected and welcoming community of expats, which means you can easily find people to help you join local dinner clubs or sign up to art classes and try your hand at competing with the most expensive paintings ever created.
If you'd prefer to get away from the country's many fine sandy beaches, you can take day trips to explore the local culture, or if you're feeling more adventurous, set out into the hills and forests and connect with nature.
Ecuador's year-round growing seasons bring plenty of choice to the dinner table, from the pork, chicken, and beef dishes favored in the highland regions, to the fish and shrimp meals that dominate the coastal towns.
Overall cost of living comes at a truly affordable price, with cheap food matched by cheap transportation and services, and rent costing as little as $500 per month for a single person.
For those looking at retirement planning for a biodiverse environment with a more temperate climate, Ecuador deserves a place on the list of locations worth considering.
5. Colombia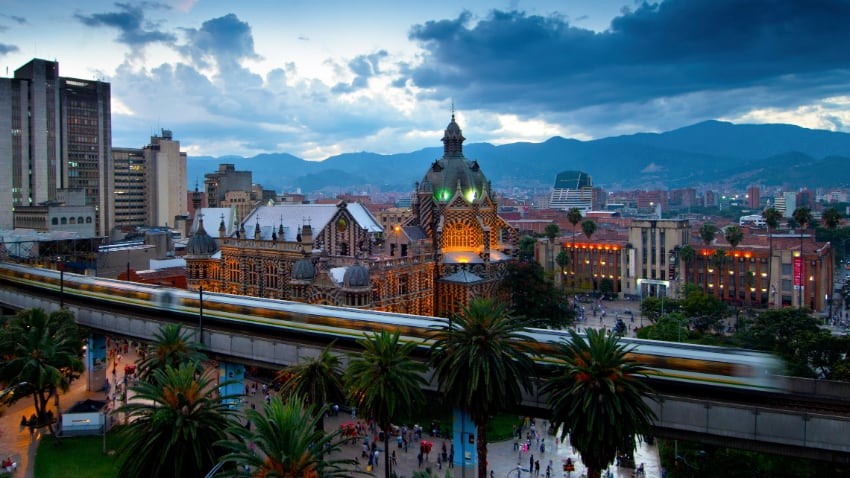 Colombia once had a reputation for conflict and violence, with warring political factions and international drug cartels once dominating the news cycle in the Western media.
Fortunately, this stereotypical depiction of the country no longer applies, and it is now one of the most affordable countries you can retire to, with an ever-growing expat community.
Colombia is the second most biodiverse country in the world; you can explore stunning mountain ranges and tropical rainforests or find sandy beaches scattered up and down the coastline.
As well as being one of the most ecologically diverse places you can retire to, Colombia also features a strong infrastructure, including efficient public transportation, decent healthcare facilities, and affordable utilities.
Culture vultures can make the most of Colombia's 3000 years of history, encompassing the early gold craftsmanship of the Tumaco people to the Baroque and rococo art and architecture of the Spanish Catholics, who settled in the country from the 16th century onwards.
It's also the home country of Shakira, ranked as one of the hottest women in the world with a reputation as a world-class singer, businesswoman, and philanthropist.
Colombian land produces excellent food, with regional dishes such as Patacones, Ajiaco, and Aborrajados livening the palette of the more adventurous expats who choose to retire here.
4. Portugal
Portugal resembles its neighbor Spain in several ways, including its warm and sunny climate tempered by cool sea breezes, to its eclectic seafood dining and vibrant culture.
The cost of living in Portugal is also lower than in Spain, making it the cheapest country in Europe and one of the most highly sought-after retirement havens in the world.
Voted the best place to live in 2020 by the International Living editors, Portugal offers a high quality of life with copious sunny shores to choose from, as well as some of the finest wines available.
Portugal's capital city, Lisbon, is one of the most affordable capitals in Europe while still offering the restaurants, nightlife, and modern facilities you'd expect to find in other major cities.
Professional healthcare comes at competitive prices, while accommodation can start from under $500 per month for a three-bedroom home (although, as always, expect higher prices if you want to live in the capital).
This is a country that brings historic towns, maritime history, and a timeless geographical beauty together with great value cost of living and friendly locals.
3. Mexico
American expats looking to apply for their retirement visa and move somewhere a little closer to home can often be found relocating to Mexico in Central America.
Mexican culture is firmly interwoven with American culture, with the Day of the Dead ceremony as iconic as the extravagant Mexican wrestlers and guitar-strumming mariachis.
This cultural familiarity, combined with its geographical proximity, has made Mexico as popular as a tourist destination as it is a home for retirement, enhanced by the low cost of living.
As one of the cheapest countries to live in, healthcare costs are considerably lower than in the US. In contrast, other social security benefits and low-income tax rates ensure the cost of living is even lower.
This adds up to an affordable cost of living of around $!500 to $2000 per month to cover the costs of a couple living in Mexico.
This large, geographically diverse country features a range of climates to suit various preferences, meaning you can holiday within Mexico depending on the season to find the temperature which suits you best.
Home of the Mesoamerican cultures, history buffs can take in the incredible spectacles of the Mayan and Aztec civilizations, and the country's rich and complex musical legacy can be found in its bars, clubs, and opera houses.
2. Costa Rica
Fly south from Mexico, and you'll find Costa Rica, a country surrounded by crystal clear seas that shares a maritime border with Ecuador.
Also known as "the Switzerland of South America," Costa Rica is one of the safest countries in the region, with affordable healthcare and other social security benefits to help keep your running costs low.
The residency process isn't convoluted, and this is one of the first countries to offer benefits explicitly aimed at expat retirees.
For those who don't see retirement as an opportunity for putting up their feet, and would rather get out and about, there's everything from jungle hikes to canopy tours and volcano expeditions to keep you on the move.
Leave the wilderness for one of the nearby towns or the capital San Jose, and you'll find plenty of quality restaurants and cultural events ready to feed and entertain you.
A global leader in biodiversity initiatives, Costa Rica has experienced keen interest from billionaires and world leaders eager to learn more about its revolutionary policies.
Even the founder of Amazon has visited the country, although you won't need Jeff Bezos' net worth if you're thinking of retiring here yourself.
1. Panama
Panama often conjures up images of a tax haven for some of the richest people in the world, but despite the financial institutions which dominate Panama City, it's also a place of tropical beauty and lush beaches.
You don't have to be a millionaire yourself to live a good life among Panama's super-rich; a couple can get by in Panama City with a cost of living under $3000 per month.
This cost of living is helped greatly by the fact you pay zero income tax for any revenue you earn in another country, as well as inheritance tax laws which mean your loved ones won't lose half your estate to the government.
There is an abundance of bars, cafes, and restaurants in Panama, which perhaps isn't surprising since it's also the home of one of the most expensive coffees you can buy.
Outdoor pursuits include sports, with the country well served by golf courses and forest treks, biking, and ziplining.
With its attractive cost of living based on the dollar currency, proximity to the States, and combination of modern amenities and attractive wilderness, Panama has earned its position at the top of the Global Retirement Index by International Living.
Summary
There are plenty of options when choosing the best place to retire abroad, catering for all manner of tastes and requirements, from the tropical paradises of Southeast Asia to the old-world charm of rural France.
We've explored the top ten retirement destinations based on the cost of living, healthcare and social security benefits, and the arts and culture you can expect to find.
Once you've decided which place is your dream retirement home, it's time to get in touch with a financial advisor and start saving for a future in the sun.
Here's a quick recap of the 10 cheapest countries to retire to:
Panama
Costa Rica
Mexico
Portugal
Colombia
Ecuador
France
Malta
Spain
Uraguay
Which one of the cheapest countries to retire to is your favorite? Leave a comment below.
Top 25 Behavioral Interview Questions With Sample Answers
What are the top behavioral interview questions?
Attending a job interview can be a stressful experience, so knowing what questions to expect is crucial if you want to be fully prepared.
This guide to behavioral interview questions will help you to think through the best answers relevant to your experience and help you land your dream job.
Top 25 Behavioral Interview Questions
We've covered a broad range of questions about how you handle motivation, teamwork, deadlines, and problem solving to make this a comprehensive resource for your next interview.
Here's our list of the top 25 behavioral interview questions with sample answers:
25. Give me an example of when you used logic to solve a problem.
Interview questions are frequently designed to help better assess the candidate's problem-solving skills, particularly their ability to use logic.
By demonstrating your ability to think on the fly and use logic when doing so, you show yourself to be capable of a coherent thought process in a challenging situation.
Example Answer:
To deal with declining social media engagement on our company's accounts, I conducted a competitor analysis to develop a new social media strategy.
By observing what our competitors did well and adapting it to our company's core mission, I increased our social media engagement.
24. Describe a time when you saw a problem and took the initiative to correct it.
A hiring manager will ask behavioral interview questions that seek to understand how actively engaged the applicant is within their role.
As such, they will be looking for job seekers who avoid being passive instead of taking a proactive stance whenever problems arise.
Example Answer:
While working on an important project for a former employee with a deadline approaching, I discovered one of our colleagues was called away on an emergency.
I suggested to my direct report that I stay and work overtime that evening to cover the work and make it a less stressful situation for my colleagues.
23. Tell me about a time an unexpected problem derailed your planning. How did you recover?
Hiring managers will frequently ask adaptability questions to gain a clearer insight into how the applicant responds to unexpected pressure.
Not everyone can switch up their planning on the fly, so giving specific examples of how you have managed to stay focused in these circumstances is essential.
It's also an excellent opportunity to show more generally how you change your schedule for better productivity when problems need to be addressed.
Example Answer:
While working in a restaurant, I discovered we had a shortage of certain ingredients necessary for some of the items on our menu.
After taking stock of our food inventory, I updated the menu with a new dish that utilized the food we had available to serve.
22. What do you do when your team member refuses to, or just can't' complete their part of the work? Give me an example.
A great employee is capable of working well with their co-workers, so expect to answer teamwork questions during a job interview.
Try to give a strong answer with concrete examples of instances when you have helped out a co-worker who has struggled with their workload and any tips when dealing with frustration you use.
Example Answer:
Our team was asked to put together a sales presentation for the board of directors, but one colleague had failed to prepare their work.
I understood the need to give a good impression and knew the topic well, so I committed more time to work through my colleague's section of the presentation.
21. Can you tell me about a time you gave a presentation that was particularly successful? Why do you think it went well?
The ability to deliver a great presentation demonstrates a range of abilities, including research, design, and communication skills.
Whether or not you're asked this question during a job interview will depend on the specific job description for the role, but it is relevant be sure to have sample responses ready.
Example Answer:
In my previous role, I was in charge of coordinating multiple projects across various departments, with various resources shared by these teams.
I delivered a presentation for a new system in which shared resources would be centrally coordinated by each team manager, visualizing the system in a way that made it easy to understand.
20. How do you handle irate customers? Give me an example.
At some point or another, most people have had to deal with an angry client who refuses to listen to reason.
Common behavioral interview questions will seek to gain an insight into your approach to dealing with a difficult client to assess your temperament.
There are a wide variety of ways you can deal with customer service complaints, so choose the best examples from your own experience when answering this question.
Example Answer:
While working in a shop a client became irritable and impatient, claiming they had been waiting for far too long and demanding special treatment.
I apologized and assured the client that this wait was due to an issue out of our hands, offering them a complimentary drink and discount on their next purchase.
19. Tell me about a time when you successfully explained a technical problem to a colleague or a customer who didn't' have a tech background?
A hiring manager will sometimes ask questions to assess how capable you are of taking a complicated subject and simplifying it for a layman's audience.
If you're asked this question, give a specific instance of a time you effectively used simplified languages and analogies to explain something complicated.
Example Answer:
A problem with the code for a company website meant that certain sections of the site were no longer working.
Instead of explaining the issue in detail, I focused on how it would impact visitors to the site directly and the time expected to take to resolve it.
18. Tell me about your first job in the industry. What did you do to learn the ropes?
Employers are most interested in hiring people who are capable of developing within a role and taking on new responsibilities.
Take this opportunity to demonstrate your willingness to learn, as well as to adapt to the expectations of a new job.
Example Answer:
I started my role as a junior coder for a small games developer but was unfamiliar with some of the tools the team was using on their latest project.
As a result, I invested in an online course for the new programming language and got up to speed in my spare time.
17. Give me an example of when you had to suddenly perform under pressure. What happened, and how did you handle it?
Some behavioral interview questions are designed to see how you respond to stress, particularly if the job posting you're applying for is likely to be intensive.
Your sample answer should reflect your ability to solve problems and keep a cool head when the pressure is high.
Example Answer:
While working on an important project, I was asked to move up the schedule and complete the project to a new, strict deadline.
Consequently, I worked with my team to share the additional workload and prioritize projects so that the new deadline could be easily met.
16. Have you ever had to work under someone who wasn't' very good at communicating? What happened?
While some people are talkative and extroverted, others sometimes struggle to articulate what they are thinking in clear and precise terms.
If this question comes up at your next interview, share examples of how you have helped poor communicators get their message across.
This can be anything from sharing body language tips that will exude charisma to helping with how they express their opinions verbally.
Example Answer:
A new employee at my previous company struggled to deliver a presentation, not because they hadn't prepared but because they had difficulty with public speaking.
I sat them down and worked through the presentation in a one-on-one session to help give them the confidence they needed in the future.
15. What would you do if you misunderstood an important task on the job? Give me an example.
Common behavioral job interview questions are designed to understand how well the applicant deals with their mistakes or misunderstandings.
When answering behavioral interview questions like this one, demonstrate your ability to take ownership of misunderstandings while offering solutions.
Example Answer:
After misunderstanding the content requirements for a specific project, I admitted my mistake and offered to work through my spare time to deliver the content as requested.
14. Can you describe an instance where your supervisor or manager just gave you too much work with not enough time? What did you do?
The ability to work under pressure is something hiring managers are keen to explore during an interview.
Answering this question is a good way to demonstrate your time management skills to your prospective new employer.
Example Answer:
My previous manager asked me to complete a report but without the necessary time to accomplish the task.
Rather than simply complaining there wasn't the time to do this, I wrote up a schedule that detailed the report so they could see for themselves what a reasonable deadline would look like.
13. Tell me about a time you set a personal goal for yourself. How did you ensure you would meet your objectives, and what steps did you take?
Some common behavioral interview questions are oriented towards examining how well you can manage your own goals.
Use this question to show relevant experience in setting and accomplishing personal objectives, breaking down the self-improvement techniques you've used and the steps taken.
Example Answer:
When I decided to lose weight, I knew I would need to establish a plan to help coordinate both my diet and exercise routines.
I accomplished this by meal prepping and setting a daily schedule with reminders to keep me on track.
12. Describe a long-term project you managed. How did you make sure everything was running smoothly?
Some behavioral questions are focused on determining how effective the applicant's leadership skills are.
When asked about project management, demonstrate your ability to coordinate teams to deliver the best results.
Example Answer:
When I managed a long-term project, I broke the project down into different stages and coordinated with each team member to maximize their unique skills.
Consequently, the entire team could work together with an understanding of how their roles interact with their colleagues.
11. How do you accomplish tasks when under a tight deadline? Give me an example.
With some job roles requiring employees to work under extreme pressure, interview questions are set to help establish the methods used by candidates to rise to the challenge.
Explain how you have managed to coordinate your schedule to deal with deadlines efficiently and meet the expectations of your role.
Example Answer:
After being given a project to complete by the end of the week, I pulled up my full work schedule and moved all less urgent tasks to the following week so the deadline could be met.
10. Give an example of how you worked on a team.
Most jobs will expect employees to work closely with colleagues as part of a team.
Whether your background involves working on a research team or management team, draw from this experience to show you are a team player.
Example Answer:
The department head at my previous company asked us to put together an analysis of our competitors.
I helped coordinate with the team members to break down the task into its constituent components so we could share the workload.
9. Describe a decision you made that wasn't popular, and explain how you handled implementing it.
Making unpopular decisions is sometimes a harsh reality in the workplace, particularly if you're tasked with leading a team.
This question is a great opportunity to show your leadership skills to the interviewer, diffusing potentially explosive situations.
Example Answer:
While managing a small team, I was asked to schedule overtime for everyone to ensure a deadline was met.
To minimize the disruption to everyone's personal life at short notice, I arranged a meeting so we could collectively coordinate this over time so that no one would have to sacrifice other obligations.
8. What do you do if you disagree with someone at work?
Disagreements in the workplace are inevitable, but the way they're handled can vary wildly from one person to the next.
When answering this question, give examples of how you were able to compromise or otherwise handle disagreement without causing conflict.
Example Answer:
After being paired with a colleague to put together a presentation, they insisted we approached it in a way that would take far longer than necessary.
To resolve the situation, I outlined my approach along with my reasoning, and we were able to compromise and complete the presentation on time.
7. Give an example of a goal you reached and tell me how you achieved it.
Business leaders are goal-oriented and want to know that any new hires are capable of reaching goals and how they accomplish this.
When answering, explain the things you can do to reach your goals easily and how you have applied these principles in the workplace.
Example Answer:
In my previous role, I was asked to increase the number of sales leads over a given period.
To accomplish this, I revisited the database of customers and expanded it to include potential clients from further afield.
6. Share an example of how you were able to motivate employees or co-workers.
Employee motivation is one of the driving forces behind effective performance management and can make the difference between failure and success.
A hiring manager is looking for examples of your ability to motivate others and the strategies you use to do so.
Example Answer:
When my previous company introduced a series of radical changes to the guidelines there was a great deal of resistance from some members of staff.
I took the time to review the changes and explain how they could be adopted with minimal stress, and the resistant employees were able to rise to the challenge.
5. Have you ever made a mistake? How did you handle it?
Everyone gets things wrong from time to time, from the big mistakes that stop people living their dreams, to simple mistakes that are easily corrected.
How we handle these mistakes shows a great deal about a person's character, so answer this question with an example that shows your ability to correct a mistake you've made.
Example Answer:
When dealing with a new customer I gave them incorrect quotes for our services, overcharging them by mistake.
I explained the issue to my team leader and posed a solution at the same time, rather than simply explaining my mistake and expecting them to deal with it.
4. Give an example of how you set goals.
Different people have different approaches to goal setting, with some using the SMART goals method and others preferring to tackle them with another style.
Whatever approach you prefer, make sure you explain your process clearly if asked this question in an interview.
Example Answer:
When setting goals, I break the overall objective down into its constituent components, then set up a schedule with milestones that I can use to monitor progress.
3. Have you handled a difficult situation? How?
Every line of work can throw up an unexpected, challenging situation, from a sudden lack of necessary resources to key staff being absent due to sickness.
If the interviewer asks this question, focus on how you managed to resolve the situation.
Example Answer:
When a project manager fell ill unexpectedly, the team lacked the relevant guidance to continue their work.
After reviewing the upcoming milestones, I could distribute work to each team member to ensure the work stayed on course in their absence.
2. Have you ever bent company policy to satisfy a client?
While company policy is often set in stone, sometimes you need to be adaptable to keep clients happy.
Explain to the interviewer how you've bent the rules enough to satisfy a client without going overboard.
Example Answer:
While working at a car rental facility, a potential client lacked one form of identification required under the company policy.
Since they had enough other IDs to verify who they were, I allowed the rental to go through, and the result was a happy customer.
1. Tell me about how you worked effectively under pressure.
A great interviewer is keen to understand how you deal with high-pressure situations at work and will likely ask you for an example.
Example Answer:
In my previous job, we were frequently under pressure to meet targets daily.
My strategy for dealing with this included mindfulness exercises to keep me focused and a system that used scheduling software with regular reminders to keep me on track.
Summary
We hope you've found this overview of behavioral questions helpful, preparing you for the next time you attend an interview for your dream job.
Be sure to check back on this article the next time you're going for a job interview, as we'll update it to include any new and relevant questions.
Here's a quick recap of the top 25 behavioral interview questions and example answers:
Tell me about how you worked effectively under pressure.
Have you ever bent company policy to satisfy a client?
Have you handled a difficult situation? How?
Give an example of how you set goals.
Have you ever made a mistake? How did you handle it?
Share an example of how you were able to motivate employees or co-workers.
Give an example of a goal you reached and tell me how you achieved it.
What do you do if you disagree with someone at work?
Describe a decision you made that wasn't popular, and explain how you handled implementing it.
Give an example of how you worked on a team.
How do you accomplish tasks when under a tight deadline? Give me an example.
Describe a long-term project you managed. How did you make sure everything was running smoothly?
Tell me about a time you set a personal goal for yourself. How did you ensure you would meet your objectives, and what steps did you take?
Can you describe an instance where your supervisor or manager just gave you too much work with not enough time? What did you do?
What would you do if you misunderstood an important task on the job? Give me an example.
Have you ever had to work under someone who wasn't' very good at communicating? What happened?
Give me an example of when you had to suddenly perform under pressure. What happened, and how did you handle it?
Tell me about your first job in the industry. What did you do to learn the ropes?
Tell me about a time when you successfully explained a technical problem to a colleague or a customer who didn't' have a tech background?
How do you handle irate customers? Give me an example.
Can you tell me about a time you gave a presentation that was particularly successful? Why do you think it went well?
What do you do when your team member refuses to, or just can't' complete their part of the work? Give me an example.
Tell me about a time an unexpected problem derailed your planning. How did you recover?
Describe a time when you saw a problem and took the initiative to correct it.
Give me an example of when you used logic to solve a problem.
What's the best behavioral interview question, in your opinion? Leave a comment below.
The 10 Best Renters Insurance Companies In America
What are the best renters insurance companies in America?
If you're a renter, you may think you don't need insurance because you're not a homeowner.
However, while a landlord's policy may cover the building itself, it is not going to include all of your personal belongings, meaning should the worst happen, you could be left with nothing if you don't have insurance.
Fortunately, there is no shortage of renters insurance companies, and today we've ranked the best in America.
The Best Renters Insurance Companies In America
Each of these insurance companies has been ranked based on what they are best for, overall customer satisfaction, and types of policies offered so that you can find the best one for your rental.
Here's our list of the 10 best renters insurance companies in America:
10. Auto-Owners
Best For: Small Budgets
Because America is far from being one of the cheapest countries to live in worldwide, most renters are looking to stick to a budget when it comes to choosing an insurance company.
Auto-Owners is one of the most affordable renters insurance companies and they are represented in 26 states through a network of 48,000 licensed agents.
They have a large array of discounts, including ones for paying on time, paying for the whole year at once, going paperless, bundling home and auto insurance, and having fire extinguishers, smoke detectors, and fire extinguishers in your rental.
You can also choose coverage adds-ons that are incredibly useful, such as insurance to cover food lost during a power outage, damage from water, and waterbed liability coverage provided your rental allows them.
Pros:
Lots of discounts
A lower premium than many other renters insurance companies
Worldwide coverage
Cons:
No online quote tools
Only available in 26 states
Bottom Line:
If you are fortunate enough to live in one of the states where Auto-Owners operate, we definitely recommend checking them out if you're looking for affordable renters insurance.
While you will have to call and speak to an agent, this will give you a chance to ask more questions and decide further if this renters insurance company is the best one for you.
9. Farmers
Best For: Discounts & Convenience
If you need more than just renters insurance, Farmers is going to be your one-stop-shop for all the policies you could ever need.
Along with offering insurance for renters, Farmers also offers auto insurance, condo insurance, life insurance, pet insurance, and more.
They also provide a lot of discounts, including some for installing a security system and being a non-smoker.
A typical renters insurance policy with Farmers will include personal property coverage, personal liability coverage, coverage for medical payments, and replacement cost coverage for personal property.
Because they offer so much coverage and so many different types of insurance, it can be worth getting a quote with them, just to see how much you could save if you're going to be bundling policies.
Pros:
Discounts for bundling
Lots of policies to choose from
Easy to get a quote online
Cons:
It can be more expensive than other renters insurance companies
Discounts can vary between states
Bottom Line:
Farmers may be on the more expensive side overall, but because it offers so many different types of insurance, it can be a solid company to go with if you know you need multiple policies you'd like to bundle together.
We do recommend speaking with an agent if you have any questions about location-specific discounts so that you can get the best deal possible, and hopefully save some money.
8. Allstate
Best For: Digital Access
Allstate is surprisingly the best renters insurance company for digital access, and we really love the two apps that it offers to its customers.
Not only is Allstate Mobile a well-designed app that you can use to pay your bill, file a claim, and review all of your coverage, but they also have Digital Locker, which gives you the ability to upload photos of your personal property in case you ever need to file a claim on it.
This means that even should the worst happen, your collection of the most valuable Funko Pop vinyls will be covered and easily accessible on Digital Locker.
Additionally, Allstate is another renters insurance company that also offers other types of policies, giving you the ability to bundle things together for a discount.
If you're over the age of 55, you can even get up to 25% off on your premiums so long as you are retired and not seeking full-time employment.
Similarly, when bundled with an auto insurance policy, a renters insurance policy can cost as little as $4 a month, which is a decent bargain overall.
Pros:
Lots of discounts
Good for retirees
Fantastic digital access
Cons:
Requires you to submit employment information
Premiums can be high without discounts or bundling
Bottom Line:
If having access to a reliable mobile app and the Digital Locker for your personal belongings is something you want, Allstate is a company to consider, especially if you're a retiree or are planning on bundling multiple insurance types.
Although you will need to submit your employment information, it can help you get a better rate, so it's ultimately a minor downside that can give you a chance to save more money overall.
7. Nationwide
Best For: Customization & Add-Ons
Along with being one of the best car insurance providers in America, Nationwide has the most room for customization and a load of add-ons that you can choose to get the most out of your renters' insurance policy.
If you already have a policy with Nationwide, you can easily bundle renters into your current policy, and if you're moving from another company, you can also combine policies in order to receive a discount.
Renter's also have the option to add numerous additional coverage options such as protections for jewelry and personal possessions in storage.
Nationwide likewise offers car, travel, and pet insurance, all of which can give you a discount if you opt to purchase them alongside your renter's coverage.
While their app isn't as impressive as Allstate's, it is still decent and gives customers an easy way to manage their account information and review their information.
Pros:
Multiple-policy bundling options
Quick online quote process
Lots of customization
Cons:
The mobile app is geared more toward auto insurance
Even with discounts, policies can be more expensive than some other options
Bottom Line:
Nationwide has a lot of customization options to help you get the exact coverage you need.
With a renters insurance policy from Nationwide, you can add on coverage for the things you need most, such as stored items or jewelry, and you can even bundle everything together for a decent discount.
Although it is not the most affordable option overall, the protection that it offers is definitely some of the most comprehensive.
6. Progressive
Best For: Bundling with Car Insurance
Progressive is the most well-known for its car insurance policies, but you can stand to save a lot of money if you bundle it with renters insurance.
If you already have car insurance with Progressive, or you want to sign up for it, you can add renters insurance to your account and save up to 12% on your premiums through their bundling program, which you may have heard of in one of their many nationwide commercials.
Additionally, further discounts can be applied for going paperless, getting a quote in advance, or living in a gated community.
That said, even just bundling auto and renters, without taking advantage of any other discounts, averages a cost of just $100 per month, which isn't bad considering everything you're getting.
Pros:
Lots of bundling potential and discounts
Low monthly payments
Available in all 50 states
Cons:
Policies require a down payment for the first month
It can be more pricey if you're not bundling
Bottom Line:
Progressive has great renters insurance policies at a decent price, provided you are also bundling them with something else, like an auto policy.
While they do require a down payment for the first month, overall the savings can be quite significant if you take advantage of multi-policy discounts.
5. Erie
Best For: Customer Satisfaction
Unlike some of the biggest banks in the world, Erie Insurance operates in only a handful of states, which is really a shame because it has a really high customer satisfaction rate.
Available in only 12 states, Erie has been around since 1925, and despite being relatively unknown when compared to names like Progressive and Allstate, it routinely ranks extraordinarily high in customer satisfaction.
While there is no online tool to buy a policy, you can speak to an agent over the phone to get started and to learn about their set of bundling options and discounts.
Although having to call someone on the phone may sound old-school, it is well worth it for the comprehensive coverage that this company can provide and to learn about different ways you can save money.
Despite having comprehensive policy options, Erie is one of the most affordable renters insurance companies and we definitely wish that it was available in all 50 states, because then it would definitely be our pick for the best budget insurance option.
Pros:
Ranked No. 2 in customer satisfaction out of all insurance companies of 2022
Affordable policies
Bundling options
Cons:
Only available in 12 states
Must speak with an agent to purchase a renters insurance policy
Bottom Line:
A lot of the best renters insurance companies have fantastic policies, but some can lack customer satisfaction despite this.
Erie is able to deliver both quality policies and phenomenal customer satisfaction without sacrificing affordability, which is really something unique.
We highly recommend looking into Erie if you live in one of the 12 states it operates in because they are definitely well worth it.
4. American Family
Best For: Value & Cover
If your collection of the best-selling albums of all time is lost to water damage due to a busted pipe at 2 am, American Family has a support team ready to take your call.
Similar to Erie, American Family has a high customer satisfaction rate, but they also boast round-the-clock support and an online claims system that you can use to easily and quickly file a claim when something goes wrong.
They also have the easy-to-use MyAmFam app, which makes it easy to connect with support agents and view your existing policies.
Furthermore, all standard renters insurance policies come with identity theft protection, which can help give you additional peace of mind when it comes to digital safety.
American Family renters insurance policies also include replacement cost coverage, money for a hotel stay if you're unable to stay in your rental, and medical payment coverage.
You can even choose to add optional benefits such as medical insurance for pets or special coverage for your home office space.
To make things even more affordable, you can bundle your renters insurance policy with your auto insurance to save up to an additional 15%.
This insurance company can really give you the most bang for your buck and it has the potential to save you quite a bit of money if you take advantage of the right discounts and bundles.
Pros:
24/7 support
Bundling options
Identity theft protection is included
Cons:
Bottom Line:
In terms of overall value, American Family renters insurance has the potential to give you the most for the least amount of cost.
The major downside is that, like Erie, American Family only covers a limited number of states, which leaves a lot of people unable to take advantage of their policies.
However, count yourself extremely lucky if you do live in one of the states they operate in because they are certainly one of the best companies for renters insurance coverage that you can find.
3. Lemonade
Best For: Fast Coverage
If you have just moved into a new place and need renters insurance coverage quickly, Lemonade is going to be your best bet, and they sell policies in 28 states.
To get a quote from lemonade, all you need to do is download the app, get a quote, and pay to begin coverage immediately.
This instant and quick process makes this insurance company extremely popular with younger renters, and it also helps that Lemonade is routinely one of the cheapest options on the market.
If you ever need to file a claim, Lemonade reports that about 30% of all claims they get can be handled instantly through their app, with some people even receiving payment in just a couple of seconds.
Not only does Lemonade stand to save you money, but it can save a lot of time so that you can stay laser-focused on your goals and worry less about protecting your belongings.
To make things even sweeter, you can choose to have a portion of your monthly payments donated to a charity of your choice, which we think is pretty damn cool.
Pros:
Fast sign up process
Instant coverage
Option to donate to charities
Cons:
Only available in 28 states
It may not be for people who want to have a live agent
Bottom Line:
Lemonade is a whole new take on insurance and you can get a renters insurance quote in minutes with coverage kicking in as soon as you pay.
While it is limited to only 28 states, its standard renters insurance policy is just as comprehensive as some of the largest insurance firms, and it can definitely be worth getting a quick quote just to see how much you can save.
2. State Farm
Best For: Affordable Premiums
State Farm is our pick for having the most affordable renters insurance premiums, and anyone can get a policy since they operate in all 50 states.
Those interested in signing up with this company can get a quote online, by phone, or by speaking with a local agent, and you also have the option of bundling your renters insurance with a large range of other policies.
State Farm offers auto, life, pet, and umbrella insurance options, which you bundle with your renters policy for a pretty nice discount.
That said, some of these discounts do vary by state, but since their rates are already fairly low, even customers without discounts can save money in the long run.
Furthermore, they have a remarkably high customer satisfaction rating and an A++ rating from the National Association of Insurance Commissioners.
Pros:
Low premiums and affordability
Customizable plans
Instant quotes
Cons:
Discounts vary between states
Bottom Line:
State Farm is a nationally recognized insurance provider but its rates are some of the lowest in the business and that is why we had to give them the number 2 spot.
They boast numerous coverage options that can be customized to ensure you get exactly what you need without having to pay for extras that you're never going to use.
1. USAA
Best For: Military and Military Families
USAA is available in all 50 states and it is especially available to members of the military and their families.
The cost of renters insurance with USAA is almost always lower than the national average and its coverage options extend to things that many other standard policies leave out.
For example, USAA policies cover replacement costs and protection against perils — like floods and earthquakes — which most other companies require you to add on separately.
There is also deductible-free coverage for lost military uniforms, which you're definitely not going to find with other companies.
While it doesn't cover roommates, if you currently are an active military member, veteran, or the immediate family member of someone who is, USAA is one of the best renters insurance providers to cater to your specific needs.
Pros:
Nationwide availability
All policies cover perils
Low prices
Cons:
Policies limited to military members and their families
You may need to call to get your quote
Bottom Line:
Military members and their families have unique needs that USAA understands and they have built their company around serving those who serve the country.
If you are or were in the armed forces, we definitely recommend this company for your renters insurance, both for their affordability and ability to serve the needs of military families.
Summary
We hope you found our list of the best renters insurance companies in America helpful!
If you are a renter and currently don't have insurance, we highly recommend you look into the companies we have chosen for this list.
While we certainly hope that you will never need to file a claim, it's always best to be prepared!
Here's a quick recap of the 10 best renters insurance companies in America:
USAA
State Farm
Lemonade
American Family
Erie
Progressive
Nationwide
Allstate
Farmers
Auto-Owners
What's the best renters insurance company in America, in your opinion? Leave a comment below.