The 15 Best Electric Motorcycles In The World
What are the best electric motorcycles in the world?
As electric vehicles continue to improve in efficiency and performance, the options for riders continue to grow, with electric motorcycles capable of covering increasing range and greater speeds.
This article explores 15 of the best electric motorbikes you can buy, from sporty models which compete with the fastest superbikes to laid-back low riders for cruising around town.
The Best Electric Motorcycles In The World
We've covered the full range of bike specs, including top speed, charge times, and range, to bring you this definitive guide to the top electric bikes available to buy.
Here's our list of the 15 best electric motorcycles in the world:
15. Lightning LS-218
If you're after an electric motorcycle that delivers rapid acceleration and high speeds, the Lightning LS-218 is as fast as they come.
With a 0-60 mph of just 2.2 seconds, the Lightning LS-218 has broken several records and is highly regarded for its lightweight style and ergonomic design, making it one of the most streamlined bikes available.
It sports a fully programmable braking system, a torque of 168ft/lbs, and cornering and stopping capabilities that can match its closest rivals on the track.
The top speed of 218 mph places the Lightning LS-218 on par with many of its gas-powered counterparts, thanks to its lightweight construction and impressive 200 horsepower, making it the fastest electric motorbike available.
You can charge this electric bike in just 30 minutes on a DC fast charger, too, with a single charge giving a range of 180 miles before you'll need to plug it in again.
14. Super Soco TC
While many of the best electric motorcycles take their aesthetic inspiration from their sporty gas alternatives, the Super Soco TC opts for the traditional look of the classic bike.
It features a much lower profile and delivers a much more modest level of performance, making it more suited for leisurely cruises and commuting than it is for unleashing on the racing circuit.
The Super Soco TC max speed is just 60 mph, although it does come with a selection of power upgrades, and the 133ft/lb torque makes it rival traditional motorcycles, such as a petrol four-stroke 125.
With a maximum range of around 80 miles, you won't be using this for any weekend adventures, and the four-and-a-half-hour recharge time for its lithium-ion battery is longer than some of its competitors.
The Super Soco retails at just $3,939 at the time of writing; it's perhaps the cheapest electric motorcycle for people on a lower budget, comparable to some of the world's most expensive sneakers.
13. Sondors Metacycle
Another cheap and eco-friendly electric motorcycle is the Sondors Metacycle, which can also be picked up new in 2022 for under $5000.
It's also one of the more uniquely designed electric motorcycles, with a distinct gap in its mid-section and a compact battery pack that blends effortlessly into the frame.
The PMAC Hub Motor is capable of a range of 80 miles, and while the top speed of 80 mph makes this slower than some of the alternatives, it's ideally suited for people who prefer to cruise around rather than hit breakneck speeds.
Controversies delayed the production of the Sondors Metacycle, partly due to its unusual shape, and there were some concerns that the final product would meet the standards to make it street-legal.
Updates included new lights, reflectors, and a license plate holder, which finally allowed it to pass DOT requirements, and the Sondors Metacycle has proven to be a firm favorite with budget-friendly electric bike enthusiasts.
12. Evoke 6061
The Evoke 6061 is another electric motorcycle that offers motorcyclists an alternative to the aesthetics of traditional gas-powered bikes, addressing the key concerns from people still undecided about switching to an electric motor.
The price, range, and recharge time for the Evolve 6061 are all impressive, with the Evoke 6061 covering an impressive 292 miles on a single fifteen-minute battery charge.
While its appearance might not be to everyone's tastes, riders who appreciate the low-slung look of American bikes such as the Harley-Davidson will get a lot of pleasure checking out its narrow drag bars and low seat profile.
The innovative energy technology employed in this electric motorcycle comes with a relatively high price tag, and it'll set you back $24,000 as of March 2022 to get one of these up and running on the road.
It's certainly cheaper than some of the most expensive motorbikes out there, and with a top speed of just over 140 mph, it's no slouch when opened up on the highway.
11. Pursang E-Tracker
Suppose you're looking for an off-road electric motorcycle. In that case, the Pursang E-Tracker electric bike brings all-terrain flexibility to the table, making it one of the most versatile electric bikes on the market.
This bike sports an eco-friendly power unit with a carbon fiber body over a Chromoly chassis for a bump-free ride when hitting rough terrain.
With a top speed of 75 mph, you can get approximately 87 miles' range from a single charge, plenty for a day out racing around your local dirt tracks.
The Pursang E-Tracker features some impressive specs you won't find on its rivals, for instance, the Crawl mode, allowing the bike to advance slowly alongside you while you're walking.
Additional smart rider assistance features include a clear TFT screen, which illuminates when you turn to give instructions on pulling away, making this an excellent electric motorbike for newer riders who want an easier learning curve.
10. Tarform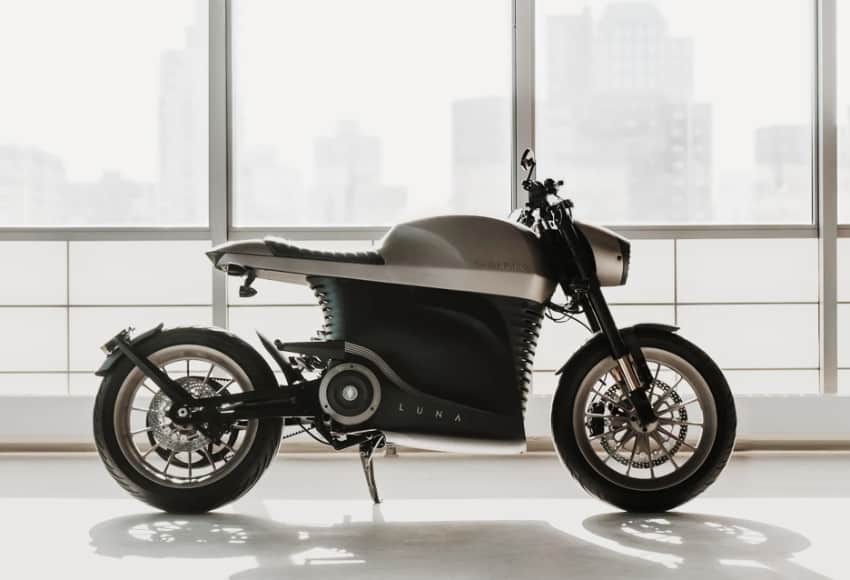 Cutting-edge electric bikes set themselves apart with their commitment to the latest technology, and the Tarform electric motorcycle is as contemporary as they come.
The construction of this electric bike takes a hand-fabricated trellis frame and is fitted with bodywork made from biodegradable flax weave-reinforced composite and recycled aluminum.
Perhaps most impressive is the AI programming, with blind-spot detection featuring haptic feedback, regenerative braking, keyless proximity ignition, and a 3.4″ HD display that gives the rider instant updates on performance.
The Tarform's top speed is a decent 90 mph, while a full charge will give you a range of 120 miles, making it a solid choice for riders looking for a good blend of speed and distance.
It's also a sweet-looking motorbike, merging the style of the 1930s Streamline Moderne with modern minimalism, while its $42,000 initial launch price tag is comparable to spending a night on one of the world's most expensive hotels.
9. Honda PCX ELECTRIC
The Honda PCX ELECTRIC is the perfect electric bike for the city worker looking to cut through the traffic and slot their ride into the tightest parking spaces.
The Frugal Euro5 engine delivers plenty of power considering how light this electric motorcycle is (it comes in at just 230kg), with a top speed of 60 mph.
It's a comfortable ride, with enough room in the under-seat storage to safely lock away a helmet and an all-around high build quality you'd expect from Honda's team of engineers.
While you won't want to ride it over a long distance (the range is too limited for long-distance rides), Honda's PCX ELECTRIC motorcycles offer an affordable alternative to standard electric bikes.
Its eco-friendly power unit means it's also a good choice for urban adventurers who want to reduce their environmental impact.
8. Gogoro Smartscooter 2
Riders looking for a more laid-back experience that retains the cutting edge smart features of some of the best electric motorcycles will find what they're looking for with the Gogoro Smartscooter 2, an electric scooter from smartphone manufacturer HTC.
While the name HTC is more likely to be associated with some of the most expensive phones, their entry into the world of electric motorcycles offers the same attention to detail and state-of-the-art engineering.
With a range of a little under 70 miles and a top speed of 57 mph, the Gogoro Smartscooter 2 is ideal for city jaunts and commutes rather than high-powered speed.
Its rugged suspension makes it an excellent off-road performer, too, performing well in muddy and wet conditions, with an expanded rear and side rack panels giving you space to carry messenger bags and other accessories.
The Gogoro Smartscooter 2's incorporation of impressive braking technology makes it a great all-around electric scooter for urban adventures, with fingerprint authentication bringing additional peace of mind.
7. Arc Vector
The Arc Vector is one of the more expensive electric motorbikes you can buy, costing a cool $120,000 at the time of writing and delivering top-end performance for your money.
It's certainly cheaper than some of the most expensive cars in the world, and for the price, you get a combination of sleek design and top-of-the-line specifications.
Boasting an advanced Human Machine Interface (HMI) and HUD-based Arc Pilot System, the Arc Vector pushes the boundaries of responsiveness and feedback to unprecedented levels.
Other cool features include cruise control and variable power modes, so if you hit the top speed of 124 mph, you can expect this electric motorcycle to handle impeccably.
Plug the Arc Vector into one of your high-speed chargers, and you'll get 270 miles from a single charge, making this one of the best electric motorcycles for range, speed, and overall performance.
6. Damon Hypersport Pro
The sleek, ergonomic aesthetics of the Damon Hypersport Pro electric motorcycle makes it the kind of bike you might expect to see in Keanu Reeves' impressive collection, resembling a high-end superbike at a fraction of the price.
Manufactured by Canada-based Damon Motorcycles, the Hypersport won the 2020 CES Innovation Award, and it's easy to see why when you take a look at its specs.
It can hold its own against conventional motorcycles on the road, reaching a top speed of 200 mph over a 200-mile range, and the impressive battery capacity means you can get an 80% charge in just 45 minutes.
You can also alternate between ride modes at the flick of a switch, moving the handlebars and footpegs between touring and sports bike ergonomics to adjust to your riding style in an instant.
Additional built-in smart functions include a co-pilot safety system which offers a 360º advanced warning system, utilizing a range of sensors such as radar and cameras.
5. Brutus V9
At first glance, the Brutus V9 electric cruiser motorcycle looks like it uses an internal combustion engine, with an appearance closely resembling traditional gas-powered motorcycles.
Beneath the proverbial hood, however, you'll find a battery pack with a capacity of 18.8kWh, giving it a groundbreaking range of 280 miles.
It's also a hefty electric motorcycle, weighing in at 780 pounds, but despite its apparent bulk is still capable of a top speed of 115 mph.
Its old-fashioned appearance belies its refusal to compromise on technology. At the same time, the 32mm four-piston fixed suspension up front and dual shocks in the rear make this one of the most comfortable rides you'll experience.
At around $32,000 in early 2022, you don't need to be one of the richest actors in the world to afford the Brutus V9, which is a great price considering its solid construction and impressive range.
4. Johammer Jl.200
The Johammer Jl.200 looks like it's been lifted directly from a science fiction movie, resembling the kind of futuristic vehicle designs found in Minority Report.
This new electric motorcycle from Austrian manufacturer Johammer features corrugated fairing and a white ribbed plastic dress, making it an object of art as it is an electric motorcycle.
As with other electric vehicles, the Jl.200 is more lightweight thanks to the absence of a gas tank, capable of a top speed of 75 mph and with a range of 125 miles.
Its real strengths lie when rode in urban traffic, capable of speeding through metropolitan areas with a responsive electronic motor brake ideal for the stop-start nature of heavy traffic.
Finishing off its overall futuristic appeal are high-resolution color displays on the rearview mirrors, which also detail your speed, charge status, range, and even the battery pack temperature.
3. Zero SR/S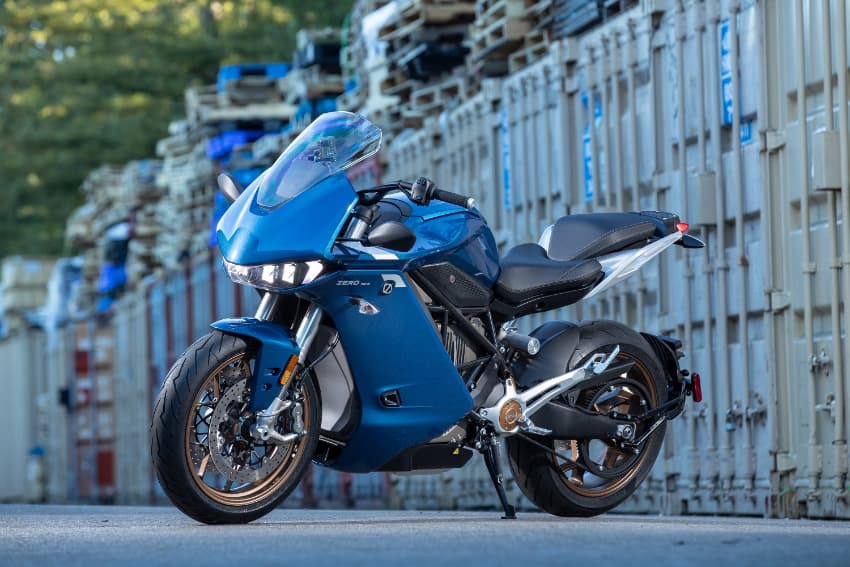 The best electric motorbikes straddle the divide between commuter and sports tourer, and the Zero SR/S is no exception, delivering outstanding performance with a top speed of 124 mph.
Developed by Zero Motorcycles, this electric motorbike comes with a ZF15.6kWh lithium-ion battery along with a ZF75-10 enhanced thermal efficiency motor, giving it an impressive acceleration of 0-60 mph in just 3.5 seconds.
It features a color TFT dashboard display that informs you of the bike's battery status, as well as your current speed and the remaining range you'll get before you need to recharge the battery.
Handling is optimal, and while you lose between 30% and 40% when switching over to Street Mode, the Zero SR/S transforms into a brisk electric motorcycle for urban riding.
Costing slightly under $20,000 when it was first released, you won't need to have Elon Musk's net worth to pick one up, and considering its comprehensive specs and performance, it's a competitive price compared to other electric bikes on the market.
2. Energica EGO+
The Italian-produced Energica EGO+ is widely considered the best electric motorcycle on the market, boasting a maximum speed of 150 mph and an astounding range of 261 miles.
Its powerful 107 kWh engine puts out 145 horsepower, with impressive torque instantly propelling the Energica EGO+ to its top speed in a matter of seconds.
Bluetooth connectivity brings this into the modern age, while the inclusion of four ride modes gives riders additional versatility, whether riding at full speed on highways or meandering through the center of town.
Fully charging the Energica EGO+ electric motorcycle takes around 3.5 hours, while the quick charge option will deliver a 0-85% battery capacity charge in just 30 minutes.
With high-quality Brembo brakes, Bosh ABS, and a multi-functional digital dash to assist with your riding, the Energica EGO+ represents the cutting edge of electric motorbike technology.
1. Harley-Davidson Livewire
The Harley-Davidson Livewire electric motorbike marks the world-renowned manufacturer's shift away from gas-fueled bikes and into the world of quality electric bikes.
As you might expect from this company, this isn't the fastest electric motorcycle on the market. Still, what it lacks in acceleration and top speed, it more than makes up for in high-end mechanics and outstanding performance.
You can get up to 146 miles from a full charge and hit top speeds of 95 mph without sacrificing comfort, thanks to its exceptional suspension and shocks.
The bike also connects to the Harley-Davidson smartphone app, with four standard riding modes allowing you to switch between rain, range, road, and sport.
With a release date price tag of $29,799, the Harley-Davidson Livewire is considerably more affordable than some of the most expensive TVs you can buy and arguably much more fun to use.
Summary
This article should help you to narrow down the best electric bike for your riding requirements, whether you're looking for high-speed freeway sprints, off-road antics, or a leisurely commute to work weaving through rush hour traffic.
With upcoming electric motorcycles likely to surpass the current leaders of the pack, it's worth checking back on this article in the future as we update it with the latest models.
Here's a quick recap of the 15 best electric motorcycles in the world:
Harley-Davidson Livewire
Energica EGO+
Zero SR/S
Johammer Jl.200
Brutus V9
Damon Hypersport Pro
Arc Vector
Gogoro Smartscooter 2
Alta Motors Redshift MXR
Tarform
Pursang E-Tracker
Evoke 6061
Sondors Metacycle
Super Soco TC
Lightning LS-218
What's the best electric motorcycle, in your opinion? Leave a comment below. 
<![CDATA[ */ var zbjs = {"ajaxurl":"https:\/\/wealthygorilla.com\/wp-admin\/admin-ajax.php","md5":"ac468c234e8fd556900e64b356f3f60e","tags":[],"categories":["Top Lists"]}; /* ]]>