Want to know what the best food delivery apps are?
Don't sweat it, we've got you covered.
Gone are the days of calling restaurants to place an order, only to be met with terrible customer service, an erratic member of staff, or being left on hold for an eternity.
Now, with just a few taps of your smartphone, food delivery apps will bring you whatever you want, whenever you want it, right to your door!
All you have to do is log in, make a decision, and order. That's it.
So, ready your smartphone as we're about to tell you the 10 best food delivery apps, for iOS and Android, that you can start using right now!
Here's a list of the 10 best food delivery apps:
The 10 Best Food Delivery Apps
The list of food delivery apps and figures mentioned below have been compiled from various sources around the web, such as Wikipedia.
These are the 10 best food delivery apps:
10. ChowNow
Delivery Fee: Varies by restaurant
Kicking off our list is ChowNow.
Although technically not a food delivery app, per se, it does offer a delivery service from a select few restaurants in your local area.
It's just more geared up for orders that you pick up from your favorite restaurants, as opposed to delivery.
Here's how they describe themselves:
"ChowNow is a commission-free online ordering system and food ordering app helping restaurants feed their hungry customers."
Still, there are some excellent reasons to use it.
The first is that they try to work with local independent eateries instead of chains, which is pretty cool as you'll likely discover restaurants you've never seen before.
Secondly, they promise customers commission-free ordering, so you'll never have to worry about being charged unnecessary fees.
So, if you'd rather avoid ordering from a chain, and you like the idea of buying locally, then ChowNow could be the right choice for you.
9. Goldbelly
Delivery Fee: Varies per item, free shipping on specific products
Goldbelly is a little different from the other delivery apps on our list.
Instead of letting you order food from local restaurants and stores, Goldbelly delivers gourmet food from all over the country.
Here's how they describe themselves:
"Goldbelly is a curated marketplace for Gourmet Food & Food Gifts."
So, picture this. Let's say you want to order from Stan's Doughnuts, but there isn't one in your town.
Well, that's not a problem if you're happy to wait between three to five days, as Goldbelly will make it happen and deliver your doughnuts, or whatever you like, to your door.
Orders arrive ready to eat or pre-made, so if you fancy trying something from outside of your town, or trying one of their popular restaurant meal kits, give Goldbelly a try.
8. Delivery.com
Delivery Fee: Varies by restaurant
Think of this app as more of a one-stop-shop for all your shopping needs.
Delviery.com is an all-purpose delivery service that offers its customers a broad range of delivery options.
For example, you can order your lunch, buy a bottle of wine, order a gift for a loved one, and even get your dry cleaning done!
"Get delivery from local favorite restaurants, liquor stores, grocery stores and laundromats near you. Order online for delivery or takeout. Every order earns points." – Delivery.com
You can split orders with friends, and earn "Delivery Points" with every purchase, which can be exchanged for free credit and rewards.
Delivery.com has more than 12,000 merchants signed up to the app and is available to use in over 100 cities across the United States.
The app is entirely free to use, but you'll incur a delivery fee from the restaurant.
Give it a try if you want to order a few things with your next food delivery.
7. GoPuff
Delivery Fee: $1.95 Flat rate
GoPuff is the convenience store of food delivery apps.
You can pretty much order whatever you want when it comes to snacks and convenience items.
Here's how it works:
"you place your order on the app, we pack & deliver it, you enjoy. No middleman, no price hikes and no crazy surge delivery fees, ever." – GoPuff
Things like toilet paper, ice cream, alcohol, medicine, and cleaning equipment are all available to order day and night, as well as thousands of other items.
The service is accessible in more than 170 locations across the U.S., with over 2,000 products in its catalog.
GoPuff's delivery fee is a flat rate of $1.95, and they also offer a "Fam Membership," which is a monthly subscription that entitles you to free delivery on every order for $5.95 a month.
So, if you've got a bit of a sweet tooth, and love your snacks, this could be the one for you!
6. Instacart
Delivery Fee: Starts at $4
Instacart is a food delivery app that specializes in bringing you groceries and household goods.
It partners with over 20,000 retailers in North America, including Aldi, Costco, Safeway, and CVS.
Once you add your zip code, Instacart searches its database for all participating stores within your area and presents you with the available options.
"Find 1,000's of products from the stores you already shop at." – Instacart
From there, you'll be able to choose the items you want, and decide whether you'd like them to be delivered, or you can pick them up if you prefer.
If you like the service, then it might be beneficial signing up for an Instacart Express membership, costing $9.99 a month.
You'll unlock some nice perks, and your deliveries will arrive a lot faster.
Instacart is free to download and use, but you'll be charged anywhere from $4 for each order, and there's a minimum order amount of $10.
5. Postmates
Delivery Fee: Varies by restaurant
Like other delivery apps on the list, Postmates deliver more than just-food.
You can get groceries, cell-phone chargers, pizza, kitchen supplies, medicine, and thousands of other items delivered to your door from one of the biggest catalogs of participants of any food delivery app in the business.
"Order delivery or pickup from more than 600000 restaurants, retailers, grocers, and more all across your city." – Postmates
Postmates adds a delivery charge to your order and includes surge pricing during the busiest times of the day.
However, if you're willing to pay $9.99 a month for a Postmates Unlimited membership, then you won't need to pay for a single delivery or surge charges on orders over $15.
And, due to recent events, Postmates has introduced a no-contact delivery option, which means your delivery driver will drop your order at a place of your choosing.
4. Seamless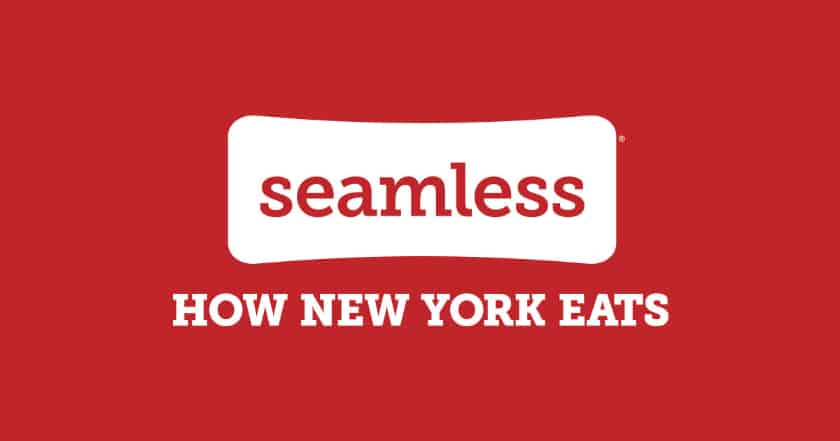 Delivery Fee: Varies by restaurant
Seamless is another big multi-purpose food delivery app, offering users everything from groceries to alcohol.
"Seamless is simply the easiest way to order food for delivery or takeout. Whatever you're in the mood for, wherever you're in the mood for it, you've got it. No menus, no phone calls, no repeating yourself." – Seamless
However, aside from its food delivery service, it's known for having excellent customer service.
They've been criticized in the past for problems with the app, and for not allowing customers to pay with different payment methods.
However, they responded well to feedback and implemented the necessary changes in good time.
You can order from a wide variety of restaurants and cuisines, and get access to regular deals and discounts.
The cost of delivery varies depending on the restaurant, but if you're looking to keep your costs to a minimum, then upgrading to a Seamless+ membership could be an excellent way to go, as you'll get free delivery from several participating restaurants.
3. UberEats
Delivery Fee: Varies by restaurant
The third best food delivery app is UberEats.
If you've already got an Uber account, and don't fancy setting up another food delivery app, then Uber Eats is the way to go, as you can sign in with your Uber account.
The app is intuitive, and you can easily search for your favorite restaurant or browse through the different categories to find something new.
"Find your favorite takeaway and have it delivered directly to your door with Uber Eats. Order food online or with the app, then sit back and enjoy." – UberEats
If you want, you can schedule your delivery for a time of your convenience, and then track it in real-time, just like ordering an Uber.
You can pay using a credit card or through Uber credits, and the $9.99 a month Eats Pass gives your free delivery on all orders, and, an extra 5% discount on orders over $15!
2. GrubHub
Delivery Fee: Varies ( Set by the restaurant)
GrubHub is a food delivery app that allows you to place orders immediately or up to four days in advance.
They've partnered with a variety of nation-wide chains and local independent restaurants, making them a great choice if you're looking for a broad range of options.
"The best restaurants near you deliver with Grubhub! Order delivery or takeout from national chains and local favorites!" – GrubHub
You can order from over 50,000 restaurants across 1,100+ cities.
GrubHub offers a monthly subscription of $9.99, which will give you free unlimited delivery from participating restaurants.
GrubHub also owns Seamless and several other brands, so this should give you some confidence that they know what they're doing.
1. DoorDash
Delivery Fee: $5.99 Standard (Set by the restaurant)
The best food delivery app is DoorDash.
Why? Well, it's an excellent choice for beginners or anyone new to food delivery apps.
"Delivery & takeout from the best local restaurants. Breakfast, lunch, dinner, and more, delivered safely to your door." – DoorDash
All you have to do is enter your zip code, and DoorDash will provide you with a list of all the participating restaurants in your area and their approximate wait times.
If you're a first time user, you'll get some discounts and deals, like free delivery or 20% off your first order.
DoorDash is available in 4,000 cities across North America, Canada, and Australia, and offers users the ability to reduce their delivery costs by paying $9.99 a month for DashPass.
Summary
We hope you enjoyed our list of the 10 best food delivery apps.
We love delivery apps! Call us lazy, but we're real advocates of getting as many things delivered as we can – and food is numero uno!
Here's a quick recap of the 10 best food delivery apps:
DoorDash
GrubHub
UberEats
Seamless
Postmates
Instacart
GoPuff
Delivery.com
Goldbelly
ChowNow
What's your favorite food delivery app? Leave a comment below.