What are the best skills every man should know?
Some skills help people hone their communication and body language abilities, improve their confidence, and excel in social situations.
Others help us to overcome practical obstacles, fix things around the home, and survive when out in the wilderness.
This article explores all these skills and more, so you can become the best man you can be.
The 50 Best Skills Every Man Should Know
We've covered a range of skills to improve your life, exploring how difficult they are to master, where to learn them, and the skills they complement.
Here's our list of the 50 best skills every man should know:
50. Know How To Dance
The ability to dance is a great skill you can learn to impress friends or show off while on a date.
There's a huge variety of dancing styles to choose from, including salsa, tap, and breakdancing.
Signing up for a dance class is an opportunity to meet new people, or you can teach yourself with online classes.
49. Make A Toast
Learning how to make a toast combines several essential skills in one activity.
Not only does it encourage you to develop your writing skills, but it also helps with public speaking.
Combine toast-writing with body language tips that will exude charisma and you're on your way to becoming a person of note.
48. Tell A Good Story
As with making a toast, learning how to tell a good story helps you develop writing and speaking skills.
Whether it's a personal anecdote to tell at a party or a spooky ghost story around a campfire, a good story captivates its audience.
Practice reciting your stories alone first, so you can master the delivery.
47. Cook A Steak
Cooking a great steak is deceptively simple, yet mastering it can be something of an art form.
Choosing the best cut, and learning how to season and cook it to perfection will impress friends and family the next time you have them over for dinner.
Combine the steak with superfoods that provide amazing health benefits to level up your meals.
46. Sail A Boat
Sailing a boat isn't just a fun way to spend a summer's afternoon; it's also a useful survival skill.
There are plenty of nuances to wrap your head around with sailing, including learning how to tie a range of knots (more on this later).
You can hire boats for the day and take classes to help you develop and refine this skill until you're a master sailor ready for the high seas.
45. Approach Women
The ability to approach women in bars and other social settings brings together a combination of self-improvement techniques that are valuable in a range of settings.
It'll help improve your overall level of confidence while improving your conversational skills and small talk.
You'll also be able to read body language, and if you're single this skill is a must-have.
44. Jump Start A Car
Basic car maintenance is a good skill to have in case you're caught out with a flat battery in the middle of nowhere.
It's an easy skill to learn, and one that will prevent you from looking embarrassed should your car battery die.
You can learn how to do this from YouTube videos in a few minutes, so there's no excuse to not add this skill to your repertoire.
43. Speak A Foreign Language
The ability to speak a foreign language offers a variety of scenarios to show off just how cultured you are.
From reading menus in the world's most expensive restaurants to getting by on vacation, it's an essential skill you should master.
Sign up for a course, or simply learn a new language with an easy-to-use language app.
42. Catch A Fish
Skills that relate to outdoor pursuits are excellent for developing a broader sense of know-how
Learning to fish is one such skill, and will come in handy in the event of a civilization collapse.
You may get lucky and catch one of the most expensive fish you can buy, too.
41. Write A Letter/Email
The art of writing a great letter is as important as learning how to write a toast.
Practice writing well-crafted emails explaining your thoughts, and use the skill to catch up with friends you haven't seen in a while.
You can go one better and write a letter using one of the most expensive luxury pens, developing neat handwriting in the process.
40. The Heimlich Maneuver
Basic first aid is something every man should know, and learning the Heimlich Maneuver is a part of this process.
There are plenty of guides online to teach you how to perform this movement safely in case someone needs medical attention.
While it's hoped you'll never need to use it, in an emergency you might be able to save someone's life.
39. Grow Food
Growing food is an easy skill to learn, and you can start out nice and simple by growing some basil, thyme, or other herbs in small pots.
If you're feeling more adventurous, try cultivating a vegetable patch in your garden.
While you might not end up feeding yourself all year round, it's a great step towards a more sustainable life.
38. Sharpen A Knife
A dull blade is one of the most dangerous objects in a household, so the modern man should be able to sharpen a knife correctly.
As with many of these life skills, there are plenty of guides for how to sharpen a knife online.
It's a good skill to have, especially when you're preparing your food.
37. Find & Purify Water
Another excellent skill to learn that comes under the umbrella of bushcraft is finding and purifying water.
There are a few tricks you can use for locating a water source, for instance using a dowsing rod.
Purification techniques are also easy to learn, or you can use one of the many water purification gadgets available.
36. Tie A Knot
Tying a knot is one of the basic skills you learn when you join the scouts, and for good reasons.
Knots are incredibly useful when out in the wilderness, helping you secure your belongings or moor a boat.
There are many types of knots, so start with a basic overhand knot before moving on to something more complicated.
35. Dress Well
While many men in the modern world tend to dress more casually than their latter-day counterparts, dressing well still makes you stand out from the crowd.
This doesn't mean buying a pair of the most expensive sneakers you can find, but rather taking the time to pick out smart clothes.
You can go for the full suit, or simply up your game by wearing a decent shirt with polished shoes.
34. Make A Cocktail
Learning how to make a good cocktail will take your ability to host a party to the next level.
While a basic array of cocktail ingredients isn't necessarily cheap, you don't have to buy the most expensive alcoholic drinks to make a delicious cocktail.
Start by learning one or two popular beverages, then expand your range of drinks over time.
33. Swim
While many people learn to swim when they are young, if you're an adult it's not too late to bring that skill to the table.
Lessons are easy to find, and it's a fantastic way to improve your overall levels of fitness.
It's also a useful skill to know when on holiday, and you fancy a refreshing dip in the ocean.
32. Deep Critical Thinking
The ability to think deeply on a range of topics will help you to become a much better conversationalist.
It'll also give you the mental faculty to improve your overall quality of life and make better decisions.
You can develop deep critical thinking by reading philosophy, as well as a variety of personal development authors with valuable advice to offer.
31. Throw & Take A Punch
Getting into brawls or street fights is something everyone should avoid, but that doesn't mean basic fighting skills should be avoided.
Take boxing classes, and you'll learn the best way to block and throw punches to defend yourself should you need to.
You could mix things up and take lessons in MMA fighting, or choose another style that suits your personality.
30. Split Wood
Bushcraft skills are essential in a survival situation, and building a fire requires knowledge of dealing with wood.
Learning how to split wood is the first step to becoming a master bush craftsman.
It's also a great upper body workout, and will keep you fit should you find yourself living in a log cabin over winter.
29. Shoot Guns
Shooting guns isn't just a lot of fun, it's also a way to develop your dexterity and improve discipline.
Signing up for a professional gun range and earning your license will help you develop this skill safely.
It's also a skill you can continually hone, improving your accuracy and expanding the range of firearms used.
28. Ride A Motorcycle
While driving a car is a liberating experience, the freedom granted from a motorcycle is second to none.
You don't have to start out with one of the most expensive motorbikes in the world to begin learning this new skill.
You can combine this with other pastimes, for instance by going on motorbiking camping vacations.
27. Play An Instrument
There are hundreds of different instruments available to learn, so choosing one that best suits your style is easy.
The piano and guitar are popular instruments to begin with, and finding a local tutor is easy to do.
Drums are a great alternative and can help you get any anxiety you're feeling out of your system.
26. Prepare Food
Once you've mastered the art of sharpening a knife, it's time to put it to good use.
There are more than a few ways to prepare food, and you can find recipes for countless meals to suit every taste.
Expanding your kitchen know-how will complement other skills when entertaining guests.
25. Hunt
Another essential part of survival skills is the ability to hunt, which expands your outdoor menu from simply foraging for mushrooms and plants.
Shoot with a bow and arrow or hunting rifle, or learn how to build small animal traps to catch woodland mammals.
24. Iron Clothes
While most guys tend to wear jeans and T-shirts or tracksuits, if you've upped your wardrobe game to include smart trousers and shirts, you'll need the skills to look after them.
Learning how to iron clothes can be done by following the many tutorials on YouTube, or you can cheat and buy a French press.
23. Shake Hands
A skill that requires little explanation, but one which many men should practice more often.
A good, firm handshake helps to show confidence and maturity, so giving one in the right situations will help you develop a stronger impression.
22. Buy A Suit
Wearing cheap, ill-fitting clothes full of creases could well be one of the reasons why people don't believe in you anymore.
If that's the case, investing in a quality suit could be the best thing you do in your life.
You don't have to spend thousands of dollars to get a good suit and can find great second-hand suits at thrift stores and vintage clothing fares to save you money.
21. Navigate
Getting around the world has been made increasingly easy by the advent of GPS tracking systems and Google Maps on our smartphones.
But reading the landscape with a compass and navigating the wilderness isn't just a useful skill; it's also a lot of fun.
Also, you never know when your signal might be lost on a hike, so having a map and compass at hand could save you from getting lost.
20. Lift Weights
A healthy body is one of the foundational requirements for great quality of life, and simply going for a walk regularly or doing daily push-ups is a great starting point.
If you want to take things up a notch, consider lifting weights several times a week and honing your body's musculature.
The health benefits from lifting weights are endless, and you'll improve your overall mood at the same time.
19. Give A Speech
A similar life skill to giving a toast, giving a speech is a more in-depth version of the same approach to language and presentation.
A speech helps you to develop coherent thought processes, while the delivery helps you improve your communication skills.
It's a good quality to help improve special occasions and show yourself as a capable adult man.
18. Tell A Joke
People who know how to tell a good joke can get the attention of others and do so in a disarming manner.
If you're not naturally funny, you can still hone this skill by working on delivering great jokes you've heard to your friends.
Try to memorize at least one hilarious joke that you can use as a conversational ice-breaker.
17. Negotiate/Haggle
There's a fine art to being a great negotiator, with countless business books exploring the various methods available.
It's a good way to practice keeping eye contact and other body language techniques as well as thinking on your feet.
16. Wet Shave
Using an electric razor is the easiest way to get a moderately close shave, but nothing beats a wet shave for a smooth finish.
Invest in some quality, well-made blades and a decent razor for the best wet shave experience.
If you prefer to grow a beard, you can turn this into a skill with a range of beard maintenance methods and products.
15. Read A Book
Reading is one of the best ways to cultivate a cultured personality, and reading as broadly as possible gives you a much bigger talent stack.
From the best psychology books to literary classics, there's no shortage of amazing books to help broaden your horizons.
A nice collection of books is also a good starting point for conversations with friends and family.
14. Shine Your Shoes
Once you've upgraded your closet with nice clothes, it's time to swap out the sneakers for a pair of smart shoes or boots.
Good leather shoes require maintenance, and learning how to shine them will help make sure they last for years and continue looking great.
Good quality leather shoes made from fine calf leather can be expensive but will last a lifetime if handled with care.
13. Tie A Necktie
The finishing touch to the suit and smart shoes is the necktie, which can be tied in a variety of ways.
Wearing a tie will give you the appearance of a high-status individual, especially when properly tied.
For the finishing touch, pick up one of the most expensive watches you can afford.
12. Hang A Picture
Basic do-it-yourself handiwork might be a bit of a chore, but if you can't change a light bulb yourself you have more than a few things to learn about life.
Likewise, hanging a picture is a basic skill to have around the home, along with putting up a bookshelf.
Hanging a picture isn't just about hammering a nail in the wall; choosing the picture itself is the real point, and finding a piece of art that speaks to you individually.
11. BBQ
As we've seen with the steak-cooking skill, cooking meat well is something every man should know how to do.
Cooking a barbeque isn't just about coordinating multiple items of food and cooking them well.
It's also about putting on the event, networking with people, engaging in conversation, and having a good time.
10. Fix A Leak
A basic understanding of plumbing is another ability to complement general odd job skills.
Reduce your maintenance expenses by learning how to fix a leak, and generally maintain your home's plumbing so everything runs smoothly.
9. Drive Stick Shift
Learning to drive with automatic gears is the easiest way to get on the road quickly and cheaply.
Driving stick shift, however, opens up a new driving experience with considerably more control over your vehicle, and gives you the option to hit race tracks.
It also means you can drive anyone's car at the drop of a hat should you need to do so.
8. Deal And Play Cards
Card games are a great way to socialize, as well as develop your haggling skills, eye contact, and body language control.
We're not talking about playing with the most expensive baseball cards; instead, learn to shuffle a deck properly and deal out correctly for a poker, bridge, or gin rummy card game next time your friends visit.
7. Perform CPR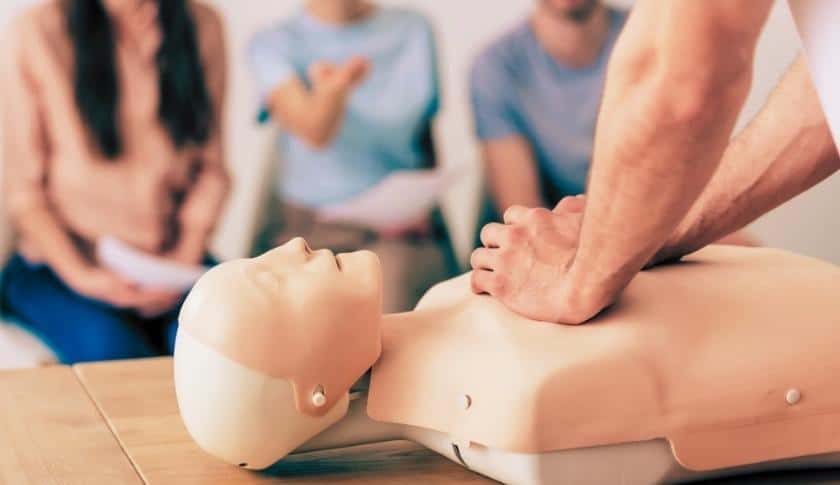 Another essential and potentially life-saving skill to learn is the ability to correctly perform CPR.
You can take first aid lessons to learn how to perform CPR, as they'll have the appropriate dummies that you need to practice on.
It's another skill you hope you'll never need to use, but you should know just in case an emergency happens.
6. Change Your Oil
A general understanding of car mechanics is a similar skill to a basic understanding of DIY.
It might be a little on the dull side, but it'll save you a lot of potential hassle if you add it to your skill stack.
It only takes a short while to learn how to change your own oil, and certainly doesn't require knowledge of your entire engine.
5. Change A Tire
Changing a flat tire is another tedious-sounding skill that is nevertheless one everyone who drives should know.
Whether you're driving one of the most expensive cars in the world or a cheap second-hand model, a flat tire in the middle of nowhere is a nightmare to deal with.
Learn how to do it yourself and it won't matter if your phone hasn't got a signal.
4. Build A Shelter
Building a shelter is another great survival skill to add to your outdoor crafts repertoire.
A makeshift shelter is easy to make provided you have a saw, axe, and a knife.
Combine this with some hunting skills and a campfire, and you'll be good to survive in the wilderness for some time.
3. Financial Literacy
Getting on top of your financial situation gives you peace of mind, and the financial security to explore new pastimes.
Find out which are the best savings accounts in America, and consider setting aside some income for investment opportunities.
2. Build A Campfire
Every man should know how to build a campfire, especially if they have children or nieces and nephews who want to go camping.
Learn how to use a flint, collect the right types of wood, and make your own kindling for a beautiful campfire.
Remember to stick to the "Leave No Trace" rule of the countryside, properly extinguishing the campfire before you leave.
1. Basic First Aid
In addition to the Heimlich Maneuver and CPR, an all-around basic understanding of first aid is a must-have skill.
Bandaging wounds, dealing with burns, and other potential medical emergencies mean you're equipped to potentially save lives.
It's perhaps the most important thing you can learn how to do in life.
Summary
That wraps up this comprehensive guide to the best skills every man should know.
We hope this helps you to expand your skill stack and improve your overall quality of life.
We'll update this article in the future to add any new essential skills we discover, so make sure you check back for the details.
Here's a quick recap of the 50 best skills every man should know:
Basic First Aid
Build A Campfire
Financial Literacy
Build A Shelter
Change A Tire
Change Your Oil
Perform CPR
Deal And Play Cards
Drive Stick Shift
Fix A Leak
BBQ
Hang A Picture
Tie A Necktie
Shine Your Shoes
Read a Book
Wet Shave
Negotiate/Haggle
Tell a Joke
Give A Speech
Lift Weights
Navigate
Buy A Suit
Shake Hands
Iron Clothes
Hunt
Prepare Food
Play An Instrument
Ride A Motorcycle
Shoot Guns
Slipt Wood
Throw & Take A Punch
Deep Critical Thinking
Swim
Make A CockTail
Dress Well
Tie A Knot
Find & Purify Water
Sharpen A Knife
Grow Food
The Heimlich Maneuver
Write A Letter/Email
Catch A Fish
Speak A Foreign Language
Jump Start A Car
Approach Women
Sail A Boat
Cook A Steak
Tell A Good Story
Make A Toast
Know How To Dance
What's the best skill every man should know, in your opinion? Leave a comment below.