Top 40 Blogs for Bloggers to Follow
It's time for part 3 of our top blogs to follow in 2019 list. These lists have become so popular that I just can't help cranking a new one out every month or so.
Since many bloggers follow the site, I've taken a collection of blogs that I personally follow, and researched some others (which I'm now following), that focus specifically on blogging advice.
It's safe to say we all knew the blogging niche is pretty crowded, and there are so many contenders for a list of top blogs for bloggers. Which made it all the more harder to choose.
Just in case you missed the last two lists of top blogs, you can check them out here:
The Top Blogs for Bloggers to Follow in 2019
So here it is, the top list of blogs for bloggers. Bear in mind some of these may have also appeared on the list of best business blogs. I just couldn't help but mention them again since their advice is relevant to both business and blogging.
How many of these 40 blogs are you following?
Founded by Neil Patel – QuickSprout is my go to blog whenever I'm looking for a particular bit of advice on blogging. Neil's a big fan of A/B testing, which is why it's very easy to learn what and what not to do when it comes to marketing your blog. Definitely sign up for the newsletter!
Founded by Ryan Biddulph – Blogging From Paradise is a freshly re-branded blog that shows you how to live the island hopping lifestyle you've always dreamed of. Along with great blogging advice, the stories Ryan shares about his travels is enough to inspire anyone.
Founded by John Chow – The John Chow blog makes money online by showing you how to make money online. John gets hundreds of thousands of visitors every month to his blog and has all the top advice on making money online.
Founded by Mike Stelzner – Social Media Examiner has been running for several years, now with a combined total of over 1 million followers. The site offers outstanding advice on succeeding with social media, and is a definite must follow for any aspiring bloggers.
Founded by Brian Dean – Backlinko covers a different area to Social Media Examiner completely.
Can you guess what it is?
That's right, backlinks. I have read some top notch articles from Brian on building backlinks through various tried and test methods, and the articles are so in depth you have to go back at least 3 times to take in all the information.
Founded by Ryan Deiss – What I love about Digital Marketer is that as soon as you land on the site, it gives you three options to choose from: driving traffic, boosting conversions or increasing engagement.
Select the one you're interested in, and you'll be greeted with a short introduction on the area, and some of the best articles DM have written within it. Another wonderful blog with some great case studies to learn from.
Founded by Sue Anne Dunlevie – Successful Blogging is a blog I've had the pleasure of featuring on recently. Sue writes great advice for people looking to start their own blog, and has recently written an awesome post for our site on the advantages of becoming a solopreneur.
Founded by Razvan Gavrilas – Cognitive SEO has a wonderful blog sharing numerous case studies, majorly focusing on search engine optimization and Google recovery stories, as well as insights to Social Media. And this is on top of their ultimate paid blogging tool that might be worth considering.
Founded by Brian Clark – Copy Blogger again made an appearance in our list of the top blogs for entrepreneurs. The site has been teaching others about content marketing since 2006 and is definitely one of the go-to blogs for marketing advice.
Founded by Matt Cutts – Matt is the head of the Google Web-spam team, and if you're not following his advice then you're not following Google's. Which means that you are asking for trouble when it comes to search engine rankings.
Founded by Darren Rowse – ProBlogger is one of the top blogs for bloggers, featuring everything you need to know on starting a blog and successful making a living from it.
Darren Rowse has been blogging for over a decade and his expertise simply can't go unnoticed.
Founded by Derek Halpern – The first article I stumbled onto on Social Triggers was Titled "Why bloggers fail", and has kept me coming back to the blog ever since. Social Triggers is not just a blog for bloggers, it's majorly for all entrepreneurs in general.
Founded by Matthew and Adam Toren – Blogtrepreneur was featured on last months list of top blogs for entrepreneurs, but had to be included on this list as well.
I've also had the pleasure of featuring on Blogtrepreneur this month, and it's a top site to follow for any aspiring bloggers or entrepreneurs.
Founded by Ramsay Taplin – Blog Tyrant is another incredible blog for anyone who's looking to start their own blog and find out more about growing their blog's audience.
Founded by Julie DeNeen – Fabulous Blogging has a great number of how-to guides and tutorials for blogging beginners.
Founded by Aaron Wall – SEO Book has all the latest advice on optimizing your websites for search engines. Their latest article talks about the new Google Mobilepocalypse update that's put more emphasis on the mobile friendliness of websites.
Founded by Pat Flynn – Smart Passive Income gives you a reason to stick around as soon as you hit the homepage. The slogan "Let's see what works" should be your cue to sign up to the newsletter right away.
Pat tests everything to do with online business and that's all you need to know. When we publishes his findings make sure your there to gain some great knowledge from it.
Founded by Harsh Agarwal – Shout Me Loud has over 600,000 subscribers. It's an excellent site for any looking to make a business out of their blog.
Founded by Carol Tice – Make A Living Writing is perfect for freelance bloggers as Carol shares her own personal experiences of content writing, and how you can get the best price for your work.
Founded by Jeff Bullas – Jeff's blog hands out excellent advice on social media marketing, content marketing and digital marketing. Jeff receives over 4 million page views per year and is a great blog for bloggers to follow.
Founded by Rand Fishkin – Moz has grown into a huge company, and their company blog has great content on SEO and link building strategies.
Founded by Jon Morrow – The title pretty much gives it away. Boost Blog Traffic helps you do exactly that – build your blog to a substantial number of visitors per month.
Founded by Loren Baker – Search Engine Journal has been going since 2003, and publishes all the top news on SEO, content marketing, social media and the like.
Founded by Matthew Woodward – His blog is award winning in the field of internet marketing. Matthew has some great tutorials on building an online income and growing your blog audience.
Founded by Ankit Kumar Singla – Blogger Tips Tricks covers a few different aspects of blogging that newbies can learn a lot more about creating a successful blog and beginning to earn money from it.
Founded by Syed Balkhi – WP Beginner is specifically tailored to helping out new WordPress users with any queries they may have on getting their site up and running. A perfect blog since most blogs today are hosted with WordPress.
Founded by Michael Dunlop – Income Diary was one of the first top blogs for bloggers that I started following. Mainly because Michael is from England as well and also started when he was young.
Founded by Yaro Starak – Entrepreneurs Journey is another awesome blog that I've had the pleasure of mentioning before. I love Yaro's story of how he started with his own trading card site, and it's definitely worth following him for some great advice.
Founded by Chris Brogan – Chris Brogan is a best selling author, and offers plenty of marketing and lead generation advice for businesses, much of which is linked to website creation and blogging.
Founded by Chris Pearson – DIY Themes is a WordPress theme design company. However, they have some high quality articles on WordPress SEO and email marketing that you can't afford to miss out on.
Founded by Seth Godin – we mentioned it previously as being an outstanding resource for entrepreneurs, but the same goes for bloggers! Seth's blog is well known world wide and you can't help but pick up some great wisdom from him.
Founded by Stuart Walker – Niche Hacks is the last, but not least valuable, blog on the list of top blogs for bloggers. Niche Hacks has a tonne of blogging how-tos and the great thing is that discussing and excelling in different niches is the focus point of the website.
Founded by Danny Iny – Firepole Marketing has some very informative articles that are guaranteed to enlighten many bloggers and help them out in important areas.
Founded by John Paul Aguiar – The message behind his blog is simple – how to make money blogging. A site that will naturally attract anyone who wants to make a living through their blog.
Founded by Danny Sullivan – when it comes to search engine news, Search Engine Land is the site to follow. SEL keeps you up t date with all the latest Google, Bing and other closely related news.
Founded by Erik Emanuelli – Smart Marketerz is a top blog that writes about making money online and building a successful website. Erik owns several different successful niche websites and shows you how you can do the same.
Founded by Tim Sae Koo – TINT is a company that specializes in a social platform product, which I'll let you find out more about on their website. Yet, they also have a company blog with some great info published. Check it out when you get a minute.
Founded by Ian Cleary – Razor Social helps readers become more effective with their social media efforts, and was listed as one of Social Media Examiner's top 10 blogs in 2013 and 2014.
Founded by Mark Harbottle & Matt Mickiewicz – Site Point focuses on the design side of blogging more than anything else. Most of the other blogs on this list are all about improving your traffic, whereas Site Point helps you learn more about what goes into designing your own website.
Founded by Darrin Ward – SEO Chat is another great blog/forum focusing on all things SEO. Yet again another great blog to follow.
Summary
That concludes the list of the top blogs for bloggers to flow in 2019. It's likely that we've missed out several other great blogs from the list that might just well deserve to be on here.
Do you have any others to add to the list?
Leave a comment below, and I'll consider adding them on the end!
The 10 Cheapest Countries To Retire To
What are the cheapest countries to retire to?
While some people dream of retiring on a sunny beach drinking cocktails, others prefer the idea of remaining active and exploring exciting new wilderness.
But whatever your vision of retirement looks like, how much it's going to cost to enjoy a good standard of living is an essential factor everyone has to consider.
This guide explores the ten cheapest countries to retire to based on the annual global retirement index, breaking down everything from the cost of living and infrastructure to the food and entertainment you can expect to enjoy.
The 10 Cheapest Countries To Retire To
We've analyzed some of the most popular countries, from the cost of living to culture, to bring you this list of the cheapest countries you can move to when it's time to retire.
Here's our list of the 10 cheapest countries to retire to:
10. Uruguay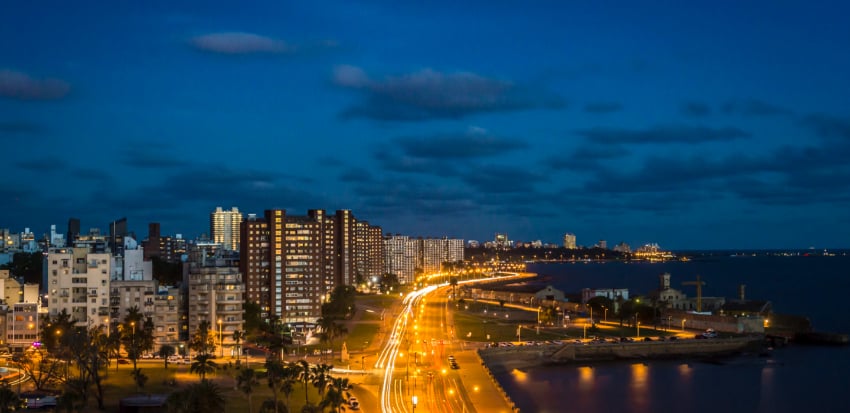 With its consistently warm climate, biodiverse rain forests, and rich and varied culture, Latin America is a popular region of the world to retire to on a budget.
Uruguay is one of the more popular Latin American countries for retiring abroad, nestled between Brazil and Argentina, with regular flights to and from the United States.
While Uruguay is among the smaller Latin American countries, there's plenty on offer for retired expats looking for a relaxing climate where they can live comfortably.
Its capital city, Montevideo, brings the lush green hues of the forests into its urban setting, with tree-lined streets and public parks available for leisurely strolls.
Foodies will appreciate the selection of exceptional street food on offer, with a particular emphasis on Italian and Mediterranean dishes drawn from a population mainly of Italian descent, alongside ethnic food and coffee shops.
Uruguay's culture matches the colorful flora and fauna, with regular carnival parades transforming the streets into parties and street tango performances livening up the coastal promenades.
Expect to invest around $1500 of your retirement dollars becoming a legal citizen, with a monthly cost of living between $2500 and $3500, giving a comfortable lifestyle.
If you'd prefer to avoid the bustle of Montevideo's city center, Uruguay's more remote coastal resorts, such as Punta del Este, offer some of the country's most impressive beaches, although you can expect your cost of living to increase for these locations.
9. Spain
If you'd prefer to retire abroad away from the American continent but would still like to brush up on your Spanish language skills, you should consider heading to Western Europe and settling in Spain.
A Mecca for expats from the UK, Spain offers a blend of year-round sunshine complemented by a cool Mediterranean Sea breeze, with delicious seafood and all the amenities you can expect from a fully developed country.
Hit the Costa del Sol for hot weather, endless bars, cafes lining the seafront, and freshly caught seafood straight from the sea, with a well-established expat community to welcome you.
For a more cultured retirement abroad, there are several major cities where you can find theaters and opera houses, and while the cost of living in places such as Milan and Barcelona is higher, the excellent food and rich history make it a worthwhile investment.
This rich culture is perfectly reflected in Spain's diverse architecture, with centuries-old Romanesque and Gothic structures sitting alongside the modernist works of architects such as Antoni Gaudi.
Life in one of Spain's many coastal towns is surprisingly cheap, and their affordable healthcare and efficient public transportation systems mean you can make additional savings from your monthly budget.
If you're interested in visiting a Unesco World Heritage Site in Spain, there are 49 to choose from, ranging from mountain landscapes to prehistoric rock art sites, a factor that makes the country one of the most popular tourist destinations in the world.
The Global Retirement Index's statistics for international living place Spain especially high when it comes to healthcare and development, ranking higher than most other countries on this list based on these measures.
8. Malta
Malta made international headlines when it was used for some of the footage for HBO's blockbuster series, Game of Thrones, where its baroque buildings, sandy stoned beaches, and 17th-century fort were used for a variety of settings.
Retiring to Malta isn't just for those who want to head out on a tour of the Game of Thrones locations; this deceptively small country is steeped in thousands of years of history, with a culture that reflects its role as a hub of international activity.
This tiny country boasts an abundance of activities to entertain expats, from the restaurants and festivals of the more populated settlements such as the capital Valetta to excellent hiking routes and places to scuba dive.
While the capital is an expensive city to purchase property, exacerbated by high property taxes, a single person can expect to pay in the region of $900 to $1600 for a one-bedroom apartment in the metro area.
Permanent residency can be achieved either through the costly Permanent Resident Program – which requires €500,000 in assets and other financial contributions – or through the "self-sufficiency" visa.
For this, you'll need to bring in an income of €50,000 per year, which can partly be social security), with evidence of medical insurance.
Malta isn't the cheapest of retirement destinations overall, but you can make huge savings on your overall cost of living with low transportation costs since it only takes a few hours to drive around the entire country and take in the stunning scenery.
It's a wonderful mixture of the ancient history of the Phoenicians, Arabs, and Normans, with a modern European sensibility woven into the food and culture of its small but vibrant cities.
7. France
Popular retirement locations have several things in common, including high-quality food and drink, a pleasing climate, attractive landscapes, rewarding culture, and excellent healthcare services.
France is no exception, a beautiful country that boasts everything from the world's "city of love," Paris, to countless medieval villages and a string of quaint coastal towns scattered along the west coast.
One of the key attractions for France as a place to retire to is its excellent social security benefits, with universal healthcare coverage available for all residents at an exceptionally low cost.
Overall cost of living is accessible, meaning you'll have plenty of your retirement income left over after your monthly expenses to enjoy France's many fine restaurants and entertainment venues.
Living expenses vary depending on where you choose to settle in France, with a lower cost of living expected in more rural regions compared to living the high life in urban areas.
Those who prefer the great outdoors over built-up urban conurbations may wish to settle in the Dordogne region, notable for its beautiful river and charming agricultural heritage.
Cannes and the Cote d'Azur bring a touch of elegance to the coast, although visiting these luxurious resorts, which feature some of the most expensive hotels in the world, will have less of a dent on your pension income than taking up permanent residence.
Sports fans in general – and cyclists in particular – can enjoy the world's most celebrated cycling tournament firsthand, with the Tour de France race taking part each year and spanning over 3,000 kilometers of this stunning country.
6. Ecuador
Returning once again to Latin America, Ecuador is another gorgeous country boasting extensive tropical rain forests where you can retire abroad and enjoy a low cost of living.
What Ecuador lacks in terms of modern amenities and services when compared to the European countries we've discussed, it more than makes up for with its incredible landscapes.
You'll still find modern conveniences such as high-speed internet here, so keeping in touch with friends and loved ones back home isn't going to be an issue.
Indeed, Ecuador is one of the most ecologically diverse places in the world, maintained by the protected status of its 11 national parks, which help to limit oil exploitation and protect the ecosystem.
Ecuador already hosts a well-connected and welcoming community of expats, which means you can easily find people to help you join local dinner clubs or sign up to art classes and try your hand at competing with the most expensive paintings ever created.
If you'd prefer to get away from the country's many fine sandy beaches, you can take day trips to explore the local culture, or if you're feeling more adventurous, set out into the hills and forests and connect with nature.
Ecuador's year-round growing seasons bring plenty of choice to the dinner table, from the pork, chicken, and beef dishes favored in the highland regions, to the fish and shrimp meals that dominate the coastal towns.
Overall cost of living comes at a truly affordable price, with cheap food matched by cheap transportation and services, and rent costing as little as $500 per month for a single person.
For those looking at retirement planning for a biodiverse environment with a more temperate climate, Ecuador deserves a place on the list of locations worth considering.
5. Colombia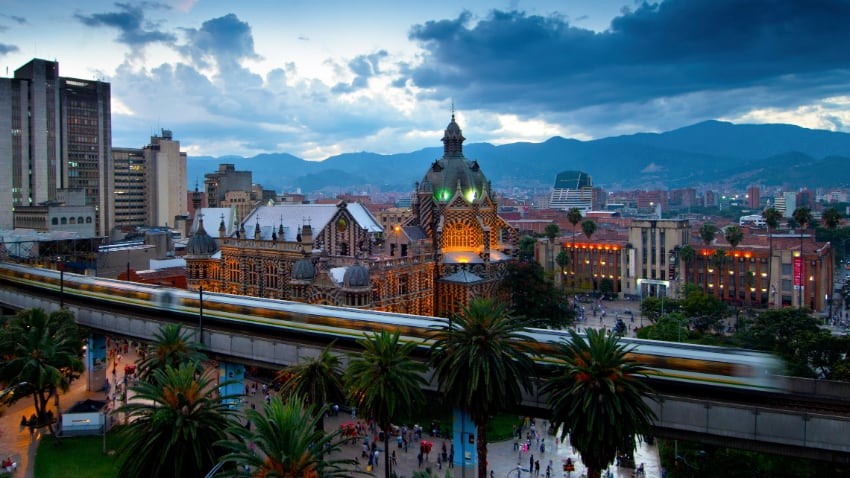 Colombia once had a reputation for conflict and violence, with warring political factions and international drug cartels once dominating the news cycle in the Western media.
Fortunately, this stereotypical depiction of the country no longer applies, and it is now one of the most affordable countries you can retire to, with an ever-growing expat community.
Colombia is the second most biodiverse country in the world; you can explore stunning mountain ranges and tropical rainforests or find sandy beaches scattered up and down the coastline.
As well as being one of the most ecologically diverse places you can retire to, Colombia also features a strong infrastructure, including efficient public transportation, decent healthcare facilities, and affordable utilities.
Culture vultures can make the most of Colombia's 3000 years of history, encompassing the early gold craftsmanship of the Tumaco people to the Baroque and rococo art and architecture of the Spanish Catholics, who settled in the country from the 16th century onwards.
It's also the home country of Shakira, ranked as one of the hottest women in the world with a reputation as a world-class singer, businesswoman, and philanthropist.
Colombian land produces excellent food, with regional dishes such as Patacones, Ajiaco, and Aborrajados livening the palette of the more adventurous expats who choose to retire here.
4. Portugal
Portugal resembles its neighbor Spain in several ways, including its warm and sunny climate tempered by cool sea breezes, to its eclectic seafood dining and vibrant culture.
The cost of living in Portugal is also lower than in Spain, making it the cheapest country in Europe and one of the most highly sought-after retirement havens in the world.
Voted the best place to live in 2020 by the International Living editors, Portugal offers a high quality of life with copious sunny shores to choose from, as well as some of the finest wines available.
Portugal's capital city, Lisbon, is one of the most affordable capitals in Europe while still offering the restaurants, nightlife, and modern facilities you'd expect to find in other major cities.
Professional healthcare comes at competitive prices, while accommodation can start from under $500 per month for a three-bedroom home (although, as always, expect higher prices if you want to live in the capital).
This is a country that brings historic towns, maritime history, and a timeless geographical beauty together with great value cost of living and friendly locals.
3. Mexico
American expats looking to apply for their retirement visa and move somewhere a little closer to home can often be found relocating to Mexico in Central America.
Mexican culture is firmly interwoven with American culture, with the Day of the Dead ceremony as iconic as the extravagant Mexican wrestlers and guitar-strumming mariachis.
This cultural familiarity, combined with its geographical proximity, has made Mexico as popular as a tourist destination as it is a home for retirement, enhanced by the low cost of living.
As one of the cheapest countries to live in, healthcare costs are considerably lower than in the US. In contrast, other social security benefits and low-income tax rates ensure the cost of living is even lower.
This adds up to an affordable cost of living of around $!500 to $2000 per month to cover the costs of a couple living in Mexico.
This large, geographically diverse country features a range of climates to suit various preferences, meaning you can holiday within Mexico depending on the season to find the temperature which suits you best.
Home of the Mesoamerican cultures, history buffs can take in the incredible spectacles of the Mayan and Aztec civilizations, and the country's rich and complex musical legacy can be found in its bars, clubs, and opera houses.
2. Costa Rica
Fly south from Mexico, and you'll find Costa Rica, a country surrounded by crystal clear seas that shares a maritime border with Ecuador.
Also known as "the Switzerland of South America," Costa Rica is one of the safest countries in the region, with affordable healthcare and other social security benefits to help keep your running costs low.
The residency process isn't convoluted, and this is one of the first countries to offer benefits explicitly aimed at expat retirees.
For those who don't see retirement as an opportunity for putting up their feet, and would rather get out and about, there's everything from jungle hikes to canopy tours and volcano expeditions to keep you on the move.
Leave the wilderness for one of the nearby towns or the capital San Jose, and you'll find plenty of quality restaurants and cultural events ready to feed and entertain you.
A global leader in biodiversity initiatives, Costa Rica has experienced keen interest from billionaires and world leaders eager to learn more about its revolutionary policies.
Even the founder of Amazon has visited the country, although you won't need Jeff Bezos' net worth if you're thinking of retiring here yourself.
1. Panama
Panama often conjures up images of a tax haven for some of the richest people in the world, but despite the financial institutions which dominate Panama City, it's also a place of tropical beauty and lush beaches.
You don't have to be a millionaire yourself to live a good life among Panama's super-rich; a couple can get by in Panama City with a cost of living under $3000 per month.
This cost of living is helped greatly by the fact you pay zero income tax for any revenue you earn in another country, as well as inheritance tax laws which mean your loved ones won't lose half your estate to the government.
There is an abundance of bars, cafes, and restaurants in Panama, which perhaps isn't surprising since it's also the home of one of the most expensive coffees you can buy.
Outdoor pursuits include sports, with the country well served by golf courses and forest treks, biking, and ziplining.
With its attractive cost of living based on the dollar currency, proximity to the States, and combination of modern amenities and attractive wilderness, Panama has earned its position at the top of the Global Retirement Index by International Living.
Summary
There are plenty of options when choosing the best place to retire abroad, catering for all manner of tastes and requirements, from the tropical paradises of Southeast Asia to the old-world charm of rural France.
We've explored the top ten retirement destinations based on the cost of living, healthcare and social security benefits, and the arts and culture you can expect to find.
Once you've decided which place is your dream retirement home, it's time to get in touch with a financial advisor and start saving for a future in the sun.
Here's a quick recap of the 10 cheapest countries to retire to:
Panama
Costa Rica
Mexico
Portugal
Colombia
Ecuador
France
Malta
Spain
Uraguay
Which one of the cheapest countries to retire to is your favorite? Leave a comment below.
Top 25 Behavioral Interview Questions With Sample Answers
What are the top behavioral interview questions?
Attending a job interview can be a stressful experience, so knowing what questions to expect is crucial if you want to be fully prepared.
This guide to behavioral interview questions will help you to think through the best answers relevant to your experience and help you land your dream job.
Top 25 Behavioral Interview Questions
We've covered a broad range of questions about how you handle motivation, teamwork, deadlines, and problem solving to make this a comprehensive resource for your next interview.
Here's our list of the top 25 behavioral interview questions with sample answers:
25. Give me an example of when you used logic to solve a problem.
Interview questions are frequently designed to help better assess the candidate's problem-solving skills, particularly their ability to use logic.
By demonstrating your ability to think on the fly and use logic when doing so, you show yourself to be capable of a coherent thought process in a challenging situation.
Example Answer:
To deal with declining social media engagement on our company's accounts, I conducted a competitor analysis to develop a new social media strategy.
By observing what our competitors did well and adapting it to our company's core mission, I increased our social media engagement.
24. Describe a time when you saw a problem and took the initiative to correct it.
A hiring manager will ask behavioral interview questions that seek to understand how actively engaged the applicant is within their role.
As such, they will be looking for job seekers who avoid being passive instead of taking a proactive stance whenever problems arise.
Example Answer:
While working on an important project for a former employee with a deadline approaching, I discovered one of our colleagues was called away on an emergency.
I suggested to my direct report that I stay and work overtime that evening to cover the work and make it a less stressful situation for my colleagues.
23. Tell me about a time an unexpected problem derailed your planning. How did you recover?
Hiring managers will frequently ask adaptability questions to gain a clearer insight into how the applicant responds to unexpected pressure.
Not everyone can switch up their planning on the fly, so giving specific examples of how you have managed to stay focused in these circumstances is essential.
It's also an excellent opportunity to show more generally how you change your schedule for better productivity when problems need to be addressed.
Example Answer:
While working in a restaurant, I discovered we had a shortage of certain ingredients necessary for some of the items on our menu.
After taking stock of our food inventory, I updated the menu with a new dish that utilized the food we had available to serve.
22. What do you do when your team member refuses to, or just can't' complete their part of the work? Give me an example.
A great employee is capable of working well with their co-workers, so expect to answer teamwork questions during a job interview.
Try to give a strong answer with concrete examples of instances when you have helped out a co-worker who has struggled with their workload and any tips when dealing with frustration you use.
Example Answer:
Our team was asked to put together a sales presentation for the board of directors, but one colleague had failed to prepare their work.
I understood the need to give a good impression and knew the topic well, so I committed more time to work through my colleague's section of the presentation.
21. Can you tell me about a time you gave a presentation that was particularly successful? Why do you think it went well?
The ability to deliver a great presentation demonstrates a range of abilities, including research, design, and communication skills.
Whether or not you're asked this question during a job interview will depend on the specific job description for the role, but it is relevant be sure to have sample responses ready.
Example Answer:
In my previous role, I was in charge of coordinating multiple projects across various departments, with various resources shared by these teams.
I delivered a presentation for a new system in which shared resources would be centrally coordinated by each team manager, visualizing the system in a way that made it easy to understand.
20. How do you handle irate customers? Give me an example.
At some point or another, most people have had to deal with an angry client who refuses to listen to reason.
Common behavioral interview questions will seek to gain an insight into your approach to dealing with a difficult client to assess your temperament.
There are a wide variety of ways you can deal with customer service complaints, so choose the best examples from your own experience when answering this question.
Example Answer:
While working in a shop a client became irritable and impatient, claiming they had been waiting for far too long and demanding special treatment.
I apologized and assured the client that this wait was due to an issue out of our hands, offering them a complimentary drink and discount on their next purchase.
19. Tell me about a time when you successfully explained a technical problem to a colleague or a customer who didn't' have a tech background?
A hiring manager will sometimes ask questions to assess how capable you are of taking a complicated subject and simplifying it for a layman's audience.
If you're asked this question, give a specific instance of a time you effectively used simplified languages and analogies to explain something complicated.
Example Answer:
A problem with the code for a company website meant that certain sections of the site were no longer working.
Instead of explaining the issue in detail, I focused on how it would impact visitors to the site directly and the time expected to take to resolve it.
18. Tell me about your first job in the industry. What did you do to learn the ropes?
Employers are most interested in hiring people who are capable of developing within a role and taking on new responsibilities.
Take this opportunity to demonstrate your willingness to learn, as well as to adapt to the expectations of a new job.
Example Answer:
I started my role as a junior coder for a small games developer but was unfamiliar with some of the tools the team was using on their latest project.
As a result, I invested in an online course for the new programming language and got up to speed in my spare time.
17. Give me an example of when you had to suddenly perform under pressure. What happened, and how did you handle it?
Some behavioral interview questions are designed to see how you respond to stress, particularly if the job posting you're applying for is likely to be intensive.
Your sample answer should reflect your ability to solve problems and keep a cool head when the pressure is high.
Example Answer:
While working on an important project, I was asked to move up the schedule and complete the project to a new, strict deadline.
Consequently, I worked with my team to share the additional workload and prioritize projects so that the new deadline could be easily met.
16. Have you ever had to work under someone who wasn't' very good at communicating? What happened?
While some people are talkative and extroverted, others sometimes struggle to articulate what they are thinking in clear and precise terms.
If this question comes up at your next interview, share examples of how you have helped poor communicators get their message across.
This can be anything from sharing body language tips that will exude charisma to helping with how they express their opinions verbally.
Example Answer:
A new employee at my previous company struggled to deliver a presentation, not because they hadn't prepared but because they had difficulty with public speaking.
I sat them down and worked through the presentation in a one-on-one session to help give them the confidence they needed in the future.
15. What would you do if you misunderstood an important task on the job? Give me an example.
Common behavioral job interview questions are designed to understand how well the applicant deals with their mistakes or misunderstandings.
When answering behavioral interview questions like this one, demonstrate your ability to take ownership of misunderstandings while offering solutions.
Example Answer:
After misunderstanding the content requirements for a specific project, I admitted my mistake and offered to work through my spare time to deliver the content as requested.
14. Can you describe an instance where your supervisor or manager just gave you too much work with not enough time? What did you do?
The ability to work under pressure is something hiring managers are keen to explore during an interview.
Answering this question is a good way to demonstrate your time management skills to your prospective new employer.
Example Answer:
My previous manager asked me to complete a report but without the necessary time to accomplish the task.
Rather than simply complaining there wasn't the time to do this, I wrote up a schedule that detailed the report so they could see for themselves what a reasonable deadline would look like.
13. Tell me about a time you set a personal goal for yourself. How did you ensure you would meet your objectives, and what steps did you take?
Some common behavioral interview questions are oriented towards examining how well you can manage your own goals.
Use this question to show relevant experience in setting and accomplishing personal objectives, breaking down the self-improvement techniques you've used and the steps taken.
Example Answer:
When I decided to lose weight, I knew I would need to establish a plan to help coordinate both my diet and exercise routines.
I accomplished this by meal prepping and setting a daily schedule with reminders to keep me on track.
12. Describe a long-term project you managed. How did you make sure everything was running smoothly?
Some behavioral questions are focused on determining how effective the applicant's leadership skills are.
When asked about project management, demonstrate your ability to coordinate teams to deliver the best results.
Example Answer:
When I managed a long-term project, I broke the project down into different stages and coordinated with each team member to maximize their unique skills.
Consequently, the entire team could work together with an understanding of how their roles interact with their colleagues.
11. How do you accomplish tasks when under a tight deadline? Give me an example.
With some job roles requiring employees to work under extreme pressure, interview questions are set to help establish the methods used by candidates to rise to the challenge.
Explain how you have managed to coordinate your schedule to deal with deadlines efficiently and meet the expectations of your role.
Example Answer:
After being given a project to complete by the end of the week, I pulled up my full work schedule and moved all less urgent tasks to the following week so the deadline could be met.
10. Give an example of how you worked on a team.
Most jobs will expect employees to work closely with colleagues as part of a team.
Whether your background involves working on a research team or management team, draw from this experience to show you are a team player.
Example Answer:
The department head at my previous company asked us to put together an analysis of our competitors.
I helped coordinate with the team members to break down the task into its constituent components so we could share the workload.
9. Describe a decision you made that wasn't popular, and explain how you handled implementing it.
Making unpopular decisions is sometimes a harsh reality in the workplace, particularly if you're tasked with leading a team.
This question is a great opportunity to show your leadership skills to the interviewer, diffusing potentially explosive situations.
Example Answer:
While managing a small team, I was asked to schedule overtime for everyone to ensure a deadline was met.
To minimize the disruption to everyone's personal life at short notice, I arranged a meeting so we could collectively coordinate this over time so that no one would have to sacrifice other obligations.
8. What do you do if you disagree with someone at work?
Disagreements in the workplace are inevitable, but the way they're handled can vary wildly from one person to the next.
When answering this question, give examples of how you were able to compromise or otherwise handle disagreement without causing conflict.
Example Answer:
After being paired with a colleague to put together a presentation, they insisted we approached it in a way that would take far longer than necessary.
To resolve the situation, I outlined my approach along with my reasoning, and we were able to compromise and complete the presentation on time.
7. Give an example of a goal you reached and tell me how you achieved it.
Business leaders are goal-oriented and want to know that any new hires are capable of reaching goals and how they accomplish this.
When answering, explain the things you can do to reach your goals easily and how you have applied these principles in the workplace.
Example Answer:
In my previous role, I was asked to increase the number of sales leads over a given period.
To accomplish this, I revisited the database of customers and expanded it to include potential clients from further afield.
6. Share an example of how you were able to motivate employees or co-workers.
Employee motivation is one of the driving forces behind effective performance management and can make the difference between failure and success.
A hiring manager is looking for examples of your ability to motivate others and the strategies you use to do so.
Example Answer:
When my previous company introduced a series of radical changes to the guidelines there was a great deal of resistance from some members of staff.
I took the time to review the changes and explain how they could be adopted with minimal stress, and the resistant employees were able to rise to the challenge.
5. Have you ever made a mistake? How did you handle it?
Everyone gets things wrong from time to time, from the big mistakes that stop people living their dreams, to simple mistakes that are easily corrected.
How we handle these mistakes shows a great deal about a person's character, so answer this question with an example that shows your ability to correct a mistake you've made.
Example Answer:
When dealing with a new customer I gave them incorrect quotes for our services, overcharging them by mistake.
I explained the issue to my team leader and posed a solution at the same time, rather than simply explaining my mistake and expecting them to deal with it.
4. Give an example of how you set goals.
Different people have different approaches to goal setting, with some using the SMART goals method and others preferring to tackle them with another style.
Whatever approach you prefer, make sure you explain your process clearly if asked this question in an interview.
Example Answer:
When setting goals, I break the overall objective down into its constituent components, then set up a schedule with milestones that I can use to monitor progress.
3. Have you handled a difficult situation? How?
Every line of work can throw up an unexpected, challenging situation, from a sudden lack of necessary resources to key staff being absent due to sickness.
If the interviewer asks this question, focus on how you managed to resolve the situation.
Example Answer:
When a project manager fell ill unexpectedly, the team lacked the relevant guidance to continue their work.
After reviewing the upcoming milestones, I could distribute work to each team member to ensure the work stayed on course in their absence.
2. Have you ever bent company policy to satisfy a client?
While company policy is often set in stone, sometimes you need to be adaptable to keep clients happy.
Explain to the interviewer how you've bent the rules enough to satisfy a client without going overboard.
Example Answer:
While working at a car rental facility, a potential client lacked one form of identification required under the company policy.
Since they had enough other IDs to verify who they were, I allowed the rental to go through, and the result was a happy customer.
1. Tell me about how you worked effectively under pressure.
A great interviewer is keen to understand how you deal with high-pressure situations at work and will likely ask you for an example.
Example Answer:
In my previous job, we were frequently under pressure to meet targets daily.
My strategy for dealing with this included mindfulness exercises to keep me focused and a system that used scheduling software with regular reminders to keep me on track.
Summary
We hope you've found this overview of behavioral questions helpful, preparing you for the next time you attend an interview for your dream job.
Be sure to check back on this article the next time you're going for a job interview, as we'll update it to include any new and relevant questions.
Here's a quick recap of the top 25 behavioral interview questions and example answers:
Tell me about how you worked effectively under pressure.
Have you ever bent company policy to satisfy a client?
Have you handled a difficult situation? How?
Give an example of how you set goals.
Have you ever made a mistake? How did you handle it?
Share an example of how you were able to motivate employees or co-workers.
Give an example of a goal you reached and tell me how you achieved it.
What do you do if you disagree with someone at work?
Describe a decision you made that wasn't popular, and explain how you handled implementing it.
Give an example of how you worked on a team.
How do you accomplish tasks when under a tight deadline? Give me an example.
Describe a long-term project you managed. How did you make sure everything was running smoothly?
Tell me about a time you set a personal goal for yourself. How did you ensure you would meet your objectives, and what steps did you take?
Can you describe an instance where your supervisor or manager just gave you too much work with not enough time? What did you do?
What would you do if you misunderstood an important task on the job? Give me an example.
Have you ever had to work under someone who wasn't' very good at communicating? What happened?
Give me an example of when you had to suddenly perform under pressure. What happened, and how did you handle it?
Tell me about your first job in the industry. What did you do to learn the ropes?
Tell me about a time when you successfully explained a technical problem to a colleague or a customer who didn't' have a tech background?
How do you handle irate customers? Give me an example.
Can you tell me about a time you gave a presentation that was particularly successful? Why do you think it went well?
What do you do when your team member refuses to, or just can't' complete their part of the work? Give me an example.
Tell me about a time an unexpected problem derailed your planning. How did you recover?
Describe a time when you saw a problem and took the initiative to correct it.
Give me an example of when you used logic to solve a problem.
What's the best behavioral interview question, in your opinion? Leave a comment below.
The 10 Happiest Countries in the World
What are the happiest countries in the world?
Life expectancy, quality of health and education services, and access to nature and culture all play a role in how happy we feel.
This article explores these important life evaluations which affect the standard of living for the residents of the happiest countries.
The Happiest Countries in the World
We've formulated the ranking of these countries on the World Happiness Report, created by the UN's Sustainable Development Solutions Network.
Here's our list of the 10 happiest countries in the world:
10. Austria
With its rich cultural heritage and lush mountain landscapes, Austria is a nation of contrasts to match its high standard of living.
The capital city, Vienna, has been ranked as the most livable capital city in the world according to the Quality of Living Rankings in 2019.
High-quality education, medical care, and leisure facilities are matched with countless museums, concert halls, and other outstanding entertainment venues.
There's plenty of history in both Vienna and throughout Austria, its Habsburg traditions reflected in opulent architecture, as well as world-class Baroque and Art Nouveau buildings.
Move away from the urban centers, and you'll find snow-capped mountains and the ski resorts of the Central Alps, where residents flock all year round for fresh air and relaxation.
A culture of bike riding contributes to Austria's overall happiness and well-being and a healthy life expectancy of just under 82 years.
With a strong social support system and good governance, Austria continues to draw in visitors and consistently appears in the top ten for happiness rankings.
9. New Zealand
Filmmaker Peter Jackson became one of the richest directors in the world thanks to the Lord of the Rings trilogy, which featured the breathtaking landscapes New Zealand has to offer.
These natural attractions contribute to the overall happiness levels and well-being of its citizens, who number around 4 million in a country the same size as Japan.
Residents enjoy an outstanding work-life balance, and the year-round pleasant climate undoubtedly contributes to their mental health and happiness.
New Zealanders also enjoy an exceptional diet, with one of the world's most expensive foods, manuka honey, produced in the country.
With copious amounts of seafront and beaches to enjoy, there's a strong culture of water sports, with some of the world's best surfers regularly visiting the country's 120 kilometers of coastline.
Visitors looking for a spot of nightlife can find everything they need in the capital city, Wellington, which is also home to the New Zealand government.
8. Luxembourg
The small country of Luxembourg, which sits between Belgium, France, and Germany, is known for its exceptionally diverse population.
With around 640,000 citizens, Luxembourg delivers a high quality of life and standard of living most other countries in the world can only dream of.
Its recent ranking on the World Happiness Report in eighth place can be accounted for in part due to its high GDP per capita, a statistic driven by its dominant financial sector.
Despite its small size, Luxembourg is steeped in history and culture, with the city of Luxembourg itself featured on the UNESCO World Heritage List.
A culture of cycling helps to keep its residents in shape, complemented by a range of other outdoor activities and pursuits.
Levels of perceived freedom are high, with life expectancy and quality medical care matched by a government committed to social support.
This healthy work-life balance is helped by the mandatory five weeks of vacation time offered to residents, which helps to alleviate any stress from the high-pressure jobs in the nation's capital.
7. Sweden
Sweden has a reputation as one of the most liberal countries in the world; its residents are given the freedom to make life decisions that contribute to the country's happiness.
This freedom was reflected in the findings of the World Happiness Report, where fewer COVID-19 restrictions contributed to higher deaths when compared to their Nordic neighbors.
Nevertheless, the country still experiences high social support and life expectancy, with the concept of social equality deep-rooted in their education system.
Sweden is also one of Europe's cultural hotspots, with a vibrant music scene and architectural tradition spanning centuries.
Perhaps Sweden's most famous export today is in the world of digital entertainment, with Swedish YouTube star Pewdiepie's net worth sitting at an impressive $40 million.
The Swedish government offers a range of benefits that improve well-being and help make it one of the world's happiest countries, with 16 months of paid leave when a new child enters the family.
The country also has lots of green spaces, extensive forests, and thousands of lakes, giving nature lovers plenty of options to get away from the city and clear their heads.
6. Norway
While Norway once occupied the second-place spot on the World Happiness Report back in 2013, it still offers more than enough to retain a place in the top 10 today.
It's one of the safest countries in the world to live in, with an exceptionally low crime and incarceration rate, which is reflected in the population's contentment and happiness.
The jaw-dropping scenery, which includes vast lakes, dynamic fjords, and the Northern Lights, can be explored easily thanks to their Allemannsrett law, which gives everyone the freedom to roam.
Norway's urban centers are as pleasant as their wilderness, with the capital city Oslo surrounded by forested hills and keeping its residents connected with nature,
As with other Scandinavian countries, Norway is leading the way in the race to go green, and electric cars are beginning to dominate their well-maintained roads.
A high GDP per capita, excellent education services, and universal health care all help make Norway a well-loved place to live and visit.
5. The Netherlands
Gaining a score of 7.415 on the World Happiness Report from the Sustainable Development Solutions Network, the Netherlands is known for having the best work-life balance in the world.
Excellent education, high life expectancy, low crime rates, and a high level of disposable income all contribute to its status as a leader in global happiness.
There's a fascinating history to explore along with its rich and studied artistic heritage, with the Netherlands even boasting the oldest national anthem in the world.
With the Netherlands home to some of the richest DJs in the world, you can expect a vibrant nightlife and music scene, particularly in the capital Amsterdam.
The capital is famous for its tree-lined canals and perhaps infamous for its sex museums and cafés, which nevertheless draw in thousands of tourists every weekend.
Beyond culture, there are more than just the stereotypical images of Dutch windmills and tulips from Amsterdam to enjoy, with a multitude of museums to explore, including the open-air Zaanse Schans.
As with the other countries featured here, the Netherlands is committed to building a thriving green economy, as well as offering extensive social support to improve its residents' quality of life.
4. Iceland
Iceland has consistently outperformed most other countries in the world when measuring well-being and happiness, from jobs and healthcare to environmental quality and civic engagement.
The country has revitalized itself since the 2007 financial collapse, with the government taking huge strides in delivering services that improve the lives of its citizens.
With stunning natural beauty including towering volcanoes, pastoral fields, and ice-capped glaciers, Iceland is one of the most photogenic countries you'll find.
Hot springs draw visitors from around the world, while the gorgeous fjords help create an otherworldliness to the landscapes.
The capital city Reykjavik has earned a reputation as one of the most cultured cities in Europe, its fine dining establishments, theaters, and other entertainment venues drawing in tourists.
Away from the city, the Golden Circle road trip, which encompasses Thingvellir National Park, Gullfoss Waterfall, and Geysir, offers a must-see snapshot of Iceland's visual splendor.
While the cost of living in Iceland is certainly high, those who can afford to live there will find a place that is ideally suited for happiness and well-being.
3. Switzerland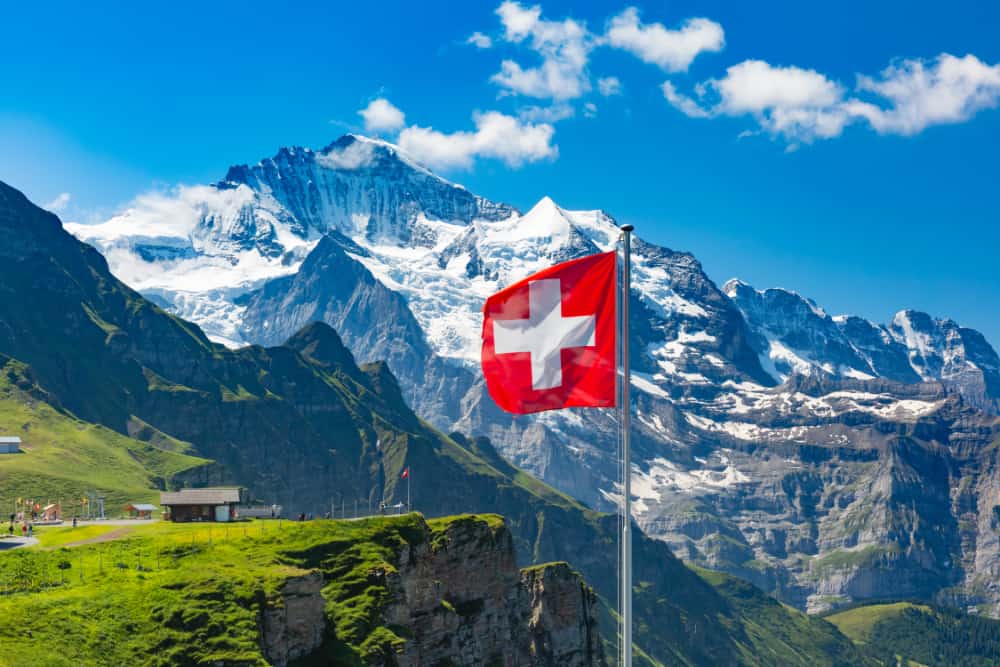 With its world-renowned Alpine ski resorts, it's not hard to see why Switzerland is among the most sought-after holiday destinations in the world.
As you'd expect, given its popularity among tourists, it's an exceptional place to live, with the fresh mountain air and high standard of living helping it achieve its high rank on the happiness index.
Well known for its banking sector and high-end watches, Switzerland offers residents a range of social support programs, while the government consistently ranks among the least corrupt on the planet.
As one of the most expensive countries to live in, Switzerland offers its citizens the wide range of amenities you'd expect from a country with a high GDP.
While the Swiss are known for being rather insular when it comes to dealing with outsiders, the social fabric which holds them together is tightly knit.
This extends to their appreciation for democratic principles, with votes being held on everything from immigration levels to how many vacation days per year its citizens should be allowed.
It's not shy on the cultural front, either, and as well as being the home to the Dadaist art movement, the country hosts numerous music festivals each year, from classical music to rock and dance festivals.
2. Denmark
At one point, the happiest country in the world, Denmark scores highly across all metrics in the annual survey and remains one of the most desirable places to live.
With a high level of confidence in the government, Denmark delivers a comprehensive social support system for its residents, with free education and health care respected for its high quality.
With a World Life Expectancy ranking of 23, quality of life is further enhanced by Denmark's natural beauty, which is easily accessible from the towns and cities.
Holidaymakers in Denmark can take advantage of the white sand beaches or go for hikes in the forests, while the country's history is represented in the many castles and palaces.
Capital city Copenhagen offers a wide variety of cultural outlets, with some of the most forward-thinking architecture in the world, including a giant complex designed to look like LEGO.
Denmark is also committed to renewable energy production, with over one-third of its energy derived from wind power and a culture of cycling in the cities.
Economic security, freedom of speech, and a healthy work-life balance are some of the other factors which make Denmark's residents report high levels of happiness.
1. Finland
The happiest country in the world currently ranks as Finland, which has retained its place in the top spot for the fourth year in a row.
Finland hits all the right notes when it comes to work-life balance, social services, and all-around quality of life, matched with an impressive GDP per capita.
Where the country truly excels is in its education system, which emphasizes experiential learning over quantitative testing, and requires all teachers to hold a master's degree.
Finland's capital, Helsinki, is one of the most futuristic cities in the world, leading the way in exciting technological developments, including point-to-point transportation systems and healthcare drones.
Away from the cities, Finland's natural resources are abundant, with seafronts and lakes offering a range of water sports and forests for those who prefer hiking and camping.
Visitors also flock to the country for the impressive Northern Lights, which light up the skies in autumn and spring with green, blue, and purple hues.
It's a Mecca for winter activities, including rides with huskies, igloo stays, and visits to Santa Claus to entertain children.
With residents who consistently report high levels of well-being and a social structure that values freedom, Finland outperforms all other countries on the happiness index.
Summary
The happiest countries in the world offer high life expectancy and strong social support, with bustling city life and beautiful countryside to escape to.
This article should help inspire you to find somewhere truly special to visit on vacation or even relocate if you're feeling adventurous.
Here's a quick recap of the 10 happiest countries in the world:
Finland
Denmark
Switzerland
Iceland
Netherlands
Norway
Sweden
Luxembourg
New Zealand
Austria
Which one of the happiest countries in the world would you like to visit? Leave a comment below.
<![CDATA[ */ var zbjs = {"ajaxurl":"https:\/\/wealthygorilla.com\/wp-admin\/admin-ajax.php","md5":"517bb233f68d5a67cd87e5b606259071","tags":[],"categories":["Top Lists"]}; /* ]]>