Why Teamwork is the Key to Your Success
Regardless of how big or small the company is, it needs to have an effective team that consists of professionals who know how to do their job quickly and efficiently.
Why do you need a Team?
Why does a company need teams to provide decision making and problem solving?
The answer is pretty simple: the companionship of strong thinkers that can solve any problem is priceless because the best ideas are rarely born in isolation.
Without support and expertise of other people, one can easily become almost self-destructive in their thinking. That's why one needs a team.
Why Teamwork is the Key to Success
Let's imagine that you are an entrepreneur who just started a company and needs reliable people to advance the business. Clearly, you need to perform a lot of responsibilities, so your mind is always focused on several tasks (or even more).
You make a decision on how to solve a problem that recently emerged in the marketing department of the company but you need to ensure that this decision is right and the solution is effective. As the result, the following questions need to be answered:
Is the solution effective?
Are there more effective solutions?
What if I there is a flaw in the marketing plan?
Is there someone with a marketing degree that can assist me on this?
These questions clearly show that you need several people to help you to make a decision with confidence.
Specifically, a person with a marketing degree is needed, a person that could see the big picture and identify flaws in the current marketing plan, a person that can improve or assist in improving your own solution or propose some new ones.
Wow, that's a lot to brainstorm, especially when the clock is ticking, you agree?
People are everything
There are a number of personalities that one could have on a team to ensure that each project is run effectively and efficiently. These personalities will help to brainstorm the questions above and help to deliver the best solutions.
They include:
1. The Dreamer Personality
This person contributes by telling you what is next and what is possible. Even though they tend to think hopefully, they always go beyond the limits and boundaries to show what can be achieved.
This personality is especially good to have in a team because they will always provide creative energy and extend the solutions provided by other members of the team.
2. The Doer Personality
Even if the solution you came up with had some flaws and resulted in addition work, a doer will get the job done regardless of the circumstances.
These people are known for their "roll-up-your sleeves" attitude, which is essential to have on the team when you need something to be completed when you need it.
3. The Disruptor Personality
When the team generates a solution, the disruptor comes in with a new perspective that is useful for ensuring that the solution is the best to use.
These people are described as critical thinkers and extremely curious because they can spot shortcomings and bring something better.
4. The Driver personality
Another profoundly important personality to have because they keep the other team members focused on the task.
This could be especially helpful at crisis times when motivation is low because drivers can ensure that the team is working regardless of the conditions.
5. The Fun-Maker Personality
This person will ensure that the team is having fun during work. At times when the work is piled up, it is profoundly important to maintain a positive attitude and the fun-maker makes sure that the team is not depressed.
How about having these guys helping you out?
With such diverse team one can easily advance the decision-making and problem-solving because it is much easier to deliver a more quality discussion and therefore solution by using the expertise of others. However, they need to learn to work together.
Cohesion
Cohesion is therefore the factor that ensures the great results delivered by a team.
One of the best explanations of cohesion is given by Boundless:
A group in the state of cohesion when its members possess bonds linking them to one another and to the group as a whole.
However, cohesion does not just happen by itself, it should be generated and supported by:
1. Trust
People on the team should trust each other in order to be comfortable with providing their thoughts and constructively criticizing others.
Without trust, the team work would be a debate rather than brainstorming because the members will try to outsmart each other. No good solution can be made in such teams.
2. Openness
Every person in the team should demonstrate some interest in learning about each other.
This way, according to a team building expert from Pro Essay Writing, they will learn about personality types and skills possessed by each member, which is important for future work because it will make them more open to their ideas.
As the result, each opinion and idea generated during team brainstorming will be given an equal chance for review and consideration.
3. Respect
It is absolutely necessary for respect to exist within a team to make it running. Without it, the members might try to blame their colleagues for bad decisions because they disregard their expertise.
On the other hand, mutual respect is a better way to go because it will ensure that the team will try to find better ways together instead of diving into groups of who was right and wrong.
Summary
Openness, trust, and respect are important to all teams. In addition to business teams, sports are the best example of how these three factors can contribute to success, even against a more talented team.
In sports, just like in business, the success depends on the chemistry and collaboration of every player on the team.
The ball, just like a business task, is moved among all players, and each of them makes decisions on what do with them next: pass it to the player who is in the closer position to the hoop (can be compared to a colleague with a better expertise) or go right to the goal alone (disregard the assistance of colleagues).
Watch this video made as a tribute to Sun Antonio Spurs, where the best in basketball express their admiration of how the team plays.

"If you want the glamor, dunks, but a lower chance of success, go with star-studded teams that rely on their star players to make all the plays. But if you want results, you watch how the Spurs play."
The ultimate result of their incredible unselfish team play is the victory in the NBA Finals against the best player in the world, LeBron James, and another star Dwayne Wade.
No stars? No problem. We have teamwork and talent.
Key Takeaways
Now, you know how important is to have an effective team that works for you. Here are the main takeaways from this article:
• Teams are a great asset for the companies that can enhance the problem solving and decision making. There are many personalities that could be added to the team to deliver better results and keep it running regardless of the circumstances, so you can really manage how your team is assembled.
• Trust, openness, and respect are essential for success of teams regardless of what personalities are used to assemble it.
Do you think teamwork is a huge importance for success? Leave a comment below.
5 Success Lessons from Kobe Bryant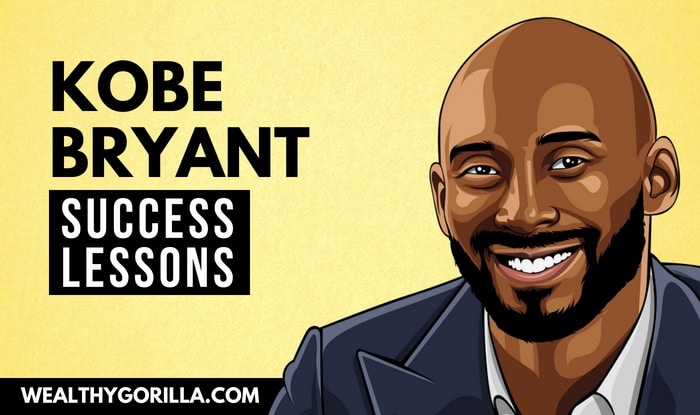 Want to hear some of Kobe Bryant's success lessons?
Kobe Bryant is a beast;
I remember reading a story where he was called up his trainer at 4am to come and help him practice, and 20 minutes later when his trainer arrived, Kobe was already drenched in sweat.
They trained for a few hours on court and in the weight room, until his trainer went back to get some practice before the team practice at 11am.
When he came back, Kobe was on the other side of court practicing jump shots. He'd only just finished his morning training, right before team practice. Kobe had been there for at least 7 hours before the team training had even begun.
Kobe Bryant's Success Lessons
There are many success lessons we can learn from Kobe Bryant and his sickening work ethic. And I'm not just talking about within basketball, but within life itself. Here are 5 of Kobe Bryant's success lessons.
1. Reach Out to People in Different Areas
Besides the obvious ritual of reaching out and connecting with people in the same industry as you, something we can learn from Kobe Bryant is reaching out to those in different areas.
It would be foolish to narrow down the people you listen and learn from to just those on the same career path as you. Whether you're an athlete, entrepreneur etc.
Since Kobe's NBA career may be coming to an end within the next couple of years, he's been reaching out to the likes of Oprah Winfrey and Arianna Huffington. In order to find out more about what they do, why they do it and how they became successful in their fields.
Kobe Bryant's continuing his learning process and planning his future after the NBA by reaching out to others for great inspiration. Which brings me onto my next point, after his official quotes on the subject.
"I cold call people and pick their brain about stuff. Some of the questions I ask seem really really simple and some of them seem stupid, quite honestly, for them. But if I don't know, I don't know. I have to ask. I'll just do that and ask questions. I want to learn more about how they build their business and how they run their companies and how they see the world." – Kobe Bryant
2. You Can Always Learn More
It doesn't matter how good you become at your chosen skill or craft, there is always potential for more learning and development. Many successful people might let their achievements go to their head, and make them think there's nothing they can improve upon.
This really isn't true; there's always room for people to improve and learn more, which is exactly why Kobe Bryant and many other people have continued to grow year by year. It's all about being hungry to learn more, always.
"It's really about wanting to learn and feeling like your cup is always empty, because there's always more that you can fill it with. That's really the important thing and just continuing to learn, learn, learn." – Kobe Bryant
3. Respect People Close to You
Earlier on in Kobe's career, he was very aggressive towards his team mates, and would often give them plenty of orders that they didn't seem to happy about, because he knew the game and knew what had to be done.
However, as he progressed through his career and got older, he realized it was more about respecting his team mates and communicating better. Not only to produce better results, but also to have happy relationships with everyone else.
"Oh, God. I was barking orders left and right. And these grown men are looking at me, like "Who the hell are you?" But I had studied the game so much. As I got older, I started understanding it's not just about the game. People carry emotions with them. They have lives off the court. That helped me communicate better." – Kobe Bryant
4. Where There's Challenge, There's Opportunity
A challenge is your opportunity to show the world what you can do, and that you can overcome any obstacles in your way. Where there's a challenge, there's a chance to prove people wrong.
Not only that, but it means your constantly bettering yourself and giving yourself more opportunities in the future. When you overcome challenges you grow stronger as a person, and that can only be a good thing.
In Kobe's case, the strongest example of this was when he came back from his Achilles tendon injury, proving everybody wrong. Kobe had the confidence and belief that he could come back from the injury, and he did just that.
The fact that the chances of coming back after such an injury were low, made the challenge even more exciting, said Kobe.
"I have moments and I have days where I doubt myself. But to me, that's the exciting part of the challenge.That's when I realize this is a great opportunity to come out and show everybody this is how you bounce back. This is how you respond to a challenge." – Kobe Bryant
5. Break Your Problems Down Into Smaller Pieces
If you have an incredibly big problem that looks too large to be solved, chop it down into smaller pieces. This way, it allows you to focus on specific issues individually which gives you a better chance of fixing them.
As Kobe explains below, this is what he did back in 2003, after all the endorsements he had dropped him and told him the situation couldn't be fixed.
And this problem also relates back to the "where there's challenge, there's opportunity" success lesson. This was a big challenge for Kobe to overcome, but he did it and proved people wrong.
"In 2003, I was going through the Colorado situation, and it was very tough. I had to ask myself what I wanted to accomplish. I want to keep my family together. Have to focus on that. I'm a good basketball player: I want more championships. Focus on that. Every endorsement I had, they dropped me. Every marketing person said, "You can't be fixed." So I start chopping the problem into smaller pieces, and I focus on them. What else are you going to do?" – Kobe Bryant
Summary
Here's a quick recap of Kobe Bryant's success lessons:
Reach out to people in different areas
You can always learn more
Respect people that are close to you
Where there's challenge, there's opportunity
Break your problems down into smaller pieces
How many of Kobe Bryant's success lessons do you agree with? Leave a comment below.
10 Success Lessons From Lionel Messi
Want to hear some of Lionel Messi's success lessons?
One of my favorite inspirations is Lionel Messi, the world famous professional football player.
Messi is considered one of the best football players of all time. He's won a lot of awards in the past proving just how good he is, including number #1 football player in the world.
Lionel Messi's Success Lessons
Like most extraordinary people, Lionel Messi's remarkable success did not come from pure luck or accident. In fact, he worked extremely hard and trained almost every single day to become who he is today.
Here's 10 of Lionel Messi's success lessons:
1. Fight For What You Believe In
If you have a dream, you have to work hard to achieve it. Success will not come easy. There's a price to pay and you must be willing to pay it.
Most people are not successful because they are not willing to do what it takes to produce the extraordinary results.
The difference between ordinary and extraordinary is the little 'extra'. Extra means you must do more; go the extra mile, put in more effort, wake up earlier and stay later to produce more for what you truly desire to achieve in life.
"You have to fight to reach your dream. You have to sacrifice and work hard for it." – Lionel Messi
2. Success Takes Time
This is one of my favorite quotes from Messi. It reminds me that success is a long-term process and it is not something that you can achieve overnight. So stop looking for shortcuts or get-rich-quick schemes.
Rome was not built in a day and Steve Jobs did not start Apple in just one night. It is going to take a lot of effort and consistency to produce amazing results.
Therefore, commit to working hard on your dream and never give up. The journey may not be easy, but the reward will be well worth it.
"It took me 17 years and 114 days to become an overnight success." – Lionel Messi
3. Just Do What You Love
Does this ring a bell to you? Great people are able to produce great results because they love what they do.
And when you love what you do, you will do great work. Michael Jordan would never have excelled in basketball if he didn't have love for the sport. Warren Buffett made billions through investing because he has an intense passion for doing just that.
Jack Ma can't stop himself from thinking and talking about his business because it is in his blood. He sleeps, drinks, talks, walks and dreams his business at all times.
You have to be the same if you want to create something amazing in life. Love what you do and live your life with passion.
"What I do is play soccer, which is what I like." – Lionel Messi
4. Improvement is Always Possible
You have to focus on improvement every day. If you are in business, you need to improve your business knowledge and skills. If you are a writer, you need to improve your writing skills every day.
As Tony Robbins, one of the best life coaches worldwide has coined it, commit to CANI or Constant-And-Never-Ending-Improvement.
The only way to become better in what you do is to commit to improvement every day.
So do something that will make you better every day. Read a book to improve your knowledge, level up your skills, write more, seek help from a mentor, etc.
"The day you think there are no improvements to be made is a sad one for any player." – Lionel Messis
5. Give Your Team the Credit they Deserve
No one can succeed alone in this world. In fact, there's no such thing as a real 'self-made' millionaire or billionaire. You need your clients and customers to support you. You need your staff and your partners to help you.
Walt Disney had Roy Disney, and Steve Jobs had Steve Wozniak, to help build their business empires. What about you?
"I'm lucky to be part of a team who helps to make me look good, and they deserve as much of the credit for my success as I do for the hard work we have all put in on the training ground." – Lionel Messi
6. Don't Ever Chase the Money
Stop chasing the money. Money is just the score from living your dream. It is a byproduct from your achievements.
The real winning comes from your progress. As long as you are moving forward every day, you will eventually reach your goals.
And stop chasing for the next shiny object. You do not have to compare yourself with others. Just be yourself and do what you are supposed to do.
"Money is not a motivating factor. Money doesn't thrill me or make me play better because there are benefits to being wealthy. I'm just happy with a ball at my feet. My motivation comes from playing the game I love. If I wasn't paid to be a professional footballer I would willingly play for nothing." – Lionel Messi
7. Don't Forget What's Most Important to You
Sometimes we over obsess with something, and we neglect other more important things in life. I have seen people who chase money and they start to completely ignore their family members.
Never let this happen to you. Yes, winning is important, but you cannot win all the time and winning is not the only thing you have in life.
Always be grateful for what you have and appreciate those who are around you.
"There are more important things in life than winning or losing a game." – Lionel Messi
8. Remember That It's Not All About You
Always focus on winning as a team, instead of it being a one man show. Elon Musk, the guy behind Tesla, said this, "I don't create companies for the sake of creating companies, but to get things done."
You are in a team, regardless of whether you are in business or in sports, so work as a team.
Put your main priority on your team's objectives rather than your own personal mission. This is how your team can grow and move forward.
"When the year starts the objective is to win it all with the team, personal records are secondary." – Lionel Messi
9. Always Give Everything You've Got
You have to trust yourself and believe in your dream. When you have doubts, you will never put in your 100%.
People who truly believe in their dreams are willing to do whatever it takes because they know that their dreams will come true somehow. And this makes them pour in their 100% and give it their best effort.
Are you putting in 100% and do you believe in yourself and your dreams?
"There's no doubt. It's certain that I will be 100 percent." – Lionel Messi
10. Learn to Accept Your Failures
Nobody can win all the time. Sometimes you make more progress and learn more from losing and experiencing failure.
You don't have to feel frustrated or upset when you fail. It is just part of the cycle. You cannot have the sunshine every day.
Sometimes it will rain, sometimes it will be cloudy and sometimes the sun will shine up high. Things will come and go. So appreciate what you have right now and enjoy every moment, whether you are winning or losing.
When you win, work hard and continue to move forward. When you lose, work even harder and learn from your mistakes.
"Sometimes you have to accept you can't win all the time." – Lionel Messi
Summary
Here's a quick recap on Lionel Messi's success lessons:
Fight for what you believe in
Success takes time
Just do what you love
Improvement is always possible
Give your team the credit they deserve
Don't ever chase the money
Don't forget what's most important to you
Remember that it's not all about you
Always give everything you've got
Learn to accept your failures
These are my favorite lessons from Lionel Messi that inspired me to go further in life.
How many of Lionel Messi's success lessons do you resonate with? Leave a comment below.
10 Success Lessons from Jay-Z
Want to hear some of Jay-Z's success lessons?
Unlike many fellow music artists; who will spend all of their money on fancy houses, cars and nights out, Jay-Z has invested the money he's earned from the music business back into himself in the form of building his own businesses.
Don't get me wrong, he has all of the above, but over the years he's been smart with his money and has become both a truly successful entrepreneur and music artist.
Jay-Z's Success Lessons
Jay-Z now has an estimated net worth of over $710 million to his name.
Whilst I'm not entirely sure how much of this has come from the business side of things; it's safe to say that it's a hell of a lot, with Jay-Z owning companies such as Rocawear & Roc-A-Fella Records.
Here are 10 of Jay-Z's success lessons:
1. Hustle
Jay-Z, as a young child didn't really have many opportunities going for him when he was growing up. He grew up in Brooklyn, living with his mum who had to support their family on her own.
When he was old enough to start wanting to go out and make his own money, the only real option he had where he lived was to go out and deal drugs.
Even when he was dealing, he showed true talent as a hustler, and as he started to work hard towards his ultimate goal of becoming a rapper, it wasn't long before his talents started to grow.
2. Have an 'Empire State of Mind'
When you think of a hip-hop artist, wealth is something that springs to mind very quickly. Although, there's a big reason why Jay-Z's wealth exceeds far beyond most other hip-hop artists.
He sees music as his passion and an excellent way to express himself, but his overall mentality is towards building an empire. He's owned restaurants, clothing companies, bars record labels and much more. This is a state of mind that every entrepreneur should have.
3. Don't Wait Until You Have The Tools
Many people seem to get stuck in the mindset that they should wait until they have everything they need before they begin on a venture.
This is not the natural order of things. Work leads to growth, which leads to income, which leads to investment in the correct equipment, which then leads to more growth and so on.
Jay-Z didn't start by expressing all his rhythms using instruments, oh no, he started by simply using his hands on a table to create beats.
It's the exact same story for when he first started Roc-A-Fella Records. There were no fancy computers, not even a desk. He started from the bottom and worked his way to the top.
4. Have a Plan
Jay Z is a serious entrepreneur. He didn't just start a business and take it from there. He created a proper and official business plan to make sure he knew exactly what the plan was before jumping into things.
A lot of people think that they might have a pretty good memory, so they don't need a hard copy plan. But the reality is, that once you have everything written down in front of you, certain things appear much clearer than they would in your mind.
5. An Idea Could Strike at Any Time
You never know when another idea could pop into your head. Funnily enough, when you move about from place to place in your daily lives, a sudden change in the environment around you could easily give a new idea.
Jay-Z was prepared for this. Whenever he used to wonder around with his friends, he would always carry a pad around in case something triggered any new lyrics to come about. He'd then stop and write down anything that came to mind before moving on.
The same can be applied to whatever business venture you're a part of.
6. Don't Run Your Mouth
It's pretty easy for people to get persuaded by others. Whether it be their friends or family. If you start pouring out your dreams and goals to them, you may not get the right response and support you were looking for.
So instead of gossiping to them all about your dreams straight away, try and refrain from it. Them not knowing will allow you to focus on your work and heading towards your goals.
7. Skills Can be Transferred
Jay-Z doesn't have a fancy degree or diploma in business. Far from it. He learnt most of his skills from when he was growing up, dealing on the streets.
Even though we don't really think of drug dealing first as being a great skill set user, Jay-Z gained a lot of knowledge about sales and management from this and transferred it into his later real, legit and professional businesses.
8. Ignore Trends
Trends, most noticeably in fashion, don't last for very long. So if you end up copying a trend in your business, the chances are you won't last very long. Auto tune was a very trendy element in the music industry as Jay-Z grew as a music artist.
T-Pain is the most notorious for using this in his songs, but Jay-Z stayed clear and kept on doing his own thing. He made a wise choice.
9. Don't Take Your Eyes off the Prize
Sometimes when you're working so hard at something and you finally start to get a little taste of what success is like, you automatically think you've made it; Start to spend more money than you can afford and so on. Try to resist this temptation.
10. Start a Blog
Might seem slightly strange that a hip hop artist who's also trying hard to build an empire, has time to regularly blog. However, Jay-Z saw it as a good way to write down his feelings and to be able to communicate them with the rest of the world.
Summary
Thanks for checking out this article. Jay-Z is a truly successful hip hop artist and entrepreneur, and there's a lot we can learn from him.
Here's a quick recap of Jay-Z's success lessons:
Hustle
Have an empire state of mind
Don't wait until you have the tools
Have a plan
An idea could strike at any time
Don't run your mouth
Skills can be transferred
Ignore trends
Don't take your eyes off the prize
Start a blog
How many of Jay-Z's success lessons do you agree with? Leave a comment below.