Which are the most expensive cigars in the world?
We've put together this list of the top 10 most expensive cigars money can buy.
You might think that twenty bucks are expensive for a cigar, and I think we all would agree on that. Once you pay over that, we would accept an element of prestige and rarity.
We have so many things in the world of luxuries such as sports cars, yachts, watches, and penthouses. Wouldn't it be interesting how much the world's expensive cigar cost? It's fun to daydream and think about that.
The most expensive cigars are often connected with wealth and luxury. The market for premium cigars continues to impress people all over the world.
So you might ask yourself, what is so special with premium cigars? Premium cigars are rolled by hand using the best tobacco leaves, ensuring the smoke has the best possible experience. The quality of tobacco is the most important part of getting the best cigar.
Cuban cigars are world-famous, and it has the best tobacco, which comes from the Pinar Del Rio region. How much would you pay to buy the cigar that you're dreaming of smoking with your friends? We're going to answer that question in this article, so don't worry.
Below we will go through the list of the most expensive cigars you can buy on the market. These cigars are well-known for their pedigrees as well as their price tags.
Don't forget to share this awesome article with your friends and family!
The 10 Most Expensive Cigars in the World
Enjoying a delicate cigar is a unique and special experience. Some people use it as a ceremonial event, normally marking a special occasion.
Maybe you prefer to have your cigar with a tasty scotch on the rocks or a cognac by the side. Cigars are often connected with wealth and power. They are made through a delicate process, and each of them comes with its own flavor.
That might be the reason why it's so difficult to decide which one is the best cigar option. We're going to take a chance to discover which are the most valuable cigars. The list that follows will show you the 10 most expensive cigars in the world right now.
A real cigar enthusiast knows exactly how a perfect cigar would look like. A cigar is the product of an amazing combination of skills, weather, and geographical location of tobacco rollers.
There are many people out there who enjoy rolling their own pack of cigarettes, for example. It takes a lot of selection and skills if you want to roll your own cigar.
The cigars and figures mentioned below have been compiled from various sources around the web, such as Luxatic and Luxhabitat, and Ventured.
Here's our list of the 10 most expensive cigars you can buy:
10. Arturo Fuente Opus X "A" – $79/Cigar
Arturo Fuente Opus X is a delicious cigar. It's one of the best-rated cigars in the world because it has a complex and rich taste.
It's a super premium made in the Dominican Republic. In 1995, it hit the market with seven different sizes. The brand has been expanded over many years.
With the trademark Fuente Opus, the smoke has notes of espresso. This cigar is definitely a pick for you if you like the smokey and rich taste.
9. Fuente Don Arturo AnniverXario – $163/Cigar
The Arturo Fuente cigar started to create these cigars in 1912 in Tampa. This cigar some with a Habano-seed Dominican sun-grown wrapper. The Dominican blend comes from a rich taste.
The rich soul is carefully selected for its quality and is rolled by experts. The flavors are big and complex. It's best known for its flavors of milk chocolate, cedar, and holiday spice.
Fuente Don Arturo AnniverXario is full of strength, carrying 100 years of history within its incredible folded leaves.
8. Arturo Fuente Opus X – $30,000/Box
Arturo Fuente Opus X are high in demand, and they prove to be very hard to find since they have a limited production every year. These cigars are made from Dominican tobacco, and it has a unique taste.
In 1995, this cigar was released, and many cigar collectors worldwide wanted to make sure to get this unique piece into their collection. This cigar is big and has a length of around 7 inches.
If you're interested in getting this cigar, you'd need to pay $30,000/Box.
7. Cohiba Behike Cigars – $470/Cigar
No cigar from Cuba has been as impressive as the Cohiba Behike Cigar. This cigar is a very classical one, and it's wrapped in a Colorado wrapper. It's delicious to make since it's more of a "rich" cigar.
Cohiba Behike has made its way to the markets around the globe. Since its launch in London, the production has released new sizes of the cigar. The best of the edition that has been created includes the BHK 54 and the BHK 56. The 52 version had remained amazing ever since. This cigar has sold out in world markets.
Cohiba is one of the world's best Cuban cigar brands. With this Cohiba Behike cigar, you can expect a medium flavor profile. It also comes with a coffee taste. It's full of smooth aromas, and it's perfectly balanced.
If you are interested in purchasing this awesome cigar, you'd have to pay a total of $470/Cigar.
6. Gurkha His Majesty's Reserve – $750/Cigar
On the sixth spot, we have Gurkha His Majesty's Reserve cigar. It's made each year, and if you're a cigar enthusiast, you will definitely need to preorder them a few years beforehand.
The total size of each cigar is 7-5 x 52 inches. The Connecticut Maduro wrapper comes with a Dominican binder and filler that are aged for 12 years. The filler is infused with Louis XIII cognac, which makes it have an amazing aroma. This cigar is very rare and special, and the cognac has been known for selling only to dignitaries worldwide.
A total of 75 boxes are being made every year. The incredible aroma, as well as the taste of the cigar, will be something that you will be so impressed with that you will never forget.
5. Gurkha Black Dragon Cigars – $1,150/Cigar
Gurkha Black Dragon Cigars were first released in 2006. They are of limited edition and are rare to get. These cigars come in a chest that is carved from camel bone.
The wrapper is made from Connecticut Broadleaf Maduro. Each cigar is packed in a frosted tube. It's then placed in a leather box that has orange layers.
The flavor of each cigar is complex, and it can switch from sour to sweet in a second. This cigar is one of Gurkha's rarest ultra-premium cigars. It's is aged to perfection and combined with a 5-year aged filler.
This cigar comes from the finest tobacco you can ever imagine, and it's rolled in Honduras.
4. King of Denmark Cigar – $4,500/Cigar
On the fourth spot, we have the King of Denmark cigar. The secret blend came since only a king could afford to pay $4,500 for a single cigar. The most incredible and impressive feature about these cigars is that they can be customized to your own liking with gold and your own name imprinted on them.
They can also come with diamonds and other lavish metals.
This cigar also comes with a humidor designed and personalized with a silver crown. The crown is plated in 24 karat gold.
The total price of this cigar is $4,500.
3. Regius Double Corona Cigar – $52,785.20/Cigar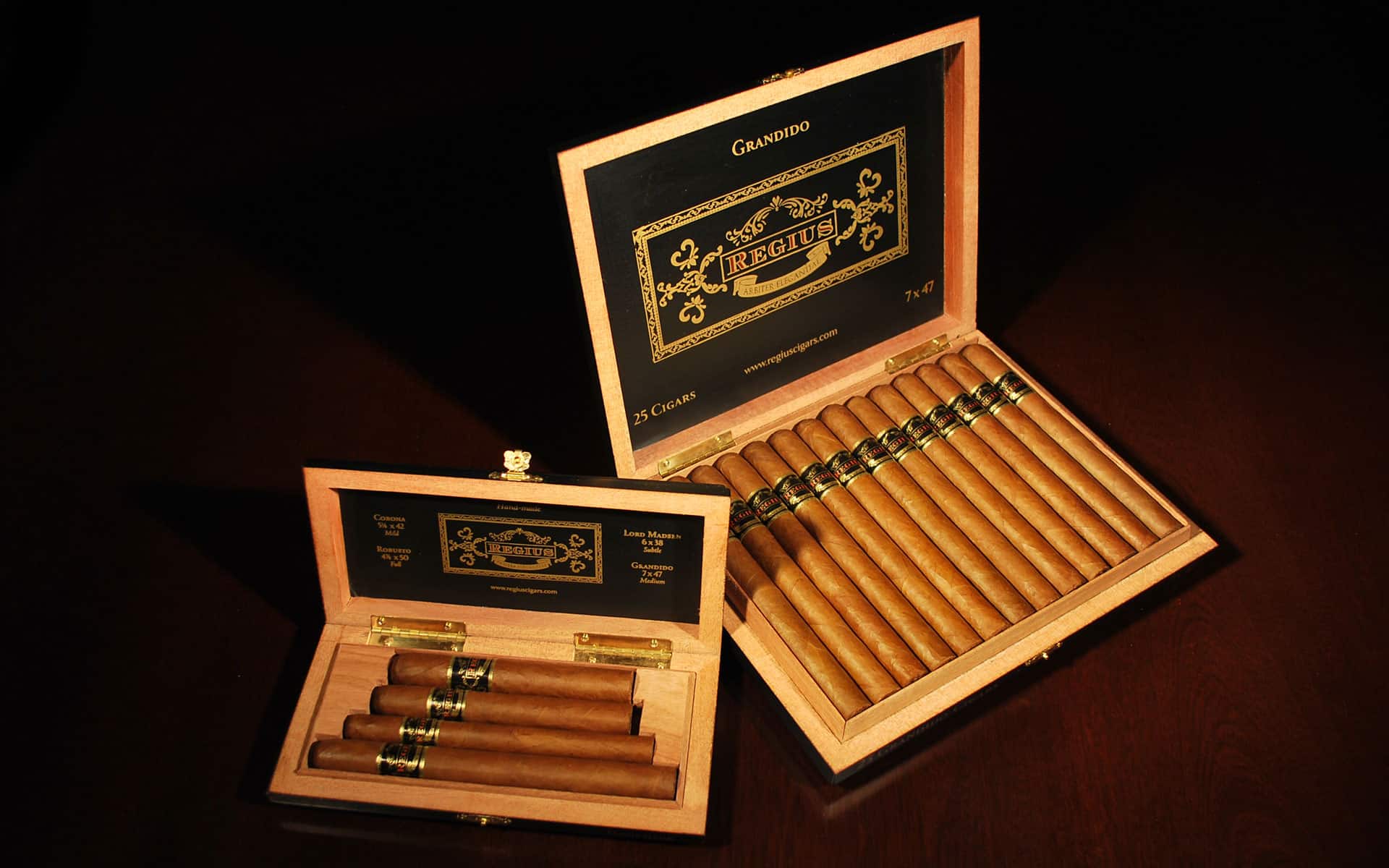 On the third spot, we have Regius Double Corona Cigar. It was based in Britain, and it offers a special edition like no other. When you buy this cigar, it involves flying first class to their headquarters, and then you can develop your own blend.
The total price also covers 1000 of your custom creations. It was last recorded that someone purchased this package in 2013. Not many cigar lovers are willing to pay $52,785.20 for this bad boy.
2. Mayan Sicars – $507,000/Box
In 2012, scientists discovered a 600-old hand-rolled cigar along the coast of Guatemala. It was buried and sealed below a Mayan cave. What's interesting about this cigar is its history.
A total of 800 cigars was auctioned off for $507,000 to an aficionado in New York. These cigars are known to have been originated from the Maya civilization. The Mayans were known to have an incredible taste in smokes and began creating cigars in the 12th century.
The total price of this amazing cigar is a whopping $507,000/Box.
1. Gurkha Royal Courtesan Cigar – $1.36 Million/Cigar
Gurkha Royal Courtesan has been featured a few times on this list, but none of them has reached the same price tag like this one. This is the most expensive cigar in the world!
This cigar is handmade in the Dominican Republic and Honduras using Himalayan tobacco. It also has been watered with Fiji water.
The cigar is wrapped in gold leaves, and it's held together with a band covered with diamonds. The creators behind these cigars are made to work blindfolded to avoid distraction.
While some of these may be totally out of your price range, we now present you with the world's most expensive cigar, Gurkha Royal Courtesan Cigar.
Summary
We hope you enjoyed our list of the most expensive cigars money can buy!
Smoking cigars is truly a special experience, maybe your best friend just got married, or you just won the lottery. Cigars are best enjoyed when something special has happened in your life.
From Winston Churchill to NBA legend Michael Jordan, cigars have been viewed as a mark of class and power for many years. Some cigars are connected with luxury more than others.
People around the globe have enjoyed it for more than 100 years. In the last century, it has become associated with power and wealth.
There is a wide variety of cigars on the market, each with its own flavor and character tied to its origins. Some of the finest cigars in existence are not just made of the best tobacco. They are also wrapped and hand-rolled with the most precision and care.
I've actually tried a few cigars in my life for special occasions, but I can't say I'm the biggest fan of smoking it. If I had to pick one cigar on this list, it would be the Mayan Sicars. I picked the Mayan Sicars because of their origin, and it's a 600 old hand-rolled cigar. We're about talking 600 years. That's incredible!
What was your favorite cigar, and why?
Around 50 million people in the United States light up a cigar or cigarette each day. However, most people smoke much cheaper than are mentioned on this list.
If you enjoyed this list, don't forget to check out our other most expensive lists:
Here's a quick recap of the most expensive cigars:
Gurkha Royal Courtesan Cigar – $1.36 Million/Cigar
Mayan Sicars – $507,000/Box
Regius Double Corona Cigar – $52,785.20/Cigar
King of Denmark Cigar – $4,500/Cigar
Gurkha Black Dragon Cigars – $1,150/Cigar
Gurkha His Majesty's Reserve – $750/Cigar
Cohiba Behike Cigars – $470/Cigar
Arturo Fuente Opus X – $30,000/Box
Fuente Don Arturo AnniverXario – $163/Cigar
Arturo Fuente Opus X "A" – $79/Cigar
Which are your favorite most expensive cigars? Leave a comment below.