27 Athletic & Inspiring Kevin Durant Quotes
Kevin Durant is a 27 year old, professional American basketball player. Durant plays for the Golden State Warriors in the NBA.
We've put together this awesome collection of Kevin Durant quotes for all you fans out there.
Here's our favorite quotes:
27 Athletic Kevin Durant Quotes
1. "I don't know what I'm going to do tomorrow. I just know for sure I'm going to keep playing basketball." – Kevin Durant
2. "I'm a basketball player. That's what I do and what I love but that's just not all who I am. I'm talented in a lot of different areas." – Kevin Durant
3. "My style has changed and evolved mainly because I've grown to have more confidence in myself." – Kevin Durant
4. "I just loved being in the gym. It was tough at times. Sometimes I wanted to quit, but I'm glad I stuck with it." – Kevin Durant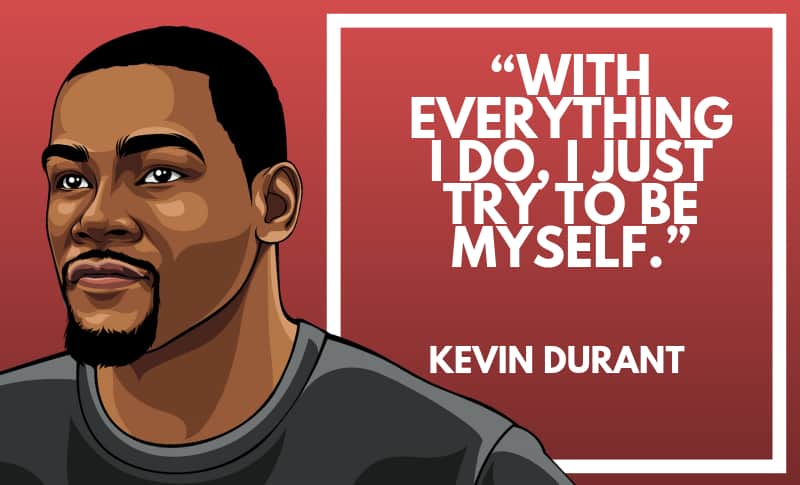 5. "With everything I do, I just try to be myself." – Kevin Durant
6. "I like something simple and traditional, like dinner and a movie. The best way to get to know someone is to have a conversation over dinner. And steak houses have a nice atmosphere – the lights are dim, and they usually have a band playing." – Kevin Durant
7. "You know, I think more people should watch women's basketball. It'd do so much for the game." – Kevin Durant
8. "I'm just trying to grow. That's one thing I told myself is, 'Don't worry about who people say is the best player.'" – Kevin Durant
9. "I look at my jersey and see the NBA logo, I'm like, 'I didn't think I'd be here.'" – Kevin Durant
10th of 27 Kevin Durant Quotes
10. "I've got a long way to go to being the ultimate best, but I think my time is now. And I'm starting to enter my prime." – Kevin Durant
11. "I always want to win because I never want to sit out on the sidelines outside." – Kevin Durant
12. "I was just a big fan of tattoos always growing up, and I wanted something cool that symbolizes what I've been through in my life, and everything on my chest and my back is like a collage." – Kevin Durant
13. "I feel good doing it. It's not like guys are stripping me at half-court or I'm just losing the ball dribbling. I think I'm handling the ball pretty well, just trying to make good passes, man." – Kevin Durant
14. "When people are used to you doing something, they want you to stay in that lane." – Kevin Durant
15. "I would describe my style as off the wall. I like stuff that doesn't match. I just like to stand out." – Kevin Durant
16. "You know, I don't want to stand out too much." – Kevin Durant
17. "I learned how to pass when I was real young. That's one thing I always knew how to do was find the open man." – Kevin Durant
18. "I'm not a guy that's going to brag or feel like I'm better than the group." – Kevin Durant
19. "My time is now." – Kevin Durant
20. "Everything has been such a whirlwind ever since I stepped foot in the league and everything has been like a dream, so I'm just blessed to be in this position." – Kevin Durant
21. "You hear all these stories about, 'There's one in a million guys that make it to the NBA and stay there.' To see people cheering for me and when they say my name, it's just crazy. It's still crazy to me." – Kevin Durant
22nd of 27 Kevin Durant Quotes
22. "Every memory I had growing up was involving a basketball. I didn't go to the prom and stuff like that. It was always basketball for me." – Kevin Durant
23. "The clothes are not making me… If I like it, that's all that matters…It's not about the clothes. It's about how I am as a person and how confident I am." – Kevin Durant
24. "I've just got to let my teammates know in practice, without even telling them, that I don't think I'm ahead of anybody." – Kevin Durant
25. "I've heard a few times, in three or four years, this league is going to be yours. I don't like that. Because I think I'm established now." – Kevin Durant
26. "People always think women meet us in the hotel lobby, but it's the opposite. The majority of the time, you go out to eat with your teammates, then rest for the next day's game. It's not a vacation – most guys view the road as a business trip." – Kevin Durant
27. "I can score the basketball, but I think I can pass pretty well or I can make the correct pass. I'm not the type of guy who's just going to throw the ball in-bounds to a guy who's wide open. I can make the right pass." – Kevin Durant
Which are your favorite Kevin Durant quotes? Leave a comment below.
50 Kaka Quotes About Soccer & Success
Which are your favorite Kaka quotes?
Kaka is a retired Brazilian professional footballer.
He is one of the only eight players worldwide to have won the FIFA World Cup, the UEFA Champions League, and the Ballon d'Or awards. In addition to his success, he has been acknowledged for his humanitarian work after retiring from football.
During the peak moment of his career as an attacking midfielder with the Italian football club 'A.C. Milan', his impressive performances in dribbling past players, goal scoring, and assisting his teammates with almost limitless proficiency made him considered as one of the most legendary soccer players of his generation.
Here's a collection of the most inspirational Kaka quotes:
50 Kaka Quotes About Soccer & Success
1. "If things happen it's because God has prepared me. God has great things for us. If it's God's will that I be there, there I will be." – Kaka
2. "I learned that it is faith that decides whether something will happen or not." – Kaka
3. "His ambition for victory sets Mourinho apart. He wants to win every game, so he prepares all the smallest details; in training, at the game, everything. I loved to work with him." – Kaka
4. "I have my life. I have my values. And compared with much of society, especially football, that is radical." – Kaka
5. "To take on Madrid is a very good experience." – Kaka
6. "I would love to have a career like Zinedine Zidane. He stopped playing, took some time, realized he liked coaching and started working in the youth academy. I could follow a similar path." – Kaka
7. "The World Cup was a huge frustration because I had prepared really hard for it. But in the World Cup there is no formula, no recipe for success." – Kaka
8. "It's important for me to keep improving." – Kaka
9. "It is not my place to make judgments about the behavior of any other footballer. Cars and women, things like that, have never been important to me. My family and my belief in God and Jesus are the things which determine my life." – Kaka
10th of 50 Kaka Quotes
10. "People talk about the history of Manchester United or Liverpool, but look what Arsenal achieved with the team of Thierry Henry and Patrick Vieira." – Kaka
11. "In Italy, the coaches are very attentive to the details. They really study things, and that is a big difference here. They look at your movement, your positioning. They study you and work out how to stop you." – Kaka
12. "Milan is my home, where I chose to go and where my heart really is." – Kaka
13. "It has been tough when I have been with the national team and we have gone to play in some of the poorer areas in Brazil. You see people come and watch us train or play a match, and then you know some of them are going home with no food on the plate." – Kaka
14. "You only appreciate what it feels like to win the Champions League after you've seen it snatched away from you." – Kaka
15. "One always wants more when things work out." – Kaka
16. "England have always had individually strong players, and I am a huge fan of Stevie Gerrard, who has the heart of a lion and is the icon of the modern footballer with his ability to attack and defend so well." – Kaka
17. "Playing for Madrid is a great challenge." – Kaka
18. "When I'm struggling, I can still dream about my successes." – Kaka
19. "For a player it's an amazing experience to be at Real Madrid. I matured a lot there, principally as a person." – Kaka
20th of 50 Kaka Quotes
20. "It's incredible to win an individual award in a team sport and also one where everybody wants to be able to say, I'm the best." – Kaka
21. "I use a few phrases to let people know a little bit about who I am. One of them is I belong to Jesus, which is a phrase I always wear on a shirt during the most important moments of my professional career." – Kaka
22. "In 2009, I accepted the proposal of Real Madrid, but I was completely destroyed there because I could not give what I had given Milan. I was completely lost." – Kaka
23. "Even Cristiano Ronaldo, who has won two Ballons d'Or with Real Madrid, receives whistles from the Bernabeu." – Kaka
24. "I am always in love with Milan. The relationship with the team, with the club, and with these fans is beautiful. It's weird for a Brazilian to have a relationship like that with an Italian club." – Kaka
25. "It's not easy to decide what is best for you in the future." – Kaka
26. "I thank God for all the victories and conquests I've had this year as a player and I bring to the altar two prizes. This is first my son who is about to be born. The other is my trophy from Fifa, which I want to dedicate to God." – Kaka
27. "Every time I hear the fans, it's exciting. It gives me a great feeling because I know it comes from their heart." – Kaka
28. "I learned to respect the coach and to do everything within my power to show that I should be the one playing. That's exactly what I did during my three years under Mourinho." – Kaka
29. "I have good memories of Real Madrid. Professionally, it was a difficult period, but my experience there was very good in all senses, as I grew a lot, learned many things, and lived with great champions." – Kaka
30th of 50 Kaka Quotes
30. "Mourinho helped me grow. He taught me to be patient, to keep fighting, and to respect the coach's decisions. He helped me mature and turned me into a man." – Kaka
31. "I know it's hard to follow the example of another team in the same country, but that's what you have to do sometimes." – Kaka
32. "In Brazil, we think we can help by using our image, the fact that we are very well known, to help others." – Kaka
33. "Every opportunity that presents itself, my main objective is to conquer and be victorious." – Kaka
34. "I think lots of footballers want to do something, but many don't know how." – Kaka
35. "My feelings in regards to the national team are simple: If the manager thinks I can be of use, I will be ready for the call." – Kaka
36. "I am always grateful to my team-mates at Milan for what we achieved." – Kaka
37. "I have overcome many difficult moments in my career." – Kaka
38. "Jose Mourinho was a difficult coach for me, and we had a respectful but complicated relationship. When I thought he would give me a chance, I couldn't prove to him that I was in good shape." – Kaka
39. "Often, players at clubs I have been at have asked me for prayers or advice. I prefer to show them things rather than to say things; with my actions, not my words." – Kaka
40th of 50 Kaka Quotes
40. "When things go well, everyone talks well of you and vice versa. Unfortunately, football is like that." – Kaka
41. "I have been in many teams that have had loads of talent but did not make it through and been with teams that did not have that much talent and ended up being champions." – Kaka
42. "In football, there are good and bad times, but if you are a great side, you can be confident of winning trophies again." – Kaka
43. "I do want to live my life in the right way, and live my life close to God." – Kaka
44. "I'm very happy with where I arrived, both personally and professionally. I can say more so personally because my career will have to end eventually. I do not know how long it will be, but eventually, it will end, and the personal will continue." – Kaka
45. "When I do an interview, when I appear on camera, I want to be the same person as the one you meet personally and say, He is really the same person I saw on television." – Kaka
46. "Each goal I score is exciting." – Kaka
47. "But I have seen il Fenomeno do things that nobody else has ever done." – Kaka
48. "Playing motivates players." – Kaka
49. "At Real Madrid, everything gets taken to extremes, as much for the good things as the bad things, so you have to adapt to the way that the press and the fans live through different situations." – Kaka
50. "It sounds like a cliche, but without a strong group, you win nothing in football." – Kaka
Summary
Thanks for checking out this collection of quotes from Kaka! Don't forget to share them on social media with your friends and family.
Which are your favorite Kaka quotes? Leave a comment below.
15 Dominating Brock Lesnar Quotes
Brock Lesnar is a beast!
Brock is a current UFC contender, and previous professional wrestler and American football player. He's got a no bulls**t approach to everything he does, and is an incredible source of motivation.
Just check out some of his training videos and you'll see what I mean! Brock Lesnar has become one of the richest MMA fighters in the world, and a popular sensation in the octagon.
Here's our collection of 15 dominating Brock Lesnar quotes:
15 Dominating Brock Lesnar Quotes
1. "Success is a combination of effort, talent and hard work. There's got to be hard work and mental toughness. It's not just one thing that gets you there it's an accumulation of things" – Brock Lesnar
2. "I want to surround myself with good people. That's one thing I learned from a very young age. If you want to fly with the eagles you can't hang out with the crows." – Brock Lesnar
3. "I know my limitations. I know I'm not perfect. I know what I know, but more importantly, I know what I don't know. When I don't know something, I surround myself with people I can trust to teach me." – Brock Lesnar
4. "I don't feel pain. I ain't got time for that. I let other people feel pain for me." – Brock Lesnar
5. "You learn a lot of different things with trials and tribulations and, at the end of the day, you get some positives from whatever mistakes you've made." – Brock Lesnar
6. "If you want to fly with the eagles you can't hang out with the crows." – Brock Lesnar
7th of 15 Brock Lesnar Quotes
"When I don't know something, I surround myself with people I can trust to teach me." – Brock Lesnar
8. "I lift weights, but that's not my main focus. I'm a fighter now, and I want to evolve and make myself a well-rounded fighter, so obviously I'm not going to leave any stone unturned, when it comes to submissions, submission defense, striking, knees, leg kicks, and also learning to defend everything. It's not just an offensive sport because you're going to take some punches and you're going to give some punches. You've got to be able to handle both sides of the spectrum. I've brought in a number of highly trained trainers to help me evolve, and I believe we've left no stone un-turned." – Brock Lesnar
9. "You have to fight just to survive" – Brock Lesnar
10. "There's an old expression about falling off a horse. You get back on and you ride that bad boy into town." – Brock Lesnar
11. "Professional wrestling is in my blood. I may have second guessed it in the past, but I know it now." – Brock Lesnar
12. "Having your health is having everything in life." – Brock Lesnar
13. "I've been a barbarian my whole life. I'm just a smarter barbarian now. Evolution, you know?" – Brock Lesnar
14. "At the end of the day, I think everybody takes for granted that they get up, get out of bed every morning – just the mere fact that they can stand in front of the mirror and brush their teeth and get in their car and take off? A lot of people take their health for granted." – Brock Lesnar
15. "There's a solution to every problem. I just have to find the right solution to fix this problem." – Brock Lesnar
Brock Lesnar Motivational Video
Which are your favorite Brock Lesnar quotes? Leave a comment below.
23 Elliott Hulse Quotes For Motivational Purposes
YouTube sensation and personal trainer Elliott Hulse has become a motivational superstar, presenting us with speeches on success that really hit home.
Within some of Hulse's motivational speeches, are some amazing pieces of advice on achieving success and becoming the best version of yourself. Which is what we're all about here at Wealthy Gorilla.
Check out this small, yet incredible, collection of Elliott Hulse quotes, which'll skyrocket your motivation levels through the roof.
23 Elliott Hulse Quotes
1. "Growing stronger is about accumulating wisdom, learning from your mistakes and inspiring others to become the strongest version of themselves." – Elliott Hulse
2. "Successful people don't make the right decisions, they make their decisions right." – Elliott Hulse
3. "All of our challenges are also challenges for other people. We go through s*** so we can show other people that you can get through s***." – Elliott Hulse
4. "It's not about what you get, it's about who you're becoming." – Elliott Hulse
5. "Exercise, dance, deep breathing and movement not only enliven the body, it energizes and mobilizes the spirit and sharpens the mind. Keep moving!" – Elliott Hulse
6. "I believe that there is a strongest version of every human being… it is my mission to uncover it in myself and inspire you to discover yours." – Elliott Hulse
7. "There's more to getting strong than lifting heavy weights." – Elliott Hulse
8. "Failure is an experience that lends wisdom, and ultimately makes you stronger." – Elliott Hulse
9. "Do the thing that your heart is asking you to do, regardless of the external circumstances." – Elliott Hulse
10. "When you discover that all the challenges in your life are just like the plates on the barbell… you not only learn to accept these challenges, but you beg for them." – Elliott Hulse
11th of 23 Elliot Hulse Quotes
11. "Successful people do what they have to do whether they feel like it or not." – Elliott Hulse
12. "It's very easy to manipulate people when all you give them is information. But when you teach people to start trusting their bodies, they become dangerous. Be dangerous." – Elliott Hulse
13. "A life without pain is a life without challenge. And a life without challenge is a life without growth. So not only do I embrace the pain associated with challenge and growth. But I even look forward to it in many regards. Some people think I'm strange, but sometimes I even ask for it." – Elliott Hulse
14. "Crawling is acceptable. Falling is acceptable. Puking is acceptable. Tears are acceptable. Pain is acceptable. Injury is acceptable. Quitting is unacceptable." – Elliott Hulse
15. "Courage is what you will experience and what you will grow when the doubt is there but you do it anyway." – Elliott Hulse
16. "Subjectively. I have never liked anyone telling me what to do. I would rather screw up completely, fall flat on my face and knock out all my teeth making my mistakes, then someone else telling me what to do. The dependency that we as individuals have come to embrace is dysfunctional, and you end up having individuals who are not fulfilling their human potential, and they become a drain on those who actually are." – Elliott Hulse
17th of 23 Elliot Hulse Quotes
17. "Happiness is not a goal… it is a by-product of a life well lived." – Elliott Hulse
18. "Don't make excuses. Develop a warrior mindset. Make decisions and stick to them. You can start simply, by focusing on something small, but you must start and you must follow through." – Elliot Hulse
19. "Don't hold back on becoming the person you truly want to be. Drop the excuses, leave them at the door and step into your strongest self. There is no reason that you cannot achieve your dreams, except the story you tell yourself that you can't." – Elliot Hulse
20. "Focus your energy on one goal, work at it, and you will find great success." – Elliot Hulse
21. "Don't be afraid to jump in the deep end of life. Take risks, and be brave. Get excited about doing the things that scare you. We all have the capacity to be courageous. In the end, all you need to do is follow your heart." – Elliot Hulse
22. "Don't be like the man who kills himself in the winter because its so cold, not knowing spring is just around the corner." – Elliot Hulse
23. "Every time I ignored my gut I made the biggest mistakes." – Elliot Hulse
Bonus: Elliott Hulse Motivational Video
Thanks for checking out these awesome Elliott Hulse quotes. If you're someone who's enthusiastic about bodybuilding and fitness, or you just love motivation, definitely follow him on his YouTube channel.
What's your favorite Elliott Hulse quote? Leave a comment below.