What is Dwayne Johnson's net worth?
| Net Worth: | $320 Million |
| --- | --- |
| Age: | 48 |
| Born: | May 2, 1972 |
| Country of Origin: | United States of America |
| Source of Wealth: | Professional Wrestler/Actor |
| Last Updated: | 2021 |
As of June 2022, Dwayne Johnson's net worth is estimated to be $320 million. He is an American actor, producer, and professional wrestler. He is known to most people by his amazing stage name, "The Rock". Dwayne struggled early on in life but was recently named one of the highest-paid actors in the world by Forbes.
Read more to find out how he achieved success.
Early Life
Johnson was born on the 2nd May 1972, in Hayward, California. His family was indeed a wrestling family, with both his father and grandfather had once been professional wrestlers. Even his grandmother was a female wrestling promoter.
When he was young, Dwayne lived in New Zealand with his mother's family for a very short period. He went to Richmond Road Primary School in Auckland, but then moved back to the US and spent 10th grade at a high school in Hawaii.
The next year, the family had to relocate to Pennsylvania, and this is where Johnson start to take up an interest in football. He was offered a football scholarship by the University of Miami and took it. He was on the national championship team at Miami but was replaced due to being out because of an injury.
While at Uni, Dwayne met his future wife, Dany Garcia, who is the founder of a wealth management firm in Miami. After graduating, Dwayne moved to Canada to join the Calgary Stampeders in the CFL.
Career
In 1996, Dwayne had several wrestling try-outs at the WWF; in which he won a single match and lost two more. Later that year, he was offered a contract by the WWF, with which he signed.
Johnson made his WWE debut in 1996 as Rocky Maivia. He debuted on Monday Night Raw as a member of Marc Mero's entourage on November 4, 1996, and had his first match at Survivor Series on November 17, in an eight-man elimination tag match.
In 2002, he was named 'The People's Champion', and since then has won multiple competitions and titles in the WWE. His first major acting role was in The Scorpion King, and he's now become one of the biggest actors worldwide.
Here are some of the movies he's starred in:
Central Intelligence (2016)
Baywatch (2017)
San Andreas (2015)
Moana (2016)
Hercules (2014)
Furious 7 (2015)
Pain & Gain (2013)
The Scorpion King (2002)
Snitch (2013)
Skyscraper (2018)
Jumanji (2017)
Johnson has worked alongside actors such as Kevin Hart, Mark Wahlberg, Zac Efron, Jason Statham, Vin Diesel, and Jack Black.
Throughout his career, The Rock has dedicated himself entirely to mastering his craft and keeping himself in peak physical condition. Check out Dwayne Johnson's workout routine on our fitness site, Jacked Gorilla.
How much money is Dwayne Johnson worth?
As of June 2022, The Rock's net worth is $320 million.
How Does Dwayne Johnson Spend His Money?
Dwayne "The Rock" Johnson is one of the top-grossing stars in Hollywood, making money through acting, producing, and sponsorship deals. Through Seven Bucks Productions, he creates starring roles for himself in blockbusters and teams up with other major studios.
In 2006, Johnson founded the Dwayne Johnson Rock Foundation, a charity that works with children with illnesses, disorders, and disabilities to improve their self-esteem and help empower their lives.
Johnson spends a lot of his money on food. To maintain his physique, he eats more than 5,000 carbs a day, sometimes across up to seven meals. He'll have massive "carb-up" nights where he just loads up on sushi.
All in all, he eats about 10 pounds of food a day. He also buys custom cars. Car blogs have identified several expensive cars in Johnson's garage, but his favorite seems to be a monster truck-like Ford F-150 Pickup, with custom modifications.
Johnson likes to give gifts, and get tattoos as well. He also often gets from place to place in a fancy Gulfstream G650. He bought a $5.5 million Miami mansion in 2014.
Highlights
Here are some of the best highlights of Dwayne Johnson's career:
National Championship Win – Miami Hurricanes (January 1992)
WWE Debut – Survivor Series (November 1996)
WWF Champion – Survivor Series (November 1998)
New York Times Best Seller – 'The Rock Says…' (January 2000)
Saturday Night Live – Host Debut (March 2000)
The Scorpion King (May 2001)
Fast Five – Stars as Luke Hobbs (April 2011)
Forbes Celebrity 100 – No. 70 (June 2012)
Forbes – Top-Grossing Actor (2013)
Movies:
The Scorpion King (2002)
The Rundown (2003)
Walking Tall (2004)
Faster (2010)
Fast Five (2011)
Fast & Furious 6 (2013)
Snitch (2013)
Hercules (2014)
San Andreas (2015)
Furious 7 (2015)
Central Intelligence (2016)
Baywatch (2017)
Jumanji: Welcome to the Jungle (2017)
Skyscraper (2018)
Rampage (2018)
Fast & Furious Presents: Hobbs & Shaw (2019)
Jumanji: The Next Level (2019)
Favorite Quotes from Dwayne Johnson
"Be the person that when your feet touch the floor in the morning the devil says, "Awe s***, they're up!"" – Dwayne Johnson
"Success isn't always about greatness, it's about consistency. Consistent, hard work gains success. Greatness will come." – Dwayne Johnson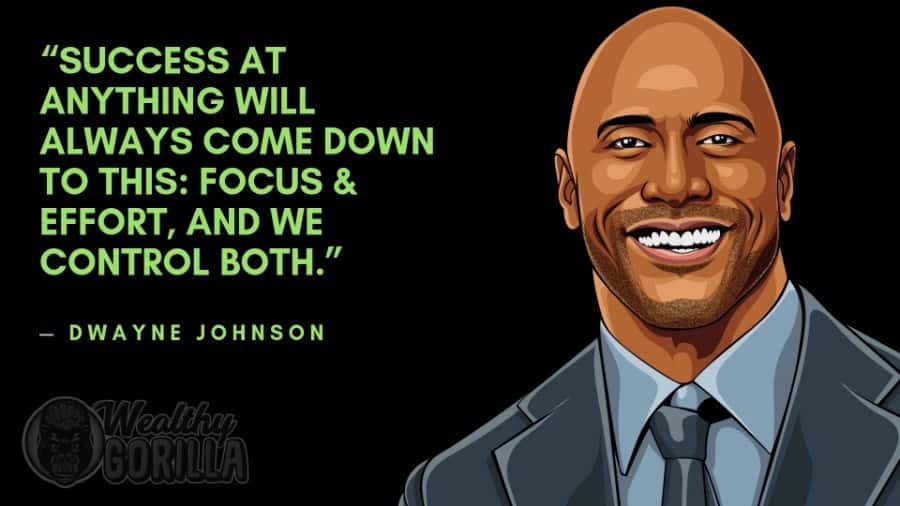 "Success at anything will always come down to this: Focus & Effort, and we control both." – Dwayne Johnson
"Think back 5 years ago, think of where you're at today, think ahead 5 years about what you want to accomplish. Be unstoppable." – Dwayne Johnson
View our larger collection of the best Dwayne Johnson quotes!
3 Keys to Success from Dwayne Johnson
Now you know all about Dwayne Johnson's net worth, and how he achieved success; here are 3 success lessons we can all learn from Dwayne Johnson:
1. Understand Your Dreams
To achieve your dreams, you need to understand why you want them so bad. Why do you do what you do? If you really don't know, then how can you expect to keep on striving until you reach them?
First, understand why it is you want to achieve what you want to achieve.
2. Hard Work Sucks: Don't Let It Stop You
Hard work can suck sometimes. No matter how much passion you have for something, there are always times where you feel drained. Don't let this hard work get in your way. Do what you must do. How do you think Dwayne got that rock-hard body he's sporting now? He worked for it.
3. Never Lose Faith
There was a point in time where The Rock only had $7 in his pocket. He was broke, he was at the bottom, but he never gave up. He started doing anything he could to put some more money in his pocket. And he told himself that one day, he wouldn't have to worry about being broke.
No matter how bad it is right now, you always have the ability to become successful, but it won't be easy.
Read our article on how to take control of your life like Dwayne Johnson!
Summary
The Rock is another of the most loved actors in the world, and the enthusiasm and hard work ethic he brings to the movies he stars in has ensured his success.
Dwayne Johnson's net worth is estimated to be $320 million, and it just keeps on climbing!
What do you think about Dwayne Johnson's net worth? Leave a comment below.
<![CDATA[ */ var zbjs = {"ajaxurl":"https:\/\/wealthygorilla.com\/wp-admin\/admin-ajax.php","md5":"ac468c234e8fd556900e64b356f3f60e","tags":[],"categories":["Net Worth"]}; /* ]]>