What is Birdman's net worth?
| Net Worth: | $150 Million |
| --- | --- |
| Age: | 53 |
| Born: | February 15, 1969 |
| Gender: | Male |
| Height: | 1.80 m (5 ft 11 in) |
| Country of Origin: | United States of America |
| Source of Wealth: | Rapper/Producer |
| Last Updated: | August 2, 2022 |
As of February 2023, Birdman's net worth is estimated at $150 Million, which makes him one of the richest rappers in the world.
Bryan 'Birdman' Williams is an American rapper, producer, and entrepreneur.
Birdman is the co-founder of Cash Money Records, and also a founding member of Young Money Cash Money Billionaires, which is a combination of Cash Money and Young Money Entertainment, Lil Wayne's company.
Early Life
Bryan Williams was born in New Orleans on the 13th of February 1969. His mother died when he was just two years old, and his father also died in a car accident, when Williams was 27.
Birdman grew up in the notorious crime-ridden Magnolia Projects in New Orleans and began committing robberies and selling heroin.
At 18 years old, Birdman was arrested for drug possession, and sentenced to 3 years in Elayn Hunt Correctional Center. 22 months into his sentence, Williams was acquitted of all charges.
Career
Birdman's career as a rapper originally began in a duo with the producer, DJ Mannie Fresh. The duo released several albums; with their most successful album, 'I Got That Work!', selling over 1 million copies in the US, and being certified platinum.
In 2005, the group split, and later that year Lil Wayne was signed to Cash Money Records. The pair released an album together, 'Like Father, Like Son', which was certified Gold.
Later on, the Young Money Cash Money Billionaires era came into play and has been responsible for the success of many stars, including Drake and Nicki Minaj. The label has also worked with artists such as Tyga, DJ Khaled, Rick Ross, Young Thug, Young Jeezy, Richie Homie Quan and so on.
Highlights
Here are some of the best highlights from Birdman's career:
Founded Cash Money Records (1991)
Birdman (2002)
Fast Money (2005)
5* Stunna (2007)
Priceless (2009)
Rich Gang: All Stars (2013)
Favorite Birdman Quotes
"I'm a hard worker, and everything with me is, if I work hard, I should get paid for it. Everything with me, I try to symbolize something flashy like jewelry or a car. The rubbing hands is a symbol of hustling, so it goes back to the money." – Birdman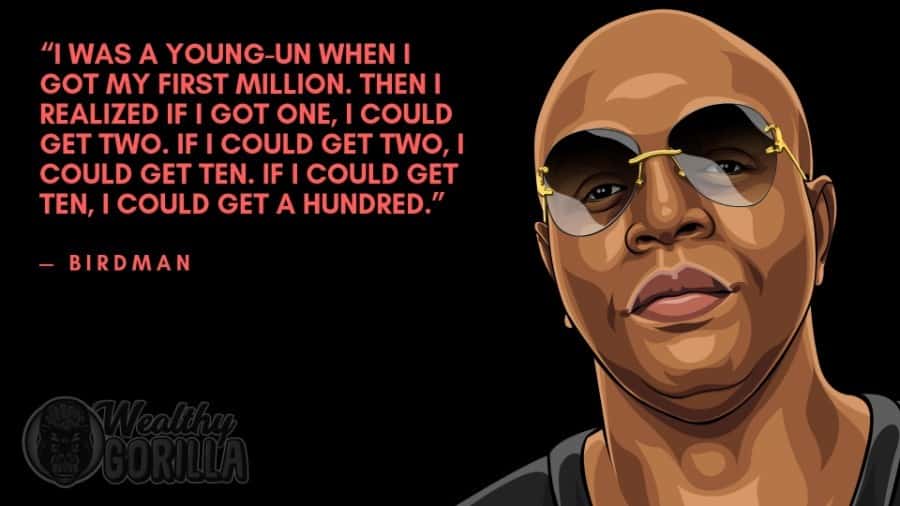 "I was a young-un when I got my first million. Then I realized if I got one, I could get two. If I could get two, I could get ten. If I could get ten, I could get a hundred." – Birdman
3 Keys to Success from Birdman
Here are 3 success lessons we can all learn from Birdman:
1. Be Aggressive
People aren't just going to hand you what you want. You can't ask nicely and expect to receive what you want all the time. Sometimes you need to be aggressive with your dreams, and not let people slam the door on you.
This is one of Birdman's biggest success lessons.
2. Make A Positive Difference
The thing with success is, that every single career in the world is about people. Every successful company in the world offers something that people need or want.
Triggering emotions in people gives you the opportunity to provide them with something they find amusing, helpful, inspiring, satisfying, and so on.
Music, if created well, is entertaining and relatable to people. That's how Birdman and Cash Money became successful with their music.
3. Just Do It
Just do it…
Frequently Asked Questions
How much is Birdman worth?
Birdman's net worth is estimated to be $150 Million.

How old is Birdman?
Birdman was born on February 15, 1969, and is currently 53 years old.

How tall is Birdman?
Birdman's height is 1.80 m, which is equal to 5 ft 11 in.

Summary
Birdman is one of the richest rappers in the world and has a net worth of $150 Million. Though, the future of Cash Money Records is uncertain, with the latest dispute between Lil Wayne and Birdman continuing…
What do you think about Birdman's net worth? Leave a comment below.