What are the cheapest countries to retire to?
While some people dream of retiring on a sunny beach drinking cocktails, others prefer the idea of remaining active and exploring exciting new wilderness.
But whatever your vision of retirement looks like, how much it's going to cost to enjoy a good standard of living is an essential factor everyone has to consider.
This guide explores the ten cheapest countries to retire to based on the annual global retirement index, breaking down everything from the cost of living and infrastructure to the food and entertainment you can expect to enjoy.
The 10 Cheapest Countries To Retire To
We've analyzed some of the most popular countries, from the cost of living to culture, to bring you this list of the cheapest countries you can move to when it's time to retire.
Here's our list of the 10 cheapest countries to retire to:
10. Uruguay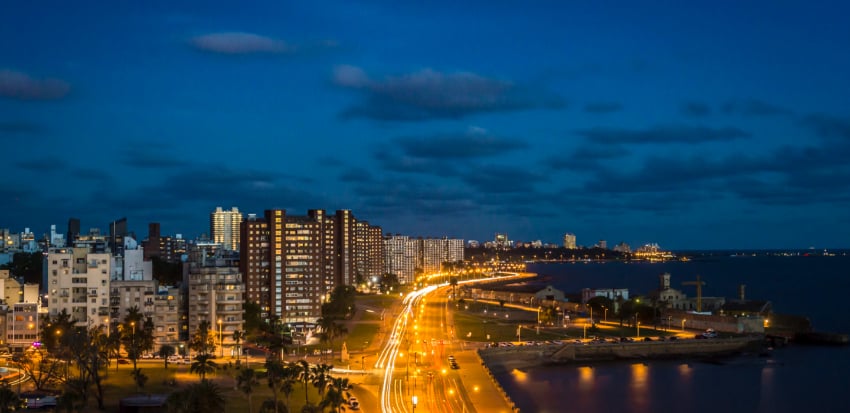 With its consistently warm climate, biodiverse rain forests, and rich and varied culture, Latin America is a popular region of the world to retire to on a budget.
Uruguay is one of the more popular Latin American countries for retiring abroad, nestled between Brazil and Argentina, with regular flights to and from the United States.
While Uruguay is among the smaller Latin American countries, there's plenty on offer for retired expats looking for a relaxing climate where they can live comfortably.
Its capital city, Montevideo, brings the lush green hues of the forests into its urban setting, with tree-lined streets and public parks available for leisurely strolls.
Foodies will appreciate the selection of exceptional street food on offer, with a particular emphasis on Italian and Mediterranean dishes drawn from a population mainly of Italian descent, alongside ethnic food and coffee shops.
Uruguay's culture matches the colorful flora and fauna, with regular carnival parades transforming the streets into parties and street tango performances livening up the coastal promenades.
Expect to invest around $1500 of your retirement dollars becoming a legal citizen, with a monthly cost of living between $2500 and $3500, giving a comfortable lifestyle.
If you'd prefer to avoid the bustle of Montevideo's city center, Uruguay's more remote coastal resorts, such as Punta del Este, offer some of the country's most impressive beaches, although you can expect your cost of living to increase for these locations.
9. Spain
If you'd prefer to retire abroad away from the American continent but would still like to brush up on your Spanish language skills, you should consider heading to Western Europe and settling in Spain.
A Mecca for expats from the UK, Spain offers a blend of year-round sunshine complemented by a cool Mediterranean Sea breeze, with delicious seafood and all the amenities you can expect from a fully developed country.
Hit the Costa del Sol for hot weather, endless bars, cafes lining the seafront, and freshly caught seafood straight from the sea, with a well-established expat community to welcome you.
For a more cultured retirement abroad, there are several major cities where you can find theaters and opera houses, and while the cost of living in places such as Milan and Barcelona is higher, the excellent food and rich history make it a worthwhile investment.
This rich culture is perfectly reflected in Spain's diverse architecture, with centuries-old Romanesque and Gothic structures sitting alongside the modernist works of architects such as Antoni Gaudi.
Life in one of Spain's many coastal towns is surprisingly cheap, and their affordable healthcare and efficient public transportation systems mean you can make additional savings from your monthly budget.
If you're interested in visiting a Unesco World Heritage Site in Spain, there are 49 to choose from, ranging from mountain landscapes to prehistoric rock art sites, a factor that makes the country one of the most popular tourist destinations in the world.
The Global Retirement Index's statistics for international living place Spain especially high when it comes to healthcare and development, ranking higher than most other countries on this list based on these measures.
8. Malta
Malta made international headlines when it was used for some of the footage for HBO's blockbuster series, Game of Thrones, where its baroque buildings, sandy stoned beaches, and 17th-century fort were used for a variety of settings.
Retiring to Malta isn't just for those who want to head out on a tour of the Game of Thrones locations; this deceptively small country is steeped in thousands of years of history, with a culture that reflects its role as a hub of international activity.
This tiny country boasts an abundance of activities to entertain expats, from the restaurants and festivals of the more populated settlements such as the capital Valetta to excellent hiking routes and places to scuba dive.
While the capital is an expensive city to purchase property, exacerbated by high property taxes, a single person can expect to pay in the region of $900 to $1600 for a one-bedroom apartment in the metro area.
Permanent residency can be achieved either through the costly Permanent Resident Program – which requires €500,000 in assets and other financial contributions – or through the "self-sufficiency" visa.
For this, you'll need to bring in an income of €50,000 per year, which can partly be social security), with evidence of medical insurance.
Malta isn't the cheapest of retirement destinations overall, but you can make huge savings on your overall cost of living with low transportation costs since it only takes a few hours to drive around the entire country and take in the stunning scenery.
It's a wonderful mixture of the ancient history of the Phoenicians, Arabs, and Normans, with a modern European sensibility woven into the food and culture of its small but vibrant cities.
7. France
Popular retirement locations have several things in common, including high-quality food and drink, a pleasing climate, attractive landscapes, rewarding culture, and excellent healthcare services.
France is no exception, a beautiful country that boasts everything from the world's "city of love," Paris, to countless medieval villages and a string of quaint coastal towns scattered along the west coast.
One of the key attractions for France as a place to retire to is its excellent social security benefits, with universal healthcare coverage available for all residents at an exceptionally low cost.
Overall cost of living is accessible, meaning you'll have plenty of your retirement income left over after your monthly expenses to enjoy France's many fine restaurants and entertainment venues.
Living expenses vary depending on where you choose to settle in France, with a lower cost of living expected in more rural regions compared to living the high life in urban areas.
Those who prefer the great outdoors over built-up urban conurbations may wish to settle in the Dordogne region, notable for its beautiful river and charming agricultural heritage.
Cannes and the Cote d'Azur bring a touch of elegance to the coast, although visiting these luxurious resorts, which feature some of the most expensive hotels in the world, will have less of a dent on your pension income than taking up permanent residence.
Sports fans in general – and cyclists in particular – can enjoy the world's most celebrated cycling tournament firsthand, with the Tour de France race taking part each year and spanning over 3,000 kilometers of this stunning country.
6. Ecuador
Returning once again to Latin America, Ecuador is another gorgeous country boasting extensive tropical rain forests where you can retire abroad and enjoy a low cost of living.
What Ecuador lacks in terms of modern amenities and services when compared to the European countries we've discussed, it more than makes up for with its incredible landscapes.
You'll still find modern conveniences such as high-speed internet here, so keeping in touch with friends and loved ones back home isn't going to be an issue.
Indeed, Ecuador is one of the most ecologically diverse places in the world, maintained by the protected status of its 11 national parks, which help to limit oil exploitation and protect the ecosystem.
Ecuador already hosts a well-connected and welcoming community of expats, which means you can easily find people to help you join local dinner clubs or sign up to art classes and try your hand at competing with the most expensive paintings ever created.
If you'd prefer to get away from the country's many fine sandy beaches, you can take day trips to explore the local culture, or if you're feeling more adventurous, set out into the hills and forests and connect with nature.
Ecuador's year-round growing seasons bring plenty of choice to the dinner table, from the pork, chicken, and beef dishes favored in the highland regions, to the fish and shrimp meals that dominate the coastal towns.
Overall cost of living comes at a truly affordable price, with cheap food matched by cheap transportation and services, and rent costing as little as $500 per month for a single person.
For those looking at retirement planning for a biodiverse environment with a more temperate climate, Ecuador deserves a place on the list of locations worth considering.
5. Colombia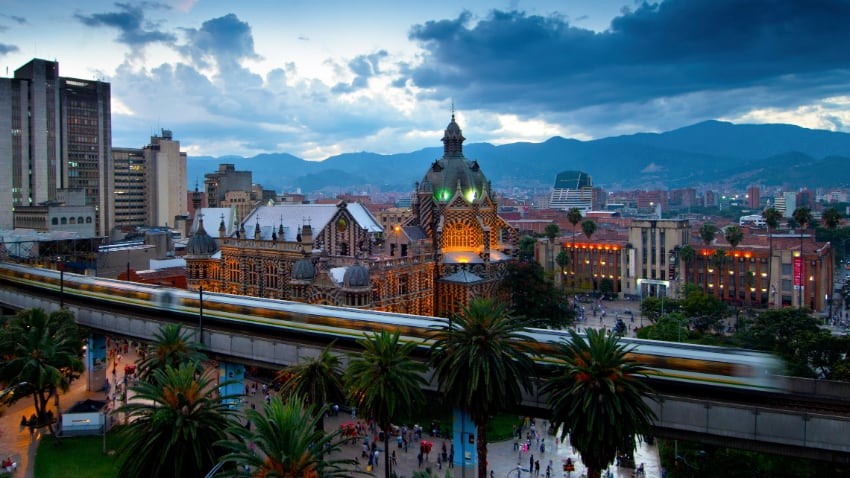 Colombia once had a reputation for conflict and violence, with warring political factions and international drug cartels once dominating the news cycle in the Western media.
Fortunately, this stereotypical depiction of the country no longer applies, and it is now one of the most affordable countries you can retire to, with an ever-growing expat community.
Colombia is the second most biodiverse country in the world; you can explore stunning mountain ranges and tropical rainforests or find sandy beaches scattered up and down the coastline.
As well as being one of the most ecologically diverse places you can retire to, Colombia also features a strong infrastructure, including efficient public transportation, decent healthcare facilities, and affordable utilities.
Culture vultures can make the most of Colombia's 3000 years of history, encompassing the early gold craftsmanship of the Tumaco people to the Baroque and rococo art and architecture of the Spanish Catholics, who settled in the country from the 16th century onwards.
It's also the home country of Shakira, ranked as one of the hottest women in the world with a reputation as a world-class singer, businesswoman, and philanthropist.
Colombian land produces excellent food, with regional dishes such as Patacones, Ajiaco, and Aborrajados livening the palette of the more adventurous expats who choose to retire here.
4. Portugal
Portugal resembles its neighbor Spain in several ways, including its warm and sunny climate tempered by cool sea breezes, to its eclectic seafood dining and vibrant culture.
The cost of living in Portugal is also lower than in Spain, making it the cheapest country in Europe and one of the most highly sought-after retirement havens in the world.
Voted the best place to live in 2020 by the International Living editors, Portugal offers a high quality of life with copious sunny shores to choose from, as well as some of the finest wines available.
Portugal's capital city, Lisbon, is one of the most affordable capitals in Europe while still offering the restaurants, nightlife, and modern facilities you'd expect to find in other major cities.
Professional healthcare comes at competitive prices, while accommodation can start from under $500 per month for a three-bedroom home (although, as always, expect higher prices if you want to live in the capital).
This is a country that brings historic towns, maritime history, and a timeless geographical beauty together with great value cost of living and friendly locals.
3. Mexico
American expats looking to apply for their retirement visa and move somewhere a little closer to home can often be found relocating to Mexico in Central America.
Mexican culture is firmly interwoven with American culture, with the Day of the Dead ceremony as iconic as the extravagant Mexican wrestlers and guitar-strumming mariachis.
This cultural familiarity, combined with its geographical proximity, has made Mexico as popular as a tourist destination as it is a home for retirement, enhanced by the low cost of living.
As one of the cheapest countries to live in, healthcare costs are considerably lower than in the US. In contrast, other social security benefits and low-income tax rates ensure the cost of living is even lower.
This adds up to an affordable cost of living of around $!500 to $2000 per month to cover the costs of a couple living in Mexico.
This large, geographically diverse country features a range of climates to suit various preferences, meaning you can holiday within Mexico depending on the season to find the temperature which suits you best.
Home of the Mesoamerican cultures, history buffs can take in the incredible spectacles of the Mayan and Aztec civilizations, and the country's rich and complex musical legacy can be found in its bars, clubs, and opera houses.
2. Costa Rica
Fly south from Mexico, and you'll find Costa Rica, a country surrounded by crystal clear seas that shares a maritime border with Ecuador.
Also known as "the Switzerland of South America," Costa Rica is one of the safest countries in the region, with affordable healthcare and other social security benefits to help keep your running costs low.
The residency process isn't convoluted, and this is one of the first countries to offer benefits explicitly aimed at expat retirees.
For those who don't see retirement as an opportunity for putting up their feet, and would rather get out and about, there's everything from jungle hikes to canopy tours and volcano expeditions to keep you on the move.
Leave the wilderness for one of the nearby towns or the capital San Jose, and you'll find plenty of quality restaurants and cultural events ready to feed and entertain you.
A global leader in biodiversity initiatives, Costa Rica has experienced keen interest from billionaires and world leaders eager to learn more about its revolutionary policies.
Even the founder of Amazon has visited the country, although you won't need Jeff Bezos' net worth if you're thinking of retiring here yourself.
1. Panama
Panama often conjures up images of a tax haven for some of the richest people in the world, but despite the financial institutions which dominate Panama City, it's also a place of tropical beauty and lush beaches.
You don't have to be a millionaire yourself to live a good life among Panama's super-rich; a couple can get by in Panama City with a cost of living under $3000 per month.
This cost of living is helped greatly by the fact you pay zero income tax for any revenue you earn in another country, as well as inheritance tax laws which mean your loved ones won't lose half your estate to the government.
There is an abundance of bars, cafes, and restaurants in Panama, which perhaps isn't surprising since it's also the home of one of the most expensive coffees you can buy.
Outdoor pursuits include sports, with the country well served by golf courses and forest treks, biking, and ziplining.
With its attractive cost of living based on the dollar currency, proximity to the States, and combination of modern amenities and attractive wilderness, Panama has earned its position at the top of the Global Retirement Index by International Living.
Summary
There are plenty of options when choosing the best place to retire abroad, catering for all manner of tastes and requirements, from the tropical paradises of Southeast Asia to the old-world charm of rural France.
We've explored the top ten retirement destinations based on the cost of living, healthcare and social security benefits, and the arts and culture you can expect to find.
Once you've decided which place is your dream retirement home, it's time to get in touch with a financial advisor and start saving for a future in the sun.
Here's a quick recap of the 10 cheapest countries to retire to:
Panama
Costa Rica
Mexico
Portugal
Colombia
Ecuador
France
Malta
Spain
Uraguay
Which one of the cheapest countries to retire to is your favorite? Leave a comment below.