What are the most expensive handbag brands in the world?
You're not going to believe what you're about to read!
There's a handbag listed below that's won a Guinness World Record for being the most valuable handbag in the world.
It's worth a mind-boggling $3.8 million!
So, without further ado, here's a list of the 10 most expensive handbag brands in the world.
The 10 Most Expensive Handbag Brands in the World
The list of handbag brands and figures mentioned below has been compiled from various sources around the web, such as Finances Online & Wikipedia.
These are the 10 most expensive handbag brands in the world:
10. Saint Laurent
Most Expensive Handbag: $33,900
Founded in 1961, Saint Laurent (Yves Saint Laurent) is a French luxury fashion house, most known for its minimalistic, modern, and Parisian monochrome style.
The brand creates several different products, including a range of women's and men's ready-to-wear garments, leather goods, jewelry, shoes, and handbags.
Their 'Sac De Jour' leather tote is one of their most popular handbags, and varies in price, going up to almost $34,000.
The most expensive handbag in the collection is made from alligator leather and comes in multiple colors.
Saint Laurent has become one of the biggest and most expensive handbag brands in the world, with annual revenues of more than $1.21 billion.
9. Fendi
Most Expensive Handbag: $38,000
The next most expensive handbag brand in the world is Fendi.
The Italian luxury fashion house produces an array of luxury products, including ready-to-wear, fur, leather goods, shoes, fragrances, timepieces, eyewear, and accessories.
The company was founded in Rome in 1925 and has become known worldwide for its compact 'Baguette' handbags.
The bags were popularised on Sex and the City in the late 1990s and early 2000s, and quickly became one of the most desirable handbags on the planet.
A typical 'Baguette' costs around $28,000 and comes in a variety of designs and sizes to suit.
However, the 'Selleria' handbag by Fendi costs significantly more than a 'Baguette' at approximately $38,000.
So, depending on what style you're after, Fendi can accommodate, as long as you've got the cash.
8. Hilde Palladino
Most Expensive Handbag: $38,470
Hilde Palladino is an acclaimed Norwegian designer who launched her designer handbag collection in 2001.
Her handbags are curated in Italy, with a particular focus on the details, and the brand has become known to produce some of the most unique and elegant bags on the planet.
One of their most acclaimed handbags is the 'Gadino,' a limited-edition bag, made from white crocodile skin and decorated with 39 diamonds and white gold fastenings.
The bag is valued at approximately $38,470. Hilde Palladino stated that she would not produce any more Gadino handbags to make sure they stay limited and desirable.
7. Marc Jacobs
Most Expensive Handbag: $50,000
Marc Jacobs is an American fashion designer who was the former creative director of Louis Vuitton, from 1997 to 2014.
Jacobs then moved on to start his fashion label, Marc Jacobs, and began creating his line of accessories and fashion products.
He's now considered to be one of the most influential fashion designers in the world, and his brand had over 200 retail stores in 80 countries at one point in time.
One of his most acclaimed handbags is called 'Carolyn Crocodile.' It's appropriately named due to being made entirely from patent crocodile skin and is available to purchase in a quilted blue or purple-colored pattern.
The 'Carolyn Crocodile' has an estimated value of $50,000 and is made by one of the most expensive handbags brands in the world.
6. Judith Leiber
Most Expensive Handbag: $92,000
Judith Leiber was a Hungarian-American fashion designer and businesswoman, who started her fashion company, 'Judith Leiber,' in 1963.
Her designs gained notoriety quickly, and her handbags were appreciated by fans worldwide.
Leiber is best known for her crystal minaudières, which are evening purses made with a metal shell and plated with various gold or silver designs, and encrusted with Swarovski crystals.
Her purses were sold at exclusive boutiques around the world and have since become a status symbol for many women, as one of her bags was featured in the Sex and the City movie.
One particular bag, the 'Precious Rose,' has been valued at $90,000. This one of a kind piece is decorated with 42 carats worth of precious stones, including 1,016 diamonds, 1,169 pink sapphires, and 800 tourmalines.
5. Louis Vuitton
Most Expensive Handbag: $133,430
Louis Vuitton is a French fashion house and luxury retail company, founded by Louis Vuitton in 1854.
The company produces all sorts of luxury products, ranging from trunks and leather goods to shoes, jewelry, watches, accessories, and sunglasses.
It's one of the worlds leading international fashion houses, and its products are sold all over the globe in standalone boutiques, high-end department stores, and e-commerce.
For multiple years, Louis Vuitton has been named the world's most valuable luxury brand, amassing over 460 stores in 50 countries.
One of their most expensive handbags is the 'Louis Vuitton Kasuma Pumpkin Minaudière Bag,' which was a collaboration between Louis Vuitton and Japanese designer, Yayoi Kasuma.
The handbag is priced at $133,430 and was handcrafted after taking inspiration from small evening bags used by the French glitterati in the 1930s.
It's made from pure gold and metal and has a genuine gold chain shoulder strap and black leather inside.
4. Chanel
Most Expensive Handbag: $261,000
Chanel is a French fashion house that specializes in women's high fashion and luxury goods.
The company was founded in 1909, as 'House of Chanel,' by Coco Chanel, and has since gone on to become one of the largest luxury brands in the world.
It has more than 20,000 employees worldwide and generates billions of dollars in annual revenue.
Chanel has become massively popular within the handbag world, and some of their exclusive bags are worth an absolute fortune.
Take the 'Diamond Forever' handbag, for example. With a price tag of $261,000, it's the fourth most expensive handbag in the world, putting Chanel on the map as one of the most expensive handbag brands.
Only 13 of these handbags were produced in 2007, and each one is made from white-coated alligator skin and contains 334 diamonds and an 18-carat gold handle.
3. Lana Marks
Most Expensive Handbag: $400,000
Lana Marks is an American fashion designer and founder of the world-famous self-named fashion brand, Lana Marks.
The brand specializes in exotic leather and has become known for creating some of the world's most expensive handbags.
One of those bags is the 'Cleopatra Clutch,' which varies in price from $100,000 to $400,000. The price can be attributed to its rarity, as only one Cleopatra Clutch is made each year.
The most expensive clutch is owned by Chinese actress and singer, Li Bingbing. The clutch she owns consists of 1,600 40-carat white diamonds encrusted on the clasp, and a combination of pink diamonds and pink gold were used to write her name.
Lana Marks handbags are popular among celebrities and are often seen with them at various functions and award ceremonies.
2. Hermès
Most Expensive Handbag: $2 Million
The second most expensive handbag brand in the world is Hermès.
The French high fashion luxury goods manufacturer was established in 1837 and specializes in jewelry, perfumery, leather, ready-to-wear, and lifestyle accessories.
Hermès handbags are among the most famous in the world and are regularly seen by celebrities.
There are many handbags Hermès have produced over the years; however, the 'Kelly Rose Gold' bag tops them all in terms of price.
The bag was crafted to resemble crocodile leather and is made from solid rose gold. It was a collaboration between Hermès and a jeweler by the name of Pierce Hardy.
As well as pure rose gold, the handbag also comes with 1,160 diamonds, which are encrusted all over the top of the bag and handle.
Each bag takes approximately two years to create, and only 12 bags were made in total.
1. Mouawad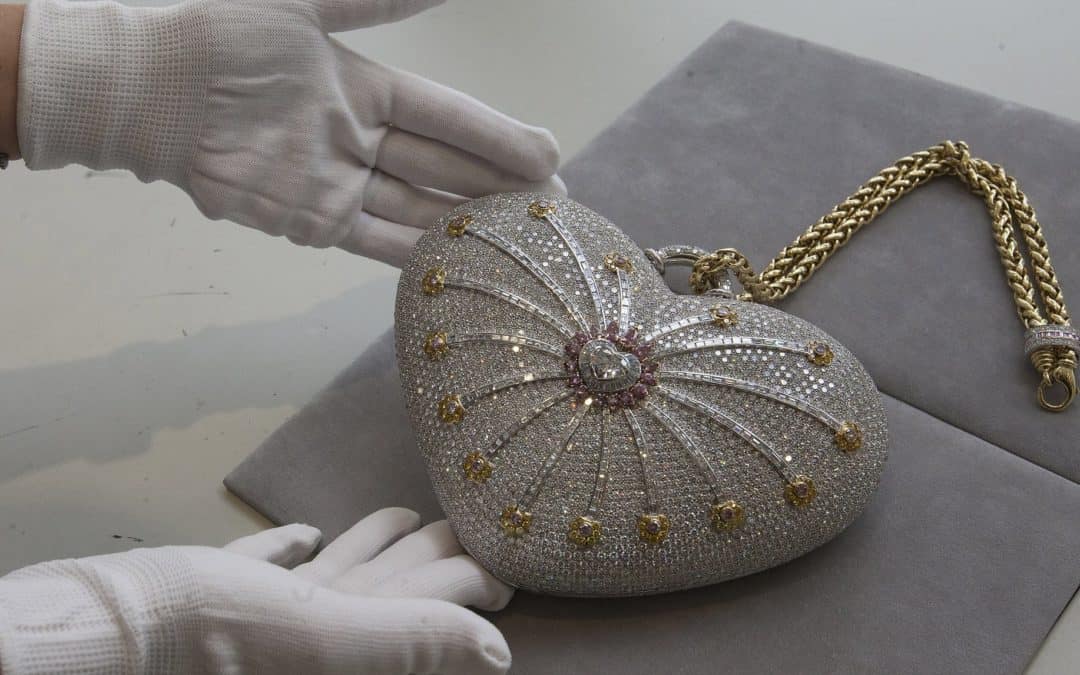 Most Expensive Handbag: $3.8 Million
Mouawad is a Swiss and Emirati company that specializes in making jewelry, objects of art, and luxury watches.
The company was founded in 1891 by David Mouawad and is now led by Fred, Alain, and Pascal Mouawad.
One of the companies' most notable designs is the '1001 Nights Diamond Purse,' created in 2011, and the company now holds a Guinness World Record for the most valuable handbag in the world.
The handcrafted 18-carat gold handbag took more than 8,800 hours to make and is covered in 4,517 diamonds, comprising 105 yellow diamonds, 4,356 colorless diamonds, and 56 pink diamonds.
The handbag was offered at Private Sale by Christie's at an auction preview in Hong Kong in 2017.
Mouawad has five Guinness World Records to its name, including the most valuable handbag in the world.
Summary
We hope you enjoyed our list of the 10 most expensive handbag brands in the world.
How bonkers were those prices?!
I mean, $3.8 million for something to hold your phone and lip gloss is a little excessive, don't you think?
Still, if someone is willing to pay that, then fair play to them, but $3.8 million could buy you a whole lot of Pokémon cards!
Here's a quick recap of the 10 most expensive handbag brands in the world:
Mouawad
Hermès
Lana Marks
Chanel
Louis Vuitton
Judith Leiber
Marc Jacobs
Hilde Palladino
Fendi
Saint Laurent
What's your favorite handbag brand? Leave a comment below.