Which are the most expensive TVs in the world?
We've put together a list of the top 10 most expensive TVs money can buy.
Television is something that we watch all the time. It's definitely one of the biggest forms of entertainment, education, news, and politics. If you ask people about the items that aren't missing from their home, it would normally be a TV, right? It's one of the items that's one of the presents in every single home.
When it comes to buying a new television, most of us will spend as much as we can afford. However, few of us are likely to think anyone ever needs to spend much more than a few thousand.
Some TVs are huge, and some are hideous. Whatever you think, they're some of the most expensive TVs ever made. Feast your eyes. If you think it's time to upgrade your TV, make sure you get the right one.
Are you looking for a TV that suits your taste? Say no more. Below, we have a list of the 10 most expensive TVs globally. Don't forget to share this article with your friends and loved ones.
The 10 Most Expensive TVs in the World
Television is always on, and it's literally everywhere. Let's be honest. It's hard to unplug our TVs when we always want to watch the latest news or our favorite Netflix TV show.
Technology is a new era, and before we had smartphones, we had a constant stream of programs just waiting for us throughout our day at any moment.
TV has evolved from being about information transmission into one of the biggest forms of entertainment there is. From sitcoms to movies and news media outlets broadcasting live events around the clock, TV is one of the best technology ever created.
The TV and figures mentioned below have been compiled from various sources around the web, such as Luxatic and MoneyInc.
Here's our list of the 10 most expensive TVs you can buy:
10. Beovision 4-103 – $140,000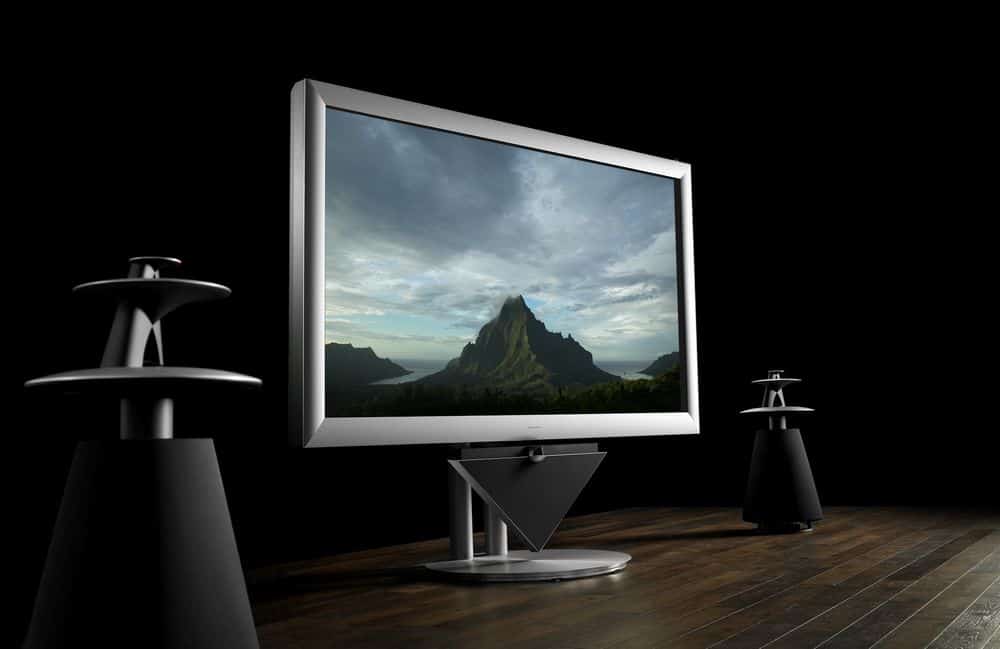 Beovision 4-103 is one of the world's largest available flat-screen TV with its 103-inch screen. This TV comes with an elegant and minimalist design. It costs $140,000. This TV comes with an advanced and unique motorized stand that will leave you stunned with its capabilities.
The movements of this screen and speaker are accelerated and decelerated. The lift of the screen is timed with the start-up of the BeoSystem.
The Danish company Bang & Olufsen creates the TV's picture and sound, pairing it with two speakers. This TV is one of the biggest televisions on the market right now. It's the only one of its stature to include a stand that can tilt or lift the screen. This means that the owners can achieve the best viewing position with just the touch of a button.
9. Samsung UN110S9VFXZA – $150,000
This model is the cheaper Samsung on the list.
However, it's a 4K UHD TV, and it comes with an impressive 3840px by 2160px resolution and a 240 Hz refresh rate for its huge 110-inch screen. It also includes many USB and HDMI ports. This huge TV is sure to impress its next owners.
In 2011, a 3D version of this TV was released. In 2009, this television was one of the biggest televisions in the world. The total weight of this Samsung UN110S0VFZZA is 265 kg!
Samsung Un110S9VFZZA absorbs ambient light and reduces reflections. It preserves the deeper black and contrasts for crystal clarity. You can see clearly and enjoy more detail.
This TV uses the frame refresh rate, image processor speed, and backlight to measure dast action with every detail of movies and series.
8. Samsung UA11059 – $152,000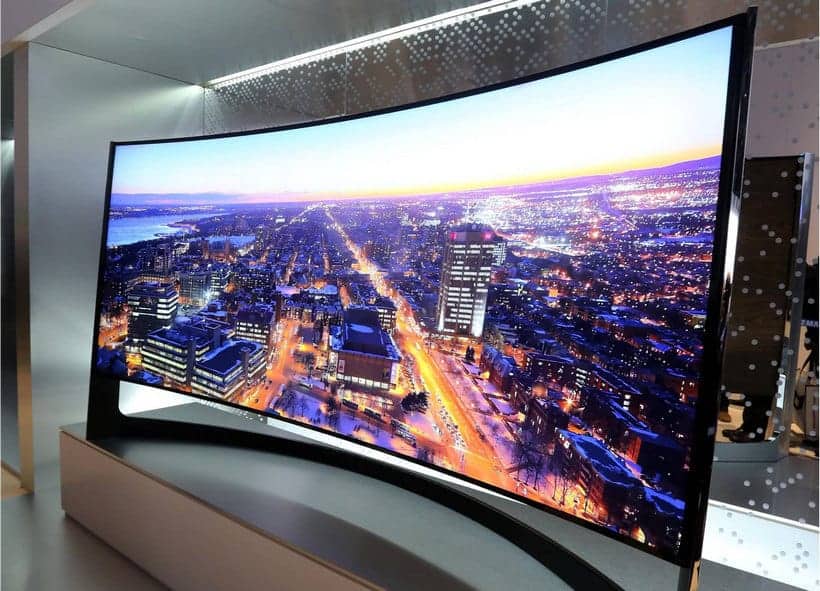 Samsung UA11050 is another UHD TV from Samsung, and it costs $152,000.
With the same massive size and similar astonishing features, you might ask what's the difference.
This TV was released to the public in 2014, and it paves the way for a new type of device aimed at a more affluent market.
7. Sharp LB-1085 – $160,000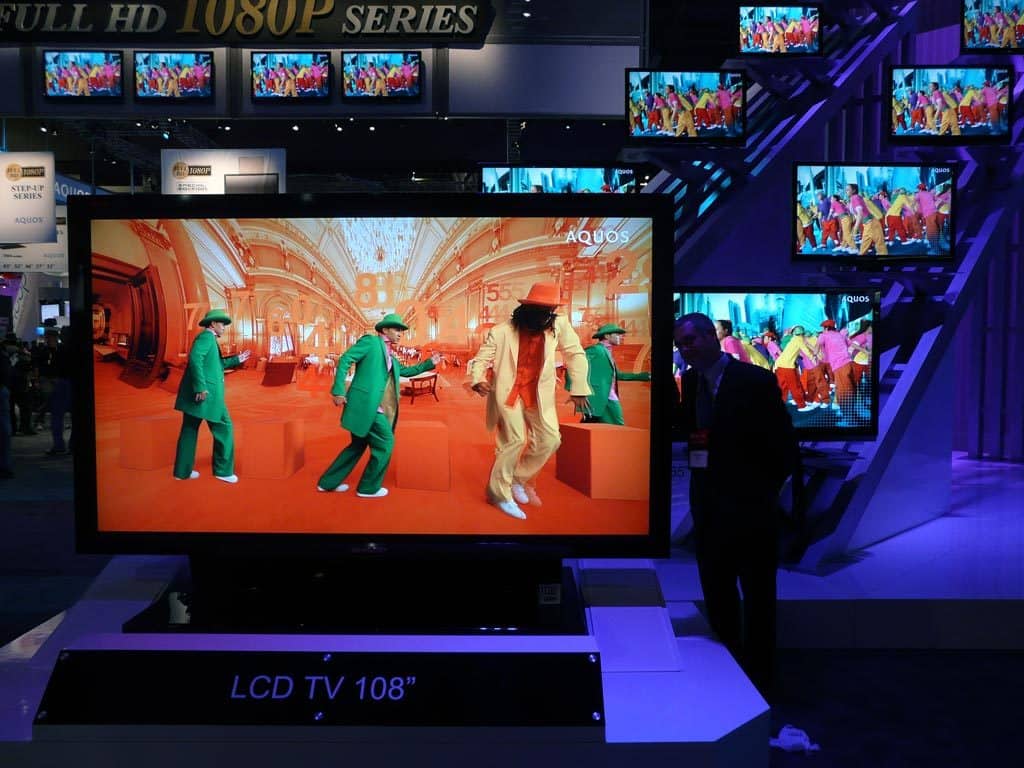 In 2008, Sharp LB-1085 was launched. This TV was designed for 24-hour use, and it operates conditions in commercial spaces. The screen comes with Full HD to deliver a great image in any lighting condition.
It's a 176-degree viewing angle. This definitely ensures that images can be seen clearly from any angle.
This TV offers an expanded color palette of 758 million colors. Can you believe that? This enables the panel to produce natural images with a detailed and smooth scale of color.
The Brightness Sensor ensures clear visibility by adjusting backlight brightness to complement surrounding brightness levels. In dark areas, backlight brightness automatically lowers.
With the Active Contrast function, images displayed on this TV are analyzed to provide optimal brightness and contrast levels for every scene.
It has a price tag of a substantial $160,000.
6. Samsung UN105S9B – $260,000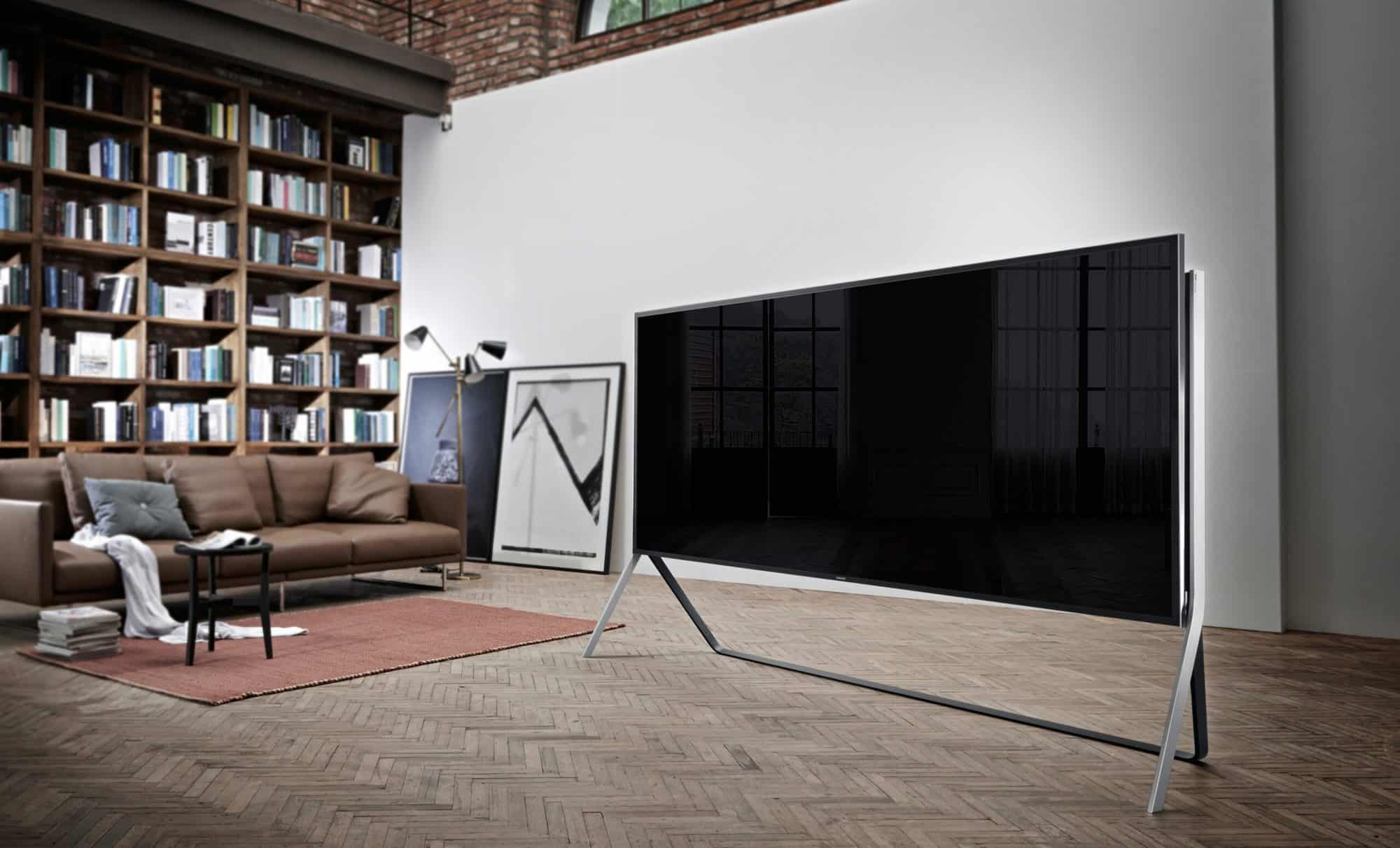 This incredible TV is the most expensive Samsung TV ever. It comes with a price tag of $260,000. It will impress you with its exceptional color and panoramic effect. This TV offers UHD Upscaling, UHD dimming, auto depth enhancer, and Precision Local Black Local Dimming.
That means crystal clear picture, natural colors, and optimal picture performance. The most incredible feature is that it's bendable. The screen can literally change into curved or flat by only pressing a button! This screen is 105 inches.
Two of the main drivers of television are size and clarity. Our new technology, such as Ultra High 4K, isn't really that much improvement from a 1080p HD.
If you want to have the most advanced and amazing experience, you'd probably want this TV. As mentioned above, it's bendable. How cool would it be to change your television from flat to curved depending on the desired viewing experience?
The only downside of this TV is that you need a lot of money to afford this beauty.
The Samsung UN105S9B appears at 6th on our list of the most expensive TVs.
5. Panasonic TH-152UX1 – $500,000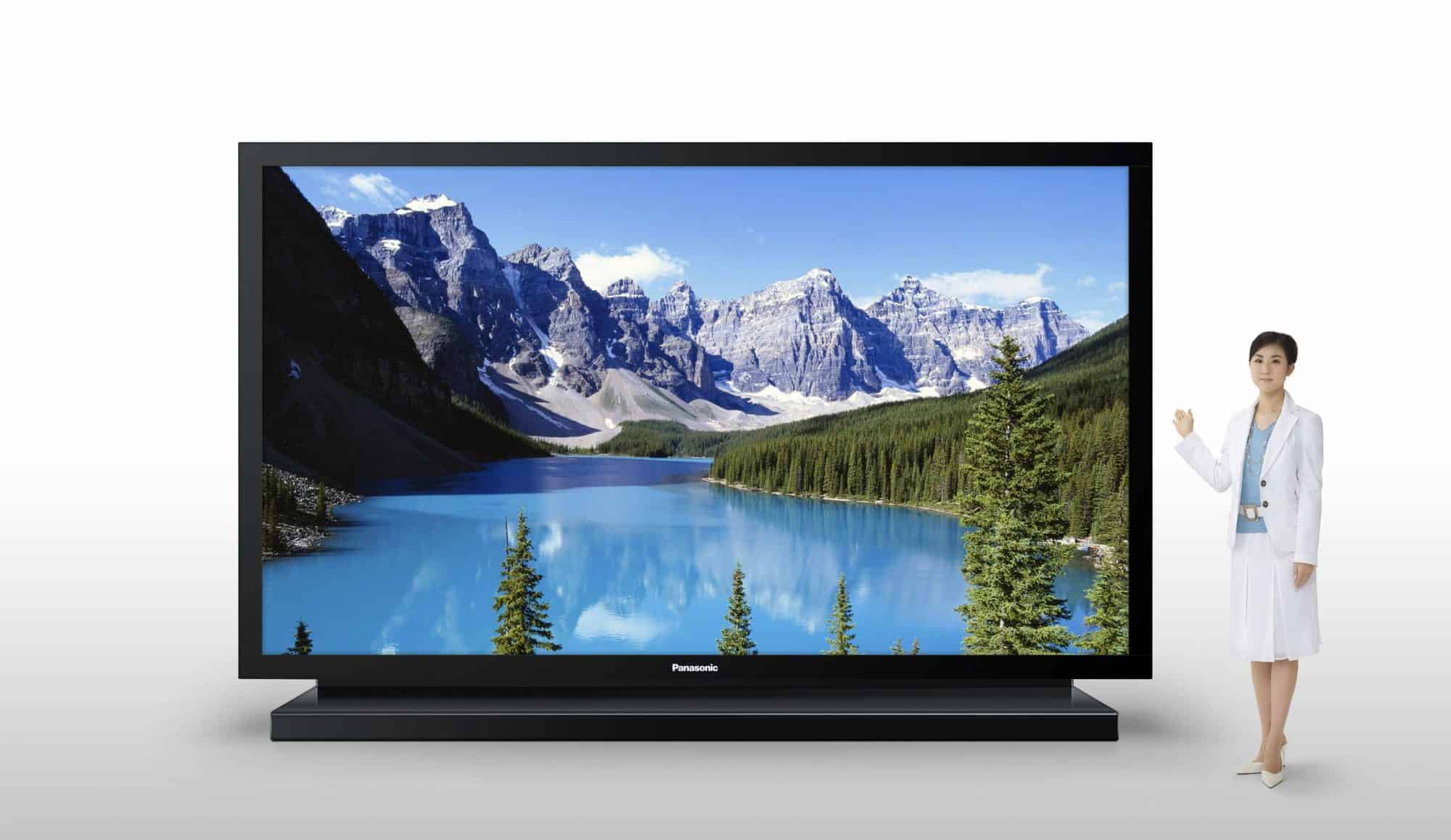 Panasonic TH-152UX1 comes with a huge 152-inch screen. This Panasonic TV offers an amazing experience with stunning features that can beat up any cinema. This TV comes with a 4K 3D Plasma Display, which delivers vibrant and smooth colors.
Across the screen, we can see rich textures and newly developed technology.
This TV has an optional scale and wall hanging bracket. If you want to hang this massive TV on the wall, you'd have to make sure you have strong enough support. This TV weighs around 1300 pounds.
Panasonic TH-152UX1 is a monster, and since it's so big, it really depends on the environment where you set it up and how well it will look in the room. Since this television is huge, it would be better to place it in a large meeting room or small theater.
This means that you can watch your favorite movies in their original colors. It's a very heavy TV both for your living room and your pocket.
The TH-152UX1 offers a 4K resolution, but you have to keep in mind that it's more uncommon to broadcast in 4K at this time. The 3D features on the TV are top-notch.
4. C SEED 201 – $680,000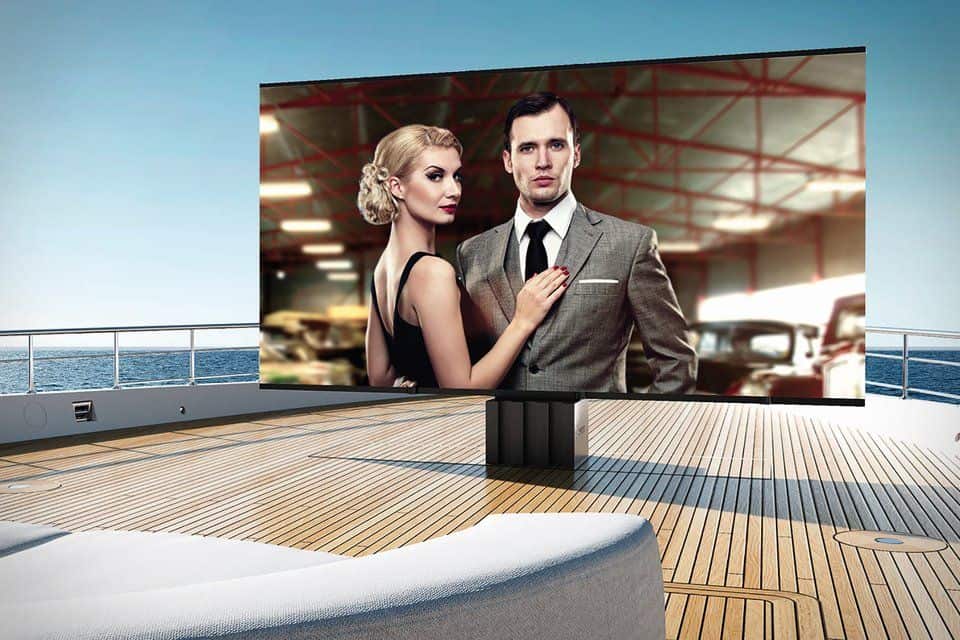 This TV almost weighs one and a half tons. C SEED comes with a high-resolution Retina LED 201-inch display.
It's designed for those who want to have an outdoor cinema. This TV also comes with a stunning storage station. It can unfold into 7 massive LED pannels. It can transform into one of the largest outdoor TVs.
The screen is hidden inside a built-in chamber. This awesome feature was designed by Porsche Design Studio in association with Lighthouse Technologies. The screen will burst into action with pixel power for ultra-high resolution images.
No other technology generates such a remarkable color spectrum with near precision and solidness.
If you add the 780,000 LEDs, the 12 broadband speakers, and 3-sub woofers, you will definitely get the best out of this TV. This TV costs around $680,000.
The C SEED 201 appears at 4th on our list of the most expensive TVs in the world.
3. Stuart Hughes Prestige HD Supreme Edition – $1.5 Million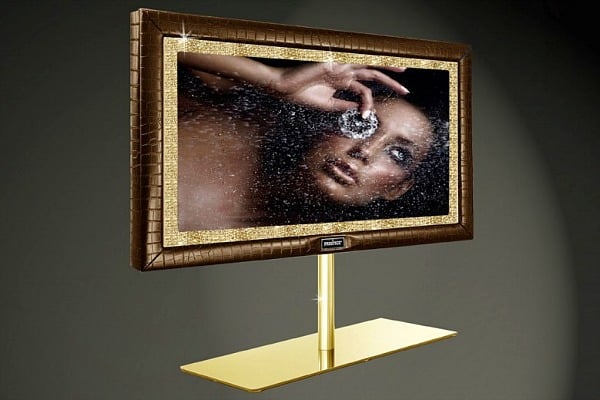 Stuart Hughes Prestige HD Supreme Edition is the third TV on the list from the renowned British designer Stuart Hughes.
This TV is not as big as the other competitors, with its 55-inch display. It doesn't have all the bells as the more impressive TVs out there. However, this TV is covered in diamonds, gemstones, and alligator skin.
This TV definitely fits into any living room. The shows on the screen or the diamonds on it is all luxurious. The price of this TV is a whopping $1.5 million.
2. The Titan Zeus – $1.6 Million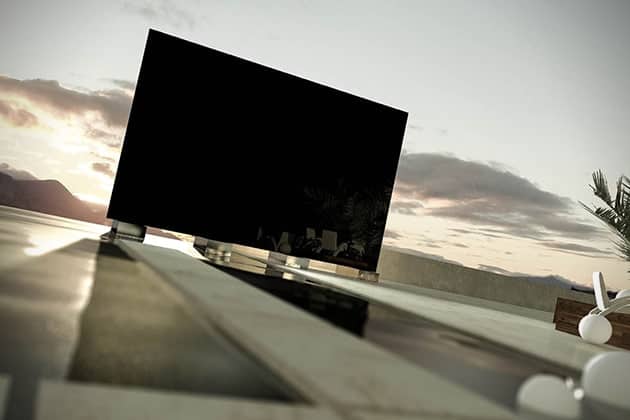 This TV is definitely something you should remember since it's currently the largest TV in the world. The screen size is 370 inches which means that you might need to expand your house to be far away to enjoy this massive screen fully.
The Titan Zeus comes with features such as a dynamic CGI aquarium that can turn into a fish tank. It also comes with motion tracking and touches technology.
Titan launched this giant right before FIFA World Cup in 2014. Fun fact, if you sometimes happen to be in Cannes in the nearest future, you can actually check this TV at one of the seafront hotels.
This TV is perfect for you if you live in a mansion with 20 family members or friends. Whether it's indoors or outdoors, set this TV up, and you can watch twenty channels at the same time.
65 billion colors are featured in this bad boy. Not only is this TV massive, but the brand also offers up solutions that are perfect for outdoor settings. This amazing television is bright enough to show up crystal clear in direct sunlight. If you happened to be outside and accidentally splash water on it, the TV would remain impact and functional.
1. Stuart Hughes Prestige HD Supreme Rose Edition – $2.26 Million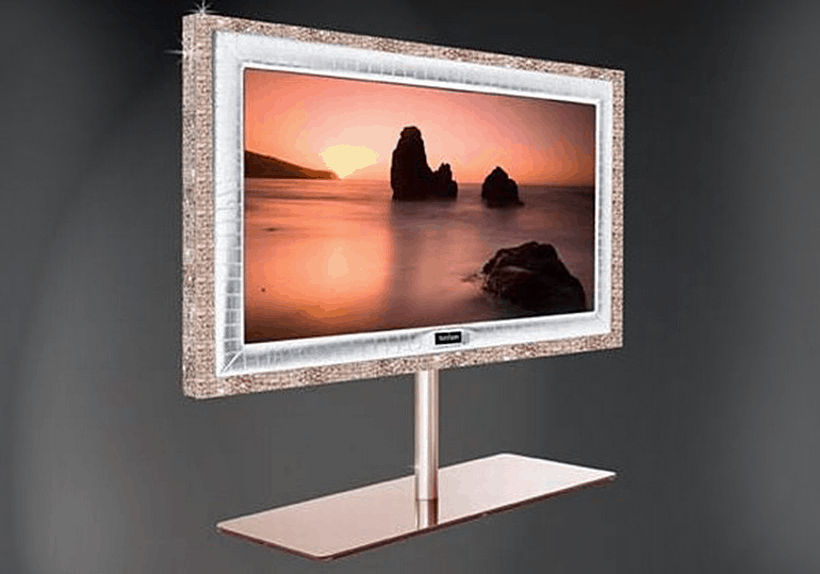 Stuart Hughes Prestige HD Supreme Rose Edition is an ultra-lavish product. This TV is covered with 28 kilograms of gold and 18k rose gold. Rose Edition comes with the most precious stones you can ever imagine, such as Sunstone and Amethyst. It also comes with alligator skin.
It has 72 round cut diamonds, and what makes this television stand out is that the alligator skin has been hand sewn on the inner screen layer.
One fun fact is the Stuart Hughes is the company responsible for bringing the world's most expensive console, a Wii containing 2,500 grams of gold and diamond buttons. With that said, it's understandable why this TV is the first one on our list of the most expensive TV in the world.
The total price of this bad boy is $2.26 million, which makes it the most expensive TV in the world to this date.
Summary
We hope you enjoyed our list of the most expensive TVs money can buy!
We would probably buy every TV on the list if we could, but we might have to settle for one if we can afford that.
Visual supremacy is the goal for any great media room or private home theater. Some of us prefer to have a movie aboard a yacht or in the back of our yard or pool. The best experienced is supposed to be shared with loved ones, which doesn't look better than a lavish TV.
I personally would buy the Titan Zeus TV, and this is because I was impressed by how you could turn this TV into a fish tank. We live in a world of technology, and the fact that you actually can use television for so much more than just a TV is truly amazing… or just plain crazy.
What is your favorite TV and why? What do you want when you're looking to find your TV?
Wherever you want to have your fabulous TV, these huge televisions come with a matching price tag. Don't forget that if you want to have the best TV, you have to open your massive pocket and go out and buy one. Get out there now, and pick. Maybe you can use some inspiration from this article on how to find your pick of choice.
Here's a quick recap of the 10 most expensive TVs:
Stuart Hughes Prestige HD Supreme Rose Edition – $2.26 Million
The Titan Zeus – $1.6 Million
Stuart Hughes Prestige HD Supreme Edition – $1.5 Million
C SEED 201 – $680,000
Panasonic TH-152UX1 – $500,000
Samsung UN105S9B – $260,000
Sharp LB-1085 – $160,000
Samsung UA11059 – $152,000
Samsung UN110S9VFXZA – $150,000
Beovision 4-103 – $140,000
If you're looking for a TV but don't have a trillion dollars for the ones above, check out some of our other TV lists:
Which is your favorite, most expensive TV? Leave a comment below.