What is Tony Robbins' net worth?
| Net Worth: | $600 Million |
| --- | --- |
| Age: | 62 |
| Born: | February 29, 1960 |
| Gender: | Male |
| Height: | 2.01 m (6 ft 7 in) |
| Country of Origin: | United States of America |
| Source of Wealth: | Author/Motivational Speaker |
| Last Updated: | August 2, 2022 |
Introduction
As of February 2023, Tony Robbins' net worth is roughly $600 Million.
Tony Robbins is one of the most well-known names in the motivational speaking industry.
He has worked with some of the most successful people in the world, including Oprah, Bill Clinton, and Leonardo DiCaprio. His methods have been called controversial, but he continues to remain one of the best in his field.
Early Life
Anthony J. Mahovoric was born in North Hollywood California on February 29, 1960.
He is the eldest of three children and his parents divorced when he was seven. His mom married several times, and when Robbins was 12 she married Jim Robbins, who later adopted him.
Robbins' home life was abusive and chaotic, and he found himself working as a handyman during high school to support him and his siblings. His family was always struggling for money, and there was tension in the house due to the financial strain and abuse.
Tony decided to leave home when he was only 17 years old, and he never returned. He managed to find work as a janitor to support himself, and didn't attend college.
Career
Tony Robbins began working as a promotor for seminars for Jim Rohn when he was 17 years old, and this launched his career path.
A few years later, in the early 1980s, he met John Grinder and they became partners in the business. Grinder and Robbins both taught Neurolinguistics Programming, and Robbins also taught Ericksonian Hypnosis.
In 1988 Robbins released his first infomercial to selling his Personal Power self-help audiotapes. This infomercial reading around 100 million Americans by 1991.
His live seminars began in 1997 with the Leadership Academy seminar and is currently on the seminar circuit sponsored by the learning Annex. Currently, over 4 million people have attended his live seminars.
Other endeavors that Robbins has undertaken include the Robbins-Madenes Center for Intervention, which trains life skills coaches to help families and individuals deal with addiction and other issues.
He is also involved with the Major League Soccer franchise in Los Angeles and has recently purchased Team Liquid, which is an eSports pro gaming organization.
Robbins is also a published author, with five books to his name. Four of his books are best-sellers. His latest book was released in 2017, and is co-authored with Peter Mallouk.
As of February 2023, Tony Robbins' net worth is estimated at $600 Million.
Highlights
Here are some of the best highlights of Tony Robbins' career:
Unlimited Power: The New Science of Personal Achievement (1986)
Lessons in Mastery: How to Use Your Personal Power to Create an Extraordinary Life! (1989)
Awaken The Giant Within (1991)
Giant Steps: Small Changes to Make A Big Difference (1994)
The Power to Shape Your Destiny! (2001)
Inner Strength: Harnessing the Power of Your Six Primal Needs (2004)
MONEY: Master the Game (2014)
Unshakeable: Your Financial Freedom Playbook (2017)
Favorite Quotes from Tony Robbins
"Identify your problems, but give your power and energy to solutions." – Tony Robbins
"Every problem is a gift–without problems we would not grow." – Tony Robbins
"If you can't, you must. If you must, you can." – Tony Robbins
"Success is doing what you want to do, when you want, where you want, with whom you want, as much as you want." – Tony Robbins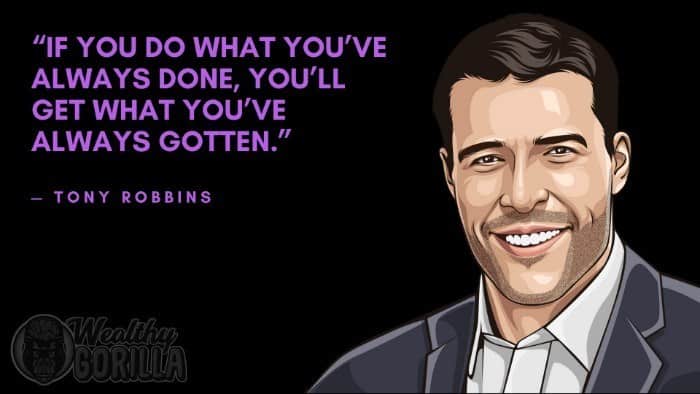 "If you do what you've always done, you'll get what you've always gotten." – Tony Robbins
"A real decision is measured by the fact that you've taken a new action. If there's no action, you haven't truly decided." – Tony Robbins
"Life is a gift, and it offers us the privilege, opportunity, and responsibility to give something back by becoming more." – Tony Robbins
"Quality questions create a quality life. Successful people ask better questions, and as a result, they get better answers." – Tony Robbins
"The past does not equal the future." – Tony Robbins
View our larger collection of the best Tony Robbins quotes!
Frequently Asked Questions
How much is Tony Robbins worth?
Tony Robbins' net worth is estimated to be $600 Million.

How old is Tony Robbins?
Tony Robbins was born on February 29, 1960, and is currently 62 years old.

How tall is Tony Robbins?
Tony Robbins' height is 2.01 m, which is equal to 6 ft 7 in.

Summary
Tony Robbins continues to prove that there is no end to his career. He is one of the most well-known names in motivational speaking, and his lifelong goal of helping people continues to motivate him.
As of February 2023, Tony Robbins' net worth of $600 Million proves that his dedication to his craft has paid off.
What do you think about Tony Robbins' net worth? Leave a comment below.