Hiroshi Mikitani Net Worth
| Net Worth: | $9 Billion |
| --- | --- |
| Age: | 59 |
| Born: | March 11, 1963 |
| Gender: | Male |
| Height: | Unknown |
| Country of Origin: | Japan |
| Source of Wealth: | Founder of Rakuten Inc. |
| Last Updated: | March 8, 2023 |
Introduction
In 2023, Hiroshi Mikitani's net worth is estimated at $9 Billion.
Hiroshi Mikitani is the CEO and co-founder of Rakuten, a Japanese e-commerce company that has now expanded into multiple countries and hit global success.
Hiroshi's net worth is growing more and more every year, so there's definitely a lot that can be taken in from his background and his story of taking his local business world wide.
Early Life
Hiroshi Mikitani was born in Kobe, Japan.
In terms of what his family did for a living, his father Ryoichi was an economist, and his mother Setsuko worked for a major trading company. Hiroshi also has two siblings; a sister named Ikuko and a brother called Kenichi.
There isn't much other background info that can be found on Mikitani's early life; other than the fact that he graduated from the Hitotsubashi university in 1988, and studied at the Harvard Business School in 1993 after transferring to the US.
This was at the time he was working for the Industrial Bank of Japan.
Career
Prior to the creation of Rakuten, there wasn't much to Hiroshi's career.
After graduating in 1988, he started working the Industrial Bank of Japan, and left 9 years later to start the Crimson consulting group in 1997. It was in that same year that he founded Rakuten.
It just goes to show that Mikitani wasn't the sort of person to give up on businesses or jobs and move onto the next.
He worked at one company for a solid nine years and then started his own business, which he always made an effort to keep going and to succeed. Many other people would have given up at the first sign of trouble.
Rakuten
Rakuten was founded in February 1997 by Hiroshi Mikitani and a few other co-founders, who raised 250,000 of their own money in order to fund the startup.
Rakuten is a group consisting of over 40 different business and services, contained within the following different industries:
Online Retail
Entertainment
Banking
Travel
Sports
Securities
Media
Examples of some of these businesses are Rakuten.com, Play.com which is a relatively new acquirement for the UK side of the company, Viber, Kenko.com and Aquafadas.
Rakuten was based only in Japan until 2005, when it began expanding and purchasing and building sub-companies across the UK, Canada, US, France and Spain.
The two most noticeable and recent investments are the purchasing of Play.com for £25 million, and Viber for $900 million.
Rakuten now employs over 11,000 people, an absolute whopping number of people; and their revenue is in the billions every year.
3 Business Lessons from Hiroshi Mikitani
Hiroshi recently wrote a short article on LinkedIn, about his tips for empowering an organization. Here's what Mikitani said in the article he kindly shared with us:
1. Emphasize Teamwork
We demand employees work collaboratively to solve problems, and that helps to create a culture of empowerment.
To each individual, we say: You are not responsible just for yourself. You are responsible for the success of the team. Collaboration encourages individuals to give more to their team, and to expect more in return.
2. Allow for Failure
Business is different than sports. In sports, you only get a certain number of chances to succeed. If time runs out or you take three strikes, that's the end. In business, you can swing as many times as you like.
But to keep employees swinging, leaders must constantly emphasize that we will accept strikes. Failure will happen. Accept that and employees are empowered to keep trying.
3. Prevent Chaos
Empowerment can't mean letting everyone loose to do whatever they like. At Rakuten, one way we seek to guard against chaos is the rigorous use of KPI – key performance indicators. We measure everything.
We know how long it takes for projects to move through completion. We know how many engineers it takes to execute a change in the system.
We even know how long it takes for an employee in the lobby to reach the company meeting room on the 12th floor. To keep this group of empowered employees on task, we set clear and specific goals.
Frequently Asked Questions
How much is Hiroshi Mikitani worth?
Hiroshi Mikitani's net worth is estimated to be $9 Billion.

How old is Hiroshi Mikitani?
Hiroshi Mikitani was born on March 11, 1963, and is currently 60 years old.

How tall is Hiroshi Mikitani?
Hiroshi Mikitani's height is Unknown.

Summary
Hiroshi Mikitani is an incredible successful entrepreneur, with a net worth of $9 Billion!
What do you think about Hiroshi Mikitani's net worth? Leave a comment below.
Wack 100 Net Worth
Wack 100 is a controversial figure in the music industry who started Cash Money West Records and has made millions by managing some of the biggest names in hip hop.
What is Wack 100's net worth?
Introduction
Wack 100 is an American music executive who manages many artists including Ray J and The Game.
He also launched Cash Money West by joining forces with the legendary producer Birdman and his label Cash Money Records.
As of June 2023, Wack 100's net worth is estimated to be $5 million.
Wack 100 Facts
Wack 100's real name is Cash Jones, and was born in Pacoima, California.
He spent the beginning of his adult life in prison, and joined the music industry upon his release.
Jones worked with Universal Music Group and became a liaison for rising artists in the hip hop community.
In his career, he has worked with music executive Suge Knight and rappers including Blueface.
Wack 100 now runs an independent label named 100 ENT that has featured Kanye West and several other notable rappers.
Early Life
Cash Jones was born April 7, 1978 in Pacoima, California and grew up in the Los Angeles area.
Jones ran with a rough crowd while growing up and became a member of the Pacoima Piru Bloods gang.
This led to him being arrested and sentenced to four years in prison when he was 18 years old, and he vowed to turn his life around upon being released.
Jones started to build his hip hop empire on the west coast by taking on local talent as his clients, and saw his career take off in the 2010s.
Career
Jones would go on to represent rappers including The Game and Blueface, establishing himself as a celebrity manager in the music industry.
He then became part of Universal Music Group, signing a large contract where he would manage rising artists on the label.
Wack 100 and the music personality named Birdman would join forces to launch a west coast branch of Cash Money Records and have signed many artists since.
Jones has made headlines for himself, too, including a controversial statement regarding rapper Nipsey Hussle that drew a lot of negative attention in the hip hop community.
Wack 100's Career Earnings & Net Worth
As a celebrity manager and music executive, Wack 100 has done just fine for himself throughout his career.
In his early life, Jones didn't have a net worth as he was trying to rebound from being imprisoned but has built a hip-hop empire ever since.
Thanks to his contract with Universal, being an executive with Cash Money West and managing the careers of several famous rappers, Wack 100 is now worth millions.
It's estimated that Wack 100 has a net worth of $5 million while earning an estimated $750,000 per year from his various careers and business ventures.
Personal Life
When Wack 100 was just a teenager, he began a relationship with Kimberly Jones and the two have been married since his early 20s.
Along the way, the couple has had two children with a son named Devyn Jones and a daughter named Prince Jones.
During his career, Wack 100 has given many interviews regarding his life, including a glimpse into how producer Suge Knight laid out a plan to take out Snoop Dogg, but Jones has also had controversial opinions regarding hip hop.
Jones is active on social media with an official Instagram account that is updated regularly.
Awards & Achievements
As a manager, Wack 100 isn't the one that's typically winning all of the awards, but his clients are doing well in that department.
Wack 100 has been one of the more prominent executives in hip hop since the early 2010s, and has had many memorable moments along the way.
Here are some of the many achievements from Wack 100's career:
Client The Game won back-to-back Ozone Awards, including Best West Coast Rap Album in 2007 and Best West Coast Rap Artist in 2008.
One of his more recent clients, Blueface, received a BET Awards nomination for Best New Artist.
Blueface also received an iHeartRadio Music Awards nomination for Thotiana in the Best Remix category with Cardi B and YG.
Ray-J, another Wack 100 client, reached the top of the US R&B charts with the release of All I Feel.
Several acts on the Cash Money label have been nominated for BET Awards.
Cash Jones, a.k.a. Wack 100 has said that he doesn't want to be in the music business for long as he's preparing his daughter to take his spot.
He continued by saying that he hopes to get into the diaper business, which would be an interesting career change.
How Does Wack 100 Spend His Money?
As he climbs the rank of the richest rappers in the world, Wack 100 has accumulated millions to spend and he has a luxurious taste.
Wack 100 has an extensive car collection of some of the most expensive cars in the world, including a black Rolls Royce Ghost and a Range Rover Sport.
Though he doesn't have one of the most expensive houses in the world, Wack 100 does have a mansion in the Los Angeles area that's estimated to be around $1 million.
Wack 100 doesn't tend to spend too much on fashion, but does have some expensive jewelry and has worked toward getting his pilot's license, signaling that he may one day buy a private jet.
Highlights
After getting his life sorted out in his early adulthood, there have been a lot of highlights in Wack 100's life and career.
From signing some of the biggest names in the industry to starting a record label, Wack 100 has just about done it all thus far.
Here are some of the best highlights of Wack 100's career:
Began his career as a music executive upon his release from prison.
Married Kimberly Jones and has had two children (Prince Jones and Devyn Jones).
Began the Cash Money West label with hip hop industry personality named Birdman.
Signed a large deal with Universal to work with young up-and-coming artists worth $20 million.
Has served as celebrity manager for rappers including The Game and Blueface.
There is plenty of time to create new memories for Wack 100 and his label, especially as his growing notoriety attracts more clients.
The American music executive has been incredibly busy and hopes to add some more of the biggest names to his client list.
Favorite Wack 100 Quotes
Wack 100 has been one of the most outspoken people in the industry, and the American music executive has had a lot of memorable interviews.
From his controversial statement about rapper Nipsey Hussle to his history with Snoop Dogg and Suge Knight, Wack 100 certainly isn't boring.
Here are our favorite quotes from Wack 100:
" When bitten by a snake you must first extract the poison, then you get away from it." – Wack 100
" I'm grooming my daughter, Devyn Jones, to step into my shoes." – Wack 100
" I don't care about how much money I got or my position in this game." – Wack 100
" I done saved people's lives…but the controversy is always going to be the better sell." – Wack 100
" I've been me before I signed a lot of my artists." – Wack 100
3 Amazing Lessons From Wack 100
The odds were stacked against Wack 100 when he was in his late teens as he was sentenced to several years in prison.
Thankfully, he was able to set himself on the right path and has become a prominent name in music while also raising two kids with wife Kimberly Jones.
Now that you know all about Wack 100's net worth, there's plenty to learn from the record executive.
Here are some of the best success lessons to learn from Wack 100:
1. Show Respect
One of the fastest ways to get yourself kicked out of the music business, especially in rap, is to disrespect your peers.
Wack hasn't been afraid to call out anyone that's disrespectful toward him throughout his career, while showing respect to those that give it.
He has been very adamant about respect during his career after running the streets as a teenager, talking about at length in interviews.
2. Diversify
Though he has plenty of time until he reaches retirement age, Wack has been thinking about ways to get out of the music business.
He has been looking to diversify, and he has plenty of other options that he's entertaining, including podcasts, film production and selling diapers.
No matter what route Wack takes next, most know that he'll be successful as he's been able to get his name out there in the public eye.
3. Get People Talking
Sometimes, negative attention can be better than no attention at all, and Wack knows that as well as anybody.
From his public beef with rappers including Future and 21 Savage to his controversial opinions on Nipsy Hussle, Wack has found ways to get people talking about him.
The result has been a lot of press coverage that has only helped to boost his career, making him millions in the process.
Summary
Whether people agree with what Cash Jones says in interviews or not, he's undoubtedly one of the biggest names in rap music behind the scenes.
He and wife Kimberly Jones are building a family business with his daughter set to take over his empire, though that doesn't mean that Wack 100 is going to retire.
Wack 100 will still be prominently featured as a manager and entrepreneur, looking to add to his already impressive net worth.
As of June 2023, Wack 100's net worth is estimated to be $5 million.
What do you think about Wack 100's net worth? Leave a comment below.
Mark Spain Net Worth
Entrepreneur Mark Spain is one of the most successful realtors in the world who has earned millions from his real estate business and investments.
What is Mark Spain's net worth?
Introduction
Mark Spain is an American entrepreneur and a second-generation realtor who has made a fortune selling homes around Georgia.
Currently, the chairman and CEO of Mark Spain Real Estate, his total net worth is only continuing to climb higher every year.
Since starting his own real estate company, his business has expanded to seven states, which caused his wealth and renown to skyrocket.
As of June 2023, Mark Spain's net worth is estimated to be $110 million.
Mark Spain Facts
Mark Spain started his own real estate company in 2016 after 20 years in the industry.
In 2020, Mark Spain sold over $1.4 billion in residential property.
The same year, he opened nine total offices, branching out from Atlanta into Charlotte, Raleigh, and Nashville.
Spain currently boasts over 10k five-star reviews of his work.
In 2021, his company sold over $3.3 billion in residential real estate.
His real estate company was ranked No. 1 in the US for closed transactions by The Wall Street Journal in 2022.
Early Life
Mark Spain is a native of Atlanta, Georgia, though he has never made his birth date public, instead focusing on promoting his businesses.
As such, not much is known about his childhood, except that he is a second-generation realtor who grew up with a passion for the business.
After leaving high school, he attended the University of Georgia – Terry College of Business from 1989 to 1993, earning a Bachelor of Business Administration Management. He was also a member of the Sigma Iota Epsilon Honorary Society.
Once he had his degree, he jumped into the real estate industry and started working toward his success, starting out as a sales associate and working his way up to becoming the CEO of his own company.
Career
Mark Spain started out as a sales associate at Colony Homes, where he worked from 1995 to 1997 as a new home sales associate.
He then joined RE/MAX International, working as an associate broker from 1997 to 2011.
In 2011, he joined Keller Williams Realty and formed the Mark Spain Team, which would help over 3,500 families close on their homes.
However, in 2016, he started Mark Spain Real Estate as the Chairman and CEO. This business has allowed him to grow his fortune the most, and he has since opened 18 offices across seven states.
Mark Spain Real Estate has since been named the no. 1 real estate team in the US, as well as one of the fastest growing companies in the nation.
As of 2022, his team has handled over $10.58 billion in sales, and this number is only continuing to increase as the company expands.
Mark Spain's Career Earnings
Despite not being as wealthy as Daymond John or Herb Kohl, Mark Spain has earned a massive net worth from his real estate business.
In an average year, it is estimated that he earns roughly $70.7k as a real estate agent.
Through his company, Mark Spain sold over $1.4 billion in residential properties in 2020, and he has expanded his business to cover seven states.
If any further information about his overall earnings becomes available, we will be sure to keep you updated. So, make sure to check back often.
Personal Life
Mark Spain is currently married and has four daughters and one son with his wife.
Although Mark is active on social media, he doesn't share much about his personal life, instead focusing on teaching people about real estate and promoting his company.
That said, you can find him on his official Instagram account and his official Twitter account, where he keeps his followers updated on his business achievements, sponsorships, and milestones.
He is also active on his official Facebook account and his official YouTube channel, which he uses to post commercials, shorts, and tips about selling your home.
You can also check out his official website, where you can stay up-to-date on his latest sales numbers and learn helpful tips from his blog.
How Does Mark Spain Spend His Money?
Mark Spain currently lives in Atlanta, Georgia, though little is known about his home or how much it cost.
While we know that he has made a fortune selling some of the most expensive houses in the world, it seems that he likes to keep his personal investments out of the public eye.
That said, due to how much he has earned and his job in real estate, we can imagine that he is living a very luxurious life. Additionally, we wouldn't be surprised to learn he frequents some of the most expensive hotels in the world, given he often travels for work.
As an investor, we would also assume that he has money in some of the most expensive stocks in the world to keep his fortune growing, though his exact investments have never been made public.
Highlights
Like Jim Walton and Rick Hendrick, Mark Spain has reached many milestones during his career that have helped him become incredibly successful.
We've chosen to highlight some of his most memorable moments, particularly the ones that have benefited his success and fortune the most.
Here are some of the best highlights of Mark Spain's career:
Mark Spain Real Estate was ranked as the number one real estate agency in the US in terms of closed transactions by The Wall Street Journal four years consecutively.
His agency has also received the "Top Workplace" award from the Atlanta Journal-Constitution four times in a row.
The Atlanta Business Chronicle has ranked Mark Spain Real Estate as one of the "Best Places to Work" three times.
Spain is a five-time winner of the Pacesetter Award from the Atlanta Business Chronicle.
His company was nominated for the Inc. 5000 list of the fastest-growing companies for six consecutive years.
These are only a few of his achievements, but they are the ones that showcase his keen business sense the most.
While he may not be as well-known as Michael Bloomberg, Spain has certainly created an incredibly successful company that has earned him millions.
3 Amazing Lessons From Mark Spain
There is a lot that we can learn from Mark Spain and his long career as a successful businessman and entrepreneur.
Now that you know all about Mark Spain's net worth, we can take a closer look at what he can teach us about reaching our own goals.
Here are some of the best success lessons to learn from Mark Spain:
1. Keep Looking Forward
Although there can be many things holding you back from achieving success, focusing too much on the past instead of the future can be one of the biggest ones.
There is no point in wasting energy on things that you cannot change, so if you want to get ahead, make sure that you're able to stay focused on what's in front of you, so you can plan accordingly.
2. Learn From Mistakes
Everyone makes mistakes, and it's essential that you're able to learn from them and let them go instead of dwelling on them and having them slow you down.
All mistakes come with valuable lessons, and when you teach yourself to learn from your failures, you can make plans to do better in the future.
3. Make Smart Investments
Smart investments can be one of the best ways to keep your money moving in a positive way, even when progress is slow.
Even if you don't have a million dollars to put into stocks, you can still use some of the best investment apps to grow your wealth gradually over time as you build up your overall success.
Summary
Mark Spain has built a remarkably successful business for himself and earned himself a substantial fortune while doing it.
Thanks to his keen investments and business strategy, he has become one of the top realtors in the nation, with a net worth that is steadily increasing.
Make sure to check back often so you won't miss any important updates impacting Spain's business and growing fortune.
As of June 2023, Mark Spain's net worth is estimated to be $110 million.
What do you think about Mark Spain's net worth? Leave a comment below.
Changpeng Zhao Net Worth
Find out how Changpeng Zhao's net worth has changed in recent years, from early successes to the major fluctuations over time.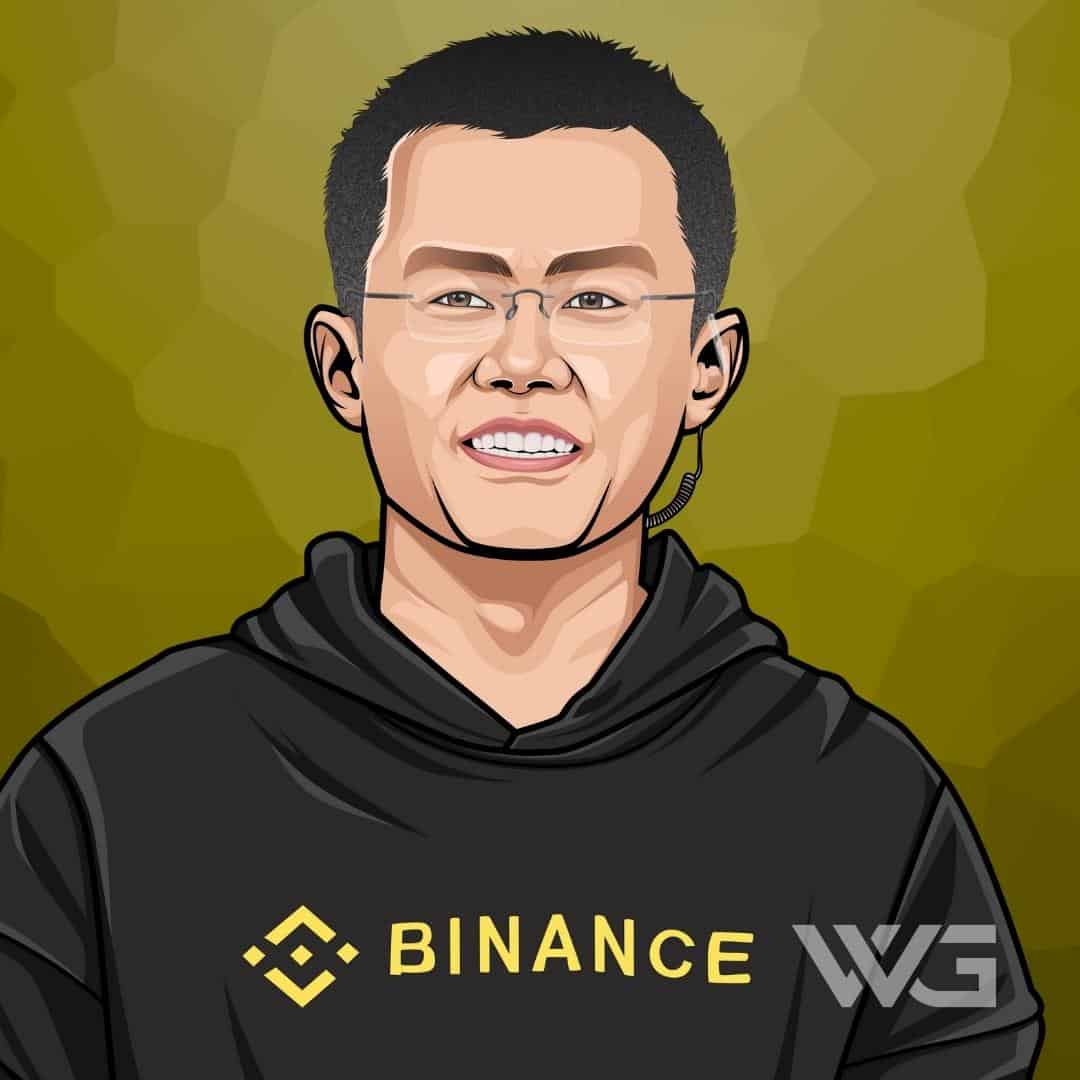 What is Changpeng Zhao's net worth?
| Net Worth: | $12 Billion |
| --- | --- |
| Age: | 45 |
| Born: | September 10, 1977 |
| Gender: | Male |
| Height: | 1.70 m (5 ft 7 in) |
| Country of Origin: | China |
| Source of Wealth: | Entrepreneur |
| Last Updated: | March 8, 2023 |
Introduction
Changpeng Zhao is a Chinese-Canadian entrepreneur and business executive known for founding Binance, the world's largest crypto exchange.
Often referred to as "CZ", Zhao has helped to revolutionize digital currencies, while representing a true "rags to riches" life experience.
As of June 2023, Changpeng Zhao's net worth is estimated to be $12 Billion.
Changpeng Zhao Facts
Changpeng's transition from entrepreneur to billionaire occurred quickly, with Binance becoming the biggest crypto exchange market in the world in under six months.
Before Binance, Zhao had set up another trading system called Fusion Systems, which he founded in 2005.
Zhao is his biggest brand ambassador and is often seen wearing Binance-branded hoodies and T-shirts.
While Zhao isn't big on supercars, he once held a promotional campaign for the company with a Lamborghini as the prize.
In 2019, Binance experienced a serious cyberattack, which resulted in the loss of $40 million in Bitcoin.
Early Life
Changpeng Zhao was born in China's Jiangsu province on September 10, 1977, relocating to Vancouver in Canada with his parents when he was 12 years old.
To help support his family, Zhao held a variety of odd jobs during his teenage years, working at McDonald's while studying at McGill University in Montreal.
Career
After completing his computer science studies, he became a subcontractor at the Tokyo Stock Exchange, developing software for matching trade orders.
By 2013, Changpeng Zhao was becoming involved in cryptocurrency, working on Blockchain.info while also serving as Chief Technology Officer for OKCoin.
Zhao then established the company Binance, setting it up as a platform for spot trading between digital and assets and fiat currencies.
Beginning with a $15 million investment, the company skyrocketed in a short period, with the company moving its headquarters from China to Japan in 2017 following the Chinese government's plan to ban cryptocurrency trading.
In 2018, Binance's trading volume had become the largest in the world, placing Zhao on the Forbes list of The Richest People In Cryptocurrency for the first time.
By late 2021, he had a net worth rivaling some of the richest people in the world, with the media frequently comparing his rise in fortune to Mark Zuckerberg, founder of Facebook.
While this fortune quickly dropped off by mid-2022, he remains a billionaire several times over, investing $500 million in the attempt from Elon Musk to purchase Twitter.
More Professional Entrepreneurs:
Changpeng Zhao's Career Earnings
While little is known about how much Changpeng Zhao has received as a regular income, as one of the richest people in Asia it's assumed to be a considerable sum of money.
Some estimates have placed the figure at several million dollars per year when compared to the salaries of other billionaires such as Zuckerberg, who takes home an estimated annual salary of $20 million.
Zhao's career earnings will include salaries from his various business ventures and other entrepreneurial activities.
Changpeng Zhao's Net Worth Annually
Changpeng's net worth has fluctuated wildly over the last few years, reaching its highest point of around $96 billion in late 2021 before plummeting to under $15 billion several months later.
Here's a breakdown of Changpeng Zhao's annual net worth:
Changpeng Zhao's Net Worth In 2018 – $1.5 billion
Changpeng Zhao's Net Worth In 2019 – $1.2 billion
Changpeng Zhao's Net Worth In 2020 – $1.9 billion
Changpeng Zhao's Net Worth In 2021 – $96 billion
Changpeng Zhao's Net Worth In 2022 – $14.9 billion
Personal Life
Little is known about Changpeng Zhao's personal life, with the billionaire maintaining his official Instagram account but largely avoiding public scrutiny and media interviews.
Zhao faced controversy when he referred to people as "poor" in a tweet, which he has since deleted, facing public scrutiny for the comment.
In 2021, he stated that he plans to give away 99% of his wealth to charities, following in the footsteps of other notable entrepreneurs who have done the same.
How Does Changpeng Zhao Spend His Money?
While little is known about how Changpeng Zhao spends his money, he recently purchased an apartment in Dubai, home to some of the most expensive penthouses in the world, although details of his apartment aren't known.
The investment was primarily to show his support for Dubai, where cryptocurrencies are valued while establishing a presence in the Middle East.
Zhao has previously stated that he avoids spending money on luxury goods such as the most expensive cars in the world as he views these as illiquid assets, preferring to avoid such indulgences.
Highlights
Over a relatively short period, Changpend Zhao has gone from an aspiring entrepreneur to one of the most successful figures in the world of cryptocurrency trading.
Here are some of the best highlights of Changpeng Zhao's career:
2005: Changpeng Zhao relocates to Shanghai and begins his journey with high-frequency trading systems at Fusion Systems.
2013: He becomes involved with cryptocurrencies for the first time, developing the skills and experience that would lead to the creation of Binance.
2017: Binance is founded, with Zhao setting up Binance Smart Chain shortly after.
2018: Zhao signed a Memorandum of Understanding with the Government of Bermuda while raising an additional $12 million by collaborating with the other main exchanges.
2021: Zhao's estimated net worth reaches its highest point yet, hitting a peak of just under $100 billion
Favorite Changpeng Zhao Quotes
While Changpeng Zhao isn't known for conducting interviews regularly, he has occasionally shared his insights into his life and fortune with the media.
Here are our favorite quotes from Changpeng Zhao:
"People are investing in crypto because it seems new and cool. It's like the internet was 20 years ago: It was slow, e-commerce didn't work, there was no social media." – Changpeng Zhao
"I went from being an entrepreneur to somebody telling me I have tens of billions." – Changpeng Zhao
"If you pick one business, and integrate [it] with crypto, I fully believe cryptocurrencies will give a much stronger financial funding power." – Changpeng Zhao
"When I suggest that investors seem crazy to spend millions on digital artwork, he says, "I agree with you. I think people may have lost their mind." – Changpeng Zhao
"This is the first time in human history that we can collectively agree and maintain a record, and no one person is in charge. That has profound implications." – Changpeng Zhao
3 Amazing Lessons From Changpeng Zhao
Now that you know all about Changpeng Zhao's net worth, what lessons can we learn from his entrepreneurial activities and huge success with cryptocurrencies?
Here are some of the best success lessons to learn from Changpeng Zhao:
1. A Change Of Scenery Is Often A Good Way To Find New Inspiration
Changpeng Zhao's career has seen him moving around the world on more than one occasion, from Shanghai to Japan, as well as establishing a presence in Dubai.
If you want to get the best business opportunities, head to the places where entrepreneurs are welcomed with open arms.
2. In A Bear Market, Only The Strong Survive
When cryptocurrencies first entered the market, there was a mad rush for investors to get in on the action.
As we're seeing now, many currencies have fallen by the wayside, with only the strongest remaining.
3. Cryptocurrencies Are Here To Stay.
Despite Zhao's ups and downs, Binance is still going strong, with cryptocurrencies here to stay for the foreseeable future.
Summary
That wraps up this guide to Changpeng Zhao's net worth, exploring his rapid rise to one of the richest people in the world with the huge success of Binance.
The cryptocurrency landscape continues to unfold, with Zhao's position at the forefront all but guaranteed.
With Zhao's net worth fluctuating over time it's likely to change, so be sure to refer back to this article as we'll update it with the most accurate figure.
As of June 2023, Changpeng Zhao's net worth is estimated to be $12 Billion.
What do you think about Changpeng Zhao's net worth? Leave a comment below.
<![CDATA[ */ var zbjs = {"ajaxurl":"https:\/\/wealthygorilla.com\/wp-admin\/admin-ajax.php","md5":"f52c5ce8facd8e9964e5feba9fa273c4","tags":[],"categories":["Entrepreneurs","Net Worth"]}; /* ]]>