What are the most expensive truffles in the world?
When you think of expensive foods, truffles are probably one of the first things that come to your mind, and for good reason.
Simply put, truffles are stupidly expensive and a truffle hunter can bring in some serious money with high-quality truffles.
While there are white and black truffles, the white variety holds the highest sales prices, and today we're looking at the priciest ones ever sold.
The Most Expensive Truffles in the World
We've rounded up the most desirable and most sought-after truffles and broke down just how much the wealthiest buyers are willing to pay for them.
Here's our list of the 10 most expensive truffles in the world:
10. 4.16 Pound Sotheby's White Truffle – $61,250
The largest truffle ever found was sold at a Sotheby's auction after having been found in Umbria, Italy in 2014.
While numerous Chinese buyers offered millions of dollars for the largest truffle, the supplier firm, Sabatino Truffles, turned them all down.
Although you may think that Sabatino was crazy for turning down offers ranging in the millions, they actually had a good reason.
Instead of selling to a buyer and taking the cash for themselves, they opted to sell the giant Italian white truffle through Sotheby's to benefit charity.
Needless to say, this 4.16-pound Italian white truffle brought in a lot of attention, seeing as most truffles don't usually grow more than the size of a walnut, despite experts trying to better predict truffle growth to understand why some are larger than others.
During the auction, a Taiwanese food and wine enthusiast ended up buying the largest truffle for the huge sum of $61,250; a steal compared to the millions that it potentially could have gone for.
Still, this expensive truffle ended up benefiting a good cause, which is definitely commendable!
9. White Truffle Trio – $87,000
This trio of white truffles was the subject of attention at the 2017 World Truffle Auction in Alba, Italy.
Thanks to a poor growing season, prices had soared and many diners and restaurants couldn't afford to take part, though that didn't stop some high-rollers from showing up willing to spend and get their fix of that luxurious truffle flavor.
The auction, which was simultaneously cast to Dubai and Hong Kong by satellite, saw a decent turnout, but nothing garnered more attention than this Italian white truffle trio.
Gently set on the middle of a plush velvet pillow, these delectable fungi were the stars of the show and the center of an 8-minute bidding war.
While many bidders were trying hard to take these white truffles home, ultimately, Eugene Fung, a mogul from Hong Kong, secured the winning bid at the cost of $87,000.
We suppose that's a small price to pay for one of the most expensive foods in the world, especially if you have millions to spend.
8. 4 Pound White Truffle – $95,000
Although not the largest truffle in the world, this white behemoth is still one of the largest truffles ever discovered and its price reflects that.
Before the discovery of the 4.16-pound white truffle, Nello Balan, a New York City restaurant owner, claimed that it was the largest truffle in the world.
But, instead of using it in one of his restaurants or putting it up for auction to benefit a charity, he sold it to the fourth richest man in Russia, Vladimir Potanin.
Vladimir Potanin's net worth of $30 billion meant that buying this truffle for him was the equivalent of an average person buying a portabello mushroom.
Honestly, Balan should have asked for more money in our opinion, especially given that even smaller truffles have gone for much more money!
This billionaire definitely walked away with this huge white truffle for a bargain price.
7. 16th International Auction White Truffle – $108,000
Held in Hong Kong, the International White Truffle Auction of 2015 was one of the most exclusive culinary events of the year and the richest buyers came out in force.
Not only were guests at the event served white truffle-based dishes fit for nobility, but the entire event ended up raising over $326,715 for the Hong Kong-based charity, Mother's Choice.
However, the biggest sale of the night was the most desirable Italian white truffles, which ended up being bought by Mr. Sam Chan for a whopping $108,000.
They may not have been the biggest, but the proceeds did go towards helping girls dealing with crisis pregnancies and children without families, which definitely makes these truffles worth every cent.
It's always good to see the richest people in the world use their exuberant wealth to benefit others!
6. Grande Twin Truffles – $118,000
These twins are one of the most expensive truffles to be sold and a lot of bidders fought tooth and nail to try and acquire them.
Available for purchase during the 2016 Alba White truffle Auction, these twin white truffles earned their place as some of the most expensive truffles during the international event that took place in Philadelphia, Hong Kong, Dubai, and Italy.
This event was packed with big names like Deana Martin, the daughter of Dean Martin, Armando Varricchio, the Italian ambassador, and Sandy Muller, a millionaire beer baroness.
However, despite a tense bidding war between these big names, these twin white truffles were ultimately won by Dong Zhenxiang, a Chinese chef and owner of the famous Da Dong Roast Duck restaurant in Beijing.
We can only imagine the incredible food he was able to make with those expensive truffles.
After all, you only need just a few shavings to transform a single dish, so these large truffles could have gone a long way!
5. Monster 1KG Truffle – $132,275
In 2019, Umberto Bombana, an Italian chef and co-owner of the three-Michelin star restaurant Otto e Mezzo Bombana, hosted his 20th charity auction where this monster 1 kg white truffle was sold.
Bombana was appointed to be a "Worldwide Ambassador of the White Truffle" by the Piedmontese Regional Enoteca Cavour and is often called the "King of the White Truffles".
Needless to say, this guy knows his stuff, so when he throws a truffle auction, the richest of the rich show up for a taste.
This expensive truffle was caught in the middle of a tight bidding war between bidders from Italy, Moscow, and Singapore, but it was a bidder from Hong Kong who made the highest bid, surpassing any made in the past 12 years.
At the cost of $132,275, this particular truffle was sold, with the proceeds going to Mother's Choice, a favorite charity of Bombana, and the same one that the sale of the 16th International Auction White Truffle benefited.
Despite not being one of the richest celebrity chefs in the world, Bombana definitely knows how to raise money for a good cause, and we couldn't think of anyone better to promote the world's most expensive truffles!
4. White Truffle Of Alba – $160,406
In 2006, the Hong Kong property tycoon, Gordon Wu, and his wife outbid buyers in France and Italy to become the owners of this large Italian white truffle.
At the time, their purchase was the second time a bidder in Hong Kong had secured the winning bid at the International auction, but since then they have gone on to be the highest bidders in 17 of the total 20 auctions.
They seriously like white truffles in Hong Kong!
While at the time of sale, Mr. Wu beat out the previous record-holder for the most expensive truffles ever bought, the prior being a 2.7 pound one bought for $102,951 in 2005, even his record has since been beaten!
That said, we bet Mr. Wu was proud of his temporary record, especially as he enjoyed his truffle oil-infused pasta dishes.
3. 2.2 Pound White Italian Truffle – $200,000
This big Italian white truffle was sold during the 2008 international auction and it was a wealthy casino mogul who didn't hesitate to snatch it.
Stanley Ho, yet another buyer from — you guessed it — Hong Kong, shelled out $200,000 for the privilege of taking home this particular truffle, and given that white truffles only have a shelf life of five days before losing flavor, we bet that he was in quite a hurry to eat it.
It should be noted that Stanley Ho was a billionaire and someone who could have easily bought many of the most expensive penthouses in the world without batting an eye.
However, Mr. Ho seemed to enjoy spending his money on truffles specifically, and he even took our next two spots, doling out even more money for the most expensive truffles in the world.
If anything, we admire his unwavering commitment to buying three of the five most expensive truffles!
2. 3.3 Pound White Tuscan Truffle – $330,000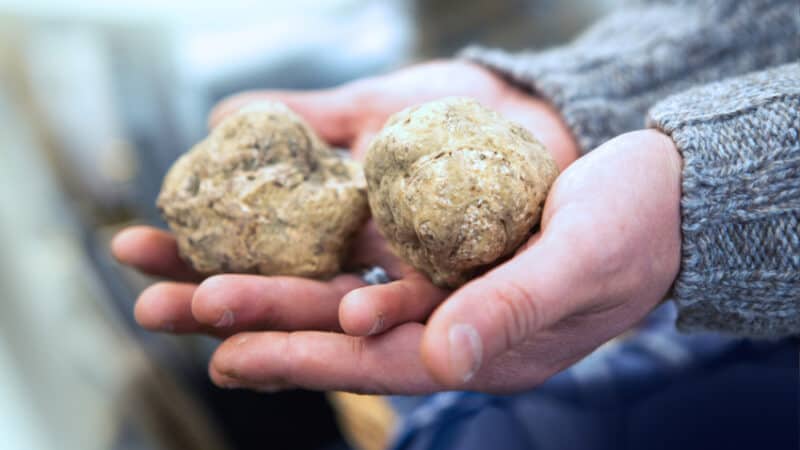 At the time that this white truffle was put up for auction, it was one of the largest truffles to be found in nearly half a century.
Presented in 2007 on a silver platter at Macau's Grand Lisboa hotel, this white truffle gained a lot of attention from gourmet food connoisseurs and chefs around the world.
However, it was our old pal Stanley Ho who cast the winning bid via phone, paying an eye-popping $330,000 for this 3.3-pound truffle.
This makes it the most expensive truffle in the world, a title that it still holds today, though it does share the limelight with another of Mr. Ho's truffle purchases.
Like some of the other truffles auctioned off on this list, all of the proceeds from this sale were allocated to charities across the world, including, Caritas in China, Consortium for Street Children in the UK, and the Telethon in Italy.
While we could never afford to buy anything for this price tag, let alone a large truffle that needs to be eaten in less than a week, we're glad to see its ludicrous price being used to do some good for the people who need it most.
1. 2.86 Pound Croatian Truffle – $330,000
Despite not being one of the richest people in Asia, with a net worth of 'only' $6.4 billion, Stanley Ho was willing to throw down big bucks when it came to getting the world's best truffles.
This 2.86 Italian white truffle made waves at an international auction in 2009, when it was dug up in Tuscany by truffle hunting father-son duo Luciano and Cristiano Savini, along with their dog Rocco.
While not the largest truffle to be discovered, at almost 3 pounds, this fungus greatly surpassed the average size that most other truffles are found.
Naturally, Stanley Ho wasn't going to let this most expensive truffle go to just anyone, and he ended up matching his 2007 bid to walk away as the proud owner of this large fungus.
Seeing that so many people are willing to spend so much money on real truffles, it is no wonder that the truffle trade in Tuscany is continuing to go strong today.
That said, we are sad to report that Stanley Ho did, unfortunately, pass away in 2020 at the age of 98.
Although it's sad to see this Truffle-buying legend go, at least he was able to make the most of this rare delicacy and his record still remains to this day.
Summary
We hope you enjoyed our list of the most expensive truffles ever sold!
Not going to lie, we're kind of considering buying some pigs and becoming truffle hunters after learning just how much money these fungi can go for.
Here's a quick recap of the 10 most expensive truffles in the world:
2.86 Pound Croatian Truffle – $330,000
3.3 Pound White Tuscan Truffle – $330,000
2.2 Pound White Italian Truffle – $200,000
White Truffle Of Alba – $160,406
Monster 1KG Truffle – $132,275
Grande Twin Truffles – $118,000
16th International Auction White Truffle – $108,000
4 Pound White Truffle – $95,000
White Truffle Trio – $87,000
16 Pound Sotheby's White Truffle – $61,250
Which one of the most expensive truffles is your favorite? Leave a comment below.