What is Kevin Hart's net worth?
| Net Worth: | $450 Million |
| --- | --- |
| Age: | 43 |
| Born: | July 6, 1979 |
| Gender: | Male |
| Height: | 1.63 m (5 ft 4 in) |
| Country of Origin: | United States of America |
| Source of Wealth: | Professional Actor/Comedian |
| Last Updated: | March 8, 2023 |
Introduction
As of May 2023, Kevin Hart's net worth is estimated to be roughly $450 Million.
Kevin Darnell Hart is an American comedian and actor from Philadelphia. Hart has starred in movies such as 'Scary Movie 3' (2003), 'Soul Plane' (2004), 'Little Fockers' (2010), and 'Jumanji: Welcome to the Jungle' (2017).
His comedic reputation started when Hart released his first stand-up album titled 'I'm a Grown Little Man'.
Kevin Hart is currently one of the richest comedians in the world, alongside the likes of Steve Harvey, Jerry Seinfeld, and Larry David.
Early Life
Kevin Darnell Hart was born in Philadelphia, Pennsylvania on the 6th of July, 1979. Hart was raised by his mother throughout his childhood, and he has one brother named Robert. After he attended Community College of Philadelphia he decided to move to New York City.
Hart found work as a shoe salesman but decided shortly after that to focus on his career as a stand-up comedian. He began his early career as a comedian doing stand-up at an amateur nightclub in Philadelphia.
Career
Hart's comedy has been compared to "Kings of Comedy". His early career started when ABC handed him his own sitcom, 'The Big House'. Hart played himself on the show. The outlandish storyline never caught on with audiences and the show was canceled after six episodes.
In 2006, Hart rebounded quickly when he released his first stand up album 'I'm a Little Grown Man' which cemented his status as one of the best young comedians. Hart's second album was released in 2010 and proved to be even bigger.
Hart started his 'Laugh At My Pain' tour in 2011 which was a huge breakthrough in his career. The tour later turned into a concert documentary and Hart into a full-fledged star.
'Laugh at My Pain' grossed $15 million and encompassed in 90 cities. The tour was one of the year's most successful comedy tours.
Throughout Hart's career, he also spanned a varying list of films, such as 'Paper Soldiers' (2002), 'The 40-Year Old Virgin' (2004), 'Little Fockers' (2010), 'Ride Along' (2014), 'About Last Night' (2014) and 'The Wedding Ringer' (2015).
Since then TV has treated Hart well; in 2012 he hosted the MTV Award show and the following year he landed a recurring role on the ABC comedy 'Modern Family'. Hart also starred on series such as 'Real Husbands of Hollywood and Workaholics'.
Hart was the host of the Comedy Central Roast of Justin Bieber in 2015.
Throughout his career, Hart has collaborated with some big-time celebrities, including Dwayne Johnson, Jack Black, Ice Cube, Nick Jonas, Tiffany Haddish, and more.
As of May 2023, Kevin Hart's net worth is $450 Million.
How Does Kevin Hart Spend His Money?
Kevin Hart loves cars, and for his 40th birthday, he bought himself a 1970 Plymouth Barracuda, custom-made by Speedkore, which racked up to a total of $800,000.
The previous year, Hart gifted himself a Ferrari 488 worth roughly $300,000. His precious cars are carefully parked in His 900+ square-foot garage, with a 250 square-foot 2nd story pool house above; which cost him in the neighborhood of $170,000.
Other than that, word is that Hart dropped $1.35 million on a 26-acre plot of land in an exclusive Calabasas gated community. His former house in Tarzana was purchased in April 2012 for $1,000 shy of $2 million ($1,999,000).
Besides cars, holidays, and mansions, he has an eye for designer watches. He owns 6 Rolex's that are part of his luxury watch collection; totaling 16 watches.
Highlights
Here are some of the best highlights of Kevin Hart's career:
Scary Movie 3 (Movie, 2003)
Along Came Polly (Movie, 2004)
Fool's Gold (Movie, 2008)
I'm a Grown Little Man (Stand-Up Album, 2008)
BET Award (Best Actor, 2012)
Think Like A Man (Movie, 2012)
Let Me Explain (Comedy Album, 2013)
Ride Along (Movie, 2014)
Get Hard (Movie, 2015)
MTV Comedic Genius Award (2015)
Shorty Award (Best Comedian, 2016)
Jumanji: Welcome to the Jungle (Movie, 2017)
Night School (Movie, 2018)
Favorite Quotes from Kevin Hart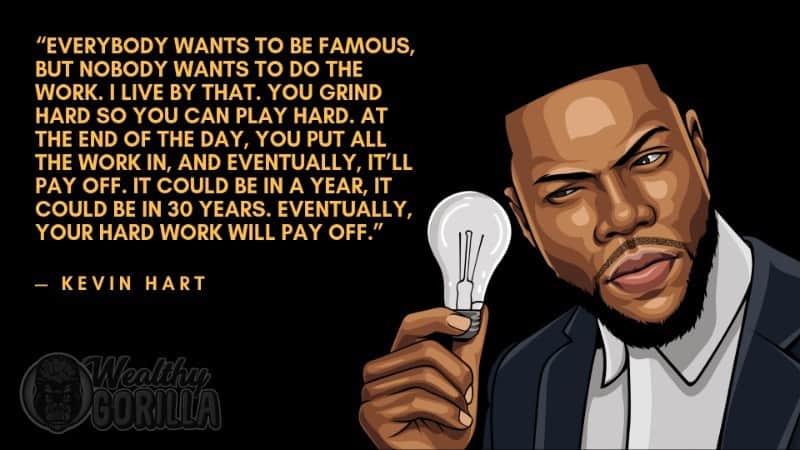 "Everybody wants to be famous, but nobody wants to do the work. I live by that. You grind hard so you can play hard. At the end of the day, you put all the work in, and eventually, it'll pay off. It could be in a year, it could be in 30 years. Eventually, your hard work will pay off." – Kevin Hart
"Be loyal to those who help you grow. You got a team, you keep your team together, you run as a unit. You got a team of people, it means they believed in you, they bought into your dream. That means they invested in you, they invested time, energy and effort. In return, you gotta invest your vision and promise them that we're all going to win together." – Kevin Hart
"Appreciate hard work and the process of hard work. Because after that's over and you get the rewards of success, you look back on these moments and you respect those moments the best. You have no character, you have no place to come from." – Kevin Hart
"My experiences in life are getting bigger and better. The more stuff I do, the more stuff I talk about – having kids, traveling, going through relationship problems, dealing with things in my own family. All that stuff builds character." – Kevin Hart
"Laughter heals all wounds, and that's one thing that everybody shares. No matter what you're going through, it makes you forget about your problems. I think the world should keep laughing." – Kevin Hart
View our larger collection of the best Kevin Hart quotes!
3 Success Lessons from Kevin Hart
Now you know all about Kevin Hart's net worth, and how he achieved success; let's take a look at some of the lessons we can learn from him:
1. Chance Only
Many people believe that you only have one chance to make your first impression to someone. But hearing it all over again will make it seem like you heard it the first time. Stop rushing and take the time to prepare or learn your craft.
2.
The High Priority
No time is wasted as long as you're working towards your goals. You will never know who someone else knows or the doors that can open up. No time is wasted, and that is very good to remember that.
3.
Key to Success
Hard work is not enough for success. The key to success is commitment. It's important to stay committed to yourself first, and everything else will fall into place. Nothings happening over a night so be patience.
Frequently Asked Questions
How much is Kevin Hart worth?
Kevin Hart's net worth is estimated to be $450 Million.

How old is Kevin Hart?
Kevin Hart was born on July 6, 1979, and is currently 43 years old.

How tall is Kevin Hart?
Kevin Hart's height is 1.63 m, which is equal to 5 ft 4 in.

Summary
Kevin Hart's career has been that successful that he is today one of the best and funniest comedians. Hart has among many other celebrities influenced and inspired many. We also know Hart for his performances in the films 'Scary Movie 3' and 'Little Fockers'.
Kevin Hart's net worth As of May 2023, is estimated to be roughly $450 Million.
What do you think about Kevin Hart's net worth? Leave a comment below.