What is Ed Sheeran's net worth?
| Net Worth: | $160 Million |
| --- | --- |
| Age: | 28 |
| Born: | February 17, 1991 |
| Country of Origin: | United Kingdom |
| Source of Wealth: | Professional Singer/Songwriter |
| Last Updated: | 2020 |
As of June 2022, Ed Sheeran's net worth is estimated to be $200 million, which places him within the top 100 richest singers in the world.
Ed Sheeran is an English singer and songwriter from Suffolk, England. He used to busk on the streets of London and perform at small gigs in Suffolk before he hit the big time and started selling out arenas around the world.
Early Life
Ed Sheeran was born on the 17th February 1991, in Halifax, West Yorkshire. However, he was raised in my hometown of Framlingham, Suffolk, and attended Thomas Mills High School.
During his childhood, his father John would take him to live music concerts every once in a while, which sparked his initial interest in music.
Whilst Ed was attending Thomas Mills High School, he would write his own songs, and occasionally perform them in assemblies for fellow pupils, including myself.
The first song I remember hearing of Ed's was 'A-Team', back before he'd signed his first recording contract.
Career
When Ed first began performing, he would travel to London to take part in gigs, as well as performing at local venues in Suffolk. He'd also busk on the street; anything he could do to perform music, he'd do it.
At the time, he went to a lot of these gigs and didn't have a place to sleep at night. He would have to sleep on friend's couches, or even sleep on the Circle Line of the London Underground.
In 2011, Sheeran signed with Asylum Records and released his debut album "Plus" or "+". The album was an astonishing success and has now been certified seven-times platinum in the UK.
From the success of this album, came two more major albums releases, sold-out concerts, acting parts in TV Shows, and appearances all over the world.
Ed Sheeran's net worth is now $200 million and he's one of the most popular singers in the world.
Highlights
Here are some of the best highlights of Ed Sheeran's career:
First began recording music (2005)
Released first self-titled album (2006)
Moved from Suffolk to London (2008)
Viral SBTV video (2010)
Debut album "Plus" released (2011)
"X" album release (2014)
"Divide" album release (2017)
Favorite Quotes from Ed Sheeran
"Negativity isn't the way to go. Smile more, eat some chocolate." – Ed Sheeran
"You want to make sure that someone is there for you when you really need them, and not just there for you for the good times." – Ed Sheeran
"Be nice to everyone, always smile and appreciate things because it could all be gone tomorrow." – Ed Sheeran
"I'm gonna pick up the pieces and build a Lego house. If things go wrong we can knock it down." – Ed Sheeran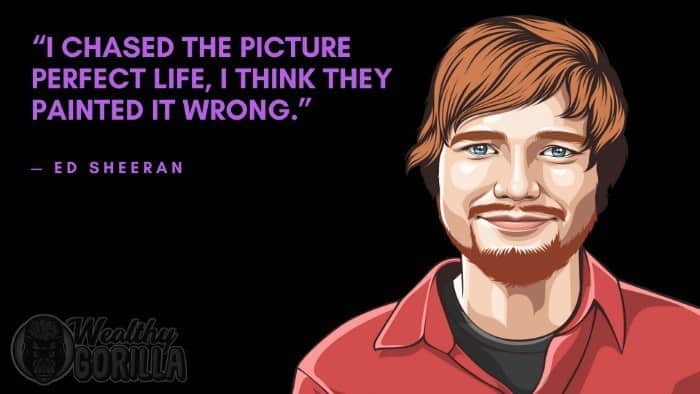 "I chased the picture perfect life, I think they painted it wrong." – Ed Sheeran
View our larger collection of the best Ed Sheeran quotes!
Ed Sheeran Motivational Video
7 Rules for Success from Ed Sheeran
Now that you know all about Ed Sheeran's net worth; let's take a look at 7 success lessons we can learn from Ed Sheeran:
1. Stay Humble
Ed Sheeran has stayed incredibly humble despite his major success. He still comes back home in the holidays to visit all his old friends and chat with the community.
The lesson here is don't forget who you are, where you come from, and who supported you on your way to success.
2. Make Sacrifices
I mentioned above that Ed had to sleep on the London Underground at times when he didn't have a place to stay. He went to great lengths to make sure he could continue performing and sharing his music with the world.
Be prepared to make some sacrifices; it's not going to come as easy as you think it might.
3. Be Persistent
A lot of work came before Ed got his first recording contract. He started recording songs when he was just 13. He helped out at gigs and performed all over Suffolk.
There was a lot of hard work that came before the mainstream success, and that's often missed out when people first hear about him.
Be persistent in following your vision, and your dreams. Don't flake out because something gets a little rough at times.
4. Connect With People
Sheeran stated in an interview that his music is not only relevant to his own life but resonates well with others. And if people resonate with your work, and it brings out emotions in them, they'll be much more likely to purchase it.
5. Just Be You
I love this. Just be yourself! Don't try to be anybody you're not. Being your true self will get you further than pretending to be someone else, so embrace it.
6. The More You Do, the Better You Get
Ed Sheeran is a firm believer in the 10,000-hour rule. He practiced and practiced, eventually becoming good at both rapping, singing, and playing the guitar.
7. Be A Likable Person
Likable people sell records. That's what Ed Sheeran says. If you're a likable person, you're much more likely to achieve success in your field.
Summary
Ed Sheeran is one of the richest singers in the world, and one of the most popular singers right now.
As of June 2022, Ed Sheeran's net worth is estimated to be $200 million.
What do you think about Ed Sheeran's net worth? Leave a comment below.
<![CDATA[ */ var zbjs = {"ajaxurl":"https:\/\/wealthygorilla.com\/wp-admin\/admin-ajax.php","md5":"94ddaccc9e7263573b11db32a1c716d4","tags":[],"categories":["Net Worth"]}; /* ]]>