What is Robert Kiyosaki's net worth?
| Net Worth: | $100 Million |
| --- | --- |
| Age: | 75 |
| Born: | April 8, 1947 |
| Gender: | Male |
| Height: | 1.70 m (5 ft 7 in) |
| Country of Origin: | United States of America |
| Source of Wealth: | Entrepreneur |
| Last Updated: | March 8, 2023 |
Introduction
As of March 2023, Robert Kiyosaki's net worth is roughly $100 Million.
Robert Toru Kiyosaki is an American businessman and author from Hilo, Hawaii.
Kiyosaki is the founder of Rich Global LLC and the Rich Dad Company. He is also the creator of the Cashflow board and software games to educate adults and children business and financial concepts.
Early Life
Robert Kiyosaki was born on the 8th of April, 1947, in Hilo, Hawaii. Kiyosaki had Japanese American ancestry. His father was a teacher and instructor by profession, which enabled young Kiyosaki to attend better educational institutes.
Kiyosaki attained his preliminary education from Hilo High School, after which he enrolled at the U.S.S Merchant Marine Academy in New York.
Career
After completing his education, Kiyosaki began to work on merchant ships, which allowed him to travel to various parts of the world. These journeys exposed him to new cultures and new ways of life.
Kiyosaki witnessed extremes of poverty that people faced around the world, and these voyages left a profound impact on him.
In 1972, during the Vietnam War, Kiyosaki served as a helicopter gunship pilot. He was later awarded the Air Medal. From 1974 until 1978, he took up the profile of a salesman for Xerox Corporation selling copy machines. He started a company of his own that brought forth to the market the first nylon and Velcro.
Kiyosaki began working with Sharon Lechter and together they co-wrote the first 'Rich Dad, Poor Dad'. They could not find a publisher for the same and hence decided on publishing it on their own.
After three years of hiatus, he came back from retirement and launched a business and financial education company titles, Cashflow Technologies Inc. The company is co-owned by his wife, Kim Kiyosaki and co-writer Sharon Lechter.
In 2010, he appeared at The Alex Jones Show wherein he revealed his assets including big apartment complexes, hotels, and golf courses. He is also the head and investor of oil drilling operations as well as oil wells and even a startup solar company.
As of March 2023, Robert Kiyosaki's net worth is $100 Million.
Highlights
Here are some of the best highlights of Robert Kiyosaki's career:
The Founder of Rich Global LLC
The Founder of Rich Dad Company
Rich Dad Poor Dad (Autobiography, 2000)
Favorite Quotes from Robert Kiyosaki
"A plan is a bridge to your dreams. Your job is to make the plan or bridge real so that your dreams will become reality. If all you do is stand on the side of the bank and dream of the other side, your dreams will forever be just dreams." – Robert Kiyosaki
"If you're the kind of person who has no guts, you just give up every time life pushes you. If you're that kind of person, you'll live all your life playing it safe, doing the right things, saving yourself for something that never happens. Then, you die a boring old person." – Robert Kiyosaki
"The power of "can't": The word "can't" makes strong people weak, blinds people who can see, saddens happy people, turns brave people into cowards, robs a genius of their brilliance, causes rich people to think poorly, and limits the achievements of that great person living inside us all." – Robert Kiyosaki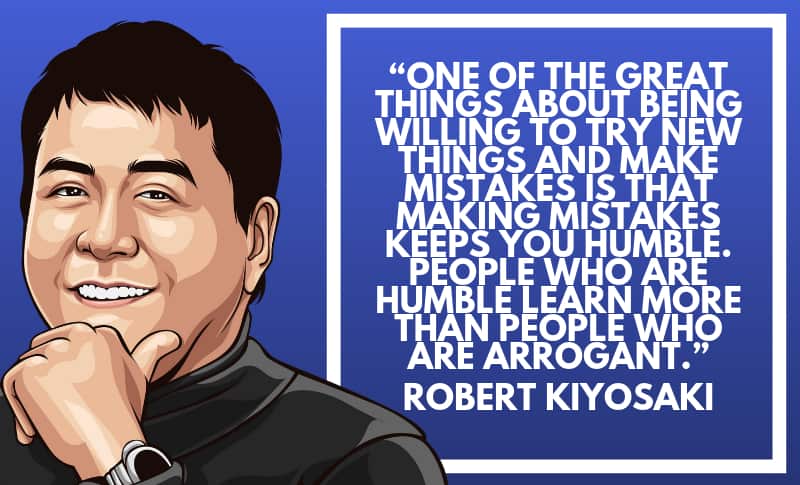 "One of the great things about being willing to try new things and make mistakes is that making mistakes keeps you humble. People who are humble learn more than people who are arrogant." – Robert Kiyosaki
"Emotions are what make us human. Make us real. The word 'emotion' stands for energy in motion. Be truthful about your emotions, and use your mind and emotions in your favor, not against yourself." – Robert Kiyosaki
3 Powerful Lessons from Robert Kiyosaki
Now that you know all about Robert Kiyosaki's net worth, and how he achieved success; let's take a look at some of the most powerful and motivating lessons we can learn from him:
1. The poor and the middle-class work for money. The rich have money work for them
If you work for money, you give the power to your employer. If money works for you, you keep the power and control it.
2. It's not the smart who get ahead, but the bold
In the real world outside of academics, something more than just grades is required. The key to intelligent risk is developing financial intelligence. There is always a risk. It is financial intelligence that improves the odds.
3. The single most powerful asset we all have in our mind. If it is trained well, it can create enormous wealth
Rich people find creative solutions to money problems. They take whatever happens and make it better using their financial intelligence.
If the opportunities aren't coming your way, what else can you do to improve your financial position?
If an opportunity lands in your lap and you have no money and the bank won't talk to you, what else can you do to get the opportunity to work in your favor? … It is not so much what happens, but how many different financial solutions you can think of to turn a lemon into millions.
Frequently Asked Questions
How much is Robert Kiyosaki worth?
Robert Kiyosaki's net worth is estimated to be $100 Million.

How old is Robert Kiyosaki?
Robert Kiyosaki was born on April 8, 1947, and is currently 75 years old.

How tall is Robert Kiyosaki?
Robert Kiyosaki's height is 1.70 m, which is equal to 5 ft 7 in.

Summary
Robert Kiyosaki is truly a multi-talented personality. He is an entrepreneur, investor, motivational speaker, author, and also a financial knowledge activist. He is very popular for his series of books called 'Rich Dad Poor Dad'.
As of March 2023, Robert Kiyosaki's net worth is roughly $100 Million.
What do you think about Robert Kiyosaki's net worth? Leave a comment below.