What was Kobe Bryant's net worth?
| Net Worth: | $600 Million |
| --- | --- |
| Born: | August 23, 1978 |
| Died: | January 26, 2020 |
| Country of Origin: | United States of America |
| Source of Wealth: | Professional NBA Player |
| Last Updated: | August 2, 2022 |
At his time of death, Kobe Bryant's net worth was estimated to be $600 Million. Kobe Bryant was a former American professional basketball player and entrepreneur. He played his entire 20-year career in the NBA with the Los Angeles Lakers.
Bryant was considered to be one of the best NBA players of all time, won multiple awards and trophies during his career, and was also one of the richest athletes of all time.
It came as an enormous shock to the world, when Kobe was pronounced dead after a tragic helicopter crash on the way to his daughter's basketball game. His daughter and several others were also killed.
Early Life
Kobe was born on the 23rd August, 1978, in Philadelphia. He has two siblings, both of whom are older than him, and his father Joe is also a former NBA player.
Bryant started playing basketball when he was just 3 years old, and his favorite team growing up was, you guessed it, the Lakers. Bryant's grandfather used to send him videos of NBA games in the NBA. Kobe would study these games religiously.
After Bryant's father retired from playing basketball, their family moved back to the United States. Kobe played for the varsity basketball team of Lower Merion High School in his freshman year, and received recognition across the US for an incredible season.
Bryant ended his high school career as Southeastern Pennsylvania's all-time leading scorer at 2,883 points and received several awards for his performance, including being named Naismith High School Player of the Year.
Career
In 1996, Bryant was selected as a draft pick by the Charlotte Hornets. However, a trade was negotiated, which resulted in Bryant signing a contract with the LA Lakers. Since he was only 17 at the time, his parents had to co-sign the contract.
Bryant retired an 18-time All-Star, a 15-time member of the All-NBA Team, and 12-time member of the All-Defensive team.
He led the NBA in scoring during two seasons, and the 3rd best all-time regular season scoring player and 4th on the all-time postseason scoring list. And he even holds the record for the highest number of seasons played with one team for an entire career.
At his time of death, Kobe Bryant's net worth was $600 Million.
How did Kobe Bryant spend his money?
Kobe Bryant was once the highest-paid and most electric player in the NBA.
While Kobe had an insane work ethic and has historically been completely consumed by basketball, he did find time to enjoy life and pursue ventures off of the court in his retirement. Bryant loved Italian cars, he once walked into a Ferrari dealership and wrote a $329,000 check for a 458 Italia.
Bryant owned three houses that were estimated to be worth $18.8 million in 2012. All of them are in Orange County, California, a lengthy drive from his former place of work at the Staples Center. Bryant had a helicopter that he typically took to home games.
He says it saved him from sitting in traffic and kept his body fresh. Kobe had a strange fashion phase before it was cool to wear a strange fashion in the NBA.
In 2014, Kobe spent $5.8 million to purchase this building in Newport Beach to house the offices of Kobe Inc.
Kobe Inc. has also partnered with Alibaba to produce his documentary "Muse" and to produce and distribute Kobe-branded products in China.
Highlights
Here are some of the best highlights from Kobe Bryant's career:
NBA All-Rookie Team (1997)
Sportsman of the Year, BET Awards (2002, 2003, 2008)
NBA Most Valuable Player (2008)
NBA All-Star (18 Time Winner)
5 Time NBA Champion (2000, 2001, 2002, 2009, 2010)
ESPY Icon Award (2016)
Favorite Kobe Bryant Quotes
"Everything negative – pressure, challenges – is all an opportunity for me to rise." – Kobe Bryant
"These young guys are playing checkers. I'm out there playing chess." – Kobe Bryant
"I'll do whatever it takes to win games, whether it's sitting on a bench waving a towel, handing a cup of water to a teammate, or hitting the game-winning shot." – Kobe Bryant
"I don't want to be the next Michael Jordan, I only want to be Kobe Bryant." – Kobe Bryant
"There's been a lot of talk of me being a one-man show but that's simply not the case. We win games when I score 40 points and we've won when I score 10." – Kobe Bryant
View our larger collection of the best Kobe Bryant quotes!
3 Keys to Success from Kobe Bryant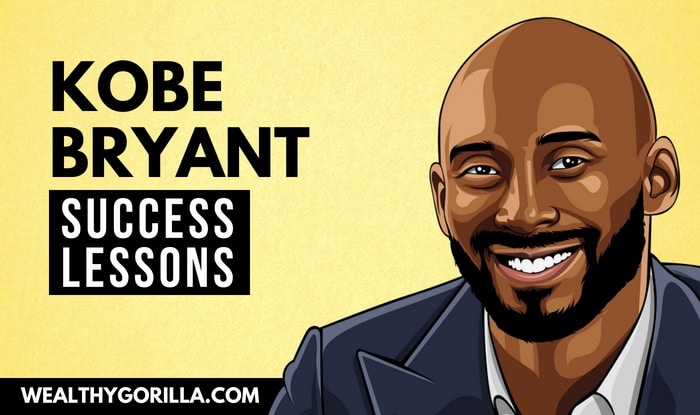 Now that you know all about Kobe Bryant's net worth, and how he achieved success; here are 3 success lessons we can all learn from Kobe Bryant:
1. You Can Always Learn More
Just when you've risen to the top of your career, and become a true professional, you'd likely think there isn't anywhere to go from here. You'd be wrong. There is always more to learn.
When Kobe retired, he knew that entrepreneurship would be the next area for him to learn and develop in.
2. Break Your Problems Down Into Small Pieces
If you're ever struggling with problems, which we all do at one point or another, break them into small pieces. A problem presents a big cloud inside your mind, and appears very overwhelming.
If you look at it in small pieces, it becomes much simpler, much less daunting, and much easier to solve.
3. When There's Challenge, There's Opportunity
Whenever a challenge appears in your life, don't look at it negatively. Look at it as an opportunity to grow. An opportunity to develop your knowledge and your strength, by doing something you've never been able to do before.
View more success lessons from Kobe Bryant!
Kobe Bryant Motivation – Unbroken
Summary
Kobe Bryant was one of the best NBA players of all time, and also one of the richest.
At his time of passing, Kobe Bryant's net worth was $600 Million.
What do you think about Kobe Bryant's net worth? Leave a comment below.