What is 6IX9INE's net worth?
| Net Worth: | $500 Thousand |
| --- | --- |
| Age: | 26 |
| Born: | May 8, 1996 |
| Gender: | Male |
| Height: | 1.68 m (5 ft 6 in) |
| Country of Origin: | United States of America |
| Source of Wealth: | Professional Rapper |
| Last Updated: | March 8, 2023 |
As of May 2023, 6IX9INE's net worth is estimated to be roughly $500 Thousand.
Daniel Hernandez, known professionally as "6IX9INE" or "TEKASHI 69", is an American rapper from New York City.
Hernandez is known for his controversial behavior and brute-force screaming technique in his songs.
6IX9INE's way to fame came in 2017 when he released his debut single 'Gummo", which peaked at number 12 on the US Billboard Hot 100.
6ix9ine – Key Facts
He started his career by uploading music to platforms like SoundCloud and YouTube through a Slovakian label, as he didn't have an official account.

Gummo

, a single released in 2017 made his career skyrocket – the song reached number 12 on the Billboard 100 chart. At the moment of writing, the single has over 275 million streams on Spotify, while the music video has over 416 million views on YouTube.

Since his career took off, he has worked with a number of established artists, including Nicki Minaj, Young Thug, Offset, Tory Lanez and more.

6ix9ine was sentenced to 37 years in prison in 2018 for racketeering, among other crimes he committed while being a part of a gang. However, he struck a deal with prosecution, helping in the imprisonment of two gang members, and reducing his sentence to two years.

He was released from prison in April 2020 due to the COVID-19 pandemic, and has spent the rest of his sentence (about 4 months) in home confinement.

6ix9ine has two daughters, both of whom have a different mother.
Early Life
Daniel Hernandez was born in New York City on the 8th of May, 1996.
Hernandez was born in Bushwick, Brooklyn to a Mexican mother and a Puerto Rican father. He was raised by his own parents until he turned 13 and grew up alongside his brother.
Hernandez was expelled from school in the 8th grade and did not return. In 2009 his father was murdered which led to him selling drugs in order to help his mother.
Career
6IX9INE began his career by dropping rap songs in 2014. Over the next three years, he released multiple tracks and he received a lot of attention due to his aggressive rapping style. Many of his early songs were released by FCK THEM, a music label based in Slovakia.
He rose to prominence on social media due to a July 2017 Instagram post that went viral on both Reddit and Twitter where 6IX9INE's eccentric appearance turned him into an internet meme.
He released his debut single 'Gummo' in 2017 which peaked at number 12 on the US Billboard Hot 100.
6IX9INE announced his debut mixtape 'Day69' which later was released in 2018. The album debuted at number four on the Billboard 200 album. chart with 55,000 album-equivalent units of which 20,000 were pure sales.
After the release of 'Day69', two songs from the album, 'Billy' and 'Rondo', both debuted on the Billboard Hot 100 with 'Billy' peaked at No.50.
In April 2018, he dropped the track 'Gotti', which is a remix of a previous feature he did for the artist Packman titled "Got it, Got it'. The track was added to 'Day69' as a deluxe song and debuted at number 99 on the Billboard Hot 100 before dropping off the following week.
In July 2018, 6IX9INE had his first Billboard Hot 100 top five, 'Fefe' featuring Nicki Minaj and Murda Beatz. The song became a huge hit worldwide and debuted at number 4 on the Billboard Hot 100.
He's also collaborated with 50 Cent recently, on the song "KINGS".
At the end of 2018, 6IX9INE was arrested on charges related to racketeering, weapon possession, and conspiracy to commit murder. This was part of an ongoing investigation into the Nine Trey Gangsters street gang.
6IX9INE took a plea deal in early 2019, which involved testifying against, or 'snitching on', his co-defendants. Once looking at up to 47 years in prison, his sentence was reduced to 2 years, and he was released in half that time.
Since being released, 6IX9INE has launched himself straight back into music, breaking YouTube records, and hitting #1 on Billboard with the single "TROLLZ", featuring Nicki Minaj.
What is TEKASHI 6IX9INE's net worth?
As of May 2023, 6IX9INE's net worth is roughly $500 Thousand.
How Does 6IX9INE Spend His Money?
6IX9INE owns a Mercedes McLaren P1; he bought this amazing car after he came out from prison. He purchased the Mercedes for $2,000,000. He also owns a Rolls-Royce Ghost, which costs $300,000.
The rapper owns multiple chains and grills. In his jewelry collection, we can see a "My Little Pony" chain which costs $750,000.
He has many different grills in rainbow colors; the grills collection is estimated to cost around $50.000. He owns a "Jigsaw" chain, which he purchased for $300,000. The chain is made of pure diamond.
Like many rappers, 6IX9INE bought himself a nice Rolex watch for $100,000. He has a rainbow spinner and 69 rings that he purchased for $300,000.
Highlights
Here are some of the best highlights from 6IX9INE's career:
YOKAI (Song, 2017)
69 (Song, 2017)
Tekashi69 (Album, 2017)
FEFE (Song, 2018)
GOTTI (Song, 2018)
DAY69 (Album, 2018)
TATI (Song, 2018)
World Domination Tour (2018)
GOOBA (Song, 2020)
TROLLZ (Song, 2020)
Favorite Quotes from 6IX9INE
"If you need a plate, then you could hit me on my turf. I need twenty-five, try to stick me and that gun burst I need all of mine. Try to try me and it's Columbine. Let that Ruger fly, automatic poppin' at your guys." – 6IX9INE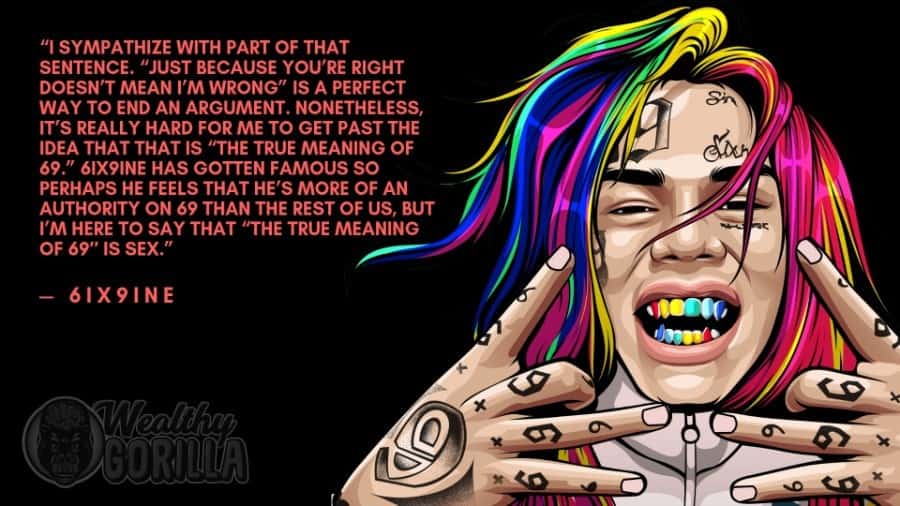 "I sympathize with part of that sentence. "Just because you're right doesn't mean I'm wrong" is a perfect way to end an argument. Nonetheless, it's really hard for me to get past the idea that that is "the true meaning of 69." 6ix9ine has gotten famous so perhaps he feels that he's more of an authority on 69 than the rest of us, but I'm here to say that "the true meaning of 69″ is sex." – 6IX9INE
"It's f****n' TR3YWAY! It's King of New York, lookin' for the Queen. Uh, you got the right one; L-let these-l-let these b-b-bit**es know, ni**a, Queens, Brooklyn, brr, ah! Murda on the beat so it's not nice!" – 6IX9INE
"Draco got that kick-back when I blow that, they all do track. They don't shoot back, one shot, close range, red dot head tight, yeah, I did that, yeah, I live that. Call an Uber with my shooter, with a Ruger, we gon' do ya ni**as say they killin' people, but I really f****n' do it." – 6IX9INE
"Kick at you, come for your kinfolk huh. I don't get the mop, I got the super soaker to make a ni**a run, Usain Bolt huh. Trey 8 up on my hip though clip looking like a Mandingo. Run his ass up no homo. Make a ni**a wish he had a raincoat if you up to something we gon' get to bussing. My ni**as pull up to shoot you and your cousin." – 6IX9INE
6ix9ine – Net Worth Over the Years
| | |
| --- | --- |
| Year | Net Worth |
| 2019 | $7 million |
| 2020 | $8 million |
| 2021 | $9 million |
| 2022 | $0.5 million |
Frequently Asked Questions
How much is 6IX9INE worth?
6IX9INE's net worth is estimated to be $500 Thousand.

How old is 6IX9INE?
6IX9INE was born on May 8, 1996, and is currently 27 years old.

How tall is 6IX9INE?
6IX9INE's height is 1.68 m, which is equal to 5 ft 6 in.

Summary
TEKASHI 69 has become a well-known rapper. He has definitely made quite a name for himself in the music industry. 6IX9INE is at the beginning of his career, and there's no doubt that his fortune will become bigger in the next five years.
As of May 2023, TEKASHI 6IX9INE's net worth is approximately $500 Thousand.
What do you think about 6IX9INE's net worth? Leave a comment below.