What are the best payment apps to use right now?
The best payment apps work by allowing you to connect your bank account, debit, or credit card to a digital wallet to send and receive money from family and friends.
Choosing the right payment app can be confusing, with transaction fees, device compatibility, rules for business use, and transaction limitations all varying from one service provider to another.
We've run through a selection of the leading payment apps to help you choose the right one for your financial requirements.
The 10 Best Payment Apps
We've checked the ease of use, features, and hidden charges for a range of online payment services to bring you this guide to the best payment apps you can download today.
Here's our list of the 10 best payment apps:
10. Cash App
Best For Transfering Small Sums
Cash App is an easy-to-use digital payment tool for people looking to transfer money in smaller sums for personal use.
The lower limits on the amount of money you can send or receive make Cash App unsuitable for business use, and you won't be able to use it to pick a bottle of the most expensive wines any time soon.
But if you're looking for a no-frills app to use for smaller payments online, it's well worth considering.
Pros
Linking your bank accounts to Cash App via a debit card is nice and easy
Cash App offers users access to a digital wallet
Cryptocurrency traders can use the app to buy and sell Bitcoin
Cash App will send you a Cash Card on request, which you can use to make digital payments online and in-store, as well as accessing discounts from selected retailers
Cons
Sending money via credit card comes with a 3% fee
You can send or receive money up to $1000 during a 30-day period, making it unsuitable for small business owners (limit increases are possible for verified accounts)
Withdrawals from ATMs are charged a fee
Bottom Line
Developer Square understands the need for a fuss-free payment transfer system, and Cash App allows users to easily connect with their bank account, send money to friends and family, and request money with ease.
While Cash App doesn't charge fees for most payments and transactions, if you want an instant deposit with instant delivery, this will be subject to a 1.5% fee.
Perhaps the biggest appeal to the Cash App application is the ability to buy and sell Bitcoin via the app, a feature not commonly found on other payment apps.
With that said, it's worth noting that claims have been made that Cash App is vulnerable to hackers, with some customers reporting resolving issues with the service leading to frustrating customer support.
9. Zelle
Best For Selection of Partnered Banks
Zelle is a US-based payment app best suited for those who want to integrate with their bank or credit unions account to send payments and receive money.
These partnerships make Zelle a good option for simple transactions, so you can pay friends and family and receive payments even when they're using different banks.
Pros
Zelle is widely supported by many of the major large banks in America
Same-day transfers available
No fees when you send money or when you're receiving money
Cons
While Zelle doesn't charge fees, some banks may do so when you use their service
International payments are not possible through Zelle
You can only send money through Zelle from one bank account
Bottom Line
One of the key advantages to Zelle is that it can send money directly from your linked bank account to friends and family, which means there are no fees for the transaction.
This also means you can enjoy instant transfer of your funds, whether you're using the Zelle app on your mobile device or with Zelle integrated into your personal banking app.
If you're dining out in one of the world's most expensive restaurants, you can be confident your payment will clear without any issues.
Zelle is currently partnered with a wide range of banks and credit unions, including Wells Fargo, Chase, Bank of America, Citi, and online banking pioneers Capital One and Ally.
8. Meta Messenger
Best For Facebook Messenger Users
If you're well inside the Meta ecosystem and are looking for a payment method directly linked to your social media account, Meta Messenger is the perfect way to integrate the two processes with the Facebook Pay system.
Payment through Meta Messenger allows you to send and receive money and make a range of online payments directly from your chat.
Provided you already have a Meta account and are happy to add your debit card information to the account, it's an easy way to send payments without exiting your social media pages.
Pros
Existing Meta users can use the messaging app for sending money online
All payment information is kept private (only the amount sent, your name and profile photo is visible)
Cons
It can take up to five days to transfer funds
It can only be used if you have a Meta profile
Your debit card has to be linked to your Meta account
Bottom Line
Meta Messenger is one of the more limited money apps you can download, primarily for those already signed up to Meta and want to send money to friends and family via their Facebook Pay platform.
While the slow transfer times are off-putting, Meta Messenger does include security features not commonly found on competing payment apps, giving you some peace of mind that your transactions are safe and secure.
If you're invested in the Meta experience and don't mind contributing to Mark Zuckerberg's net worth, this is a simple but effective digital payment service for daily use.
7. Stripe
Best For Small Businesses
Stripe offers users a fully integrated suite of payment products geared towards small businesses and freelance workers, incorporating software and APIs specifically for this purpose.
It's a resilient payment platform that allows you to receive payments and send money and accepts both credit and debit cards directly to your freelancer account.
You can also use the Stripe payment app to send money internationally, an essential feature in today's globalized economy.
Pros
Allows users to generate invoices and regular billing processes
Transfers customer data across from a different payment system
Can be used to generate reports summaries
Supports an extensive selection of currencies and payment methods
Cons
The first payout through Stripe can take up to 14 days
Tends to get overshadowed by PayPal
Open API and tools can be overwhelming for inexperienced users
Bottom Line
With its ability to accept payments from more than 135 currencies and developer tools for creating custom checkout flows, Stripe is a professional payment app ideally suited for freelancers and small business owners.
The service is available at a fixed fee, it's easy to get started, and it comes with exceptional customer support, which you can access via email, live chat, or over the phone.
While Stripe doesn't currently accept cryptocurrencies (or the most expensive precious metals) on their platform, this may change, with the company's co-founder saying it is "not implausible" that the platform would move into digital currency markets in the future.
6. Venmo
Best For Retail Discounts
With its ability to transfer money instantly to either a credit card or debit card, a Venmo account is a popular payment app for peer-to-peer payments.
You can easily send money, make online purchases and receive cash through Venmo, with the option to personalize your communications with emojis and animated stickers.
It's an intuitive payment app with a clean user interface that allows users to make instant transfers from their mobile devices with just a few taps.
Pros
A quick and easy app for sending money to friends and family
Works great on smartphones and tablets
Includes the option to request money from others
Compatible with all U.S. bank accounts
Cons
Charges a fee for instant cash-out transfers to a bank account
Payment limits of $299.99 each week (can be raised to $2,999,99 per week)
Lacks Federal Deposit Insurance Corporation (FDIC) insurance
Bottom Line
Venmo is owned by PayPal, so it's no surprise this is one of the best payment apps on the market.
While it doesn't offer the kind of extensive tools and support you'd need to run your business, if you're just sending money to friends and family, it's a convenient way to send birthday gifts or share a restaurant bill.
Venmo can also be used with participating retailers and companies, including Uber, Foot Locker, and Grubhub, although if you use a credit card to make a payment, Venmo will charge a fee of 3%.
Venmo is compatible with Apple and Android devices and can be quickly installed from the Apple Store or Google Play, but bear in mind this is only designed to work from smartphones.
5. Samsung Pay
Best For Flexible Online Payments
Samsung Pay offers people with Samsung devices the opportunity to sign up to their digital wallet and use it to make payments in virtually any store in the United States.
It's a great option with no fees attached when using a Samsung Pay account, with the Lite account allowing up to 15 transactions per month of up to $500.
Sign up for the full Samsung Pay account, and the limit per transaction is increased to $3,500 for up to 40 transactions, making this a good option for smaller businesses with lower turnover.
Pros
Simple to set up
Accepts credit card payments
Supported by most major financial institutions
Cons
Can't be used for sending money to friends and family
Only compatible with Samsung smartphones
Fingerprint scanner can have issues
Bottom Line
While Samsung is perhaps best known for their high-quality electrical equipment, including some of the most expensive TVs you can buy, their payment app brings the same level of quality found in their tech products.
Featuring debit card and credit card transactions, as well as in-store payments and in-app purchases, Samsung Pay is a flexible online payments provider for people already invested in Samsung's product ecosystem.
It's also one of the more secure payment apps, with fingerprint and PIN authentication, anti-theft protection, and iris scan authentication all available for additional peace of mind.
4. Google Pay
Best For Google Product Users
If you aren't interested in payment apps that can be used with a credit card, Google Pay allows you to easily link your bank account, debit card, and Google Pay balance to send money to people through Gmail and other Google products.
Any funds transferred through Google Pay are not subject to any fees, with verified accounts able to send up to $5,000 during a seven-day period, and you can even send money to groups to easily split expenses.
Pros
Can be used on both Android and iOS devices
Can take 3-5 days to receive funds sent from a bank account
No fees applied to send money to friends and family
Cons
Money transfers from a debit card come with a fee of 1.5%
Unverified accounts face a transfer limit of $500 during a seven-day period
Other payment apps are more widely accepted
Bottom Line
Google has come a long way since the business started in a garage, and with millions of people already fully invested in the Google digital ecosystem, Google Pay is an effective way to integrate online payment options into their services.
While it can take some time for funds to transfer from the app account, and you can't use a credit card, it's a well-designed app with reasonable payment limits, which is intuitive to use and fits well in Google's suite of products.
It's also among the best payment apps for those who enjoy renting and buying content on YouTube, and there is a range of loyalty program options available, including Coca-Cola, Walgreens, and Yogurtland's Real Rewards program.
Google Pay also works closely with small businesses, with a recent collaboration with Indifi aiming to address issues of working with capital management to offer instant credit and help them start their business journey.
3. Apple Pay
Best For Apple Product Users
iPhone owners looking for a compatible payment app that accepts credit cards should consider adding Apple Pay to their devices, which also gives them access to Apple Cash so they can receive and send money through Messages.
With no fees charged for using Apple Pay, users can send and receive up to $3,000 per message and $10,000 for each transaction covering a seven-day period.
Apple Pay is also compatible with most major financial institutions, so you can quickly link it to your bank account or credit card to send money quickly and securely.
Pros
Compatible with all Apple devices, including iPhone, iPad, Mac devices, and Apple Watch
Platform is very secure, reducing the risk of unauthorized transactions
Can be accessed without an internet connection, for example, when a device is in airplane mode
Cons
Instant transfer withdrawals come with a 1% fee of up to $10
If you send money from a credit card, you'll pay a 3% fee
Bottom Line
If you're an Apple product consumer looking for one of the best payment apps for this platform, Apple Pay offers a great combination of ease of use, solid security features which shield your credit card and bank account information, and impressive payment limits.
It works on all Apple devices, including the MacBook Pro 24 karat gold, one of the most expensive laptops you can buy (if you happen to have $30,000 to spare).
It's also an excellent way to consolidate your cards, monthly membership fees, and other payments into a straightforward system, whether using it for in-person or online purchases.
Apple Pay can be installed via the Apple app store, and once information from credit cards has been added, you can make instant payments by simply placing your phone near an NFC scanner and using the iPhone's Touch ID to accept the purchase with your fingerprint.
2. Wise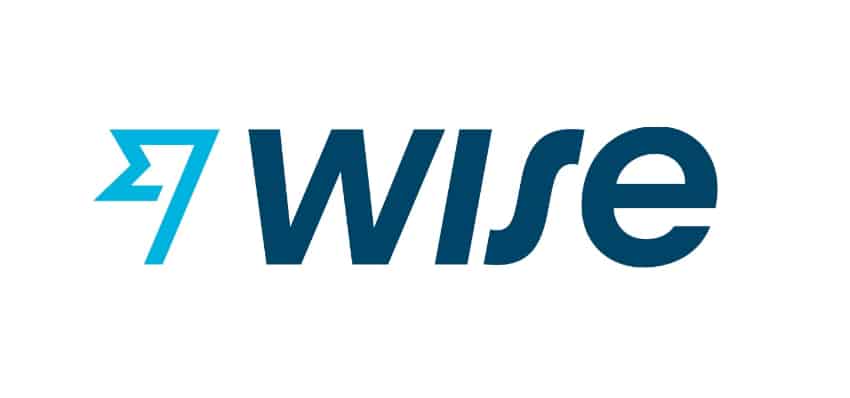 Best For Regular International Payments
While some payment apps only allow you to receive and transfer funds from within the US, the Wise app stands out for its versatile application for international payments based on standard exchange rates.
With a multi-currency account, users can avoid the typical SWIFT fees of around 3% to 4% of the total amount, offering a cheaper alternative for people who regularly send money abroad.
You can use Wise to send money to over 100 different countries, which expands to even more locations if the recipient's account accepts U.S. dollars, euros, or British pounds.
Pros
Personal accounts come with a daily limit of $1,000,000 and an annual limit of $5,000,000
Can enable two-factor authentication for additional security
Avoids large international transaction fees and unfavorable exchange rates
Cons
Slower than some payment apps
Lacks protection through a financial protection scheme
Bottom Line
With its exceptionally high transfer capability and excellent support for international currencies, the Wise payment app is ideal for international businesses.
Business accounts enjoy a much higher daily and annual limit than personal accounts, too, with a $3,000,000 daily limit and $15,000,000 annual limit, so if you're hoping to become one of the richest people in the world, this app could be an excellent place to start.
1. PayPal
Best For All Round Payments
The most widely used of all the payment apps, PayPal is the go-to platform to send money via instant transfers from your accounts.
Setting up a PayPal account only takes a few minutes, and while you can send funds from credit cards, setting up a bank account and debit card means you can process payments for family and friends with ease.
Initial limits are also high, and you can send up to $60,000 from a verified account, making it another solid payment app for people who run their own business.
Pros
Very easy to use
Transfers to friends and family are free
PayPal Cash Plus account includes direct deposit and mobile check cashing
Cons
PayPal can freeze your account and funds without explanation
Credit card payments come with a fixed fee of 2.9%
Bottom Line
The success of PayPal laid the foundation for Elon Musk's net worth, and the company has gone on to become the industry leader in digital payment apps for both personal and professional applications.
The PayPal app brings low-fee transactions with the ability to check your PayPal balance online quickly, as well as purchase from most stores available online.
There's also the option to sign up for PayPal credit cards, which adds more versatility to an already flexible payment service.
With such a vast user base, PayPal is the go-to service for personal and professional use, with a quick transfer speed that exceeds most other digital payment companies.
Summary
Choosing the best payment app means researching a broad range of features and limitations to make sure it covers all your needs.
We've broken down the pros and cons of the ten best apps you can download, helping you understand what fees to expect, how much you can send and receive in each transaction, and any other key features you need to be aware of.
Here's a quick recap of the 10 best payment apps:
PayPal
Wise
Apple Pay
Google Pay
Samsung Pay
Venmo
Stripe
Meta Messenger
Zelle
Cash App
What's the best payment app, in your opinion? Leave a comment below.