What are the most expensive Barbie dolls in the world?
Like Matchbox Cars or Beanie Babies, Barbie dolls are a seemingly simple childhood toy that can actually be worth a fortune.
While not all Barbies are worth their playhouse's weight in cash, some are extraordinarily rare collector's items that could fetch you a surprising amount of money.
If you had any Barbie dolls growing up, you may want to double-check if any of the ones on this list are still stored away.
The Most Expensive Barbie Dolls in the World
All of the Barbies on this list have been taken from reputable sources and prices have been adjusted for inflation when necessary.
Here's our list of the 10 most expensive Barbie dolls in the world:
10. Karl Lagerfeld Barbie – $6,000
If you're a fan of Chanel, one of the most expensive handbag brands in the world, this Barbie is right up your alley.
Released in 2014, the Karl Lagerfeld Barbie doll was designed in collaboration with the famous fashion designer of the same name.
Only 999 units were ever created, making them a relatively rare collector's item. However, this wasn't the original intention.
When first designed, this Barbie was meant to be a more mass-produced Gold Label doll, but Karl Lagerfeld, the creative director of Chanel, pushed to have it released as a platinum label doll.
Needless to say, this Barbie doll sold out almost immediately and today remains one of the most expensive Barbie dolls and most sought-after collector's items, especially after Lagerfeld's death.
For now, the only way you'll be able to get your hands on one is via eBay, where they can be bought, but for nearly four times their original price.
9. Lorraine Schwartz Barbie – $7,500
The Lorraine Schwartz Barbie doll was created in 2010 when Mattel partnered with 12 Council of Fashion Designers of America members.
The goal was to produce 12 unique high-end Barbie dolls, which would be sold to raise money at a charity auction.
While the other 11 Barbies sold well, the Lorraine Schwartz Barbie, dubbed the "Bling Barbie," was able to fetch the highest price.
However, interestingly enough, even though the Lorraine Schwartz doll was wearing an estimated $25,000 in real diamonds, it originally sold for $7,500. A high price, but nowhere near the cost of her accompanying jewels.
It will be fascinating to see the price this doll goes for the next time it's put up for auction, though its current owner shows no signs of wanting to give it up soon.
8. Abend Barbie Gala – $13,673
This unique and expensive Barbie doll was sold only in Europe and Japan, making it an extremely rare collector's item due to its limited release.
Featuring brunette American girl hair and the most expensive dress ever included in the French line of dolls, the Abend Barbie Gala is tough to find and even more expensive to buy.
The last time one of these Barbies went up for auction was in 2006 during a Christie's auction, where it was able to fetch $13,673.
To put this into perspective, that is just short of the price of a Samoyed, one of the most expensive dogs in the world.
If we had roughly $14,000 lying around, we'd have a pretty hard time choosing between buying this doll or one big fluffy good boy, but we guess you might as well get both if you're rich!
7. Barbie In Midnight Pink – $8,557
Similar to the even more expensive Barbie in Midnight Red, this doll was sold at a Christie's auction and fetched a very impressive $8,557.
While this is still much less than what its red variant went for, it is still incredibly steep, which makes this vintage 1965 Barbie doll one of the most expensive in the world.
This expensive barbie doll, with its flowing pink gown and fur-trimmed pink cloak, was part of a collection put up for sale by two Dutch women and we can imagine that they made quite a small fortune by the end of the auction.
Although it may not cost as much as the most expensive comic books in the world, this doll is only expected to continue growing in value, so if you're able to find one in great condition, it may be worth snatching to re-sell in a couple of decades.
6. Pink Diamond Barbie – $15,000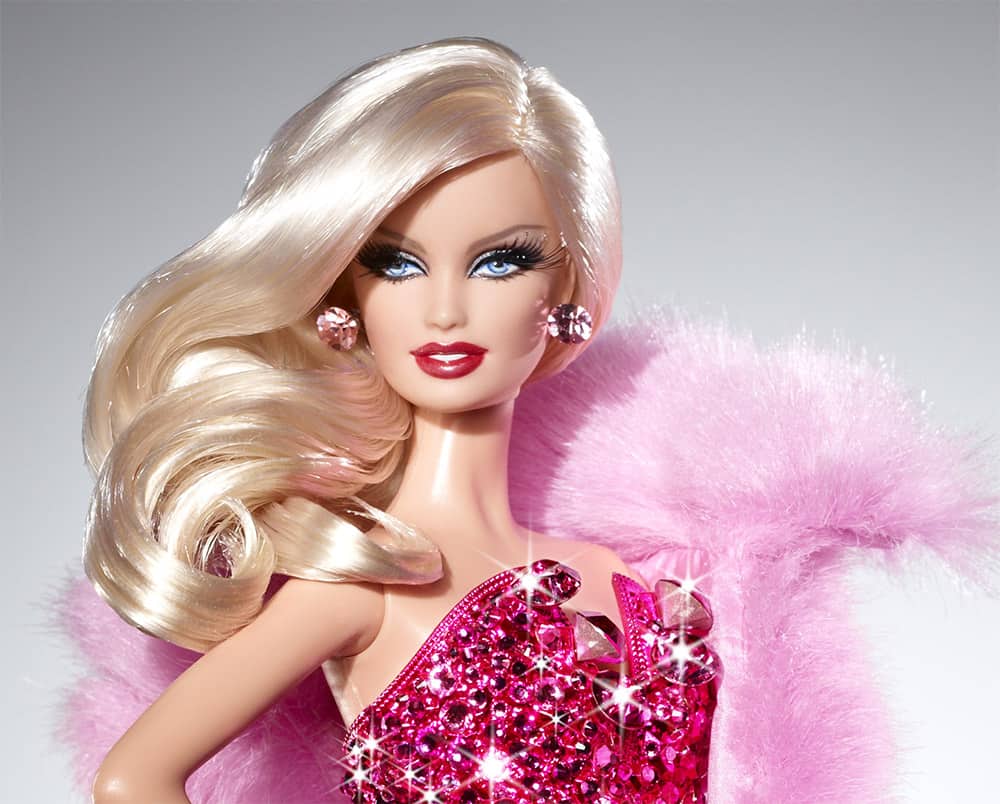 Designed by David and Phillipe Blond, this expensive Barbie doll debuted at their 2013 Blonds Spring show during New York Fashion Week.
After drawing a lot of attention for their fashion show, the Pink Diamond Barbie was later sold in a charity auction with proceeds helping to benefit the MAC Aids Fund organization.
What made this Barbie stand out was her bright fuchsia dress which came blinged out with gems hand-embellished by Phillipe and David Blond themselves.
If the dress wasn't stunning enough, this doll also came with a long faux-fur pink coat, pink earrings, and a huge sparkling pink ring and bracelet.
Her shoes also got bedazzled with gems, helping to make the Pink Diamond Barbie one of the sparkliest dolls you could ever hope to own.
Although this doll sold for a whopping $15,000, it came with the stipulation that it cannot be re-sold or re-auctioned. So, if you were hoping to nab this doll for yourself, you're going to need a time machine.
5. Barbie In Midnight-Red – $17,091
The more valuable variety of the Barbie in Midnight Pink, this doll originally wasn't considered to be a high seller, but it surprisingly fetched £9,000, which is equal to $17,091 today when adjusted for inflation and conversion rates.
Both the Barbie in Midnight Red and Pink are limited edition dolls and variants of the more common Barbie in Midnight Blue.
However, this red version has by far surpassed all others and solidified itself as one of the most expensive Barbie dolls in history.
Like its pink counterpart, this Barbie doll is featured with a long gown and fur-lined cloak complete with long white gloves.
It may not be embellished with diamonds, but that doesn't stop it from being one of the most valuable Barbie dolls to ever be released.
Plus, given its vintage status, it's only likely to become increasingly valuable as time goes on and mint conditions dolls become even rarer.
If your grandma has this limited edition doll hiding in her attic, it may be worth digging up and taking it to an appraiser!
4. Original Barbie (1959) – $27,450
In 1959, the world was introduced to a doll called Barbie Millicent Roberts and since this first incarnation, this doll has gone on to be a global sensation.
Created by Ruth Handler, the co-founder of Mattel, the Barbie doll was originally designed to give young girls a doll which they could play with and imagine their own futures with as career-driven, independent women.
Although all Barbie dolls from between 1959 and the late 1960s are prized among vintage collections, the very first Barbie doll is among the most valuable.
Today, this first doll is extremely sought-after and valued at $27,450, making it one of the most valuable childhood toys in the world.
Although a mint-condition original Barbie doll with her white bathing suit will earn you a lot of money, those with minor defects, such as this Number 1 Barbie auctioned at Christie's, are significantly less, but still incredibly expensive.
3. De Beers 40th Anniversary Barbie – $85,000
Created to mark the 40th anniversary of Mattel in 1999, the De Beers Barbie retailed as one of the most valuable Barbie dolls ever designed and it definitely wasn't something you would want to let your kids get their hands on.
Dressed in a gold and pink skirt, which is decorated with 160 diamonds, and a white gold bikini top, this Barbie is one of the most opulent ever created.
This doll breaks the mold created by more traditional iterations with her long dark hair and expensive gems, which were added in collaboration with the London-based diamond mining company, De Beers.
Although this isn't the most expensive Barbie doll on our list, there is no denying that this doll has definitely more than earned a solid spot at number 3.
With a price tag of $85,000, you'd have to have P Diddy's net worth in order to comfortably afford to have this doll on your mantle.
2. Barbie And The Diamond Castle – $94,800
Released in 2008, Barbie and the Diamond Castle is the 13th film in the Barbie movie franchise, and, to promote it, Mattel released one of the most valuable Barbie dolls.
Although there were standard Barbies released to promote the film, this particular doll was never meant for retail and instead was simply used to promote the film.
While it never actually went to auction, it is valued at $94,800, making it ridiculously expensive.
To put this price into perspective, this doll is more expensive than a stay in many of the most expensive hotels in the world, including the $80,000 per night Royal Penthouse in Geneva, Switzerland.
The reason for the exceptionally high price isn't due to the fact that it is one of a kind, but rather the diamonds that the doll comes with.
This Barbie doll has 318 real diamonds, a total of 20.66 carats, included in her dress, necklace, and tiara.
It is because of these genuine diamonds that this doll is worth so much, though we can only imagine how expensive she would be had she actually come with a literal diamond castle.
1. Stefani Canturi Barbie – $302,500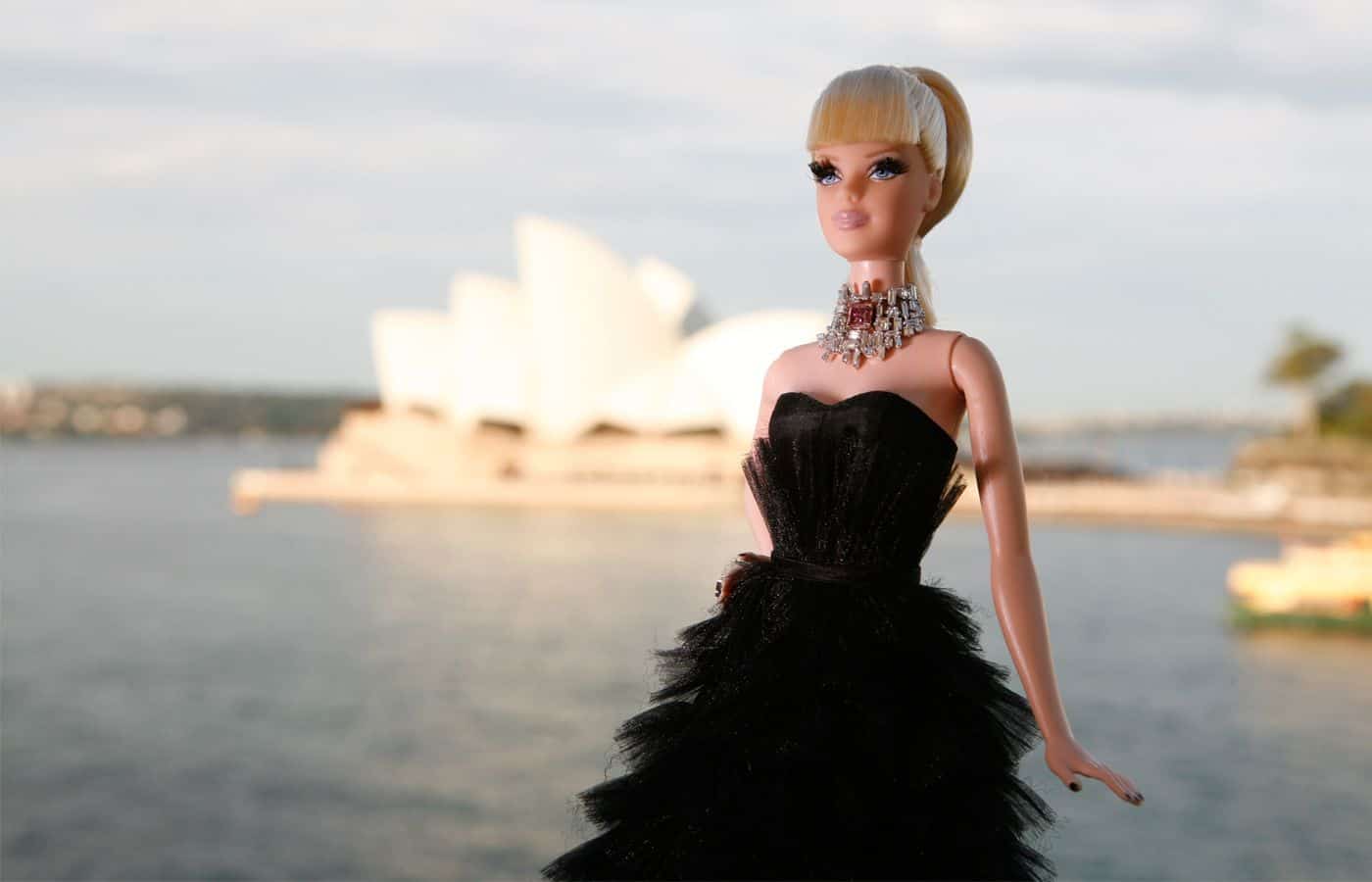 If you thought spending $94,800 on one of the most valuable Barbie dolls was insane, you may want to sit down for this one.
Costing an incredible $302,500, this Barbie was commissioned by Mattel and created by the Australian jewelry designer Stefano Canturi.
While this designer may not sound familiar, his work has been worn by numerous celebrities and he was the creator of many pieces that featured in huge movies such as The Matrix and Moulin Rouge.
The reason that the Stefani Canturi Barbie is so expensive is because of her extravagant cubism necklace that the jewelry designer spent six months working on.
Although other expensive Barbies on this list have featured diamonds, this necklace features three carats of pure white diamonds which are arranged around a large emerald-cut pink diamond.
This rare pink diamond, which came from Australia's Argyle mine, is what really boosted this doll's final asking price, being worth roughly $3,000 on its own.
However, Canturi wasn't content with simply creating one of the most expensive Barbies to sell for profit, and instead, took the commission on the condition that the proceeds from the sale be given to the Breast Cancer Research Foundation.
In 2010, the Barbie by Stefano Canturi went up for auction at Christie's, and while it ended up 'only' selling for $250,000, it still broke the record to become the most expensive Barbie doll in the world.
If you have the equivalent of Bill Gate's net worth and feel like owning the most valuable Barbie doll ever created, you'll want to keep an eye out in case this one-of-a-kind gem ever goes up for sale again.
Summary
We hope you enjoyed our list of the most valuable Barbie dolls in the world!
While you may have played with Barbie dolls as a kid, we doubt you ever thought that they could be as expensive as the ones on this list!
If you did have any of these Barbies growing up as a kid — especially one of the vintage ones — you might want to double-check if they're still hanging around in good condition because $27,450 is definitely one hell of a nice payday.
Here's a quick recap of the 10 most expensive Barbie dolls in the world:
Stefani Canturi Barbie
Barbie And The Diamond Castle
De Beers 40th Anniversary Barbie
Original Barbie (1959)
Barbie In Midnight-Red
Pink Diamond Barbie
Barbie In Midnight Pink
Abend Barbie Gala
Lorraine Schwartz Barbie
Karl Lagerfeld Barbie
Which one of the most expensive Barbie dolls is your favorite? Leave a comment below.