When an author writes a book, they're giving us permission to pass through the gates of their mind, as if to say:
"Here yah go, buddy! I wrote this book just for you. It's filled with the strategies I followed to build a successful business and life for myself. Take as much as you need…."
There are certain business books every entrepreneur needs to read. In this list, you'll find 10 such business books. Some of them contain timeless business and life advice, while others explore cutting edge concepts and ideas — like exponential technology.
The Top 10 Best Business Books
Either way, this list of business books was designed to help entrepreneurs, just like you, gain the actionable information you need to succeed in whatever business you're in.
10. "Bold" by Peter Diamandis, Steven Kotler
Want to learn how to leverage exponential technologies to accelerate growth like you've never seen before? "Bold" is the business book for you.
In this powerful book, you'll learn about using exponential technologies, moonshot thinking, and crowd-powered tools to create extraordinary wealth while you make a meaningful difference on the world doing work that matters…
Expect to learn new and unconventional methods to leveraging the web's infinite tools to raise money, make money, and manage money.
This is the book that helped me make my own lifestyle design dreams come true. Pick it up if you're interested in learning to start an online business that allows you the freedom to live life on your own terms.
"The 4 Hour Workweek" is a step-by-step business book for anyone who wants to deliberately create freedom for themselves by leveraging the power of the internet.
Yep, we're taken it back old-school style with number three on our list of best business books. "Think & Grow Rich" is one of those books that teaches timeless lessons anyone can apply, both in business and in life.
Originally published back in 1937, this book tells us the principles, habits, and secrets of some history's most successful business people: Andrew Carnegie, Thomas Edison, Henry Ford, and many more. Pick it up to model their success.
This book is a collection of lectures delivered by billionaire investor and founder of PayPal, Peter Thiel, during his teaching years at Stanford.
Along with co-author (and former student) Blake Masters, Thiel has put together a hard-hitting set of standards for entrepreneurs, startups, and thought-leaders to carefully consider when building a business that's aimed at shaping the future of our society.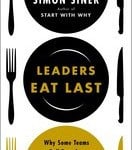 In this book, author Simon Sinek lays out actionable insights about why leaders need to replace the old "carrot & stick" models of management with more sustainable approaches, that are grounded in empathy and designed to boost engagement and a sense of camaraderie that's missing in the modern workplace…
Pick this book up if you plan on — or already are — leading a business that's comprised of teams of people that depend on working together in order to succeed.
Successful businesses are built by successfully selling quality products, programs, and/or services to large numbers of loyal customers…
Successfully selling to these customers requires an individual to possess the knowledge + skills of effectively influencing "browsers" into becoming "buyers." In his landmark book, "Influence", Robert Cialdini breaks this down to a science (literally).
In the book, you'll learn about "The 6 weapons of influence" and how to utilize them in order to persuade prospects + people to buy using science-backed psychological triggers found within all of us.
As entrepreneurs, we want the best for our businesses. We want our business to thrive. To grow. To expand. To prosper… and sometimes, we get so caught up in make all of this happen, we forget about why we start the darn business in the first place.
Before we know it, we've created a job for ourselves rather than a self-sustaining business. In "The E-Myth Revisited", author Michael Gerber helps us approach our business as a business — not a job.
Unless you've been living under a rock for couple of decades, chances are you've heard of "The 7 Habits" by the late great Stephen Covey — but have you actually read it and put it to use as a business book?
If not, then now's the time to consider doing that. The power of this book comes from the time-less principles (or habits) it's based off of.
Each of the habits laid out in this book are designed to act as individual prescriptions for effectiveness in every area of life: physically, mentally, emotionally, spiritually, and yep — financially, too.
Are you interested in getting ahead and getting the edge in life — without having to sacrifice your integrity to do it? If yes, then this is your book.
"Never Eat Alone" is a classic book on connecting with others, and must-read for anyone living in the current connection economy.
As author Keith Ferrazzi says in the book, "Success in any field, but especially in business is about working with people, not against them."
Yah know — you can have some of the greatest, most innovative ideas in the world — and have every single one of them flop due to a lack of ability to EXECUTE.
If you lack the willingness + capability to get things done with effectiveness + efficiency, it doesn't matter how great your ideas are because when it's all said and done, success depends upon consistent action.
Lucky for us, here to help us close out this essential list of business books is David Allen's "Getting Things Done: The Art of Stress-Free Productivity".
*BONUS* Business Book: "Hooked" by Nir Eyal
If you're interested in learning the mechanics of what goes into designing habit-forming products, then this book is for you.
In this book, author Nir Eyal breaks down the ingredients of a habit-forming product and uses supporting examples to clarify his points, so that you can really learn how to implement the triggers that popular apps like Google, Facebook, Yelp, and Twitter have used in order to get us "hooked" on their products.
If you're at all interested in learning what it takes to create products that help others create positive habits in life and business, this episode is for you.
Want to learn how to incorporate habit-forming features into the products you offer in your own business? Click here to listen to an interview I did with Nir Eyal, author of "Hooked", where we talk about exactly how to do that. (You can also listen on iTunes here.)
Which book will you read first?
Now that you've got your list of top 10 business books — there's only one question left…
Which one do you read first? Should you go out and get all of them immediately? Should you read them all at once? Or should you take a lifetime to read them?
So many options. So little time.
Ultimately, it's totally your decision what you do with this list and how you apply it to your life and career. But if I may, here's what I would suggest you consider as you get started:
Subscribe to a book summary site, like FlashBooks Business Book Summaries to get the key-takeaways from the business books on this list.
If you'd prefer to read an entire book, I would highly suggest that you read just ONE book at a time.
[td_smart_list_end]
Summary
Sometimes, when we see something new and exciting, we have a tendency to want to do/learn/read it all at once… and as we all know, this is nearly impossible to do without stressing ourselves out.
So, choose a book. And then commit to reading it from start to finish! What's your favorite business book? Leave a comment below.