Childish Gambino Net Worth
What is Childish Gambino's net worth?
| Net Worth: | $35 Million |
| --- | --- |
| Age: | 37 |
| Born: | September 25, 1983 |
| Country of Origin: | United States of America |
| Source of Wealth: | Professional Rapper/Actor |
| Last Updated: | 2021 |
Introduction
As of 2021, Childish Gambino's net worth is roughly $35 million.
Childish Gambino, A.K.A Donald Glover, is an American actor, rapper, comedian and producer.
Gambino has recently appeared in the news for his new music video, 'This Is America'; which reached over 44 million views on YouTube just 2 days after it was uploaded.
Early Life
Donald Glover was born on the 25th September 1983, on the Edwards Air Force Base in California. He was raised in Georgia by his mother Beverly, and his father Donald Glover Sr.
Glover was raised as a Jehovah's Witness and attended the DeKalb School of the Arts. He was also noted by his classmates as the "Most Likely to Write for The Simpsons" in his high school yearbook.
Gambino graduated from the New York University Tisch School of the Arts with a degree in Dramatic Writing; and whilst at the University, he would record music and even self-released a mixtape.
Career
After graduating from University, Glover was hired to write for the sitcom '30 Rock' on NBC. He wrote for the show for 3 years, before beginning his rap career under the name 'Childish Gambino'.
Glover also starred in the NBC sitcom, 'Community', which is where he began to build a fan base, and his acting career.
Overall, Gambino's career has been successful not just in music, but in acting, writing and producing. He is multi-talented, and has done incredibly well for himself.
It was only recently that Gambino became a lot more well known as a musician, after releasing the music video 'This is America', which caught flames, and went viral on the day it was released.
As of 2021, Childish Gambino's net worth is $35 million.
Highlights
Here are some of the best highlights of Childish Gambino's career:
Camp (2011)
Because the Internet (2013)
The Martian (Rich Purnell, 2015)
Magic Mike XXL (Andre, 2015)
Atlanta (Earnest Marks, 2016-)
"Awaken, My Love!" (2016)
Summer Pack (EP, 2018)
3.15.20 (2020)
Favorite Quotes from Childish Gambino
"No matter what you say or what you do. When I'm alone, I'd rather be with you." – Childish Gambino
"I'll give you all of me, until there's nothing left." – Childish Gambino
"Being happy is the goal, but greatness is my vision." – Childish Gambino
"If it makes you nervous, you're doing it right." – Childish Gambino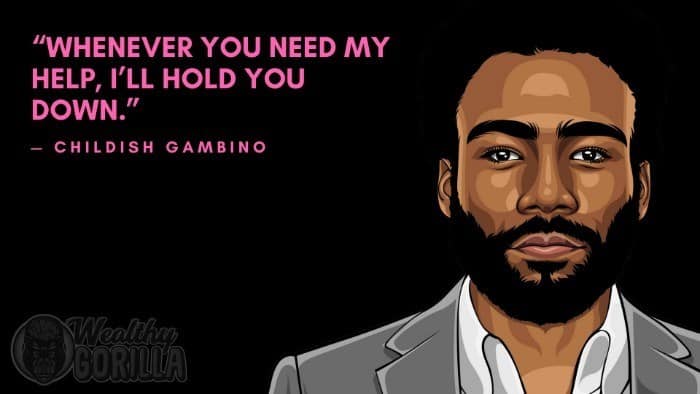 "Whenever you need my help, I'll hold you down." – Childish Gambino
"And I ain't never told you that our love would be painless. But I was so in love with you, I thought we could make it." – Childish Gambino
"I hate it when you think you really getting something good. And you don't listen to your dudes when you really should." – Childish Gambino
View our larger collection of the best Childish Gambino quotes!
Childish Gambino: This Is America
Summary
Childish Gambino has caused a huge uproar in the news recently with his viral music video, This Is America. It may even go on to break records.
Gambino has had a diverse career in the world of entertainment.
As of 2021, Childish Gambino's net worth is estimated to be $35 million.
What do you think about Childish Gambino's net worth? Leave a comment below.
<![CDATA[ */ var zbjs = {"ajaxurl":"https:\/\/wealthygorilla.com\/wp-admin\/admin-ajax.php","md5":"ac468c234e8fd556900e64b356f3f60e","tags":[],"categories":["Net Worth"]}; /* ]]>