What is Lil Uzi Vert's net worth?
| Net Worth: | $16 Million |
| --- | --- |
| Age: | 26 |
| Born: | July 31, 1994 |
| Country of Origin: | United States of America |
| Source of Wealth: | Professional Rapper |
| Last Updated: | 2021 |
Introduction 
As of 2022, Lil Uzi Vert's net worth is estimated to be roughly $16 million. 
Symere Woods, known professionally as Lil Uzi Vert, is an American rapper, songwriter, and singer.
Lil Uzi Vert gained his recognition following the release of his Luv Is Rage mixtape, which led to a record label deal with Atlantic Records under DJ Drama's Generation Now imprint. 
Early Life 
Symere Woods was born in North Philadelphia on the 31st of July, 1994. Woods grew up listening to Mike Jones and Ying Yang twins; Jones' debut album was the first album he purchased. He later began to listen to Wiz Khalifa and Meed Mill, who influenced his future style. 
Woods also began listening to Marilyn Manson, My Chemical Romance and The All-American Rejects when he was 13 years old. 
Career 
Lil Uzi Vert began listening to Marilyn Manson and Kanye 808 at a young age.
He later found his form of music close to his heart and was jealous of all the attention his friend, Marilyn Manson, was getting and that's why he began rapping. His career began quickly and he made his debut on some DJ Diamond Kuts tracks. 
Uzi gained attention after being featured on Carnage's single 'WDYW' with ASAP Ferg and Rich the Kid, in 2015. He later came up with his first commercial and third overall mixtape 'Luv Is rage'. 
He soon followed his breakthrough with 'Lil Uzi vs The World' mixtape in 2016. Two of its tracks 'You Was Right' and 'Money Longer' reached the Billboard Hot 100, and the album made it to the Billboard 200 Top 50. 
At the end of 2016, he began to work with
Migos
, and they later decided to come up with the viral hit 'Bad & Boujee'. The track reached number one on the US Billboard Hot 100 in 2017. 
As of 2022, Lil Uzi Vert's net worth is estimated to be roughly $16 million. 
Highlights 
Here are some of the best highlights of Lil Uzi Vert's career: 
Top (Song, 2015) 
Luv Is Rage (Album, 2015) 
XO TOUR Llif3 (Song, 2017) 
MTV Video Music Award (Best Song, 2017) – Won 
Luv Is Rage 2 (Album, 2017) 
Wanted You (Song, 2018) 
Favorite Quotes from Lil Uzi Vert 
"I really didn't want to rap; I was just a regular kid. My friend – his name is William Aston – we went to the same high school together, and he was rapping. He put out a freestyle over Chris Brown's 'Look at Me Now,' and it was fire, and the whole school went crazy." – Lil Uzi Vert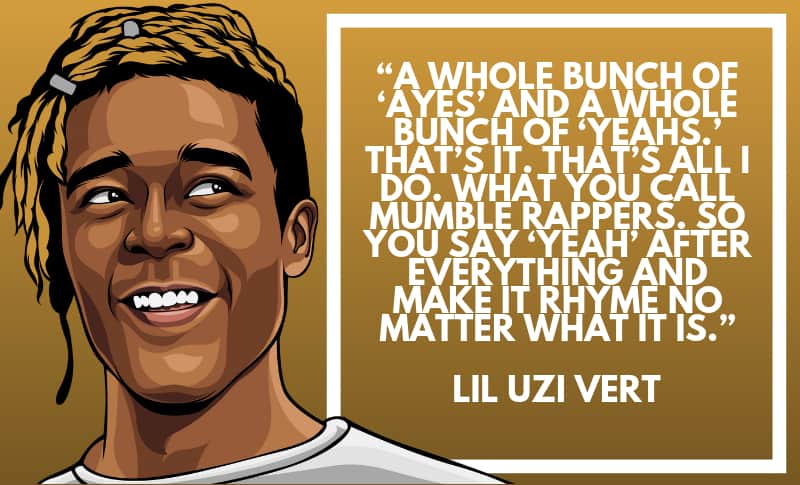 "A whole bunch of 'ayes' and a whole bunch of 'yeahs.' That's it. That's all I do. what you call mumble rappers. So you say 'yeah' after everything and make it rhyme no matter what it is." – Lil Uzi Vert 
"There's a lot of haters in Philly, but it's a lot of people that give you support – but way more haters. It's definitely a great city to be from. But it's not really a lot of people that come out of there. So when you, like, make it out of Philadelphia, everywhere else is easy." – Lil Uzi Vert 
"I'm a real big Marilyn Manson fan. I get a lot of my styles from him. Not even musically – living-wise, too. Marilyn Manson definitely shows me you shouldn't care what nobody says. I watched a bunch of his interviews, and he's not just an artist; he's one of the most intelligent people I ever saw in my life." – Lil Uzi Vert 
"My first CD that I had was the Ying Yang Twinz, and my grandma bought it for me. Honestly, I think my grandma got it from a thrift store or something. She just got it for me. It was in downtown Philadelphia. And I would listen to it. I liked it. None of my friends did, though, but I liked it." – Lil Uzi Vert 
View our larger collection of the best Lil Uzi Vert quotes!
3 Important Lessons from Lil Uzi Vert
Now that you know all about Lil Uzi Vert's net worth, and how he achieved success; let's take a look at some of the lessons we can learn from him:
1. Be Yourself, Always
If you're you, it doesn't matter if you're the most boring person in the world: someone will like you. You're not trying to be anyone else.
2. Adapt To Your Environment
Wherever you're from, you adapt to your environment. It definitely made my music a little bit more explicit.
3. Stay True To Yourself
There are always people who are in the old way of doing things. If you can stay true to yourself, you're always going to be legendary.
Summary 
Lil Uzi Vert is an incredible musician who is best known for his chart-busting single 'Bad and Boujee' that peaked at the number 1 position on the US Billboard Hot 100. Vert's has collaborated with some of the finest musicians in the world such as The Weeknd, Oh Wonder, and ASAP Ferg. 
As of 2022, Lil Uzi Vert's net worth is estimated to be roughly $16 million.
What do you think about Lil Uzi Vert's net worth? Leave a comment below. 
<![CDATA[ */ var zbjs = {"ajaxurl":"https:\/\/wealthygorilla.com\/wp-admin\/admin-ajax.php","md5":"ac468c234e8fd556900e64b356f3f60e","tags":[],"categories":["Net Worth"]}; /* ]]>