What is Jane Fonda's net worth?
| Net Worth: | $200 Million |
| --- | --- |
| Age: | 84 |
| Born: | December 21, 1937 |
| Gender: | Female |
| Height: | 1.73 m (5 ft 8 in) |
| Country of Origin: | United States of America |
| Source of Wealth: | Professional Actress |
| Last Updated: | August 2, 2022 |
Introduction
As of January 2023, Jane Fonda's net worth is estimated to be $200 Million.
Jane Fonda is an American actress, writer, producer, and former fashion model from New York.
She is the recipient of various accolades including two Academy Awards, two BAFTA Awards, four Golden Globe Awards, a Primetime Emmy Award, the AFI Life Achievement Award, and the Honorary Golden Lion.
Early Life
Lady Jayne Seymour Fonda was born on the 21st of December, 1937, in New York. to Henry Fonda and Frances Brokaw. father a very famous actor and was counted amongst the best actors of the 20th century. Her mother was a socialite.
Tragedy struck when Jane was 12—her mother, depressed over her marital problems committed suicide. Her father was a cold and distant man who never developed any emotional bonding with his children.
Career
She was active on the stage during the 1950s which formed the foundation for her Hollywood career. She made her debut with the romantic comedy 'Tall Story' opposite Anthony Perkins in 1960 in which she played a cheerleader who pursues a basketball player.
In 1969, she portrayed Gloria Beatty in 'They Shoot Horses, Don't They?'—a drama film directed by Sydney Pollack. Her role was critically acclaimed and she won several awards and nominations.
After a series of not-so-memorable films in the mid-1970s, she appeared in the drama film 'Coming Home' in 1978. The story revolved around a love triangle among a young woman, her husband, and a paralyzed Vietnam War veteran. The movie was critically acclaimed and won several awards.
She welcomed the decade of the 1980s with the hit movie '9 to 5' in which she starred alongside Dolly Parton, Lily Tomlin, and Dabney Coleman. The comedy was a huge commercial success.
Fonda came out of her retirement in 2005 to star in the romantic comedy 'Monster-in-Law'. Over the 2000s she continued to appear in other movies such as 'The Georgia Rule', 'Peace, Love, and Misunderstanding', and 'The Butler'.
As of January 2023, Jane Fonda's net worth is $200 Million.
Highlights
Here are some of the best highlights of Jane Fonda's career:
Barbarella (Movie, 1968)
Academy Awards (Best Actress, 1972)
Monster-in-Law (Movie, 2005)
Book Club (Movie, 2018)
Favorite Quotes from Jane Fonda
"I've done four videos for older people under my new brand, Prime Time, and the missing link was yoga. I'm aiming it for older people – people who have never worked out or who are recovering from surgery and have to start slow. It's easy, you can't get hurt, it's very doable, and I've done it in ten-minute segments." – Jane Fonda
"My childhood was influenced by the roles my father played in his movies. Whether Abraham Lincoln or Tom Joad in the 'Grapes of Wrath,' his characters communicated certain values which I try to carry with me to this day." – Jane Fonda
"Everyone should know that feeling of overcoming fear and mastering something. People who aren't taught that become soggy." – Jane Fonda
"What I learned is, we have to listen to each other, even when we don't agree, even when we think we hate each other. We have to listen to each other's narratives. Not interrupt defensively, or with hostility, but really try to open our hearts and listen with empathy. I learned so much from that meeting." – Jane Fonda
"Instead of drifting along like a leaf in a river, understand who you are and how you come across to people and what kind of an impact you have on the people around you and the community around you and the world, so that when you go out, you can feel you have made a positive difference." – Jane Fonda
3 Life Lessons from Jane Fonda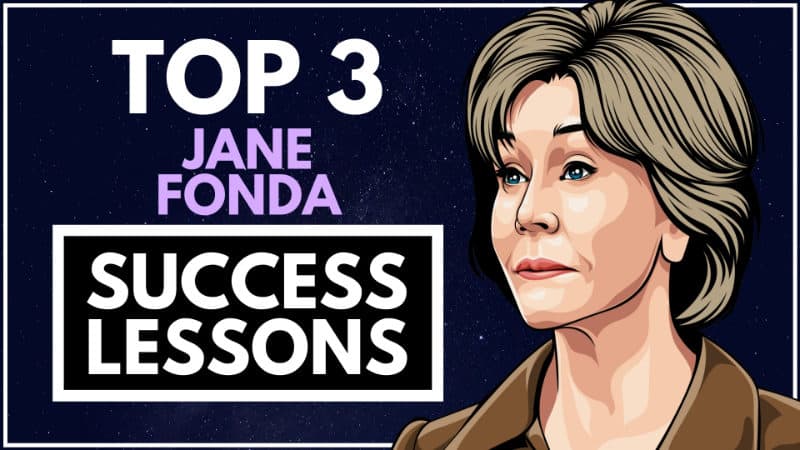 Now that you know all about Jane Fonda's net worth, and how she achieved success; let's take a look at some of the strongest lessons we can learn from her:
1. People Die, Period.
Death is the subject I don't like talking about and I definitely don't want to think about it. The truth, however, is that we all must die. There is really never a good time to leave everyone behind because the people left behind won't ever want you to leave them.
2. Expect the Unexpected
You can dream and plan, but always be ready for something to throw you a bit off course because this is life.
3. Be Flexible
By remaining flexible, not only is there less stress in your life, but you will more fully enjoy your life.
Frequently Asked Questions
How much is Jane Fonda worth?
Jane Fonda's net worth is estimated to be $200 Million.

How old is Jane Fonda?
Jane Fonda was born on December 21, 1937, and is currently 85 years old.

How tall is Jane Fonda?
Jane Fonda's height is 1.73 m, which is equal to 5 ft 8 in.

Summary
Jane Fonda is a versatile actress who has won several prestigious awards over a long and illustrious career spanning more than five decades. The beautiful and talented lady has evolved from just being an actress to become a fitness icon and also an outspoken feminist and political activist.
As of January 2023, Jane Fonda's net worth is roughly $200 Million.
What do you think about Jane Fonda's net worth? Leave a comment below.