10 Best Personal Development Books to Read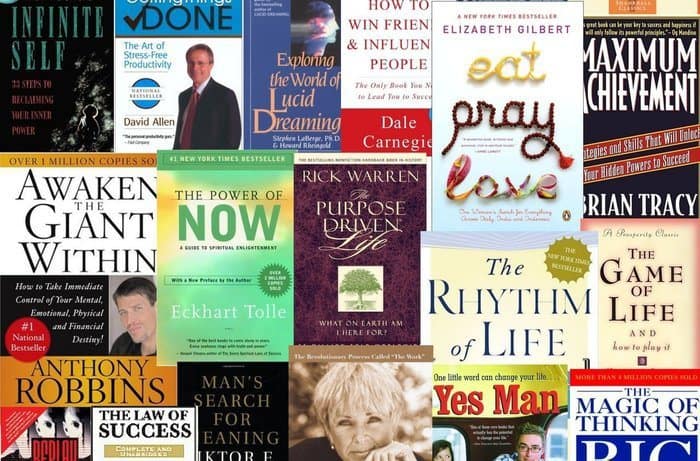 We need to start publishing more articles that highlight awesome personal development books on Wealthy Gorilla.
They're so powerful, and provide such a great amount of knowledge. In this article I want to highlight the 10 best books to read, in my own opinion, for personal development.
Why should you read personal development books?
When it comes to personal development, thousands of authors have transferred all their accumulated knowledge into something that you can simply just pick up and read.
Think of some of the things you're struggling with in life at the moment, or have been at some point in time. Now think about this: the answers you've been seeking to help you through those situations have been lying in a book store or library this entire time.
Somebody who's already gone through everything you're going through, has written down their advice for others to pick up.
That's why you should read personal development books.
Why should you read these books regularly?
I've had the opportunity to speak to many amazing people over the past couple of years; and more recently, people have said that they read a certain book every month. There's one book that they read every single month, without fail.
Although the book varies, the principle is the same.
Reading a book every single month constantly reinforces the knowledge and the morals within the book in your mind. Sometimes we read these books, and a couple of months later all this information is gone. We forget. And that's natural.
So here's the thing. If you read a book that empowers you, and you read it regularly, you will never lose that empowerment. You will never lose that knowledge. You will take it and act upon it everyday without a slip or hitch.
The 10 Best Personal Development Books
The books I'm about to list are based on my own opinion. However, they're constantly coming up whenever I get interviewed or interview others. They've also been best sellers, and are continuously read again and again because of the power and knowledge they can provide.
Here are Wealthy Gorilla's recommendations of the 10 best personal development books we think you should read regularly.
1. The Magic of Thinking Big
Written by: David J. Schwartz
The Magic of Thinking Big is a book that I'm planning on reading once a month.
And it's number one on this list because it provides something that everybody needs to be successful: the belief that you can achieve big things in life.
Believing in yourself, and being able to see the bigger picture are the major topics that this book covers. For any dreamers, you can't not read this book. It'll leave you with a much more positive and confident mindset.
I spoke to someone who challenged his students to read this book every month for the next 5 years. And if they weren't doing well in life by that time, he would personally write them a cheque for $10,000.
Only one of his students took and completed the challenge, and he is now doing very well for himself. And he definitely hasn't asked for that cheque.
Amazon Review
"If you are truly seeking the kind of success and abundance that makes your life 100% livable – you must read this book."
2. Never Eat Alone
Written by: Keith Ferrazzi
I'm halfway through Never Eat Alone, despite it being published many years ago.
It's another incredible self-development book, that focuses on helping people become more social, build connections with others, and improve the way they communicate.
You know how the old saying goes; it's not what you know, it's who you know. By reading Never Eat Alone, you're able to pick up the knowledge to do just that.
Amazon Review
"Keith has long been a leading marketing innovator. His way with people truly makes him a star. In Never Eat Alone, he has taken his gift and created specific steps that are easily followed, to achieve great success." – Robert Kotick, Chairman and CEO, Activision
3. Think and Grow Rich
Written by: Napoleon Hill
Think and Grow Rich is another of the classic personal development books, that was actually brought up recently when I interviewed Ashley Zahabian, a 21 year old motivational speaker.
Ashley mentioned to be that Think and Grow Rich was the book she read every month!
Napoleon Hill studied many millionaires to find out the ways in which they were different than others. What made them who they are, and able to have the financial freedom they have.
Many people think of this book as the original self-development book, and what an incredible and motivational book it is.
Amazon Review
"If you asked me to recommend to you the single best 'success' book I have ever read, my answer would be a very definite 'Think and Grow Rich'."
4. How to Win Friends & Influence People
Written by: Dale Carnegie
How to Win Friends & Influence People is an incredible book for those looking to develop their social skills a lot!
This book is something like 3rd or 4th on Tai Lopez's top 100 book recommendations.
In this book, you'll learn all the essential techniques to making people like you, being able to deal with them better, and also becoming more persuasive.
Thousands of people have used the principles in this book to change their lives, ever since it was released. And people are still continuing to do so.
Amazon Review
"When I was 12 years old my best friend gave me a copy of this book and told me that I might find it interesting. He could not have been more right, for I delved deep into the book and I finished it in a matter of 2 weeks."
5. The 7 Habits of Highly Effective People
Written by: Stephen R. Covey
Exactly as the title suggest, Covey dives into the 7 habits high achievers have in life. He also lists different techniques you can use to adopt those habits, and also become a highly effective individual.
The important thing to mention, which makes this book so brilliant, is that Covey isn't just targeting how to become wealthy.
The habits in this book are to become "effective", both in your personal life and your career. They apply to all areas of your life.
Amazon Review
"Simply put: motivational and life changing. Even as an efficient individual, this will give you the drive that we all sometimes loose. Very organized and well written."
6. The Alchemist
Written by: Paulo Coelho
The Alchemist is an inspiring story, that follows a boy wishing to travel the world in search of treasure.
During his journey, he recognizes and experiences the other types of riches this world has to offer.
This story teaches people all about recognizing opportunity, and being able to follow our dreams.
This is definitely one of the best personal development books for dreamers and ambitious individuals.
Amazon Review
"If you like to ponder the meaning of life, then let your mind and spirit mull over the lessons in this book. It's a quick and enjoyable read that will provide some new insights, or remind you of some old one's that you've forgotten."
7. The Power of Habit: Why We Do What We Do
Written by: Charles Duhigg
We act out of habit the majority of the time during our daily lives. The question is, why do we do this? And how we change our daily habits to healthier and more effective ones.
The Power of Habit explains why habits exist, and how we can all begin to adopt new habits that will helps us achieve our goals.
The key to achieving success is understanding how habits work, and this book outlines everything clearly.
Amazon Review
"This is a great book about the power of habit and what we can do to change our habits in business, life, and society."
8. The Charisma Myth
Written by: Olivia Fox Cabane
The myth is that charisma is not something you can adopt. You either have it or you don't.
'The Charisma Myth' sets out to tear this myth to shreds, and prove that anyone can become charismatic, influential and more persuasive.
There some great life skills you can pick up from this book, and it's definitely worth reading for higher personal development.
Amazon Review
"So many self help books are 'all gong and no dinner' but I found this book to be a refreshing exception."
9. Managing Oneself
Written by: Peter F. Drucker
The king of personal development books; Managing Oneself is out there to show you that regardless of how low down on the ladder you start, you can rise to the top.
To do this, you'll need to take control of your life, in every aspect.
You need to keep yourself at the top of your own game, to rise to the top of your career. Give it a read, you won't be disappointed.
Amazon Review
"I couldn't put this one down, and gleamed much wisdom from it. I would almost call this book Drucker's personal insight on how to manage your life."
10. The Selfish Gene
Written by: Richard Dawkins
Inheriting the mantle of revolutionary biologist from Darwin, Watson, and Crick, Richard Dawkins forced an enormous change in the way we see ourselves and the world with the publication of The Selfish Gene.
Suppose, instead of thinking about organisms using genes to reproduce themselves, as we had since Mendel's work was rediscovered, we turn it around and imagine that "our" genes build and maintain us in order to make more genes.
That simple reversal seems to answer many puzzlers which had stumped scientists for years, and we haven't thought of evolution in the same way since.
Amazon Review
"I believe that unless we wish to rely on luck throughout our lives we need to embrace reality as closely as possible, which is what a first-rate book like Dawkins' helps us to do."
Summary
Wow, what an amazing collection of the best personal development books! Let's quickly list them again for anybody doing some quick reading:
The Magic of Thinking Big
Never Eat Alone
Think and Grow Rich
How to Win Friends & Influence People
The 7 Habits of Highly Effective People
The Alchemist
The Power of Habit
The Charisma Myth
Managing Oneself
The Selfish Gene
In Conclusion
We strongly recommend that you read these books as soon as you can!
As for the likes of The Magic of Thinking Big, Never Eat Alone and Think & Grow Rich, pick one or two and read them every month. Without fail!
Your life will begin to change! Trust me.
How many of these best personal development books have you read? Leave a comment below.
17 Success Lessons from Bill Gates
Want to hear some of Bill Gates' success lessons?
Bill Gates is the richest man in the world, after founding Microsoft in 1975. He is now worth over $100 billion As of August 2022, as Microsoft has risen to create the number 1 operating system brand Windows, which has been re-developed several times.
Microsoft also created Xbox, which has become one of the most popular, if not the most popular gaming system in the world.

Bill Gates' Success Lessons
I've scoured the net and compiled a list of 10 success lessons from Bill Gates; which he has given to people at one point or another in his lifetime, to show them what it takes to become successful and wealthy.
He is the wealthiest man in the world, after all, so listen up!
1. Start as Early as Possible
The first of Bill Gates' success lessons is to start as early as possible.
Bill Gates was only 13 years old when he started working with computers. When you start something at an early point in your life, you become molded around it.
Not only will you have a chance of becoming successful sooner than most people, but you would also be less likely to want to give up.
If you've had a dream that you start working towards when you're young, you will be more immune to people telling you what you can or can't do.
By the time you're an adult and people actually start to take more notice of what you're working towards, you will be stubborn enough to just ignore them.
The time that you're most influenced by others is when you're younger, so if you've seen things on T.V or on the internet where others have become successful, this will be imprinted in your mind and you won't have doubt about what you can or can't do.
2. Enter into Partnerships
Bill Gates was very fond of forming partnerships with people, people who were the top dog and that made Gates become the 'Sidekick'.
He was happy with this because it unlocked new opportunities for him and the potential to learn from other successful entrepreneurs who could teach him a thing or two.
Not only that, but it meant that he built relationships with people that would definitely be able to help him out with his future endeavors.
3. You Will Not Make $60,000 a Year Right out of High School
Let's be honest, you're not going to make $60,000 a year straight out of high school, so if for some reason you think you will stop kidding yourself. No matter how much education you have, you still need the experience to work your way at the top.
You won't get appointed CEO of a multi-national company just because you have a degree in business management.
That's a position that you need to earn, by either starting your own company and working hard to take it to the top or working your way up within a company and proving yourself to people.
4. Be Your Own Boss as Soon as Possible
Bill Gates became a boss at a fairly early age. He deserved it, and it put him in an excellent position with pure control over his success.
"If you don't build your dream, someone else will hire you to build theirs." – Bill Gates
5. Don't Whine About Your Mistakes, Learn from Them
What is the point in blaming other people for your mistakes? Who are you trying to fool? Your mistakes are on you, they are not anyone else's fault, so stop blaming other people just to try and rid your conscience of guilt.
Mistakes are made to be learned from. You now know what or what not to do in the same situation when it rolls around for a second time and believe me, in most cases it will roll around again.
"If you mess up, it's not your parents' fault, so don't whine about your mistakes, learn from them." – Bill Gates
6. Be Committed and Passionate
I think this is always included by every entrepreneur as a good bit of advice. You need to be committed to what you love and have a great passion for what you do.
The successful people in this world make it look so easy because they absolutely love what they are doing. If you're finding things too stressful and too hard, then I'm not sure you're working on the right thing.
7. Life is the Best School, Not University or College
No matter how many books you read, no matter how many tests you take, nothing from university or college can properly prepare you for life in the real world.
Real-life jobs and bosses do not just involve you studying and them teaching you. It's real-life work that you need to be able to carry out, otherwise, you will be fired. End of.
"If you think your teacher is tough, wait until you get a boss. He doesn't have tenure." – Bill Gates
8. Be Nice to Nerds
It's true, people who you'd probably class as 'nerds' are actually the ones who will work the hardest, be the smartest, and be determined to succeed.
If you're horrible to nerds then you're basically taking your chances with fate, because you could easily end up working for one, or even apply for a position at a company that is run by someone you know and have been horrible to in the past.
Still, think you have a chance of getting the job?
"Be nice to nerds. Chances are you'll end up working for one." – Bill Gates
9. TV is Not Real Life
You need to stop getting sucked into Television and believing that what you're seeing in some cases may actually be what people do in real life.
Real-life is tough and anybody who's anywhere near successful will not be sitting around in coffee shops all day talking to their friends. They will be out working the grind to pay their bills and improve their financial situation.
"Television is NOT real life. In real life people actually have to leave the coffee shop and go to jobs." – Bill Gates
10. Life is Not Fair
Another of Bill Gates' success lessons is to learn that life is not fair.
No matter how hard you work in life, there will always be times where things don't go your way, perhaps through no fault of your own. Things that you cannot control. You will get knocked down, but you need to be able to stand up.
Life isn't fair. It's a test, a game, a risk. If you fall down and don't bother getting back up, you don't deserve to be successful. Winners know that life isn't fair and they will keep getting back up until they've made it.
"Life is not fair. Get used to it." – Bill Gates
11. Be Ready to Takes Risks
Starting a business is a little bit like gambling, you're not always sure if you'll win or not. However, the only difference is that you can strategize and plan well enough to ensure the success of your business.
This quote from Bill Gates is not only applicable to entrepreneurs, it can also apply in life as a whole. The world is full of uncertainties. Life has no rules and you have to sacrifice certain things to get to your destination.
People will step on and reject you but at the end of the day, if you are able to muster the courage to keep on going, nothing will stand in your way.
"Business is a money game with few rules and a lot of risk." – Bill Gates
12. Never Fast Forward Your Way to Success
NOTHING comes easy and that includes being successful. Bill Gates and Paul Allen started Microsoft on a shaky foundation, but through patience and hard work, they were able to surpass the struggles they encountered.
This just goes to show that there are no shortcuts to success, my friend. It takes time to build an empire and a lifetime of sacrifice to keep the consistency going.
"Patience is a key element of success." – Bill Gates
13. Be Proud of Who You Are
Many people get frustrated because they're not as smart, rich or talented as the person they look up to. You may get frustrated because you're not as successful as Bill Gates, but you have to face the reality that we're all born differently.
Each person has their own unique abilities and you have to accept that to become successful.
If you start to appreciate yourself and what you can offer, you will be more confident to do things your own way.
"Don't compare yourself with anyone in this world… if you do so, you are insulting yourself." – Bill Gates
14. Be Humble at All Times
It's great to dream of success and all that comes with it. However, if you let it get into your head and start to think that you're untouchable, that is not what you call success.
Life is a wheel, it's unpredictable. You can be on top today but at the bottom the next. (Trust me!) It's best to stay humble at all times and never forget what got you there in the first place.
"Success is a lousy teacher. It seduces smart people into thinking they can't
lose." – Bill Gates
15. Take Things Positively & Love Learning
Bill Gates also had his fair share of unsatisfied customers, but you know what? He never considered this as something negative. Instead, he took their insights by heart and used them to improve his work.
When people hear criticism and bad feedback, they are easily discouraged and their drive to succeed goes downhill.
But if you think about it, this negativity will help you more than you realize, if you look closely. Learn from your mistakes and shortcomings and use that as a catalyst to be the best in what you do.
"Your most unhappy customers are your greatest source of learning." – Bill Gates
16. Accept Failures & Move On
Failures are more important than success, because by failing you become successful. The greatest life lessons and the knowledge that changes everything – are found when you fail.
When you succeed, you can learn lessons, you are happy, people will praise you and everyone is willing to help you. But when you fail, everything is dark and you'll know how it is to suffer. You will see the real ones from the fake ones.
More than the joy that success brings you, always place greater importance on the lessons you learned when you failed. Use that as your weapon as you go through life's journey.
"It's fine to celebrate success but it is more important to heed the lessons of
failure." – Bill Gates
17. Share Your Success With Others
The last of Bill Gates' success lessons is to share your success with others.
You know the feeling of being an owner of a small startup. It's difficult and you have probably experienced many struggles.
A truly successful entrepreneur will support and share his or her knowledge to other aspiring entrepreneurs, giving them the encouragement and inspiration they need.
"As we look ahead into the next century, leaders will be those who empower
others." – Bill Gates
Summary
Here's a quick recap of Bill Gates' Success Lessons:
Start as early as possible
Enter into partnerships
You will not make $60,000 a year straight out of high school
Be your own boss as soon as possible
Don't whine about mistakes, learn from them
Be committed and passionate
Life is the best school, not university or college
Be nice to nerds
TV is not real life
Life is not fair, get used to it
Be ready to take risks
Never fast forward your way to success
Be proud of who you are
Be humble at all times
Take things positively & love learning
Accept failures & move on
Share your success with others
How many of Bill Gates' success lessons do you agree with? Leave a comment below.
10 Success Lessons from Warren Buffett
Want to hear some of Warren Buffett's success lessons?
Warren Buffett, the pinnacle of success, especially when it comes to trading stocks. His net worth is now over $80 billion, and one of the richest men in the world, which is absolutely crazy! 

Buffett has made his billions through making smart investments in the world of stocks and shares, essentially making him the smartest investor to ever walk the planet.
Warren Buffett's Success Lessons
Naturally, people want to hear Buffett's advice when it comes to being successful in your own life, which is why you're viewing this article!
Here are 10 success lessons from Warren Buffett:
1. Spend Your Money Wisely
The first of Warren Buffett's success lessons is to spend your money wisely. This also ties in with a few of the other lessons Buffett explains, but will get to those shortly.
Try not to waste your money on the things that you don't need, and spend it wisely on the stuff that you do need. Also make you save so that you can invest in yourself later on when you're ready to.
"If you buy things you don't need, you will soon sell things you need." – Warren Buffett
2. Be Careful When it Comes to Borrowing
If you're someone who takes out loans quite a lot and maxes out your credit card, then you're not going to become rich are you. You're going to end up with debts that are ever increasing and it'll start snowballing if you're not careful.
Warren Buffett has never borrowed a large amount of money, and he suggests to those with outstanding loans that once they've repaid and are free of debt, they should begin saving what they can to be able to invest later.
3. Have a Clear Definition of Success
You'll find that despite being a billionaire and one of the richest people in the world; Warren Buffett doesn't really measure his success based on the amount of money he has.
There was actually a point in his lifetime where he was willing to give almost all of his cash to charities.
Instead of gauging success based on wealth, Buffett states that success is more about having lots of people around you that love you and that you love too, especially as a man of his age.
So have a think about what you're definition of success actually is. Check out this post I've written on redefining your definition of success, which will help you to understand more about why this is crucial in life.
"That is the ultimate test of how you've lived your life." – Warren Buffett
4. Don't Be Afraid to Be Different
The truth is that most people will copy others that have already become successful.
I don't blame them, I do it too more often than I should, but it's not always a great way to go. If you're forever copying others, you're never able to give anybody your own personality and image, your own ideas and visions.
It's normally always the people that dare to be different, who are discovering the next big thing which people fall in love with. Warren has stated that the average person will be the one that is copying other people, but he didn't want to be average.
He wanted to be different and judge himself by that of his own standards.
5. Reinvest Profits
In business reinvestment is always a great key to consistent growth, but especially when it comes to something such as stock trading.
After all, if you make money in the stock market and spend the profit, you're only going to have the same amount to invest next time. And that's not going to help you with quick growth at all.
This was something that Warren Buffett learned fairly quickly. One of his first ventures was purchasing a pinball machine with a friend and putting it in a local barber shop.
He didn't go out and spend his share of the profits from this machine on stuff he didn't need. He went out and purchased more machines to place in other shops.
Then when this venture ended, he again reinvested the profits into the stock market, which served him very well in the future from doing so.
6. Persistence is Key
Persistence is the key to mastering any skill, you know that. You've just go to keep pushing until you get through the barriers to success.
In 1983, the Nebraska Furniture Mart was purchased by Warren Buffett, mainly because the way that Rose Blumkin, the founder of the mart, did business appealed quite well to him.
Rose was an amazing negotiator and she used to completely undersell the big shots as part of her business strategy. The Furniture Mart didn't start out as a large store. Over time it grew from just a small pawnshop into North America's biggest furniture store.
The reason this furniture mart became so successful and was able to beat its competitors was because Rose had the persistence and determination to turn it into what it eventually became.
7. Think About Things in the Long Term
When it comes to stocks and shares in particular, investing in the long term will most likely be able to reap more benefits than hoping to make a quick buck.
It's the same with bank interests. The longer you're prepared to tie your money up for, the larger percentage of interest you will get.
"No matter how great the talent or efforts, some things just take time. You can't produce a baby in one month by getting nine women pregnant." – Warren Buffett
8. Don't Let Small Expenses Creep Up on You
Small unexpected costs can kill businesses without them even realizing until the last second. Whether it be postage costs, packaging costs, missing stock gone unnoticed, you name it.
If this happens too often without people realizing, then costs will be a lot higher than what people make them out to be and the business could potentially be losing large amounts of money.
9. Always Assess Risks
When you're an entrepreneur, taking risks is pretty much essential, but you should always be assessing the risk that you are thinking of taking.
When you assess a risk and weigh up the potential advantages to disadvantages, it will always help you make a better choice for yourself.
10. Know When to Quit
The last of Warren Buffett's success lessons is to always know when to quit.
In stock trading, particularly, knowing when to quit is so damn important. If you don't know when to accept mistakes and losses, you will make the whole much bigger, and begin to lose even more.
Buffett says you need to know when it's time to accept a loss and move on, before it ends up sinking your entire ship.
Summary
Here's a quick recap on Warren Buffett's success lessons:
Spend your money wisely
Be careful when it comes to borrowing
Have a clear definition of success
Don't be afraid to be different
Re-invest profits
Persistence is key
Think about things in the long term
Don't let small expenses creep up on you
Always assess risks
Know when to quit
What do you think about Warren Buffett's success lessons? Leave a comment below.
The 30 Major Causes of Failure By Napoleon Hill
Have you ever read the book 'Think & Grow Rich'?
If you're a regular visitor to Wealthy Gorilla, then you definitely should have read the book by now!
Think & Grow Rich was written by Napoleon Hill and is considered to be one of the best self-development books of all time.
The book teaches the 13 principles of turning your desires into riches and contains hundreds of golden nuggets you can use to transform your life…
The 30 Major Causes of Failure
Within one of the chapters of Think & Grow Rich, Napoleon Hill lists the 30 major causes of failure. These are the reasons why 99% of people are failing in their lives.
The purpose of featuring and explaining these 'major causes of failure' within this article, is to show you why people fail, and how you can avoid doing the same thing in your own life.
Here are the 30 major causes of failure as described by Napoleon Hill:
1. Unfavourable Hereditary Background
The reason why this was put first on the list, was because Hill says it's one of the toughest issues for people to overcome.
This basically means that someone is perhaps not naturally intelligent, and lack's certain brainpower. They can take all the measures needed to improve their knowledge and become smarter, but they are still at a disadvantage.
2. Lack of a Well Defined Purpose in Life
If you don't have a definitive goal that you're setting out to achieve, a purpose that you're trying to fill, you won't become successful. You have nothing to hit, nothing to aim at. And therefore your direction is unidentified.
3. Lack of Ambition to Aim Above Mediocrity
There are many reasons why people might not have the ambition to aim above mediocrity. Whether it's that they're too lazy, too comfortable, too spoilt, or have no belief in "success".
If you never have the ambition the aim higher, you never will aim higher than average. This means, you guessed it, you will never achieve more than average.
4. Insufficient Education
Another one of the major causes of failure is insufficient education. Don't get this wrong. This does not solely mean a lack of formal education leading up to adulthood.
In many cases, and especially in various parts of the world, formal education is an issue. However, another big issue is that many individuals leave school and decide that they've done all the learning they needed to do.
When it comes to your career, specialized knowledge is a must, and it can only be learnt through experience on the job, and studying outside of working hours. Just turning up to work every day isn't enough education.
5. Lack of Self-Discipline
Becoming successful isn't easy. It takes a lot of discipline to consistently work hard at something until you finally start to achieve success from it.
There's a lot of productive habits that need to be adopted in order to get the most out of your day, and therefore your week, month, and year.
6. Ill Health
Nobody can enjoy their success without good health, and in fact poor health can still hold you back from achieving it in the first place.
Here's what causes ill health:
Lack of exercise
Over-eating junk foods
Poor daily habits
Over-indulgence in sex
7. Unfavourable Environmental Influences During Childhood
This essentially means that many people fail due to the environment they grew up in. Poor parenting, bad neighbourhoods, born into poor families etc.
It's not a death sentence, but more people than not let these circumstances dictate their future. Something can be done, no matter what.
8. Procrastination
Everybody has a dream, but when it comes to taking action, most procrastinate. They wait until they're 'ready', or until the 'perfect time'.
Time goes by, but they've gone nowhere. Truth is, that they'll never be a perfect time to start working on your dreams. You have to stop procrastinating and create a sense of urgency within your life.
9. Lack of Persistence
You won't get anywhere without persistence. And persistence can be tough when you're not seeing immediate results from all the hard work you're putting in.
The truth is. Persistence is the key to everything. Every successful individual has had their own failures during their lifetime, but persistence meant that they got back up, and didn't have to remain a failure.
10. Negative Personality
You know those people that always seem to complain about things, but never change them? How about the people who always tell you that they can't do something?
Thinking negatively will only ever bring you a negative life. This is one of the biggest causes of failure, and changing your mindset from negative to positive should be a very high priority.
11. Lack of Controlled Sexual Urge
Most people will deny that this one affects them, but it does. The sexual stimulus has the power to influence people into action more than any other type of energy.
This means you're likely to be spending a lot of your time chasing this, becoming distracted, and losing sight of your goals.
12. Uncontrolled Desire for 'Something for Nothing'
Ever come across people who want something for nothing?
They believe that they can try and get what they want without helping anyone else get what they want. And that's a big mistake.
You see, you only start to get the things you want in life when you're able to help other people. Every business that succeeds, does so because it is helping enough people to be profitable.
13. Lack of a Well Defined Power of Decision
Napoleon talks about how good decision-makers are able to make quick decisions and then change them slowly, as opposed to the other way around. The ability to make quick decisions is incredibly important for success.
After all, if you're unable to make decisions, then you're not going to be able to build a business, that's for sure. We make thousands of decisions every day, so this ability is key.
14. One or More of the Six Basic Fears
In Think & Grow Rich, Hill also describes the basic fears that all humans have in life. The basic fears are:
Fear of poverty
Fear of criticism
Fear of ill health
Fear of loss of love
Fear of old age
Fear of death
Possessing one of these six basic fears may also be one of the major causes of failure. It's important to remember in this circumstance, that we all eventually die. Therefore we have nothing to lose, and the fear above should not keep us from living our dream life.
15. Wrong Selection of a Mate in Marriage
Your marriage is going to affect your career. That's a given. If you're in a marriage where your partner supports you, and you are both happy, then it'll be beneficial to your career.
If however, you're always arguing, then it's going to affect your performance during work. Choose your life partner wisely.
16. Over-Caution
In order to get far in life, you have to take risks. You'll only get so far by playing it safe. Risks are often necessary, and they don't always work out. But eventually, they do.
Those who are too cautious, and afraid to venture into the unknown, will often fail.
17. Wrong Selection of Associates in Business
Who you choose to do business with can often be another huge cause of failure. Choosing someone who lacks the right qualities can often end up in them making the wrong decisions, and ruining all your hard work in business.
Another choice you need to make wisely.
18. Superstition & Prejudice
Superstition is a big issue people face with their mindset. In fact, if you follow Tai Lopez, you'll know that he likes to give away free cars every so often.
Many of the people who have won the free cars, did not believe they'd really won. They thought it was fake. So guess what? Tai gave the car to someone else.
19. Wrong Selection of a Vocation
So many people make this common error. Picking the wrong line of work. Unless it's something you can't go a day without thinking about, then you shouldn't be doing it.
However, 95% of people hate waking up on Monday because they have to travel to jobs they do not like. They are only there to get that paycheck. Why?
I'll never understand. Find something you love.
20. Lack of Concentration of Effort
Do you know how long the human attention span is?
It's not very long at all. This means concentrating on something for a long period of time is ridiculously hard. And it's even harder if you're trying to concentrate on something you don't like.
21. The Habit of Indiscriminate Spending
Do you often buy things you don't really need?
How much money has that new T.V made you recently? $0? That's strange…
Wasting money instead of investing it in yourself, is what separates the rich from the poor. Think about that the next time you want to buy a whole new wardrobe.
22. Lack of Enthusiasm
Enthusiasm is a key to achieving success with anything you do. Without enthusiasm or a real passion for your work, you will be unable to go the distance.
This is the same reason why people who chase money will never find it. When money is a driving force, instead of passion, you will give up on the activity long before you become successful at it.
Passion for something means you want to do it every single day, regardless of how much money you're earning, or the number of setbacks you're experiencing.
23. Intolerance
Being open-minded is something every good businessman should be. Open to new ideas, new ways of thinking, new types of people.
Intolerance of others, and their ideas, is going to hurt your reputation. Especially when the people you're intolerant of are people you work with or do business with.
24. Intemperance
Intemperance, similar to intolerance in many ways, is another one of the major causes of failure. If you're someone who has a tendency to get angry, you're going to end up annoying a lot of people. You're also going to end up ruining your productivity.
25. Inability to Cooperate With Others
Collaboration with others is inevitable. After all, every business is in the business of people. If you are unable to cooperate with other people, then you won't get very far at all.
The only way to get what you want is to help other people get what they want; and that won't happen for anybody who refuses to cooperate with others.
26. Possession of Power Not Acquired Through Self-Effort
People who have been given power, and not earned it themselves, are destined to fail.
They are destined to fail because in most cases they will not have adopted and mastered the essential habits and skills required to earn this power in the first place.
They also most likely lack the experience and knowledge required to use their power properly.
People who acquire power without this effort will not be able to control it, use it efficiently, nor should they be trusted with it.
27. Intentional Dishonesty
It doesn't matter whether you're lying to yourself or to other people. A lack of honesty will come back to haunt you in the end. People won't want to work with you. They won't trust you. You won't be true to yourself.
The whole thing's a house of cards.
28. Egotism & Vanity
Ego often gets in the way of people improving their knowledge and education. It also gets in the way of collaboration.
I've come across many people who are either too stubborn to understand why they're wrong or collaborate with other people because they think they're bigger than everyone else.
29. Guessing Instead of Thinking
If you're guilty of this, you're just asking for failure. Guessing instead of thinking? Come on.
There are a lot of people who start arguments because they have this type of mindset. They just assume, and then forget to actually do the research before forming their opinion.
Don't be one of these people.
30. Lack of Capital
Lastly, lack of capital is 30th on the list of major causes of failure. Money is obviously an issue for many people who have dreams and ideas, in most cases to build the business they desire.
Often, if their business plan is good enough, they'll be able to seek investors or be able to start smaller with lower costs.
Summary
Here's a recap on the 30 major causes of failure from Think & Grow Rich:
Unfavourable Hereditary Background
Lack of a Well Defined Purpose in Life
Lack of Ambition to Aim Above Mediocrity
Insufficient Education
Lack of Self-Discipline
Ill Health
Unfavourable Environmental Influences During Childhood
Procrastination
Lack of Persistence
Negative Personality
Lack of Controlled Sexual Urge
Uncontrolled Desire for 'Something for Nothing'
Lack of a Well Defined Power of Decision
One or More of the Six Basic Fears
Wrong Selection of a Mate in Marriage
Over-Caution
Wrong Selection of Associates in Business
Superstition & Prejudice
Wrong Selection of a Vocation
Lack of Concentration of Effort
The Habit of Indiscriminate Spending
Lack of Enthusiasm
Intolerance
Intemperance
Inability to Cooperate With Others
Possession of Power Not Acquired Through Self-Effort
Intentional Dishonesty
Egotism & Vanity
Guessing Instead of Thinking
Lack of Capital
How many major causes of failure have you been guilty of? Leave a comment below.