What is Vanilla Ice's net worth?
| Net Worth: | $12 Million |
| --- | --- |
| Age: | 53 |
| Born: | October 31, 1967 |
| Country of Origin: | United States of America |
| Source of Wealth: | Professional Rapper |
| Last Updated: | 2021 |
As of June 2022, Vanilla Ice's net worth is estimated to be $12 million.
Robert Matthew Van Winkle "Vanilla Ice" is an American actor, rapper, and television host from Dallas. Ice released his debut album 'Hooked' in 1989 which gained a huge hit.
Ice later signed a contract with SBK Records, a record label of the EMI Group. His 1990 single 'Ice Ice Baby' was his first hip-hop single to top the Billboard charts.
Early Life
Robert Matthew Van Winkle was born in Dallas on October 31, 1967. He has never known his biological father and was given his family name from his mother.
Vanilla Ice was affected by hip-hop at an early age saying; "It's a very big passion of mine because I love poetry. I was just heavily influenced by that whole movement and it's molded me into who I am today."
Career
Vanilla Ice began his career by forming the breakdancing troupe 'The Vanilla Ice Posse'. He later was asked to perform regularly in a South Dallas nightclub. Ice was accompanied by disk jockeys D-Shay and Earthquake on his performances.
The owner of the club later recognized Ice's potential and signed a contract with him in 1987.
The single 'Ice Ice Baby' was featured on his debut album and became a huge hit which led that he son had a huge fan base. A music video was also created for the song which was aired by several television channels.
The fast success of his debut album made him sign a contract with SBK Records where the song 'Hooked' was remixed.
Vanilla Ice later releases another album titled 'To the Extreme' in 1990 which also contained new music. Ice released his first live album 'Extremely Live' in 1991 which peaked at No. 30 on the Billboard 200.
In 1992 Vanilla Ice spent the year touring and performing all over the world. His next album 'Min Blowin' was released in 1994.
By now his popularity had begun to tank, the album received negative reviews and didn't do too well in sales. The falling career troubled the singer and he became increasingly dependent on drugs.
He later decided to take a break from the music career to focus on his other passions, motocross, and jet skiing. Vanilla Ice returned to music in 1998 with his new album 'Hard to swallow'. Ice tried his best to reach his past success but didn't succeed.
As of June 2022, Vanilla Ice's net worth is $12 million.
Highlights
Here are some of the best highlights of Vanilla Ice career:
Ice Ice Baby (Song, 1990)
To the Extreme (Album, 1990)
Cool as Ice (Song, 1991)
Grammy Awards (Best Solo Rap Performance, 1991) – Won
Roll Em' Up (Song, 1994)
Mind Blowin' (Album, 1994)
Too Cold (Song, 1998)
Tha Weed Song (Song, 2007)
Bi-Polar (Album, 2007)
Born on Halloween (Song, 2011)
Rock Star Party (Song, 2011)
W.T.F (Album, 2011)
Favorite Quotes from Vanilla Ice
"One thing I didn't understand in life was that I had $100,000,000 in the bank and I couldn't buy happiness. I had everything: mansions, yachts, Ferraris, Lamborghinis, but I was depressed. I didn't know where I fitted in. But then I found family and friends and I learned the value of life." – Vanilla Ice 
"Listen, if you don't talk the big game, you never get anywhere. If you don't think big, you don't get big. Some people call it egotistical, some people call it high hopes, some people call it confidence. It's all in how you want to dissect it." – Vanilla Ice 
"When 'Ice Ice Baby' was selling a million records a day, I bought several properties: a home next to Michael J. Fox in L.A., a palace in Miami and a mountain cabin in Utah. Then, a few years later, I took a break from touring, saw that my properties had cobwebs, so I sold them, and – to my surprise – I made a huge profit!" – Vanilla Ice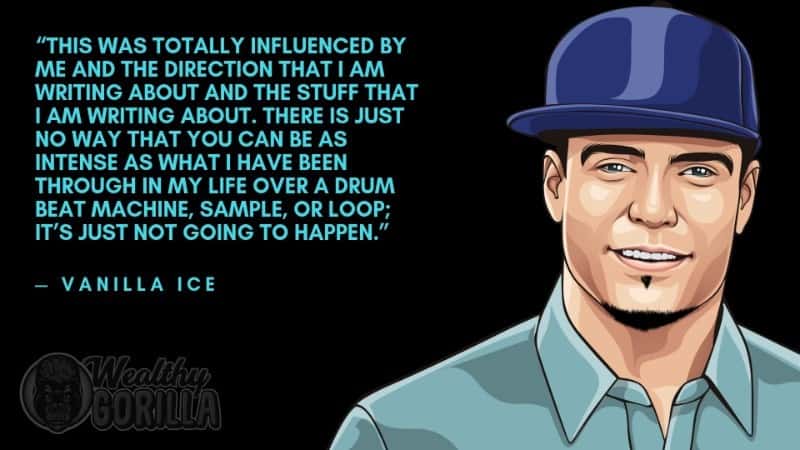 "This was totally influenced by me and the direction that I am writing about and the stuff that I am writing about. There is just no way that you can be as intense as what I have been through in my life over a drum beat machine, sample, or loop; it's just not going to happen." – Vanilla Ice 
View our larger collection of Vanilla Ice quotes!
Summary
Vanilla Ice has been a popular rapper for as long as we can remember. His huge hit 'Ice Ice Baby' has featured in several movies and TV-shows. Vanilla Ice has throughout his career collaborated with some of the best rappers in the world.
However, despite legal woes and trouble keeping his career afloat he still has an incredible net worth.
As of June 2022, Vanilla Ice's net worth is estimated to be roughly $12 million.
What do you think about Vanilla Ice's net worth? Leave a comment below.
<![CDATA[ */ var zbjs = {"ajaxurl":"https:\/\/wealthygorilla.com\/wp-admin\/admin-ajax.php","md5":"ac468c234e8fd556900e64b356f3f60e","tags":[],"categories":["Net Worth"]}; /* ]]>