What are the best comedy shows on Netflix to watch right now?
That's the question I aim to answer in this list. I don't know about you, but I love a good comedy. Nothing beats a good old belly tickle!
So, I've created a list of the 25 best comedy shows on Netflix to watch right now.
Use the list to decide what to watch and determine your personal favourite.
Number 8 is my personal favourite!
The Best Comedy Shows on Netflix
The comedy shows and figures mentioned below have been compiled from various sources around the web, including Ranker.com & IMDB.
These are the 25 best comedy shows on Netflix to watch right now:
25. Young & Hungry
Young & Hungry is an American sitcom by David Holden. It follows a young food blogger that's in desperate need for a job.
Gabi (Emily Osment), hears about a job opening as a personal chef for a wealthy tech entrepreneur, Josh Kaminski (Jonathan Sadowski), and decides to go for the opportunity.
Needing to impress Elliot, Josh's assistant, Gabi get's help from her best friend and Josh's housekeeper.
Love might be just around the corner for Gabi.
24. Pretty Little Liars
This American teen drama mystery-thriller follows the lives of 5 high school girls. After their clique falls apart, due to the disappearance of their leader, the group are forced to reunite a year later.
They receive strange messages from a mysterious figure called "A", claiming to know their deepest secrets. This raises concern in the group, as they thought Alsion, their leader, was the only one that knew.
In the beginning, they think its Alison herself, but the discovery of her body quickly chances that hypothesis and they soon begin to realise someone else is to blame.
23. Shameless
Enjoy and laugh at the Gallagher family dealing with their Irish American alcoholic father, Frank.
Of six brothers and sisters, Fiona, the eldest, steps up to play the role of the parent in the household and has to juggle her own sex life with the everyday lives of her family.
In each crazy episode, one of the brothers or sisters ends up getting in trouble or causing some kind of incident.
Follow their journey as they grow and progress through their chaotic life.
22. Parenthood
The show revolves around the Braverman family. It follows each child, now all adults, and the lives they've created for themselves.
The series is set in Berkeley, California on the east shore of the San Francisco Bay. After forty-six years of marriage, mum and dad have managed to keep things under wraps and bury their problems.
Each member of the family is different in some shape or form, from personality to career goals and aspirations.
These differences cause many confrontations and a number of laughs!
21. Santa Clarita Diet
Sheila and Joel are a loving married couple, both working as real estate agents in Santa Clarita, California.
However, things quickly turn dark, when Shelia transforms into a human flesh-craving zombie. Horrified by what happened to his wife, Joel has to adapt to the unique situation and deal with living in a normal neighbourhood with a gruesome secret.
In the end, the whole family are in on it and try to get to the bottom of the undead mystery.
20. Trailer Park Boys
Ricky, Julian, and Bubbles, three American men living in a trailer park, spend their days making a living committing petty crimes, whilst avoiding the police.
Their hair-brained schemes are complicated by the trailer parks alcoholic supervisor, Jim Lahey, and his lover Randy.
Ricky and Julian end up in and out of jail throughout the series and each final episode sees them on the road to success. However, this is soon short lived as by the next series they're discussing how everything went wrong.
19. The Inbetweeners
The Inbetweeners is a British sitcom series following four friends shenanigans during their final years of school.
Simon Cooper (Joe Thomas), Jay Cartwright (James Buckley) and Neil Sutherland (Blake Harrison) have been friends for years and make it their mission to get as much sex, beer and adult activities as they can.
When Will McKenzie (Simon Bird), a slightly posh, nerdish character transfers to their school after his mum could no longer afford the private school tuition, he becomes the fourth member of their squad and more often than not becomes the butt of their jokes.
18. The Good Place
American fantasy-comedy The good Place is about a town of the same name, where people that have been good throughout their life go to when they die.
It follows Eleanor Shellstrop (Kristen Bell) as she finds herself waking up in the town, but totally undeserving of her place.
So, in order to fit in and earn her rightful place, she tries to hide her morally imperfect behaviour whilst working on becoming a better version of herself.
17. Jane the Virgin
Set in Miami, Jane the Virgin is about exactly that. Jane Gloriana Villanueva (Gina Rodriguez) is a young religious Latina waitress that gets artificially inseminated by accident by her doctor on a routine checkup.
Her mother is concerned that she will be making a big mistake by bringing the baby into the world, but her grandmother encourages her to do what she wants.
It turns out the child's biological father is actually her former teenage crush!
16. Blue Mountain State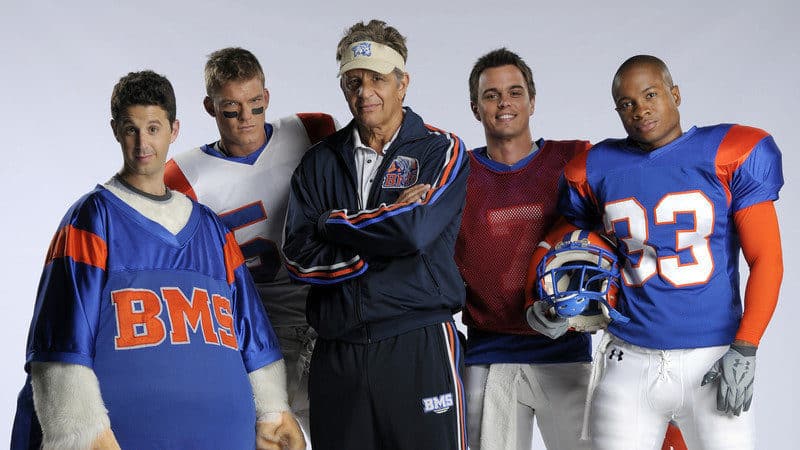 Blue Mountain State is about a fictional university of the same name and its football team, "the mountain goats". It follows typical aspects of American university life, like sex, binge drinking, American football, wild parties, and drugs.
Three fresh-faced freshmen must quickly adapt to their new college life and juggle all that university life has to offer – both good and bad!
Blue Mountain State appears 16th on this list of the best comedy shows on Netflix.
15. The IT Crowd
The IT Crowd is a British sitcom about a team of IT professionals set in fictional Reynholm Industries.
The show centres around Maurice Moss (Richard Ayoade), Roy Trenneman (Chris O'Dowd), and Jen Barbers (Katherine Parkinson) antics, as they try to do their job as best they can.
In most cases, their work and social antics end badly, which makes for a good laugh.
This is definitely one of the best comedy shows on Netflix right now!
14. Orange Is the New Black
Piper Chapman is a public relations executive whose life takes a turn for the worst when a previous association with a drug runner 10 years earlier catches up with her.
From her corporate career to a 15-month prison sentence, Piper is forced to trade her swanky suits for prison orange and adjust to her new life behind bars.
However, it's not all bad as she soon makes friends with a variety of unusual and eccentric characters.
13. iZombie
Developed by Rob Thomas and Diane Ruggiero-Wright, iZombie is a loose adaption of comic book series of the same name.
Medical student Olivia Moore (Rose McIver) gets invited to a party which crazily turns into a zombie nightmare! Olivia dies and wakes up as a zombie herself.
Like most zombies, in order to survive she needs to eat human brains, so she gets herself a job at a coroner's office, which is kind of like a zombie buffet!
It turns out that eating brains passes on memories and traits of that person, so she ends up helping detective Clive Babineaux (Malcolm Goodwin) solve a murder case.
12. Master of None
Released in 2015, Master of none follows Dev Shah (Aziz Ansari), a 30-year-old actor, living in New York City.
It mostly showcases his romantic, professional, and cultural experiences as he tries to make his way through life.
However, Dev finds it difficult to choose the correct pathway, let alone what he want's to eat each day. His story takes him on a diverse journey and many interesting experiences.
One of the best Netflix comedies available to watch right now.
11. Grace and Frankie
Created by Marta Kauffman and Howard J. Morris for Netflix, Grace and Frankie is an American comedy web television series that is great fun to watch!
Starring Jane Fonda (Grace Hanson) and Lily Tomlin (Frankie Bergstein), the story follows two friends after they find out that both their husbands are not just work partners, but have also been lovers for the last twenty years!
A must watch – Hysterical!
10. New Girl
New Girl is an American television sitcom created by Elizabeth Meriwether.
After a terrible break-up, Jess Day (Zooey Deschanel), a bubbly young woman, moves into a new apartment with three single men, Nick (Jake Johnson), Schmidt (Max Greenfield), and Winston (Lamorne Morris).
The show follows the group's interactions with each other and their romantic relationships.
Awkard is an understatement!
9. Unbreakable Kimmy Schmidt
Rescued from a doomsday cult that imprisoned her and three other women for 15 years, Kimmy Schmidt (Ellie Kemper) decides to move to New York City to enjoy a normal life.
She quickly makes friends with her new roommate Titus (Tituss Burgess) and finds herself a job as a waitress.
Adapting to the world around her, Kimmy makes the best of her new life and remains positive.
Unbreakable Kimmy Schmidt appears as 9th on this list of the best comedy shows on Netflix.
8. Frasier
This 1993 American sitcom is just hilarious to watch. It's certainly one of the best comedy shows on Netflix, that's for sure!
It follows the life of Dr Frasier Crane, psychiatrist and radio personality, as he returns to his hometown of Seattle to build a new life for himself while reconnecting with his brother and father.
His new life brings new friends, lovers and awkward social gatherings, which is when his wit and wisdom is at its best!
7. Bojack Horseman
Starring Will Arnett as BoJack Horseman, the show takes place in an alternate world where humans and human-like animals live side by side.
Bojack, a washed-up TV star from the 1990s sitcom Horsin' Around, now spends most of his days complaining about life whilst living in Hollywood.
However, he's planning a big return to celebrity relevance with a new autobiography!
6. That '70s Show
High school student Eric Forman (Topher Grace) is considered to be clumsy, a little geeky and an all-around nice guy.
He grows up in Wisconsin in 1976 with his family and friends and enjoys the highs and lows of life that just about every teenager has while growing up.
The show also follows the lives of five of his teenage best friends.
5. Friends
An absolute classic and some comedy gold, Friends marks the start of our top five and well deserves its place as one of the best comedy shows on Netflix.
Rachel Green, Ross Geller, Monica Geller, Joey Tribbiani, Chandler Bing and Phoebe Buffay are an average group of friends living in New York City.
We see them all go through some pretty hilarious fights, laughs, tears, surprises and mayhem.
It's brilliant! Nothing more to say. Go watch this one as soon as you can…
Friends appears 5th on this list of the best comedy shows on Netflix.
4. Cheers
Set in a bar named Cheers in Boston, Massachusetts, where a group of locals meet to drink, relax, and socialize, Cheers was Run on NBC from September 30, 1982, to May 20, 1993, with a grand total of 275 half-hour episodes over eleven seasons.
It became a massive success, winning multi-Emmy awards and is widely regarded as one of the most popular series of all time.
3. Parks and Recreation
There's a reason why this is one of the best Netflix comedies on our list because it's just too funny not to be.
Leslie Knope (Amy Poehler), a mid-level bureaucrat in an Indiana Parks and Recreation Department, is looking to beautify her town, hoping this will also help her career.
She begins by helping local nurse Ann Perkins (Rashida Jones) turn an abandoned construction site into a community park.
However, things don't quite go to plan as she's faced with a myriad of challenges from the government, neighbours and bureaucrats.
2. Arrested Development
Arrested Development is an American television sitcom created by Mitchell Hurwitz and released in 2003.
After the Bluth family were at the height of the real estate development business in Orange County, California, their business goes bust and the families assets are frozen.
Michael Bluth (Jason Bateman) takes over his families affairs after his fathers imprisoned, however, the rest of his dysfunctional family are making his job unbearable.
This is one of the best comedy shows on Netflix!
1. The Office
Created, written, and directed by Ricky Gervais and Stephen Merchant and first broadcast in the UK on BBC Two on 9 July 2001.
The show is set in a fictional mediocre Wernham Hogg paper company and follows the day-to-day lives of a group of regular office employees.
It focuses on themes of social clumsiness, the trivialities of human behaviour, self-importance, frustration, desperation and fame.
If you haven't seen an episode already, I highly suggest you choose this as your first Netflix comedy to watch!
It's a cracker! Enjoy!
Summary
I hope you enjoyed our list of the 25 best comedy shows on Netflix.
Either way, you're bound to find something you'll enjoy.
To save time scrolling, here's a quick recap of the 25 best comedy shows on Netflix to watch right now:
The Office
Arrested Development
Parks and Recreation
Cheers
Friends
That '70s Show
Bojack Horseman
Frasier
Unbreakable Kimmy Schmidt
New Girl
Grace and Frankie
Master of None
iZombie
Orange Is the New Black
The IT Crowd
Blue Mountain State
Jane the Virgin
The Good Place
The Inbetweeners
Trailer Park Boys
Santa Clarita Diet
Parenthood
Shameless
Pretty Little Liars
Young & Hungry
Which are your favorite comedy shows on netflix? Leave a comment below.