100+ Highly Motivational Picture Quotes to Read Now
We've put together an incredible collection of 100 highly motivational picture quotes to read right now!
Check them out below…
100 Highly Motivational Picture Quotes
1. "Dream big and dare to fail." – Norman Vaughan
2. "Success usually comes to those who are too busy to be looking for it." – Henry David Thoreau
3. "If you believe very strongly in something, stand up and fight for it." – Roy T. Bennett
4. "I believe that one of life's greatest risks is never daring to risk." – Oprah Winfrey
5. "You don't drown by falling in the water; you drown by staying there." – Ed Cole
6. "The distance between insanity and genius is measured only by success." – Bruce Feirstein
7. "You will never plough a field if you only turn it over in your mind." – Irish Proverb
8. "Happiness is not something readymade. It comes from your own actions." – Dalai Lama
9. "Life doesn't give you what you want. It gives you what you work for." – Author Unknown
10. "Duty makes us do things well, but love makes us do them beautifully." – Zig Ziglar
11. "You can, you should, and if you're brave enough to start, you will." – Stephen King
12. "Motivation is what gets you started. Habit is what keeps you going." – Jim Ryun
13. "If you never challenge yourself, you will never know your potential." – Unknown Author
14. "When you go in search of honey, you must expect to be stung by bees." – Joseph Joubert
15. "I'm always afraid of failing. It's great motivation to work harder." – Mark Cuban
16. "If plan 'A' didn't work, the alphabet has 25 more letters! Stay cool." – Author Unknown
17. "Courage is resistance to fear, mastery of fear, not absence of fear." – Mark Twain
18. "There is no greater agony than bearing an untold story inside you." – Maya Angelou
19. You are never too old to set another goal or dream a new dream." – C.S Lewis
20th of 100 Highly Motivational Picture Quotes
20. "Accept what is, let go of what was, and have faith in what will be." – Sonia Ricotti
21. "Be humble. Be hungry. And always be the hardest worker in the room." – Dwayne Johnson
22. "A ship in harbor is safe, but that's not what ships are built for." – John A. Shedd
23. "You must not only aim right, but draw the bow with all your might." – Henry David Thoreau
24. "The man who moves a mountain begins by carrying away small stones." – Confucius
25. "What great thing would you attempt if you knew you could not fail?" – Robert H. Schuller
26. "A comfort zone is a beautiful place, but nothing ever grows there." – Unknown Author
27. "Be brave to stand for what you believe in, even if you stand alone." – Roy T. Bennett
28. "Life is short. Focus from this day forward on making a difference." – Unknown Author
29. "People know you for what you've done, not for what you plan to do." – Unknown Author
30. "Do you give as much energy to your dreams as you do to your fears?" – Unknown Author
31. "Your time is limited, so don't waste it living someone else's life." – Steve Jobs
32. "Learn the rules like a pro, so you can break them like an artist." – Pablo Picasso
33. "Whatever the mind of man can conceive and believe, it can achieve." – Napoleon Hill
34. "The only difference between dreams and achievements is hard work." – Chris Bollwage
35. "I attribute my success to this – I never gave or took any excuse." – Florence Nightingale
36. "It's not how much you do, but how much love you put in the doing." – Mother Teresa
37. "Rise up, start fresh, see the bright opportunity in each new day." – Author Unknown
38. "Your life is your message to the world. Make sure it's inspiring." – Unknown Author
39. "You only live once, but if you do it right, once is all you need." – Unknown Author
40th of 100 Highly Motivational Picture Quotes
40. "The man who wakes up and finds himself famous hasn't been asleep." – Unknown Author
41. "The master has failed more times than the beginner has ever tried." – Stephen McCranie
42. "God gives us dreams a size too big so we can grow into them." – Unknown Author
43. "When I work fourteen hours a day, seven days a week, I get lucky." – Armand Hammer
44. "The successful warrior is the average man with laser-like focus." – Bruce Lee
45. "We are masters of our destinies, we are the captains of our soul." – Spanish Quotes
46. "It does not matter how slowly you go, as long as you do not stop." – Confucius
47. "Always do your best, what you plant now, you will harvest later." – Og Mandino
48. "Keep your face to the sunshine and you can never see the shadow." – Helen Keller
49. "A diamond is a chunk of coal that did really well under pressure." – Henry Kissinger
50. "Success is the sum of small efforts, repeated day in and day out." – Robert Collier
51. "It's better to conquer yourself than to win a thousand battles." – buddha
52. "Be not afraid of going slowly. Be afraid only of standing still." – Chinese Proverb
53. "We don't see things the way they are. We see them the way we are." – Talmud
54. "If things seem under control, you are just not going fast enough." – Mario Andretti
55. "Life is what happens to you when you're busy making other plans." – John Lennon
56. "Obsessed is just a word the lazy use to describe the dedicated." – Unknown Author
57. "The clock is ticking. Are you becoming the person you wanna be?" – Greg Plitt
58. "Our dreams can come true, if we have the courage to pursue them." – Walt Disney
59. "You can never quit. Winners never quit, and quitters never win." – Ted Turner
60th of 100 Highly Motivational Picture Quotes
60. "Never talk defeat. Use words like hope, belief, faith, victory." – Norman Vincent Peale
61. "We can do anything we want to if we stick to it long enough." – Helen Keller
62. "Just because you made a mistake doesn't mean you are a mistake." – Georgette Mosbacher
63. "If at first you don't succeed, dust yourself off and try again." – Aaliyah
64. "It's not whether you get knocked down. It's whether you get back up." – Vince Lombardi
65. "Go big or go home. Because it's true. What do you have to lose?" – Eliza Dushku
66. "The will to win is important, but the will to prepare is vital." – Joe Paterno
67. "Always make a total effort. Even when the odds are against you." – Arnold Palmer
68. "Life isn't about finding yourself. It's about creating yourself." – Author Unknown
69. "It's not so important who starts the game, but who finishes it." – John Wooden
70. "Try, really try. Think, really think. Believe, really believe." – Norman Vincent Peale
71. "We are called to be architects of the future, not its victims." – Buckminster Fuller
72. "It's easier to do a job right than to explain why you didn't." – Martin Van Buren
73. "Whether you think you can or you can't, you're right." – Henry Ford
74. "If the plan doesn't work, change the plan, but never the goal." – Unknown Author
75. "If you can't stop thinking about it, don't stop working for it." – Unknown Author
76. "Make it happen now, not tomorrow. Tomorrow is a loser's excuse." – Farrah Gray
77. "Forget your past, forgive yourself, and begin again right now." – Unknown Author
78. "Keep stepping towards your dreams, no matter how hard it seems." – Unknown Author
79. "In the end, your greatest pain becomes your greatest strength." – Drew Barrymore
80th of 100 Highly Motivational Picture Quotes
80. "To live a creative life, we must lose our fear of being wrong." – Unknown Author
81. "Only those who dare to fail greatly can achieve greatly." – Robert Francis Kennedy
82. "The person without a purpose is like a ship without a rudder." – Thomas Carlyle
83. "If you cannot do great things, do small things in a great way." – Napoleon Hill
84. "Don't sweat the petty things, and don't pet the sweaty things." – George Carlin
85. "The size of your success depends on the depth of your desire." – Unknown Author
86. "What you do speaks so loudly that I cannot hear what you say." – Ralph Waldo
87. "Nothing disturbs your peace of mind unless you allow it to." – Roy T. Bennett
88. "I haven't failed. I've just found 10000 ways that don't work." – Thomas Edison
89. "The bamboo that bends is stronger than the oak that resists." – Japanese Proverb
90. Start each day with a positive thought and a grateful heart." – Roy T. Bennett
91. "Don't me I can't do it; don't tell me it can't be done." – Leonardo DiCaprio
92. "Dream as if you'll live forever, live as if you'll die today." – James Dean
93. "The greatest oak was once a little nut, who held its ground." – Unknown Author
94. "Before you give up, think of the reason you held on so long." – Drake
95. "Small daily improvements over time lead to stunning results." – Robin Sharma
96. "One's best success comes after their greatest disappointments." – Henry Ward Beecher
97. "Don't let what you cannot do interfere with what you can do." – John Wooden
98. "There are better starters than me, but I'm a strong finisher." – Usain Bolt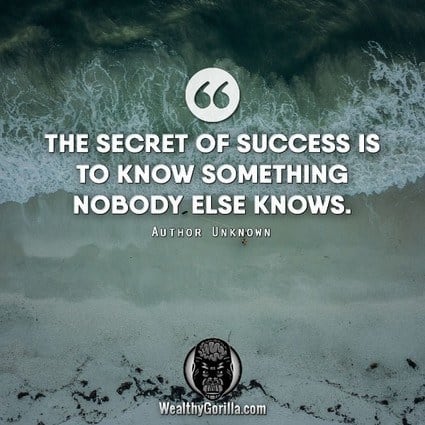 99. "The secret of success is to know something nobody else knows." – Author Unknown
100. "You never achieve success unless you like what you are doing." – Dale Carnegie
Summary
Thanks for viewing this collection of 100 highly motivational picture quotes!
Which are your favorite motivational picture quotes? Leave a comment below.
<![CDATA[ */ var zbjs = {"ajaxurl":"https:\/\/wealthygorilla.com\/wp-admin\/admin-ajax.php","md5":"ac468c234e8fd556900e64b356f3f60e","tags":[],"categories":["Quotes"]}; /* ]]>