What is Jennifer Aniston's net worth?
| Net Worth: | $320 Million |
| --- | --- |
| Age: | 53 |
| Born: | February 11, 1969 |
| Gender: | Female |
| Height: | 1.64 m (5 ft 5 in) |
| Country of Origin: | United States of America |
| Source of Wealth: | Professional Actress |
| Last Updated: | August 2, 2022 |
As of February 2023, Jennifer Aniston's net worth is estimated to be roughly $320 Million.
Jennifer Aniston is an American actress, film producer, businesswoman, and philanthropist from Sherman Oaks. Aniston is best known for the television sitcom 'Friends' which became a worldwide success.
Later, her successful portrayal of an unglamorous cashier in 'Good Girl' set her free from such a stereotype image. Aniston is also known for her fight for equal rights for the LGBT community.
Early Life
Jennifer Aniston was born in Sherman Oaks, Los Angeles on the 11th of February, 1969. Both of her parents were known as well-known actors, and her father was best known for his role in 'Fays of Our Lives'. Her mother, Nancy Dow also made a name for herself by her performances in multiple movies and TV-shows.
Aniston attended Waldorf School when she was 6 years old, and three later her parents divorced. Her acting career began at the age of 11 while she was studying in Waldorf School.
Career
Jennifer Aniston began her acting career by working in Off-Broadway shows like 'For Dear Life' and 'Dancing on Checker's Grave'. Aniston could not make enough salary out of her acting career, so to support herself she took up different part-time jobs such as a waitress.
Aniston appeared on 'The Howard Stern Show' which was hosted by Howard Stern himself. She also worked as a spokesmodel for Nutrisystem. The same year, she moved to Los Angeles, where her father used to live.
In 1993, Aniston made her film debut in 'Leprechaun' which was a horror film that received mostly negative reviews. However, the breakthrough came with the comedy sitcom 'Friends' that aired on NBC from 1994 to 2004.
Jennifer portrayed the role of Rachel Green, and the show became a huge success. Since then, Aniston has been starring in films such as 'Bruce Almighty' (2003), 'Marley & Me' (2008), 'Horrible Bosses' (2011) and 'Cake' (2014).
Other than acting in films, Aniston did multiple commercials and became a brand ambassador for many well-known companies. Aniston also founded a film production company named Plan B Entertainment.
Over the years, Aniston has worked with a ridiculous number of stars, including:
As of February 2023, Jennifer Aniston's net worth is $320 Million.
Highlights
Here are some of the best highlights of Jennifer Aniston's career:
Friends (TV-Show, 1994-2004)
Bruce Almighty (Movie, 2003)
Golden Globes (Best Performance by an Actress, 2003) – Won
The Break-Up (2006)
Marley & Me (Movie, 2008)
The Bounty Hunter (Movie, 2010)
Horrible Bosses (Movie, 2011)
We're The Millers (Movie, 2013)
Horrible Bosses 2 (Movie, 2014)
Cake (Movie, 2014)
The Yellow Birds (Movie, 2017)
Murder Mystery (2019)
Favorite Quotes from Jennifer Aniston
"I remember being seven and asking my mom if I was as pretty as Monique [my best friend in grade school]. And with all the love in the world, my mom looked at me and said, 'Oh, honey, you're so funny.' So, she doesn't lie to me…she answers the question by not answering and instead tells me what she thinks is my greatest strength." – Jennifer Aniston
"For the last year and a half, I went from being a crazy workout girl to sort of saying, "My body wants a little bit an of a break." So I kind of stay with more simple stuff and taking walks and not being neurotic about working out and eating right. I started to enjoy life a little bit more. The only downside to that is there are that couple extra pounds and about 4,000 pregnancy rumors, but you know, other than that, it feels great." – Jennifer Aniston
"I think it's important to have closure in any relationship that ends – from a romantic relationship to a friendship. You should always have a sense of clarity at the end and know why it began and why it ended. You need that in your life to move cleanly into your next phase." – Jennifer Aniston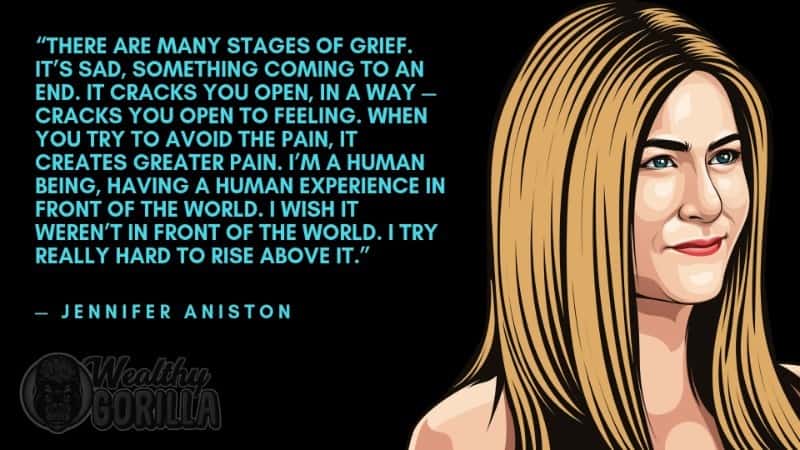 "There are many stages of grief. It's sad, something coming to an end. It cracks you open, in a way — cracks you open to feeling. When you try to avoid the pain, it creates greater pain. I'm a human being, having a human experience in front of the world. I wish it weren't in front of the world. I try really hard to rise above it." – Jennifer Aniston
"Relationships are two people; everyone is accountable. A lot goes into a relationship coming together, and a lot goes into a relationship falling apart. Even if it's 98 percent the other person's fault, it's 2 percent yours… You can only clean up your side of the street." – Jennifer Aniston
View our larger collection of the best Jennifer Aniston quotes!
Frequently Asked Questions
How much is Jennifer Aniston worth?
Jennifer Aniston's net worth is estimated to be $320 Million.

How old is Jennifer Aniston?
Jennifer Aniston was born on February 11, 1969, and is currently 53 years old.

How tall is Jennifer Aniston?
Jennifer Aniston's height is 1.64 m, which is equal to 5 ft 5 in.

Summary
At this point, it probably goes without saying that Jennifer Aniston is one of the most popular, famous and highly sought after comedic actresses in Hollywood. She's also been ranked as one of the hottest women in the world.
As of February 2023, Jennifer Aniston's net worth is estimated to be $320 Million.
What do you think about Jennifer Aniston's net worth? Leave a comment below.