What is Will Smith's net worth?
| Net Worth: | $350 Million |
| --- | --- |
| Age: | 53 |
| Born: | September 25, 1968 |
| Gender: | Male |
| Height: | 1.88 m (6 ft 2 in) |
| Country of Origin: | United States of America |
| Source of Wealth: | Actor/Rapper |
| Last Updated: | August 2, 2022 |
Will Smith's net worth is estimated at $350 Million, making him one of the richest actors in the world.
At 51 years old, Will Smith is an American actor, rapper, and songwriter. Millions love him, and he's unarguably been one of the most lovable actors throughout his career.
Early Life
Will Smith was born in Philadelphia, Pennsylvania on the 25th September 1968. Smith's mother was a school board administrator, and his father a refrigerator engineer.
He has three siblings; his older sister Pamela, and younger twins Harry and Ellen.
Smith went to Overbrook High School and did get offered a scholarship at MIT, which he turned down because he had no intentions of going to college. His dream was to become a rapper, and that's what he set out to do.
Career
Smith's career started out by forming the rap group 'DJ Jazzy Jeff & The Fresh Prince' with his friend Jeffrey Townes in the 80's. They had several famous hits, including 'Summertime' and 'Parents Just Don't Understand'.
The problem came when Will started spending a lot of money, and ended racking up a tax debt of $2.8 million. The IRS took various possessions of Smith's, and it was at that time he was approached about the making of the sitcom 'The Fresh Prince of Bel Air'.
Needing money, and open to trying new things, Smith accepted the opportunity, and the show was a huge success. For a short while, 25% of his pay-cheque from the show was going straight to the IRS.
After appearing in the show, he starred in several films in the '90s, including Six Degrees of Separation, Bad Boys, Men in Black, and Enemy of the State.
Since then, Will Smith has broken acting records, appeared in some of the most successful films worldwide, and has become one of the highest-paid actors in the world.
Smith has worked with some of the best actors in the industry, including Margot Robbie, Martin Lawrence, Jason Bateman, and his own son Jaden Smith.
As of February 2023, Will Smith's net worth is estimated at $350 Million.
How Does Will Smith Spend His Money?
The Smiths spend a good amount of their money on luxury cars. Will owns a Bentley Azure, a Mayback 57s, a 1965 Ford Mustang, a Cadillac Escalade, and a Mercedes Benz GL450.
Will Smith and his wife have taken many vacation trips in the past and they do not come cheap. Over the years the Smiths have owned real estate worth $100 million across the world.
Their home in Calabasas costs $42 million. The Smiths spend some of their millions spoiling their three kids; Jaden, Willow, and Trey. In 2016, they bought Jaden his own 6000 square foot home worth $4 million.
Will Smith and Jada have their own foundation, "The Will and Jada Smith Family Foundation", which has given over $1 million to charities and other organizations.
Their biggest beneficiaries have been Christian churches, the Scientology organization, and Mosques. They also donated funds to build a Scientologist school in 2010.
Highlights
Here's a list of some of the best work Will Smith has starred in:
The Fresh Prince of Bel Air
Bad Boys I & II (1995 & 2002)
Independence Day (1996)
Men in Black I, II & III (1997, 2002 & 2012)
Enemy of the State (1998)
Ali (2001)
Hitch (2005)
The Pursuit of Happyness (2006)
I Am Legend (2007)
Seven Pounds (2008)
Focus (2015)
Suicide Squad (2016)
Bright (2017)
Aladdin (2019)
Gemini Man (2019)
Bad Boys 3 (2020)
Favorite Quotes from Will Smith
"In my mind, I've always been an A-list Hollywood superstar. Y'all just didn't know yet." – Will Smith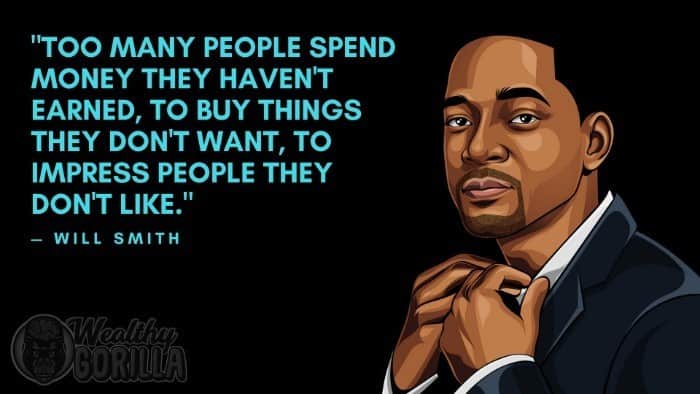 "Too many people spend money they haven't earned, to buy things they don't want, to impress people they don't like." – Will Smith
"Throughout life people will make you mad, disrespect you and treat you bad. Let God deal with the things they do, cause hate in your heart will consume you too." – Will Smith
"Money and success don't change people; they merely amplify what is already there." – Will Smith
"You can cry, ain't no shame in it." – Will Smith
"If it was something that I really committed myself to, I don't think there's anything that could stop me becoming President of the United States." – Will Smith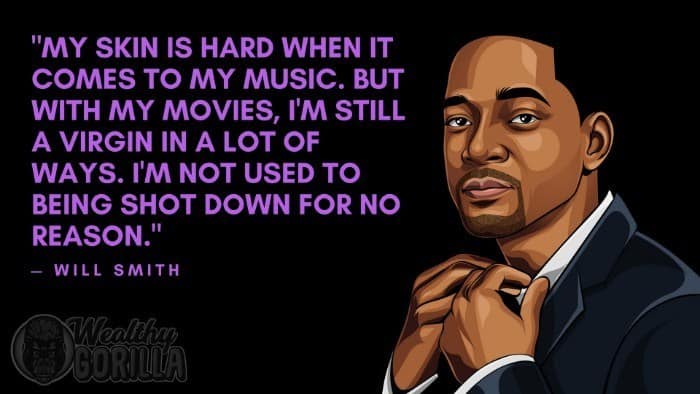 "My skin is hard when it comes to my music. But with my movies, I'm still a virgin in a lot of ways. I'm not used to being shot down for no reason." – Will Smith
"I don't know what my calling is, but I want to be here for a bigger reason. I strive to be like the greatest people who have ever lived." – Will Smith
View our larger collection of the best Will Smith quotes!
5 Rules for Success from Will Smith
Now you know all about Will Smith's net worth, his story and his early life, let's take a look at some of the success lessons we can learn from him. Here are 5 success lessons we can all learn from Will Smith:
1. Forget Plan B
Smith says that when you create a "Plan B", it distracts you from "Plan A", and he's right. If you have a backup plan for your life, and you've spent energy creating it, you'll have already lost focus on your main plan. Not only that, but you won't be too upset if it fails, because you have a backup.
Forget about creating a backup plan, stay on course towards your dream life.
2. Broaden Your Horizons
He could have just stuck with rap; a lot of people do. Instead, Smith moved into Television. From there, he starred in movie roles, and it was then that he started to become a major success.
Broaden your horizons, and don't be afraid to continuously try new things. You see this repeatedly with successful individuals. They start out doing one thing, and towards the end of the career they're doing other things which are closely related.
3. Work Harder than Everybody Else
Smith said he works incredibly hard, and we believe him. In fact, when he was on the set of The Fresh Prince of Bel Air, whilst others went home or took breaks, he would be studying his lines. It's that kind of work ethic that has catapulted him to the top of the ladder.
4. Make A Choice
You just decide what is going to be, who you are going to be, how you are going to do it. Just decide. And from that point, the universe is going to get out of your way. It's water, it wants to move and go around stuff. So for me, I want to represent possibilities, I want to represent the idea that you really can make what you want.
5. Have A Purpose
The difference between depression and joy, I think is a purpose. It's like when you wake up in the morning, and your life means something to somebody other than you. That you have a purpose. If you don't go do the thing that you're going to do, people's lives will suffer.
Frequently Asked Questions
How much is Will Smith worth?
Will Smith's net worth is estimated to be $350 Million.

How old is Will Smith?
Will Smith was born on September 25, 1968, and is currently 54 years old.

How tall is Will Smith?
Will Smith's height is 1.88 m, which is equal to 6 ft 2 in.

Summary
Will Smith's definitely an incredible actor and loved by almost everyone. Probably because we've witnessed his journey from being The Fresh Prince in the '90s to being a world-famous actor today.
Will Smith's net worth is an estimated $350 Million in 2022, and you can see how he got there.
What do you think about Will Smith's net worth? Leave a comment below.