What is DJ Khaled's net worth?
| Net Worth: | $75 Million |
| --- | --- |
| Age: | 45 |
| Born: | November 26, 1975 |
| Country of Origin: | Palestine |
| Source of Wealth: | DJ/Record Producer |
| Last Updated: | 2021 |
As of 2022, DJ Khaled's net worth is estimated to be $75 million.
DJ Khaled is an American/Palestinian record producer, radio personality, DJ, record label executive, and author. Khaled is also president of the record label 'Def Jam South' and CEO and founder of 'We the Best Music Group'.
Which is a significant improvement from earlier years in his career, when his net worth was only $3 million.
Early Life
Khaled was born on the 26th November, 1975, in New Orleans, Louisiana. His parents were both Palestinian, and had immigrated to the United States. They were also musicians, which naturally attracted Khaled to music also.
He started developing an interest in rap and soul music at a young age and his parents supported his interest.
Khaled's first job was working in a local record store, which is where he first encountered Birdman and Lil Wayne. He got acquainted with the young artists and helped them before their breakthrough.
Career
During the early 90's, Khaled DJ'd in reggae sound-clashes. In the clashes, he'd start mixing dancehall with hip-hop. And towards the end of the 90's was when Khaled started his radio hosting career, as the host of The Luke Show.
He hosted this show with 2 Live Crew's Luther Campbell.
After working with several music artists, Khaled began recording his own songs, and in June 2006, his debut album called 'Listennn…' was released. His second album 'We the Best' was released a whole year later.
Since then, he's released multiple albums, including the below:
Victory (2010)
Suffering From Success (2013)
Major Key (2016)
Grateful (2017)
As of 2022, DJ Khaled's net worth is estimated to be $75 million.
Highlights
Here are some of the best highlights from DJ Khaled's career:
Best DJ of the Year, BET Hip-Hop Awards (2011, 2012, 2016)
MVP of the Year, BET Hip-Hop Awards (2016)
Hustler of the Year, BET Hip-Hop Awards (2016)
Snapchatter of the Year, Shorty Awards (2016)
Favorite DJ Khaled Quotes
"I can deal with everything. I got the answer for anything. This DJ Khaled." – DJ Khaled
"Congratulations, you played yourself." – DJ Khaled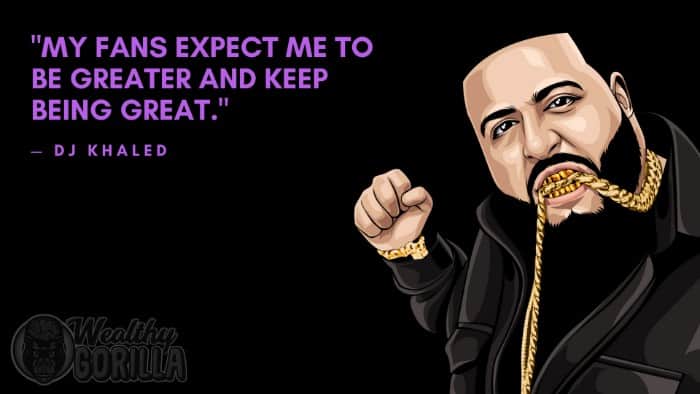 "My fans expect me to be greater and keep being great." – DJ Khaled
"There will be road blocks but we will overcome it." – DJ Khaled
"They will try to close the door on you, just open it." – DJ Khaled
"They don't want you to win. They don't want you to have the No. 1 record in the country. They don't want you to get healthy. They don't want you to exercise. And they don't want you to have that view." – DJ Khaled
View our larger collection of the best DJ Khaled quotes!
3 Success Lessons from DJ Khaled
Now you know all about DJ Khaled's net worth, and how he achieved success; here are 3 of the best success lessons we can learn from DJ Khaled:
1. Nothing is Free in Life
You know what this means, don't you?
Life is hard. Becoming successful is hard. Achieving your dreams is hard.
You have to put in the work, and do the things that 99% of people really aren't willing to do. Think you can handle that? DJ Khaled says this is the most important key to his success. Putting in that work, to get that money.
2. Surround Yourself With Positive Energy
Don't forget to surround yourself with positive people, and eliminate the energy drainers from your life. It's like Khaled says, "They don't want you to win".
Not everybody is hoping that you'll be successful. A lot of people don't believe in you, and don't want you to eventually become more successful than they are.
And if that's the case, then it's crucial to surround yourself with the right people. The people that want to build you up, and not bring you down.
3. You Are the Key to Your Success
Above all else, remember that you're in control of your life. You have the power to make the ultimate decisions that will shape your life. It's up to you to work hard, put in the time, make the right decisions, and trust yourself on your journey to success.
Nobody else is going to live your life for you, and nobody else is going to put in the work for you.
Summary
DJ Khaled has become incredibly successful, and worked with some of the best hip-hop artists of the modern generation.
As of 2022, it's estimated that DJ Khaled's net worth is $75 million.
What do you think of DJ Khaled's net worth? Leave a comment below.
<![CDATA[ */ var zbjs = {"ajaxurl":"https:\/\/wealthygorilla.com\/wp-admin\/admin-ajax.php","md5":"c4c5bb09469acad95fd72c72dd967bc2","tags":["Top Net Worths"],"categories":["Net Worth"]}; /* ]]>