Everyone loves a good old belly tickle, right?
What better way to get wind down after a long day in the office than watching a hilariously funny movie!
So, we thought we'd compile a list of some of the funniest movies of all time for your convenience.
Pick one from the list, sit back, relax and have a giggle!
The 20 Funniest Movies of All Time
The list of movies and figures mentioned below have been compiled from various sources around the web, such as Ranker, Rolling Stone & Best Life Online.
These are the 20 funniest movies of all time:
20. American Pie
This 1999 classic provides a ton of laughs.
If you went to high school, which is almost guaranteed, then you'll certainly be able to relate to some of the shenanigans in this film.
The film was written by Adam Herz, directed by Paul and Chris Weitz and was a massive box-office success.
The film centres around five best friends who make a pact to lose their virginity before they graduate high school!
It's absolutely hilarious and well worth a watch!
19. Happy Gilmore
Released in 1996, Happy Gilmore is about an unsuccessful ice hockey player who discovers his talents lie in the golfing world.
The film was directed by Dennis Dugan and produced by Robert Simonds and stars Adam Sandler as the lead as Happy Gilmore.
It was a major success in the box office earning $41.2 million. It also won an MTV Movie Award for "Best Fight".
18. Superbad
American teen comedy, Superbad, was directed by Greg Mottola and stars Jonah Hill and Michael Cera.
The film was actually co-written by Seth Rogen & Evan Goldberg, so it's no surprise that it's made it into our top 20 funniest movies of all time.
It's about two teenage dudes that get invited to a house party, so try to score some alcohol for the whole party two impress a couple of girls they have their eyes on.
However, it doesn't go entirely to plan, and there are a lot of mishaps along the way, to say the least!
17. Elf
Next up, we have one of our favourite films, Elf!
Released in 2003, the film follows the journey of a larger than life, slightly awkward, but caring Elf who's on a quest to get reunited with his biological father.
He stumbles a little along the way, but eventually, he makes progress and succeeds.
It stars Will Ferrell, James Caan, Bob Newhart, Ed Asner, and Zooey Deschanel.
It's a must-watch!
16. Shaun of the Dead
If you like a bit of zombie gore and don't mind the off bit of blood, then Shaun of the Dead could be the movie for you.
Released in 2004, the comedy horror movie follows Shaun (Simon Pegg) & Ed (Nick Best) as the race around London fighting off a zombie apocalypse.
The film was both a critical and commercial success and was nominated for a BAFTA!
15. There's Something About Mary
In fifteenth place, we have – There's Something About Mary.
Starring Cameron Diaz, Matt Dillon and Ben Stiller, this 1998 rom-com is well worth a watch.
It follows Ted (Ben Stiller) as he tries to track down his high school prom date, to re-ignite a flame once lost.
The movie he was placed 27th in the American Film Institute's 100 Years, 100 Laughs: America's Funniest Movies, which is a list of the 100 funniest movies of the 20th century.
14. The Big Lebowski
Released in 1998, The Big Lebowski is a stoner comedy film about an unemployed Los Angeles slacker.
In a case of mistaken identity, Jeffery "The Dude" is mistaken for another guy called Jeffery, who turns about to be a millionaire!
The millionaire's wife gets kidnapped and Jerry "The Dude" is sent to rescue her. But, as you can suspect, things don't go according to plan.
The film was written, produced, and directed by Joel and Ethan Coen.
13. Office Space
Written and directed by Mike Judge and released in 1999, Office Space is about a handful of individuals that are fed up with their jobs in a typical 1990s software company.
The film stars a number of great actors, including Ron Livingston, Jennifer Aniston, Gary Cole, & Ajay Naidu.
It didn't score to well at the Box office, however, don't let that put you off watching it, as it still provides a good laugh!
12. The 40-Year-Old Virgin
This 2005 American sex comedy, starring Steve Carell, Catherine Keener and Paul Rudd received positive reviews and grossed over 7 million worldwide.
It follows Andy Stitzer (Steve Carell) as he works as a stock supervisor at a local electronics store.
As the title suggests, he's a 40-year old virgin, so his friends try to put an end to that once and for all, which paves the way for some hilarious comedy sciences!
Well worth your time!
11. Borat
Sacha Baron Cohen plays Borat in this 2006 comedic mockumentary.
If you're after a couple of hours of absolute cringe-worthy laughter, then this is 100% the film for you!
The film follows "Borat", (Sacha Baron Cohen) who's a fictitious Kazakh journalist, who is travelling through the United States documenting real-life situations with normal American people.
Words don't do it justice, this is an absolute MUST WATCH!
10. This Is Spinal Tap
This 1984 mockumentary is about a fictional British heavy metal band called Spinal Tap.
The premise was to follow the band on their American tour and document the whole process.
The band were meant to portray the rock and roll lifestyle that's always been associated with rock bands.
However, they almost did this a little too well, as a lot of "real" rock bands actually felt it really hit home for them.
Initially, the film received mostly positive reviews, but it wasn't until 2002, when it was released on VHS, that it really gained a large cult following.
It was directed and co-written by Rob Reiner.
9. Dumb and Dumber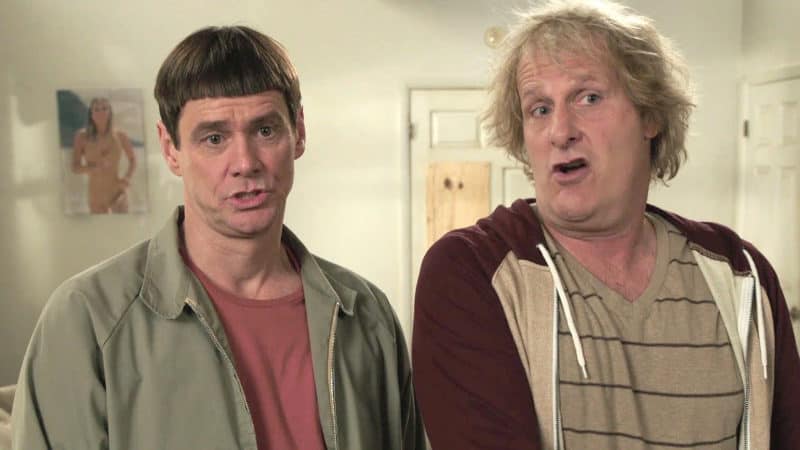 Dumb and Dumber is a 1994 American comedy classic.
If you ask anyone to name some funny films, this one usually comes up.
The story follows two friends, Lloyd Christmas (Jim Carrey) and Harry Dunne (Jeff Daniels) as they embark on a cross country trip to return a briefcase stacked with cash. What they didn't know, or failed to realise, was the briefcase was actually left there on purpose to pay a ransom!
It did super well upon release, grossing over $247 million and helped cement Carrey's and Daniels careers.
8. Young Frankenstein
The eighth funniest movie of all time is Young Frankenstein.
It's a classic horror film parody that follows Dr. Frederick Frankenstein as he decides to carry on his grandfather's experiments in his Transylvanian estate.
He succeeds with his experiments and creates a "monster". However, this causes him and his servants a whole world of problems, so things quickly turn ugly!
Young Frankenstein was released in 1974 and directed by Mel Brooks.
7. The Hangover
Next up, we have this hilarious American comedy – The Hangover.
Out of all the films on the list, I'm pretty sure this is the one that most people will have seen or recognise.
Directed by Todd Phillips and released in 2009, The Hangover follows four friends that travel to LA to celebrate one of their upcoming marriages.
Things end up getting pretty wild and when they wake up the morning after the bachelor party, they can't quite peace everything together and soon realise they might have gone a bit overboard!
It's an absolute must watch!
6. Groundhog Day
In sixth place is Groundhog Day.
I think many people go through this at some point in their lives, which is why this film is so relatable and funny.
Bill Murray plays Phill Connors, a TV weatherman that's been set an assignment to report on the annual Groundhog Day.
However, unfortunately for Phill, he gets trapped in some weird time loop, reliving the same day, over and over again.
The film was released in 1993 and did reasonably well, later receiving critical acclaim.
5. Caddyshack
Kicking off our top five is this American sports comedy released in 1980.
Caddyshack was directed by Brian Doyle Murray and written by Murray, Harrold Ramis and Douglass Kenny.
The film follows a young Caddy, who's a little down on his luck, as he takes a caddy position at an upmarket country club to save up for college.
Well worth a watch and lot's of laughs to be had!
4. Blazing Saddles
Released in 1974, Blazing Saddles is a western comedy film that was later nominated for three academy awards.
It's about a small frontier town called "Rock Ridge" that gets its first-ever black sheriff.
The locals don't particularly warm to him, but when they realise he's the only line of defence, along with his drunken sidekick, against a band of thugs that's on their way to destroy the town, they quickly change their minds and stand behind him.
Definitely a funny classic worth watching!
3. Anchorman: The Legend of Ron Burgundy
Just hilarious… not much more to say.
If you're a fan of Will Ferrel, then this one's a must-watch for you if you haven't already seen it.
In a nutshell, the film is set in the 1970s and depicts Ron Burgundy's (Will Ferrel) struggles with his new female equivalent!
Just watch it if you haven't already and you'll be rolling around with laughter.
2. Airplane
Airplane is a spoof comedy that pretty much makes a mockery out of all the 70s disaster movies.
When passengers and crew members get food poisoning on a jet, the alcoholic pilot is forced to take control but has his own battles fighting with his ex-girlfriend, wh0 just so happens to be a stewardess on the plane. They both have to work together to bring the plane down to safety, which makes for a good laugh!
The film was a really good financial success, grossing over $83 million in North America upon release.
1. Monty Python and the Holy Grail
First place on our list of the funniest movies of all time goes to the legendary, Monty Python and the Holy Grail.
It's a 1975, British comedy film set in 963 AD. It follows King Arthur as he travels around the country acquiring men to join his Knights of The Round Table.
After securing his Knights, they set off on an adventure to find the Holy Grail and along the way encounter many hilarious obstacles.
The film did super well, which could be down to the fact it was written by some of the best comedians in the business: Graham Chapman, John Cleese, Terry Gilliam, Eric Idle, Terry Jones and Michael Palin.
In 1975, the film grossed more in the US than any other British film, and in the UK, Total Film Magazine ranked it as the fifth-greatest movie of all time.
Summary
We hope you enjoyed our list of the 20 funniest movies of all time.
Our favourites were numbers 3, 11 and 17. You just can't beat these when you need a good laugh.
Here's a quick recap of the 20 funniest movies of all time:
Monty Python and the Holy Grail
Airplane
Anchorman: The Legend of Ron Burgundy
Blazing Saddles
Caddyshack
Groundhog Day
The Hangover
Young Frankenstein
Dumb and Dumber
This Is Spinal Tap
Borat
The 40-Year-Old Virgin
Office Space
The Big Lebowski
There's Something About Mary
Shaun of the Dead
Elf
Superbad
Happy Gilmore
American Pie
Which funniest movies of all time are your favourites? Leave a comment below.