Drake is up there as one of my favorite music artists;
But the thing that sways me more in Drake's favor is the reason why he's so successful, and that's because of the motivation and passion he has for what he does.
I recently watched a video on YouTube that was basically a documentary on Drake before he'd reached the level of success he has now. It was at the point where he was starting to gain a little notice from some of his mix-tapes and acting that he was doing.
Even back then when that video was recorded, you could see how much passion Drake had for music. Not just recording it, but he had cases full of CD's from his favorite artists, including special editions that he was very proud to own.
Drake's net worth is estimated to be $170 million!
Here's our collection of the best drake quotes & lyrics of all time:
30 Motivational Drake Quotes
1. "Everybody has an addiction, mine happens to be success." – Drake
2. "I was born to make mistakes, not to fake perfection." – Drake
3. "When writing the story of your life, don't let anyone else hold the pen." – Drake
4. "Patience is key for getting over a breakup. That, and trailing off your interaction after the breakup." – Drake
5. "Haters will broadcast your failures, but whisper your success." – Drake
6. "Never let success get to your head and never let failure get to your heart." – Drake
7. "Strength isn't always shown in what you can hold on to, sometimes it's shown in what you can let go of." – Drake
8. "Life can always change, you have to adjust." – Drake
9. "Before you give up, think of the reason you held on so long." – Drake
10. "It's never too late to realize what you want in your life and it's never wrong to fight for it." – Drake
11. "Jealousy is just love and hate at the same time." – Drake
12th of 30 Quotes by Drake
12. "Sometimes it's the journey that teaches you a lot about your destination." – Drake
13. "Always felt like my vision been bigger than the bigger picture." – Drake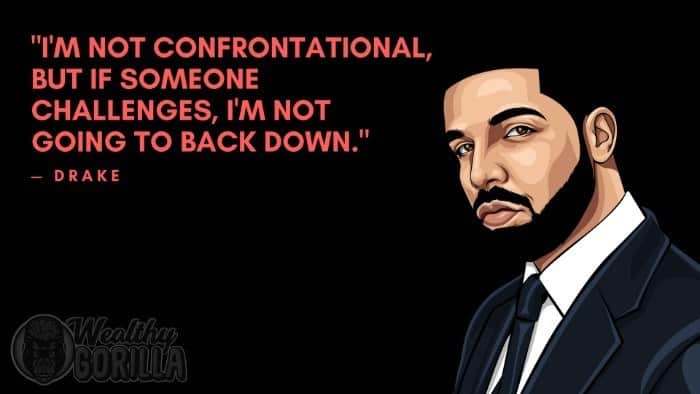 14. "I'm not confrontational, but if someone challenges, I'm not going to back down." – Drake
15. "The moment I stop having fun with it, I'll be done with it." – Drake
16. "Pain makes you stronger. Fear makes you braver. Heartbreak makes you wiser." – Drake
17. "Life is just a game in which the cards are facing down. I'm in the world where things are taken, never given how long they choose to love you will never be your decision." – Drake
18. "Everybody dies but not everybody lives." – Drake
19. "I'm trying to do better than good enough." – Drake
20th of 30 Drake Quotes

20. "Count your blessings, not problems." – Drake
21. "Live without pretending, Love without depending, Listen without defending, Speak without offending." – Drake
22. "All in all I learned a lesson from it though, you never see it coming you just get to see it go." – Drake
23. "It's funny when you coming in first but you hope that you're last, you just hope that it last." – Drake
24. "When it comes to knowing what to say, to charm, I always had it." – Drake
25. "The girl that I want to save is like a danger to my health. Try being with somebody that want to be somebody else." – Drake
26. "I'm more than just a number, I doubt you'll find another. So every single summer, I'll be the one that you remember." – Drake
27. "People like to build their own story about my life. I don't know if it makes them feel better, or if it makes it okay for them not to like me. But the last thing I grew up as was rich." – Drake
28. "If you think I'mma quit before I die dream on." – Drake
29. "They ain't make me what I am, they just found me like this." – Drake
30. "I swear this life is like the sweetest thing I've ever known." – Drake
Summary
Thanks for checking out the list of the best Drake quotes. Don't forget to share them with any other Drake fans you know.
If you're a big fan of these quotes from famous hip-hop artists, then you may want to check out the other articles we've published:
What's your favorite Drake quote? Leave a comment below.