50 Motivational G-Eazy Quotes About His Life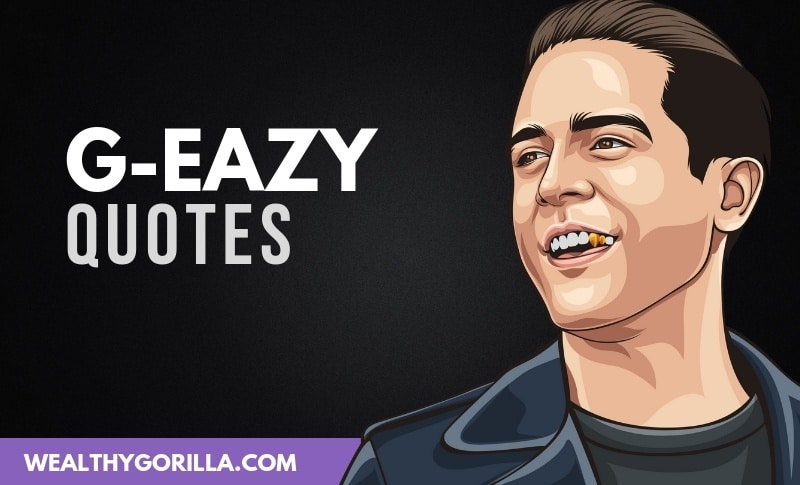 Which are your favorite G-Eazy quotes?
Gerald Earl Gillum, known by his stage name G-Eazy, is an American rapper and record producer from Oakland, California.
G-Eazy was born on the 24th of May, 1989, and is an up and coming rapper. He's been gaining a lot of traction of the past few years, and his latest album has sold almost 300,000 copies.
We've put together this collection of the best G-Eazy quotes:
50 Motivational G-Eazy Quotes
1. "A song or an album is never really done. You can work on it forever, but knowing when to call it a day and knowing when to walk away from it is extremely important." – G-Eazy
2. "I does what I wish to. If you're mad, well too bad. Sounds like a personal issue." – G-Eazy
3. "I read the Steve Jobs book, and that kind of changed everything. I've been, like, an Apple geek my whole life and have always seen him as a hero. But reading the book, and learning about how he built the company, and maintaining that corporate culture and all that, I think that influenced me a lot." – G-Eazy
4. "I think my style revolves around the philosophy that less is more, that simplicity is the ultimate sophistication. That goes for my taste in design and in clothes, and even affects the way I approach music. I'm all about keeping things simple, and minimal, but being able to convey something powerful through that approach." – G-Eazy
5. "I was 14 years old when I started rapping and I was terrible. I fell in love with it though and when that happens with me I become super passionate and go all the way with it." – G-Eazy
6th of 50 G-Eazy Quotes
6. "I've gone on in front of a crowd of 10 people and 7,000 people." – G-Eazy
7. "In anything I do I try to stay true to myself because I think that's what matters most, and then the challenge is getting all these different sides of my personality to fit together in one box. It isn't an easy task. But that's basically what the end result represents." – G-Eazy
8. "Life is good. I've got a apartment that is paid for with rap money. It's good. It's amazing. It's a blessing. I wake up every day and appreciate how much of a blessing this is getting to do this. But it is important to always stay humble, grounded, focused, and maintain that same ambition you had when you had nothing." – G-Eazy
9. "Success is just being able to do what I love for a living, spend all my time doing it, connect with fans, and continue that for a long f – king time." – G-Eazy
10. "When I started making music, I was so heavy into the hyphy movement. That's something you only know so much about if you were right there living in it, submerged in the culture." – G-Eazy
11. "I always think I'm going to record a lot on tour but it's always hard to fit it in the schedule, and there's a whole lotta' other extra curricular activities that happen on the road." – G-Eazy
12. "I don't know if most people know it or not, but I produce, like, 95% of my own stuff." – G-Eazy
13. "I see myself as a hip-hop artist, but I never wanted to make music for a specifically white audience. That's not what I grew up around." – G-Eazy
14. "I think the special stuff [music] still finds a way to be heard, as long as you pair it with a good release strategy." – G-Eazy
15th of 50 G-Eazy Quotes
15. "I was fortunate to have teachers that were flexible with allowing me to miss more class than I was supposed to be able to, for the sake of being able to tour." – G-Eazy
16. "I've matured as a person and so has the music…It's gotten more sophisticated and interesting I think." – G-Eazy
17. "In my opinion, creative control means a lot, I feel like I'm really in touch with who my fans are and what they like about my music, and I'm able to communicate directly with them." – G-Eazy
18. "Music isn't selling like it used to, but the one thing you can't steal or download is a live show experience or a T-shirt." – G-Eazy
19. "The biggest thing for me is the new music. I'm playing a lot of new music that is not released yet on my tours. Seeing the reaction to that is super inspiring." – G-Eazy
20. "When you're choosing the track list and the sequencing, it's important to make sure that there's some strong concepts on there and that it matters and it says something… that it sticks with people." – G-Eazy
21. "I always thought that one day I would be somebody. I would be successful in music, and I would have fans that cared about my music. At the same time, I really feel like an ordinary guy; I have been an ordinary guy forever." – G-Eazy
22nd of 50 G-Eazy Quotes
22. "I dunno, there were always people believing in me, but you just gotta be confident in whatever you wanna do." – G-Eazy
23. "I think if you're constantly reinvesting into your content and giving the fans stuff, then you can continue to tour. You can continue to sell the merch and monetize the popularity of the brand." – G-Eazy
24. "I think when you're telling a story from inside of you that's genuine, people connect with it." – G-Eazy
25. "I'm a Gemini, so there's two people in me. Straight up. There's the nerd who is totally zoned out in the studio, EQ-ing this kick drum, raising this snare one decibel, or swapping this high hat out for another. Then there's the other side who's a performer. I have to go out on stage and be electric, a fire cracker, just run around the stage and give a show." – G-Eazy
26. "I've put myself in this position where I haven't set myself up with a Plan B. I don't have a safety net; it's all in." – G-Eazy
27. "In the past, my process would start with a sample of another song, and I'd chop it up and use that as the basis of the song that I was making." – G-Eazy
28th of 50 G-Eazy Quotes
28. "My whole career has been from scratch, so I never took it for granted that people care and support what I do." – G-Eazy
29. "What inspires me is the desire to be on. The desire to be successful. The desire to reach people through my music and make a living off it and never have to do anything else. Being able to do music full time and travel the world and share this music with everybody. That's the dream." – G-Eazy
30. "Whenever I perform I try to connect with the crowd and give off energy so when they walk away from the show its remarkable and its something they talk about it, like 'damn I cant wait to come back to my show.'" – G-Eazy
31. "I am involved in every step of the process [musicmaking]. Whether it is the production or the mixing or the visuals and music videos. I'm involved in every step of the way as far as the creative, directing and merchandise . Just making sure everything that falls in line with my brand is portrayed a certain type of way. It all about quality control and attention to detail, and making sure anything you put your name on is on point." – G-Eazy
32. "I had a job since I was old enough to work – since I was, like, 14." – G-Eazy
33. "I think it's important to evolve and grow and take risks creatively, instead of repeating yourself and doing the same thing over and over." – G-Eazy
34. "I think, back in the day, when I was first starting to make music, all I wanted to do was to get a record deal." – G-Eazy
35. "I'm on this raised-platform-stage and I'm put on display, but at the same time I'm just a human. I'm just a regular person at the end of the day and, you know, I just want them to know that I do appreciate every single one of them." – G-Eazy
36th of 50 G-Eazy Quotes
36. "If I didn't make a single song in two months, I'm slippin'. You can't just party every night." – G-Eazy
37. "Just wearing all black comes from Johnny Cash. I'm on the road so much that if I wear all black, my clothes never get dirty. You can't tell if I've worn the same shirt twice." – G-Eazy
38. "Something I stand for is being brave enough to invest in creative ideas that I firmly believe in and bringing those to life." – G-Eazy
39. "What's weird is the Hot Boys and the whole New Orleans Cash Money thing had a really big impact on the Bay when that was popping off. I don't all the way understand it. I mean, I know that they were big everywhere and had a lot of commercial success in the mid to late '90s, but they were really, really felt in the Bay Area." – G-Eazy
40th of 50 G-Eazy Quotes
40. "Word of mouth is the most valuable form of marketing, but you can't buy it. You can only deliver it. And you have to really deliver." – G-Eazy
41. "I didn't grow up around all white people; I never wanted to gentrify hip-hop, I've never wanted to speak to an all-white audience." – G-Eazy
42. "I just kept telling myself that ultimately, the money that my grandparents had put away to go into my college fund, that they were investing for me to go to school and get this education, it had to be worth something." – G-Eazy
43. "I think it's natural for a creative to be sensitive. If I'm in the studio and I write something, I think it's the greatest thing in the world; it's like my baby. I just made something out of thin air that exists now in a tangible form. It's the biggest thrill in my life." – G-Eazy
44. "I try to find 15 minutes a day to just be alone without any distractions just for headspace to meditate and get my Zen on. I think that helps me get through the hecticness of the day on tour with the interviews, the soundcheck, the meet and greets, the show, and the post-show meet and greets." – G-Eazy
45. "I've dreamed of being on the road, traveling and touring, for as long as I've been into doing music. It's what I live for. I just wanna be Willie Nelson." – G-Eazy
46. "If you push yourself to stay hungry, you're always working towards at least taking steps forward. If you're taking steps forward, then you're making progress." – G-Eazy
47. "Less is more. Simplicity is awesome. That's all you need in life. It's just my personal philosophy." – G-Eazy
48. "Sometimes when you meet stars, on one hand you're like, "You're who I'm inspired by, you're who I look up to." On the other hand you're like, "I wanna be in the same kind of shoes that you're in." That's how I've always seen myself. Some of me is star-struck, some of me feels like I'm looking at a peer. They're another person who sees the world the same way I do, who already did it. It's inspiring." – G-Eazy
49. "When I first decided I wanted to make beats and write songs and stuff like that, it wasn't like I sat down and the first thing I wrote was even halfway legit. It took a while to find my way through it." – G-Eazy
50. "You have this ability in hip hop to be invincibly cool, and that is a part of G-Eazy." – G-Eazy
Summary
Thanks for viewing this collection of the best G-Eazy quotes! Don't forget to share them on social media.
Which are your favorite G-Eazy quotes? Leave a comment below.
52 Inspirational J Cole Quotes & Lyrics
Jermaine Cole is an American hip hop artist, who started receiving recognition and fame for his work back in 2007.
Some of his lyrics have been highly regarded as creative yet truthful rhymes, which in a lot of cases means they're very inspiring to many individuals.
We've created this collection of the greatest J Cole quotes & lyrics of all time:
52 Inspirational J Cole Quotes
1. "To appreciate the sun, you gotta know what rain is." – J Cole
2. "Anything's possible, you gotta dream like you never seen obstacles." – J Cole
3. "Take a chance, because you never know how perfect something can turn out." – J Cole
4. "I'd rather be happy being myself than sad trying to please everyone else." – J Cole
5. "People congratulate me. I just tell them God is good." – J Cole
6. "Keep grinding boy, your life can change in one year, and even when it's dark out, the sun is shining somewhere." – J Cole
7. "Damn, cold world. I never thought I'd see the day that you're my old girl." – J Cole
8. "You have to hurt in order to know. Fall in order to grow. Lose in order to gain. Because most of life's lessons are learned in pain." – J Cole
9. "I swear I walk with God, but the devil keeps following." – J Cole
10th of 52 J Cole Quotes
10. "If they don't know your dreams, they can't shoot them down." – J Cole
11. "My life accelerated, but had to wait my turn. But then I redecorated, that means my tables turn." – J Cole
12. "Am I about dollars or about change? Am I about knowledge or brains? Freedom or big chains? They don't feel my pain." – J Cole
13. "Get to know somebody and you really learn a lot about 'em. Won't be long before you start to doubt 'em. Tell yourself you better off without 'em. Then in time you will find can't walk without 'em." – J Cole
14. "No such thing as a life that's better than yours, no such thing–no such thing…" – J Cole
15. "In a game full of liars it turns out that I'm the truth. Some say that rap's alive. It turns out that I'm the proof." – J Cole
16. "Nothing lasts forever, but at least we've got these memories." – J Cole
17. "Never give up until you've given out all your very best. It's better to fail trying, than wondering what could have happened if you tried." – J Cole
18. "It's beauty in the struggle, ugliness in the success." – J Cole
19. "If you place your importance on appreciation and love, that's enough." – J Cole
20th of 52 J Cole Quotes
20. "Sometimes our dreams come true, sometimes our fears do too." – J Cole
21. "For a few minutes you made me feel as if I actually meant something to someone." – J Cole
22. "There's a story behind every person, a reason why they are the way they are. So, think about that before you judge someone." – J Cole
23. "Anything I do, I do it well." – J Cole
24. "You can lose all the money, but you'll never lose people knowing you." – J Cole
25. "Follow your heart. Don't follow what you've been told you're supposed to do." – J Cole
26. "So here we are… it's funny how so close can seem so far." – J Cole
27. "We got dreams and we got the right to chase 'em." – J Cole
28. "Promise to my momma I'mma make it to the top, so I'mma keep climbing 'til my heartbeat drop." – J Cole
29th of 52 J Cole Quotes
29. "Either you play the game or you let the game play you." – J Cole
30. "I'mma be here for a while. None of these clowns can hurt me." – J Cole
31. "I put a lot of God in my music, but not because I'm super religious. There are a lot of demons in my music too. I acknowledge both." – J Cole
32. "They say time is money but really, it's not. If we ever go broke, time is all we got." – J Cole
33. "I walk along this long harbor of life and sit on the piers, reflect on my pain and sh*t on my fears." – J Cole
34. "I keep my head high, I got my wings to carry me. I don't know freedom, I want my dreams to rescue me." – J Cole
35. "A little jealousy in a relationship is healthy. It's always nice to know someone is afraid to lose you." – J Cole
36. "Tupac was just so passionate about what he believes in and not afraid to say anything." – J Cole
37. "The music becomes more pure and soulful when it's true, and it has to be true these days with the way the internet works, and the way the game works, everyone wants authentic raps." – J Cole
38. "I met Will Smith twice. I didn't talk to him for too long but I was trying to let him know that my age group grew up watching him – he was the coolest guy on television and the coolest guy in movies." – J Cole
39th of 52 J Cole Quotes
39. "I still wanna rap better than everybody else, and I wanna say important things." – J Cole
40. "When I was in college my girl got me a job at the doctor's office she was working at. I was a file clerk. No disrespect but I don't think a man can do that job. It takes so much meticulous and precise file-keeping." – J Cole
41. "I want people to follow their dreams, yes… but I'm not interested in telling young black kids how to be rappers… I want to show them that there's so many other paths you can take, besides a rapper or basketball player." – J Cole
42. "In this life ain't no happy endings. Only pure beginnings followed by years of sinning and fake repentance." – J Cole
43. "People think because I've got some success, I've made it, but in my eyes it's like, 'How long has Jay Z been in the business? How many albums has he got?' Not that I'm trying to be Jay Z, but I am trying to be around for a long time." – J Cole
44. "I had a lot of resistance, and not just to fame. I was always conscious of not changing." – J Cole
45. "You can't reverse fame. You can lose all the money, but you'll never lose people knowing you." – J Cole
46. "College isn't in everyone's hearts. I am living proof, though, that school doesn't mess up your plans. It gives you more experiences to write about." – J Cole
47. "It's no coincidence that all the greatest rappers – whoever you put in your top five – I guarantee you they are great storytellers." – J Cole
48. "When you're a rapper, just a rapper, you have to kind of settle for whatever comes your way – if a beat is hot, you wanna rap on it, period." – J Cole
49. "Keep grindin' boy, your life can change in one year, And even when it's dark out, the sun is shining somewhere." – J Cole
50. "Hard to move on when you always regret one." – J Cole
51. "I'm a super-duper over-analyzer. You mix that with self-doubt and pressure, and that's never healthy." – J Cole
52. "Life is a movie, pick your own role, Climb your own ladder or you dig your own hole." – J Cole
Summary
Thanks for checking out this collection of quotes from J Cole! Don't forget to share them on social media.
Which are your favorite J Cole quotes? Leave a comment below.
30 Awesome Machine Gun Kelly (MGK) Quotes
MGK, another insane source of inspiration for hip hop fans;
It wasn't until last year that I started listing to Machine Gun Kelly's music, but I've become a big fan. Some of his lyrics are incredibly motivational for underdogs in live, the ones who are struggling, and need that little bit of strength to go on.
So I've had a look and a listen, and compiled some of the best MGK quotes from his own lyrics. These are some of the most inspirational things he's said, so take a look and enjoy.
Feel free to share the list using the social buttons above if you know anyone else who is a big MGK fan.
25 Awesome MGK Quotes
1. "Don't ever look down, be comfortable with who you are, our flaws are what make us perfect." – MGK
2. "You can't see my tears in the rain, underneath it all we're just the same." – MGK
3. "I owe my life to my own advice, follow your motherf****n' dreams until those visions come to life." – MGK
4th of 30 MGK Quotes
4. "Whatever you love could be taken away, so live like it's your dying day." – MGK
5. "Toast to the underdog, toast to the team, toast to the fact we this close to the dream." – MGK
6. "Life is too short to live the same day twice. So each new day make sure you live your life." – MGK
7. "I'm walking through the fire because there is no way around." – MGK
8. "I don't think that a lot of people understand, that the person who's crazy enough to think he can change the world, actually can." – MGK
9. "What is love, love is pain. Love is butterflies and stomach aches, love is looking out a windowpane. Tears dripping looking like you're in the rain, for somebody you don't even know, but somebody you may never see again." – MGK
10. "I used to take orders, now I make bets. I used to scrub floors, now I sign checks. And I used to push carts, now I push songs. I used to be there, now I am so gone." – MGK
11th of 30 MGK Quotes
11. "When my times up on this earth and they bury me in that dirt, don't say that I ain't milk this life for everything that it's worth." – MGK
12. "I came out of a dying city, brought back life. Everything they said I couldn't do I did about twice." – MGK
13. "Yeah, and they told me all that glitters ain't gold. But I really wanna shine right now. And they told me the sky's the limit so I wonder if I can fly right now. Yeah, so I spread my wings, jumped up, and lived my dreams." – MGK
14. "And if you ever have a dream, don't be scared to chase that shit, man. You can have whatever you want in this life. Don't let anyone tell you different." – MGK
15. "Heroes are remembered. Legends never die. I ain't dyin' any time soon." – MGK
16. "I used to have someone at 3AM that I could call. Now it just rings and I don't get nothing at all." – MGK
17. "Trust is like an eraser. It gets smaller with every mistake." – MGK
18. "As my world turns, the heart beats, not only in my chest, but the heart of the streets." – MGK
19th of 30 MGK Quotes
19. "I had a dream that the world changed, and for a minute there was no pain." – MGK
20. "Never make permanent decisions on temporary feelings." – MGK
21. "I dedicate this to my teachers that never believed in me, and the mother that conceived but ended up leaving me." – MGK
22. I love you, and you may not see right now. But I'm beggin' for forgiveness, I'm on my knees right now." – MGK
23. Question, what if tomorrow never comes and everything you said couldn't be undone?" – MGK
24. "If you ain't living your life then you're dead, and sleep is its cousin so I shot my bed." – MGK
25th of 30 MGK Quotes
25. "Follow in my steps, then you walkin' a green mile. Trees in my pockets, like my denim's a greenhouse." – MGK
26. "I made a dollar out of cents, got a whole nation's respect before I was 18. And I did that without a check. See, I used to be a lame. Now, I'm posted in the game, in a top spot, tough drop. Money ain't a thing." – MGK
27. "People want to be my friend. But where the f*** were y'all when I was ten, eleven or twelve getting bullied and beat up in the gym? I couldn't never get a girl. Now, all the sudden I'm the man. Students try to get back cool with me again. F*** 'em all!" – MGK
28. "I wanna get that dream and live my life, with no Rihanna, no T.I. I'm just living for today, no tomorrow, no pause, no comma, real shit, no persona. I'm enjoying every pussy like a virgin or Madonna." – MGK
29. "Hold up, let me put my cool back on. Wouldn't be here without my team. I put my crew back on. And I'm a rapper but I will not put the jewels back on. My fans love Kells, let me put the fool back on." – MGK
30. "If you ever thought that you won't make it, soon as it get hard you just can't take it- no matter what you going through, keep waiting 'cause you gon' make it. You gon' make it." – MGK
Bonus: MGK Picture Quote
Summary
If these quotes weren't quite the sort of hip-hop quotes you were looking for, then how about checking out quotes from Eminem?
Are there any MGK quotes in this article that stand out to you? Leave a comment below.
22 Golden Lupe Fiasco Quotes From His Lyrics
Lupe Fiasco is an American rapper, record producer and entrepreneur;
We put together this collection of Lupe Fiasco quotes solely contained within his lyrics. Some of these quotes are absolutely golden!
Here are 22 of the best Lupe Fiasco quotes:
22 Golden Lupe Fiasco Quotes
1. "If talk is cheap, then my silence is diamonds." – Lupe Fiasco
2. "Love always shines, that's how I'll find you. In case you forgot, I hope this reminds you." – Lupe Fiasco
3. "We can't do nothing about the past, but we can do something about the future that we have." – Lupe Fiasco
4. "I wish I couldn't feel. I wish I couldn't love. I wish I could stop loving you so much." – Lupe Fiasco
5. "You would never know if you could ever be, if you never try, you would never see." – Lupe Fiasco
6. "I think that all the silence is worse than all the violence. Fear is such a weak emotion, that's why I despise it." – Lupe Fiasco
7. "Self-respect first. Sexy second." – Lupe Fiasco
8. "The truth is limitless in its range. If you drop a 'T' and look at it in reverse it could hurt." – Lupe Fiasco
9th of 22 Lupe Fiasco Quotes
"Life ain't made to come around twice, that's why I gotta get it right." – Lupe Fiasco
10. "Fear is such a weak emotion, that's why I despise it." – Lupe Fiasco
11. "I'm just trying to do the opposite of left, as long as there's the opposite of death, ya know. Yes, ya test and I just might bring the opposite of life, 'till there's no one the opposite of right." – Lupe Fiasco
12. "Things are getting out of control, feel like I'm running out of soul. You are getting too heavy to hold, think I'll be letting you go." – Lupe Fiasco
13. "My greatest enemy at one point was myself, and so now once I gt over the fear of myself I don't fear any man. I never have." – Lupe Fiasco
14. "That should be the measure of success for everyone. It's not money, it's not fame, it's not celebrity; my index of success is happiness." – Lupe Fiasco
15. "What starts in clouded minds finished in the rain." – Lupe Fiasco
16. "But it was good while it lasted, but when it's dead, put it in a casket." – Lupe Fiasco
17. "I find it somewhat liberating to jump, to dive into things that are the opposite of me." – Lupe Fiasco
18th of 22 Lupe Fiasco Quotes
"Never stop doing your best just because someone doesn't give you credit." – Lupe Fiasco
19. "People don't understand that where I come from, everyone is either a convict, been in jail, been in a gang, is a hooligan of some sorts. But those are my brothers, my family and the people I travel with. Those are the people that I roll with." – Lupe Fiasco
20. "Why kill you when I can just not teach you and get the same results." – Lupe Fiasco
21. "Holy apartments in the gardens in which the rivers flow. Thank you for all your blessings and all of your miracles." – Lupe Fiasco
22. "How can land be owned by another man? Warns one can not steal what was given as a gift. Is the sky owned by birds and the river owned by fish?" – Lupe Fiasco
23. "When you start creating opinion, and you start creating difference of opinion, you're doing something. People are actually sitting down and critiquing. A lot of the stuff people hate, they really don't. They only look at the outer shell. They don't really get into it." – Lupe Fiasco
24. "I do this for the sake of myself. It's a selfish process. I don't really have any expectations from anyone for your comments or your reviews or your previews." – Lupe Fiasco
25th of 30 Lupe Fiasco Quotes
25. "I trust people to be human. Sometimes you do things that make amazing amounts of sense; sometimes you do things that don't make any sense whatsoever." – Lupe Fiasco
26. "Everybody has their opinion on what's 'real,' and what's they choose to listen to and their personal preference. Whether they're 2 years old or 200 years old. And people can listen to whatever they want." – Lupe Fiasco
27. "You expect certain things. You build up in your mind how it's supposed to go down. When you get a record deal, you think you're supposed to get X, Y, and Z. It doesn't happen like that. You're like 'Oh, this isn't as exciting as I thought it was going to be.'" – Lupe Fiasco
28. "The only person who really impressed me with making new music is Cudi. Everyone else seems to be jumping on the same music, the producer-made stuff, but the one person that's made new music to me is Cudi." – Lupe Fiasco
29. "Never apologize for being real… reality is the enemy of fakes, frauds, liars and protectors of ignorance. It scares them." – Lupe Fiasco
30. "I find it somewhat liberating to jump, to dive into things that are the opposite of me." – Lupe Fiasco
Summary
Thanks for checking out these quotes from Lupe Fiasco!
Which are your favorite Lupe Fiasco quotes? Leave a comment below.
<![CDATA[ */ var zbjs = {"ajaxurl":"https:\/\/wealthygorilla.com\/wp-admin\/admin-ajax.php","md5":"cd3bfff8acaa9170e95f29b226cebebc","tags":[],"categories":["Artist Quotes","Quotes"]}; /* ]]>