What is Colin Kaepernick's net worth?
| Net Worth: | $20 Million |
| --- | --- |
| Age: | 35 |
| Born: | November 3, 1987 |
| Gender: | Male |
| Height: | 1.93 m (6 ft 4 in) |
| Country of Origin: | United States of America |
| Source of Wealth: | Professional Football Player |
| Last Updated: | March 8, 2023 |
Introduction
Colin Kaepernick's net worth is now approximately $20 Million, which makes him one of the highest-paid quarterbacks.
Colin Rand Kaepernick is an American football player from Milwaukee. He is currently a free agent and known as one of the most successful quarterbacks in football history.
In 2016, Kaepernick made news for choosing to kneel whilst the national anthem was playing, instead of stand, as is the custom. He did this as a protest against racial discrimination and oppression. As a result, later on in the year he opted out of his contract and became a free agent.
Early Life
Kaepernick was born on the 3rd of November, 1987, in Milwaukee, Wisconsin.
He was born to Heidi Russo who was a single mother at the time. Kaepernick's father divorced from Heidi before Colin was born. Heidi placed Colin for adoption with Teresa and Rick Kaepernick.
Colin lived his early years in Wisconsin until he turned 4, and he attended grade school in Turlock, California. He began playing football at the age of 8, and when he was 9 he started to play football as a quarterback.
Career
Kaepernick began his football career as a backup starter, he signed to San Francisco 49ers. Colin took over as the team's No.1 quarterback in 2012. After the second year of his career, he was a permanent starting quarterback and he gained much success.
His fame grew, even his well-tattooed arms gained notoriety. Kaepernick dominated Aaron Rodgers and the Green Bay Packers by achieving a new NFL single-game record for a quarterback.
After his team defeated the Atlanta Falcons, he fell to Ray Lewis and the Baltimore Ravens at Super Bowl XLVII in New Orleans, he quoted:
"It's good to get the experience, we should have won that game regardless, though."
Kaepernick started the season 2013 very strong, passing for 412 yards and three touchdowns. The 49ers received a 12-4 record and earned a playoff berth.
He continued his career in the 49ers and he was known as the best quarterback of all time. In 2017, Kaepernick was honored with the Eason Monroe Courageous Advocate Award at the ACLU of Southern California's annual Bill of Rights dinner. The day after he was revealed to be a finalist for TIME's Person of the Year designation.
As of March 2023, Colin Kaepernick's net worth is $20 Million.
Highlights
Here are some of the best highlights of Colin Kaepernick's career:
Major League Baseball 2006
Fifth Best Quarterback 2008
Maxwell Award 2009
NCAA History Record 2009
Manning Passing Academy 2010
Unitas Award 2010
NFL Draft 2011
San Francisco 49ers 2011
NFL Honors- Greatness on the Road 2013
Ambassador of Conscience Award 2018
Favorite Quotes from Colin Kaepernick
"This stand wasn't because I feel like I'm being put down in any kind of way. This is because I'm seeing things happen to people that don't have a voice: people that don't have a platform to talk and have their voices heard and affect change. So I'm in the position where I can do that, and I'm going to do that for people that can't." – Colin Kaepernick
"People don't realize what's really going on in this country. There are a lot of things that are going on that are unjust. People aren't being held accountable for. And that's something that needs to change. That's something that this country stands for freedom, liberty, and justice for all." – Colin Kaepernick
"Sometimes, when things are going really well, I feel like I've already seen things – it's the flashback feeling in a good way. Like I'm watching a rerun because I've studied this defense and know what comes next. Now, that is a good feeling, when your mind is working fast because you've studied, and you realize, 'I've seen this before." – Colin Kaepernick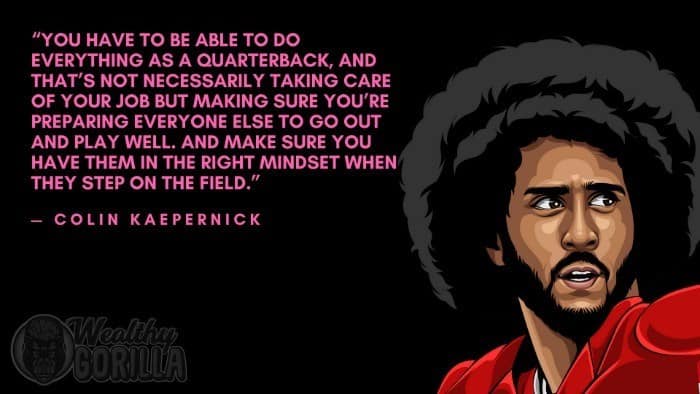 "You have to be able to do everything as a quarterback, and that's not necessarily taking care of your job but making sure you're preparing everyone else to go out and play well. And make sure you have them in the right mindset when they step on the field." – Colin Kaepernick
3 Success Lessons from Colin Kaepernick
Now that you know all about Colin Kaepernick's net worth, and how he managed to achieve success; let's take a look at some of the lessons we can learn from him:
1. Don't Take It Personally
People have to realize when we speak up for justice and for what we believe is right that we'll get haters no matter what. This hater will seek to destroy our character and image to encourage others to not listen or take your cause seriously. Don't take it personally.
2. The Message, Not the Messenger
Many times we may knowingly or unknowingly become the obstacle to causes we care about by becoming the focal point. It's the message, not the messenger that is important.
3. Stay Prepared
Always stay prepared. We have to make a commitment to ourselves to not allow circumstances to derail us to the point we are unable to function in our purpose. Encourage yourself even if it seems like no one else supports you.
Frequently Asked Questions
How much is Colin Kaepernick worth?
Colin Kaepernick's net worth is estimated to be $20 Million.

How old is Colin Kaepernick?
Colin Kaepernick was born on November 3, 1987, and is currently 35 years old.

How tall is Colin Kaepernick?
Colin Kaepernick's height is 1.93 m, which is equal to 6 ft 4 in.

Summary
Colin Kaepernick is one of the most influential and successful football players of our time.
As of March 2023, Colin Kaepernick's net worth is $20 Million, which makes him one of the highest-paid quarterbacks in NFL history.
What do you think about Colin Kaepernick's net worth? Leave a comment below.