21 Top Influencers Share their Advice on How to Achieve Your Goals In 2017
It's that time of the year again;
Everybody's setting new years resolutions, and only a handful of people are actually going to stick to them. Guess what percentage of people achieve their resolutions?
8%. Only 8% of people who set resolutions for the new year end up achieving them. It's estimated that 24% of people never achieve a single resolution they set at new year in their entire lifetime.
Can you imagine what the world would be like if everybody achieved what they set out to achieve in the new year?
Even if you disregarded the benefits it would have on your own life for a second, imagine the world as a whole. It would surely be a much happier place, no?
New Years Resolutions: How to Actually Achieve Them!
Which brings us to this article…
I've spent the past couple of weeks talking to some of the top influencers in the past development industry, and I asked them what advice they could give in order to help others stick to their new years resolutions. That means you!
Here's what 21 amazing individuals had to say about being able to actually achieve your goals in 2017:
Bio: Grant Cardone is an American real estate investor, best selling author and motivational speaker.
Website: GrantCardone.com
"The way I stay with my goals, is I write them down in my 10X planner every morning and again at night every day. Also, anytime I'm disappointed or discouraged I write them again."
2. Cole Hatter
Bio: Cole Hatter is a best selling author, investor and entrepreneur. He's also the organizer behind the Thrive event held every year in San Diego.
Website: ColeHatter.com
"Have accountability. Tell someone the resolution and give them permission to hold you accountable. Put skin in the game. Make it painful to NOT complete the resolution. Give yourself no "out". You have to do it, or there are consequences."
3. Cris Nikolov
Bio: Cris Nikolov is the founder of MotivationGrid, an incredibly popular motivational website, most famous for their YouTube videos.
Website: MotivationGrid.com
"The best resolutions are those that actually include a plan of action. Break your end goal down into smaller, weekly goals so you feel like you're working towards something immediate, and make a calendar with something to do every day that will get you closer to your desired result.
It doesn't matter if it's quitting smoking or losing weight, or going to the gym more often, you shouldn't do it alone.
Find a buddy that will hold you accountable and don't set unrealistic goals, otherwise you will be disappointed and don't set a lot of goals, changing is tricky so keep it simple and don't set more than one or two goals if you really want to stick up with your new year's resolutions."
Bio: Timothy Sykes is an American stock trader, who was able to turn his Bar Mitzvah money ($12,415) into over $4 million trading penny stocks.
Website: TimothySykes.com
"Dream big and study hard, and don't stop until you've achieved all your goals… then once you do, aim bigger and do what you must to achieve those too."
5. Tim Denning
Bio: Tim Denning is well known for being a contributor to Entrepreneur and Addicted2Success. His content has reached millions of people worldwide.
Website: TimDenning.net
"Your new years resolution means nothing if it doesn't light a fire in your belly and make you extremely fearful or uncertain about whether you can achieve them. Don't settle for new years resolutions that you know you can achieve and have a crack at experiencing genuine growth in your life by setting audacious challenges for yourself. Your stronger and more powerful than you think and your resolutions for the new year should reflect that."
6. Clinton Senkow
Bio: Clinton Senkow is the co-founder of Influencive, a website that's currently reaching 1 million readers a month in the very short time it's been running.
Website: Influencive.com
"The best way to stick to your new years resolutions is by doing two things. First off you need to set realistic goals for yourself that stretch your limits or comfort zone, but also that aren't sufficiently out of reach.
Being realistic is important because you need to be able to attain that new goal you set for yourself. The best way to get better is to get rid of bad habits and enforce them with new habits to help you reach your goals.
You need to subtract things like negative friendships, self-doubt, procrastination, or being lazy. Then add in things like positive relationships, self-confidence, determination, and a tireless work ethic."
7. Ashley Zahabian
Bio: Ashley Zahabian started creating motivational YouTube videos when she was 18. She's now a professional public speaker in America who's words have reached millions of people.
Website: AshleyZahabian.com
"You have to find an emotional connection to your goals and can't make them just for the sake of it. Even I can't keep goals that I'm not connected to. My goals always solve problems that have emotionally affected me – I set them to solve a problem I've experienced.
Think about the pains in your life and set your resolutions around those, then wake up every single day knowing exactly what you need to do – in detail. Remember, emotions drive our actions. Use them."
8. Ruby Fremon
Bio: Ruby Fremon is a Coach, Catalyst, and Ignitor. She helps people break through the limits that are holding them back so they can design lives they truly love.
Website: IamRu.By
"3 tips to help you stick to your 2017 new years resolutions:
Understand WHY you really want it. Your WHY has to be strong because it will fuel you with motivation, even on the toughest days.
Do the f*cking work. Commit. Do whatever it takes, and slay your excuses.
Be resilient. It doesn't matter if you fail. What matters is how quickly you get back up."
9. Artur Kot
Bio: Artur Kot is the CEO of MenProvement, one of the leading self-improvement websites for men.
Website: MenProvement.com
"New year is a fresh start to implement change in your life, but remember that at the end of the day 1st of January is just an arbitrary date that just feels like a clean slate. It doesn't erase the years of bad habits and it doesn't really make it easier for your transformation to occur.
By the end of February majority of people quit the gym and forget about setting up their business and come back to their old ways cause they didn't really make the resolution. Resolution means, to resolve and that is to cut off any other possibility.
From the 1st of January, think of every new day as a blank canvas you can paint a little piece of you're new life on. Start small and build the habit first. The change will happen automatically if you fall in love with the process and the person you are about to become as a result of that process."
10. Jeff Moore
Bio: Jeff Moore is a TedX speaker, confidence coach, and founder of Everyday Power Blog, based in New York.
Website: EverydayPowerBlog.com
"People can best stick to there new years resolutions in 3 ways:
They must be excited about it and super clear on how it will improve their current situation.
They need to be clear on what will get in their way, and then get rid of those obstacles. You can't take on new habits without letting go of a few.
Do not focus on the results. Just focus on creating the environment that will lead to your progress."
11. Evan Teague
Bio: Evan Teague is a digital nomad currently based in Thailand. At 22 years old, he's living the laptop lifestyle, and is also the founder of Motive in Motion.
Website: MotiveinMotion.com
"Commit to ONE goal that over-arches all the little things you're going to do to get there. Make one broader resolution that has many small parts, so you can stay consistent with your main goal. And make it CLEAR. For instance, if it's losing 10 pounds, dial your diet, consistently do a bit of cardio each day, and write down your progress on paper."
12. Samantha Skelly
Bio: Samantha Skelly's mission is to build a community of 1 million women that have experienced sustainable weight loss due to a strengthened relationship with food and their bodies.
Website: HungryforHappiness.com
"I don't make resolutions for New Years. I am ever-evolving, as is my business. Resolutions for me keep me in a mindset I had months ago, my brain and growth expands and such a rapid rate it's essential for me to do 'day checks' and create actions based on what is most needed on that day.
This level of commitment takes a heightened level of personal trust and integrity. It's a constant up leveling which needs to be monitored and managed on a day-to-day basis. If I WERE to make a resolution, it would be to eat more tacos, tacos are so damn good."
13. Nicholas Bayerle
Bio: Nicholas Bayerle is the founder of The Billion Dollar Body, and is on a mission to make more men feel like a billion bucks.
Website: TheBillionDollarBody.com
"Get super super clear on what you want and why you want it. There has to be a clear game plan to hit it or you won't know how to do it. Make it something you can take action on everyday."
14. Amanda Bayerle
Bio: Amanda Bayerle is helping grow The Billion Dollar Body brand alongside her husband Nicholas, and specializes in health coaching for busy entrepreneurs.
Website: TheBillionDollarBody.com
"The #1 way people can stick to their resolutions is to not only write it down but to look at it everyday. Looking at your goal and saying it out loud everyday then gets your mind in a state of actually accomplishing it. Do this and your New Years resolutions should be a piece of cake to hit."
15. Tyler Leslie & Carla Schesser 
Bio: Tyler Leslie and Carla Schesser are both editors for Addicted2Success. They both have a passion to inspire and educate the next generation, and have been featured in numerous publications such as Entrepreneur, SUCCESS and The Huffington Post.
Website: CarlaandTyler.com
"The best way to stick to your new years resolution is by reverse engineering why you set that goal in the first place and then making it a priority. If you don't know why your new years resolution is so important to you and why you have chosen that one, it will be easy to forget and eventually you will quit.
The trick is to really understand why you are making that a goal and if it's important enough to you, it will become a priority to you."
16. Hershey Hilado
Bio: Hershey Hilado is the founder of Ohmagosh, a fashion label which was recently named as one of the top 50 most innovative eCommerce stores in Australia.
Website: HersheyHilado.com
"Stay committed to the commitment. If you get off track, kick yourself in the head, literally! and start over again. Silence the distraction, shake off unnecessary baggage and people out of your life and focus, focus & focus!
Remember why you started at the first place. Giving up and moving forward is a choice you have to live with so don't put a permanent decision to a temporary problem no matter what. Just keeping moving forward. You owe it to yourself."
17. Tyler Basu
Bio: Tyler Basu is a professional content marketer, Podcast host and the publisher of Lifestyle Business Magazine.
Website: TylerBasu.com
"It's easy to work towards your goals on the days where you are highly motivated. Working towards your goals on the days where you're not is more difficult. Because of that, accountability is key. To ensure you consistently take the actions (especially on days where you're not particularly motivated), you need a system for holding yourself accountable."
18. JuVan Langford
Bio: JuVan Langford is a men's empowerment coach, speaker, storyteller and founder of The Elevation Effect.
Website: TheElevationEffect.com
"GOALS! GOALS! GOALS! It's the end of one year and the beginning of another and everyone is busy doing what? Setting goals. If I could impart a bit of wisdom what I'd say is stop setting goals and start creating specific achievements – let me explain.
The reason we fall back and loose track of our goals is because goals are broad and don't offer context on how to produce results daily. We are not specific in our visions, request or even questions and so we suffer from lack of clarity.
For example I wrote down on Dec 29th, 2015 to make 30 Under 30 Entrepreneurs and guess what came knocking? Influencive Magazine with a powerhouse feature. While I am grateful for the feature for the new found friends and opportunities, what I really had in mind was Forbes 30 Under 30.
Even I am still learning. We often forget how powerful we are and our capacity to draw into our lives everything we desire if we just choose to GET SPECIFIC."
19. Dan Western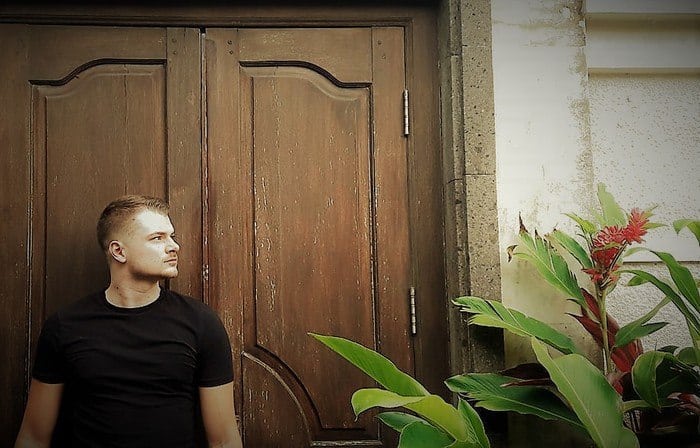 Bio: Dan Western is the founder of this very site, Wealthy Gorilla. Dan is a digital nomad, and is on a mission to inspire as many people as possible to lead rich lives.
Website: WealthyGorilla.com
"I think the best way to stick to your goals is to get a taste for what your life could be like if you were to actually achieve them. Want to become a digital nomad? First, go travelling using savings. Want to become a successful entrepreneur? Ask to shadow another entrepreneur who's already successful. Getting a lil' taste will almost motivate the c**p out of you."
20. Mark Lack
Bio: Mark Lack is a successful author, founder and CEO of Shorten the Gap, and also the host of the TV show Business Rockstars.
Website: ShortenTheGap.com
"Most people don't stick to their New Years resolutions because of two reasons: Their environments are conditioning and reinforcing their behavior and they don't have an unwavering commitment to the accomplishment of their new goals that's then reinforced with accountability from peers."
21. Kolby Kay
Bio: Kolby Kay is a successful entrepreneur, author, speaker and founder of The Healthy Primate. THP is on a mission to help people reduce the stress in their lives and operate to their full potential.
Website: TheHealthyPrimate.org
"1. Write down your goals: Simply taking about things will never lead to success. You need to write your goals down. Put them somewhere you can see them. Share them on social media and push out some social accountability.
2. Make them something you can measure: Your goals should be something specific and measurable. I want to lose weight. I want to make more money. I want better relationships. These will never work. You specifics. How about I would like to lose 15 pounds in 60 days? I will take my strengths and build a way to monetize what I love doing for extra money. How about setting up date night once a week. BE SPECIFIC AND MEASURE!
3. Be realistic: If you don't go to the gym at all, don't set a goal of going 6 days a week. If you have never ran – don't set a goal of running a marathon in 2 months. Start with small goals that you can achieve and build momentum. How about getting to the gym 2 times a week? How about completing a 10K in 90 days? Then build up to the larger goal with milestones along the way."
Summary
There's some incredible advice within the answers above on achieving your goals in the new year. These amazing individuals are game changers. Together, they're influencing millions of people every month, and the audience is only growing!
If you want to make 2017 the best year of your life, and actually achieve your new years resolutions; save this article and come back to it anytime you need to.
What are your goals for 2017? How are you going to make sure you achieve them? Leave a comment below.
<![CDATA[ */ var zbjs = {"ajaxurl":"https:\/\/wealthygorilla.com\/wp-admin\/admin-ajax.php","md5":"ac468c234e8fd556900e64b356f3f60e","tags":["Influential People","New Year Resolution","Wealthy Gorilla"],"categories":["Self-Improvement"]}; /* ]]>