We're living in a pretty fast-paced and busy society now, and it's becoming more and more difficult to find time to sit down and read something interesting.
Enter Podcasts! In the last 10 years, podcasting has become really popular, allowing some of our favourite public figures, comedians, business people and entertainers, the opportunity to create some super interesting shows of their own.
So, to save you time, we've put together a list of the 20 most popular podcasts to listen to right now.
Choose one, pop your headphones in, sit back in your chair and enjoy!
The 20 Most Popular Podcasts to Listen to Right Now
The list of podcasts and figures mentioned below have been compiled from various sources around the web, such as Pod Ranker.
These are the 20 most popular podcasts to listen to right now:

20. The Shrink Next Door
Kicking off our list is "The Shrink Next Door".
This podcast is about the story of Isaac Herschkop, a professional physiotherapist that decided to take his professional abilities a little too far.
He abused some of his most trusting patients for his own personal gain, often throwing lavish house parties to entertain celebrities.
His neighbour, Joe Nocera's, often wondered about Ike and was surprised when Ike up and vanished one day.
This popular podcast is written and hosted by Joe Nocera.
19. Revisionist History
This podcast is hosted by Malcolm Gladwell, a well-known successful author of five New-York Times bestsellers.
Malcolm starts off each podcast episode with an inquiry about an event, person or idea.
He then begins to question that idea, event or person, which makes for an interesting conversation.
Next on our list of the most popular podcasts to listen to right now is "The Dave Ramsey Show".
If you like finance and want some straight-talking, no B.S advice, then Dave's your man.
Dave takes live calls and answers their questions for all to hear and benefit from.
He also records, films and uploads them to his Youtube Channel.
Dave is well known for his strong bias toward not getting into any kind of debt, instead preferring to work hard, earn more, save and invest.
Great advice if you ask me!
17. To Live And Die In LA
Hosted by American journalist Neil Strauss, this podcast is one that investigates the death and disappearance of an Albanian actress in LA.
The actress was last seen leaving her apartment with her boyfriend and has never been seen again.
Strauss was asked to produce an article about this by the victims family, as a means to gain more attention for her case.
Through his research and findings, he decided that one article would not be enough to list everything he found, so he started the podcast.
Episodes vary from 30 minutes to an hour.
16. Hidden Brain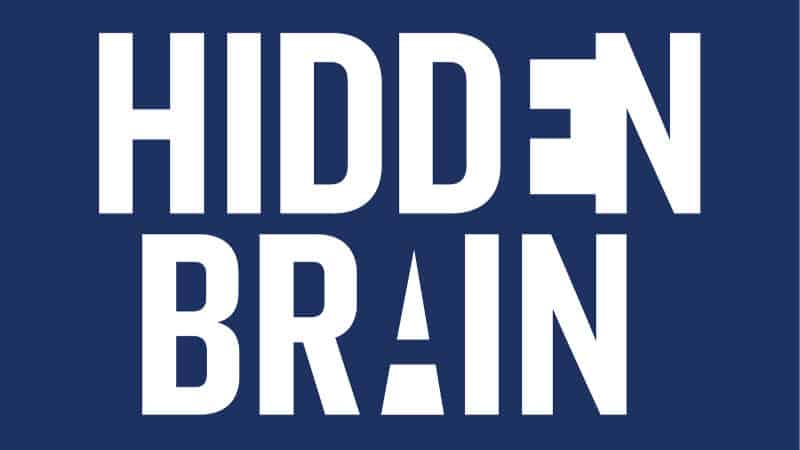 Shankar Vedantam, an American journalist, writer, and science correspondent, reveals how unconscious patterns that drive human behaviour, shape our choices and direct our relationships.
He uses science and storytelling to back up his points and create a pleasant listening environment for his audience.
The Hidden Brain is the sixteenth most popular podcast of all time.
15. IT Visionaries
Next up, we have IT Visionaries – a podcast all about actionable insights, interviews and lessons from IT leaders.
They release two weekly episodes, each packed with different stories, trends and value.
They interview fortune 50 CEO's, CTO's and CIOs and venture back start-ups.
In their own words, the podcast "is on a mission to discover the technological future at the frontiers of every industry, and then bring that information to you in a way that's easy to implement."
14. Stuff You Should Know
Stuff You Should Know or SYSK, as it's often abbreviated to, is a popular award-winning podcast that educates their audience on a wide selection of topics – often things you should really know!
The podcast's success means that it's consistently ranked in iTunes top 10 most popular podcasts and is downloaded millions of times each month.
In terms of the podcasts schedule, they release a new episode every Tuesday, Thursday and Saturday.
If you want to start listening to this popular podcast, head over to iTunes or Spotify where you can download it for free.
13. Man In The Window: The Golden State Killer
The thirteenth most popular podcast of all time is one from the LA Times.
In this podcast, Paige St. John, a Prize-winning investigative reporter reveals some unique, never seen before information about The Golden State Killer – one of Californias most prevalent serial killers.
The podcast showcases the killer's path through the eyes of his victims.
If you have some spare time, this one's well worth a listen!
12. Dr. Death
What an intriguing title for a podcast, right?
Well, Dr. Death is about Christopher Duntsch, a surgeon from Texas, nicknamed "Dr. Death", due to his conviction of gross malpractice.
He seriously injured thirty-one patients after operating on them and killed two of them during an operation.
The podcast first hit the air in 2018 and has 10 episodes. It's hosted and reported by Laura Beil.
11. My Favorite Murder with Karen Kilgariff and Georgia Hardstark
Hosted by Karen Kilgariff and Georgia Hardstark, My Favorite Murder is a true-crime comedy podcast.
In each episode, the comedy duo selects a murder, true crime story or survivors story and discusses it at length amongst themselves.
The podcast has done really well since it was first released in January 2016, regularly appearing in iTunes top 10 comedy podcast charts.
To date, it has received 19 million monthly downloads.
Well worth a listen!
10. The Daily
Coming in at number ten on our list of popular podcasts is "The Daily" – from the New York Times.
The Daily's episodes are based on what the NY Times has reported that day, so they can vary quite a bit, which makes for an interesting listen.
The podcast is hosted by political journalist, Michael Barbaro and each episode lasts between 20 – 30 minutes.
The show's material comes from interviews from Times journalists and any related interviews they did with people involved in the story.
It started in January 2017, and within just six short months the show had already gained 3.8 million individual listeners.
9. Serial
Serial is a popular podcast hosted by Sarah Koeing, who narrates this interesting factual story over several episodes.
Each season investigates something different, for example, season one investigated the murder of Hae Min Lee, an 18-year student that disappeared in Baltimore, Maryland.
Season two looked into the capture of US Sergeant Bowe Bergdahl, by the Taliban. And season three focuses on particular cases within the Justice Center Complex in Cleveland.
The podcast has done really well to date, with seasons one and two being downloaded more than 340 million times, and the show received a Peabody award in 2015.
8. Call Her Daddy
If you're looking for a bit of a laugh and some cringe-worthy stories, then Call Her Daddy might be the podcast for you.
This podcast follows Alexandra Cooper, a professional vlogger, and her best friend Sofia Franklyn as they discuss everything about their NYC lives.
Both in their 20s, the duo talk about relationships, sex, embarrassing moments and the NY social scene.
If you're wanting to feel a little bit better about your life, by listening to some of the shenanigans these two get up to, then tune in to their show asap.
It's a giggle!
7. Hell and Gone
This is super interesting if you like true crime and unsolved cases.
Hell and Gone is a popular podcast that submerges viewers into investigation mode, as host Catherine Townsend, tries to uncover the truth about the 2004 murder of Rebekah Gould.
Catherine, who's a writer and licensed private investigator, moved to Mountain View, Arkansas to try and figure out who killed Rebekah 14 years ago.
Catherine's goal is to bring Rebekah's killer to justice, so each week, listeners are invited to join her and her team as they locate suspects and continue piece things together, one by one.
6. 22 Hours: An American Nightmare
Wow! Brace yourself for this one. It's intense!
22 hours, is a podcast about the horrible and awful situation that happened to one A.D.C power couple and their 10-year-old son.
The family were held hostage for 22 hours, before being brutally murdered in their D.C mansion.
WTOP investigates and examines what the police used as evidence which led them to find the family's killer, and why he did it!
Each episode is around one hour and well worth a listen.
5. Noble Blood
If history and royals are your thing, then Noble Blood is definitely for you.
Noble Blood discusses the lives and stories of some of histories most interesting royals.
It dives into the murders and murdered, tyrants and tragedy, and educates you all the while.
The podcast is from executive producer Aaron Mahnke and iheart Podcasts and narrated by the author, Danna Schwartz.
4. The Joe Rogan Experience
The Joe Rogan Experience is an audio and video podcast, launched in 2004 by American comedian, actor, martial artists and sports commentator, Joe Rogan.
Since its release, the podcast has grown massively to become one of the most popular podcasts to listen to, especially in 2019.
Joe interviews a variety of interesting characters, including celebrities, sports stars, business people, and TV personalities, often asking the questions that everyone wants to know.
Each episode is about three hours long but cut up into small snippets for his Youtube channel.
Since its launch in 2016, the show has been voted as the "Best Comedy Podcast of 2012 by users of iTunes', won a Stitcher Award for Best Overall Show of 2013, and by 2018 ranked second place in the list of Apple's most-downloaded podcasts.
Really worth a try if you haven't already!
3. Overheard at National Geographic
If you ever wondered what type of conversation is going on in the National Geographic headquarters, then you're in for a treat!
Each episode of this popular podcast dives into one of the strange, random, bizarre and fascinating conversations that the team have overheard in the National Geographic headquarters.
Prepare to be amazed, laugh a little and learn a lot as you're introduced to conversations from photographers, scientists and explorers doing amazing things around the world to bring you the content you watch on National Geographic.
2. Crime Junkie
For all you true-crime junkies out there, this one's for you.
Crime Junkie is a true-crime podcast hosted by Ashley Flowers and co-hosted by Brit Prawat.
The duo discusses everything to do with true crime and releases a new episode each week.
As of July 11, 2019, Crime Junkie has released 88 episodes and has received a ton of positive feedback.
Laura Barcella of Rolling Stone magazine named the podcast among her favourite true crime podcasts for 2018!
1. The Clearing
The most popular podcast to listen to is another true-crime podcast.
This one follows the story of April Balascio as she finds out her fathers a serial killer.
When April was 40, she decided to call a detective after years of suspicion had finally got too much.
She wanted to know once and for all if her father really was a serial killer.
After decades of waiting, her worst fears were confirmed. Her father, Edward Wayne Edwards, was convicted of multiple murders.
The podcast is about what happened after all of the above, and how April dealt with her emotions.
Host Jon Dean digs into her childhood memories to find out the truth about her father's life and potential motives.
Summary
We hope you enjoyed our list of the 20 most popular podcasts to listen to right now.
It's really no surprise that all of these popular podcasts made it onto our list. They're all super interesting, engaging and fun to listen to.
If we had to choose, we'd most probably listen to number two, four, eight and eighteen the most.
Here's a quick recap of the 20 most popular podcasts to listen to right now!
The Clearing
Crime Junkie
Overheard at National Geographic
The Joe Rogan Experience
Noble Blood
22 Hours: An American Nightmare
Hell and Gone
Call Her Daddy
Serial
The Daily
My Favorite Murder with Karen Kilgariff and Georgia Hardstark
Dr. Death
Man In The Window: The Golden State Killer
Stuff You Should Know
IT Visionaries
Hidden Brain
To Live And Die In LA
The Dave Ramsey Show
Revisionist History
The Shrink Next Door
What's your favourite most popular podcast to list to? Leave a comment below.