The 50 Best Movies on Netflix Right Now
Which are the best Netflix movies to be watching right now?
We know how you feel! When you really want to watch a great movie but have absolutely no idea what to pick!
Wouldn't a list of 50 awesome films come in really handy right about now?
Well, that's exactly what we've put together for you… a list of the 50 best movies on Netflix right now, so all you have to do is choose a film, whack on the TV and sit back and relax.
Enjoy!
The 50 Best Movies on Netflix Right Now
The films and figures mentioned below have been compiled from various sources around the web, such as Ranker.com & IMDB.
These are the 50 best movies on Netflix right now:
50. The 40-Year-Old Virgin
Released in 2005, directed by Judd Apatow and grossing over $177 million dollars worldwide, this hilarious "sexual" comedy is about exactly what it says on the tin! Andy Stitzer, played by Steve Carell, is a 40-year old virgin working at his local electronics store.
Some of his close friends, played by Seth Rogen and Paul Rudd, try to relieve him of his 40-year burden by giving him some contradictory advice and setting him up on a series of awkward dates.
It's comical gold and worth a watch!
49. About A Boy
Another great romantic comedy-drama, starring Hugh Grant, Nicholas Hoult, Toni Collette, and Rachel Weisz. Released in 2002 by Universal Pictures.
About a Boy follows the story of Marcus Brewer, a 12-year-old boy with a troubled life, and Will Freeman, a single thirty-eight-year-old bachelor who's never worked a day in his life, living comfortably instead off the royalties from a song written by his deceased father.
They go on to form a friendship and find relatable similarities between their lives.
48. Amy
If you like Amy Winehouse then this is the film for you. Amy, released in 2015 and directed by Asif Kapadia, is a British documentary film about Amy Winehouse, that portrays her happy and tragic life throughout her career.
It documents what her teen years were like and her struggle with substance abuse, both during and after her career rocketed.
The film went on to become the highest-grossing British documentary of all time.
47. Hellboy
Loosely based on Dark Horse Comics graphic novel Hellboy: Seed of Destruction, the 2004 box office superhero film follows the journey of a semi-demonic creature, Hellboy, on his quest to use his powers to protect the world from paranormal threats and evil psychopaths.
Trevor Brutternholm, Liz Sherman & John Myers were amongst the cast, and the film went on to gross a cumulative worldwide figure of $99.4 million dollars.
46. Incredibles 2
By far one of the best family fun movies on Netflix, Incredibles 2, the sequel to 2004's, Incredibles; is a computer-animated superhero film that follows a "superhuman" family that tries to restore the public's trust in superheroes.
The cast includes Samuel L. Jackson (Lucious Best, Frozone), Craig T. Nelson (Mr. Incredible), Holly Hunter (Elastigirl) & many more. It was produced by Pixar Animation Studios and distributed by Walt Disney Pictures.
45. Pretty In Pink
An 80's classic, Pretty In Pink, released in 1986 and revived again in 2017, is an American romantic comedy telling the story of a young, not-so-popular girl, finding herself in the position of having to choose between her childhood sweetheart or the new rich guy.
Directed by Howard Deutch, produced by Lauren Shuler Donner, and written by John Hughes, the film received great reviews by critics and the soundtrack was rated as one of the best in modern cinema.
44. The Silence of the Lambs
A cannibalistic serial killer, Hanibal Lector, is hired by the FBI to help solve and apprehend a new serial killer, known as "Buffalo Bill", who skins his victim's corpses.
The film was released in 1991 and stars Jodie Foster, Anthony Hopkins, Scott Glenn and Ted Levine. With a $19 million dollar budget, the film surpassed expectations, grossing $272 million dollars and winning multiple academy awards in all the top five categories.
This is an absolute "must" watch if you ask us!
43. Pulp Fiction
Tarantino fan? If so, you're going to love this one.
Written and directed by Quentin Tarantino, this 90's classic American crime film stars actors John Travolta, Samuel L. Jackson, Bruce Willis and actress Uma Thurman. Pulp Fiction tells numerous stores of crime in Los Angeles and is filled with tales of violence.
From hitmen to gangsters, to bandits and redemption, this film rightfully deserves its place in our top 50!
42. Zodiac
Directed by David Fincher and starring actors like Jake Gyllenhaal, Mark Ruffalo, and Robert Downey Jr; Zodiac tells the story of the Zodiac Killer.
A serial killer who operated in the San Francisco Bay area in the late 1960's early 1970's. This is based on a true story, which is still unsolved to this day!
The film received positive reviews, grossed over $84 million dollars and was nominated for several awards. In 2016 it was voted 12th out of 100 films considered to be the best of the 21st century, by 117 global film critics.
41. Jaws
Based on Peter Benchley's 1974 novel, directed by Steven Spielberg and released in 1975, the American thriller film went on to become one of the worlds most iconic films.
A tale of man vs beast, when a killer great white shark decides to unleash carnage on unsuspecting beachgoers, a marine biologist is forced to take matters into his own hands. Considered one of the greatest films ever, Jaws was the highest grossing film of all time until Star Wars was released.
40. District 9
District 9, written by Terri Tatchell and Blomkamp and produced by Peter Jackson and Carolynne Cunningham, is a science fiction action film starring Sharlto Copley, Jason Cope, and David James.
Originally an adaptation of Blomkamp's 2006 short film, Alive in Johannesburg, District 9 tells a story of a battle between the human race, aliens and corrupt governments.
A great action movie if we do say so ourselves!
39. Bonnie and Clyde
Bonnie and Clyde is a 1967 American biographical crime film starring Warren Beatty and Faye Dunaway. The couple fall in love and together start committing acts of violent crime across the country. Their crime spree continues to get bigger and better, becoming more violent each time. Fate plays a key part in the dramatic ending!
The film went on to receive Academy Awards for the best-supporting-actress and best cinematography.
38. Eternal Sunshine of the Spotless Mind
Imagine being in a long relationship, erasing each other's memory and starting over again! Well, that's exactly what happens in this film.
Released in 2004, the American romantic science fiction comedy-drama, starring Jim Carrey, Kate Winslet, Mark Ruffalo, Elijah Wood, Kirsten Dunst, and Tom Wilkinson, grossed over $70 million dollars worldwide and won an Academy Award for Best Original Screenplay.
37. Boyhood
In this 2014 American drama, you'll witness what it's like to grow up as a boy from the age of six to eighteen. Filmed over 12 years, Mason (Ellar Coltrane) shows the audience what life is like from early childhood to arriving at college. Boyhood was written and directed by Richard Linklater, and starring Patricia Arquette, Lorelei Linklater, and Ethan Hawke.
It was nominated for 5 Golden Globe Awards and won Best Motion Picture – Drama, Best Director, and Best Supporting Actress.
36. Hot Fuzz
Like Shaun of the Dead? Hot Fuzz was written by Edgar Wright and Simon Pegg and stars the third leg of the comedic tripod, Nick Frost. Pegg and Frost play police officers that are trying to solve a series of murders in a small town with a dark secret.
In only nine weeks, the film earned almost twice the amount that 'Shaun of the Dead' made in the US, grossing $80.5 million dollars worldwide.
A great film for a lazy afternoon!
35. Ex Machina
With a $15 million dollar budget and grossing over $36 million dollars worldwide; this 2014 science fiction psychological thriller won an Academy Award for Best Visual Effects and several other BAFTA awards.
A young programmer is selected to participate in a revolutionary experiment in synthetic intelligence and the evaluation of a highly advanced humanoid robot.
Ex Machina was written and directed by Alex Garland and stars Alicia Vikander, Domhnall Gleeson and Oscar Isaac.
34. Miami Vice
Based on the 1980's TV action/drama, Miami Vice stars Jamie Foxx as Tubbs and Colin Farrell as Crockett, two Miami detectives that go undercover and end up getting themselves involved with a notorious arms dealer and drug trafficker.
The film was released in 2006 and was named the 95th best action film of all time in a 2014 Time Out Poll of film critics, directors, actors and stunt actors.
33. She's Gotta Have It
Written, edited and directed by Spike Lee, She's Gotta Have It is an American black and white comedy-drama that received great praise by critics and audiences upon its release.
$7.1 million dollars later, it's still an enjoyable and engaging film to watch. Starring Tracy Camilla Johns, Tommy Redmond Hicks and John Canada Terrell, the story tells of a young woman juggling her three lovers whilst refusing to commit to any of them.
32. No Country for Old Men
Following a Texas welder and a Vietnam War Veteran in the 1980 desert landscape of West Texas, violence and carnage become a reality after Llewelyn Moss comes across a drug deal gone wrong and over $2 million dollars in cash.
Starring Tommy Lee Jones, Javier Bardem, and Josh Brolin, the 2007 American western crime thriller has won over 76 awards from 109 nominations and was voted the 10th best film of the 21st century in 2016.
31. The Invitation
Directed by Karyn Kusama and written by Phil Hay and Matt Manfredi, The Invitation stars Logan Marshall-Green (Will), Tammy Blanchard (Eden), Emayatzy Corinealdi (Kira) and is an American horror thriller telling a tale of a once loving couple tragically losing their son and separating as a result.
Fast forward a couple of years, they've reunited again but on different terms, as one of them has a terrifying agenda!
Released in 2015, the film has amassed an impressive 87% approval rating on Rotten Tomatoes.
30. Street Fight
This film documents Cory bookers campaign against Sharpe James for Mayor of Newark, New Jersey. It follows his journey from door knocking in his early career days to a dramatic and climatical ending, all in the pursuit of his goal to become Mayor.
Nominated for an Academy Award for Best Documentary Feature and winner of an Audience Award at the Tribeca Film Festival, Steet Fight is well worth its place in our top 50!
29. Milk
Milk follows the first openly gay person to be elected to public office in California, as a member of the San Francisco Board of Supervisors, Harvey Milk, played by actor Sean Penn.
It follows his journey as a gay rights activist and politician and chronicles his personal life and romantic affairs. In its opening weekend, the film made $1.4 million dollars and was featured in the top 10 box office list.
28. Lincoln
Directed and produced by Stephen Spielberg, Lincoln is an American historical drama about the late US president Abraham Lincolns fight to forever ban slavery from the United States. However, time plays a big factor as he must pass the amendment quickly or face objecting states stopping it becoming law.
For his performance as President, Daniel Day-Lewis won an Academy Award for Best Actor.
27. The Aviator
Directed by Martin Scorsese and starring Leonardo DiCaprio, this 2014 American biographical drama, follows billionaire Howard Hughes's career from the late 1920s to mid-1940s as he worked in the film industry, became a successful producer and began to design and promote aircraft, lead him to become one of the worlds most successful aviation magnates.
The film grossed $214 million dollars at the box office and was nominated for eleven Academy Awards.
26. Annie Hall
Just as good now as it was back then, Annie Hall is a 1977 American romantic comedy starring Diane Keaton and directed by Woody Allen. A forty-year-old twice-divorced Jewish stand-up comic reflects on the downfall of his most recent relationship, with Annie Hall, and reviews the many reasons as to why he dated her in the first place.
Annie received an Academy Award for Best Picture, grossed more than $38 million dollars and is widely regarded as one of the greatest films of all-time.
A must watch!
25. Mustang
Set in a remote Turkish village, Mustang depicts the lives of five young orphan girls that are forced into arranged marriages and a life of immorality; just because of a simple harmless event at the beginning of the film. The five sisters share common values and find ways of getting around the rules opposed on them.
Released in 2015, it's seen great success, been nominated for countless awards and has a Rotten Tomato rating of 98% out of 98 reviews.
24. Private Life
Following the lives of Richard and Rachel, two middle-aged American writers who desperately want to have a child together; we see the couple's relationship gradually come under fire as time goes on. Plagued by infertility, the couple tries to maintain their marriage whilst on the never-ending path of assisted reproduction and adoption.
Hilarious and heartwarming at times, the 2018 American comedy-drama is well worth a couple of hours of your time.
23. The Truman Show
The Truman Show is a 1998 American comedy science fiction film written by Andrew Niccol and directed by Peter Weir. The leading role, Truman Burbank is played by Jim Carrey, who's an insurance salesman that discovers his whole life is actually a reality TV show and decides to try and escape.
Out of 125 reviews on Rotten Tomatoes, The Truman Show received 94%.
22. West Side Story
Another award-winning classic, West Side Story is an adaptation of the 1957 Broadway musical and follows the story of two rival New York City gang members that fall in love under difficult circumstances. However, their relationship is tested and their friends disapprove, so the film has a very climactic and heartbreaking ending.
It stars Natalie Wood, Richard Beymer, Russ Tamblyn, Rita Moreno, and George Chakiris and grossed $44.1 million dollars worldwide.
21. The Hurt Locker
What a film! A highly trained bomb disposal team is tasked with disarming bombs in the heat of combat during the Iraq war. When targeted by insurgents, we see the psychological reactions of the soldiers and how well they're able to tolerate extreme stress. Some even find it addictive!
Written by Mark Boal and directed by Kathryn Bigelow, the film won 6 Academy Awards, including Best Picture and Best original screenplay.
20. Kill Bill
A former Assasin awakens from a four-year coma, to find out that she had been betrayed by the members of her previous squad. Needless to say, she decides to take her revenge and hunt down and kill each member of the team, with a focus on finding "Bill", her former lover and assassin squad leader.
Released in 2003, Kill Bill Volume 1 became Quentin Tarantino's highest-grossing film up to that point, earning over $180 million dollars. and was placed in Empire Magazine's list of the 500 Greatest Films of All Time.
19. The Fighter
Released in 2010, starring Mark Wahlberg, Christian Bale, Amy Adams, and Melissa Leo, The Fighter depicts the life of a fledgeling fighter, Micky Ward, trying to break out of his older brothers, Dicky Eklund, shadow, on his way to the world light welterweight title.
The film was nominated for seven Academy Awards and won Best Supporting Actor (Christian Bale) and Best Supporting Actress (Melissa Leo).
18. Coraline
If you like 3D stop motion animated films, then this might be right up your street! Released in 2009, directed by Henry Selick and based on Neil Gaiman's 2002 novel of the same name, Coraline is about an 11-year-old girls adventures in another world which she finds through a hidden door in her new house.
Things turn sour, however, and she soon finds herself trapped in an alternate reality. Some of the cast includes Dakota Fanning, Teri Hatcher, Jennifer Saunders and Dawn French. To date, the film has grossed over $124 million dollars worldwide.
17. As Good As It Gets
A hit at the box office, this 1997 romantic comedy-drama film starring Jack Nicholson, follows an obsessive-compulsive novelist, Melvin, who finds his world turned upside down when he is entrusted with looking after a dog from a neighbouring gay artist, and the only waitress that can tolerate his OCD behaviour has to leave work to look after her sick son, meaning Melvin can't have breakfast anymore.
The film earnt over $314 million dollars worldwide and received Academy Awards for Best Actor & Actress in a Leading Role.
16. 13th
This one's a real eye-opener. Named after the Thirteenth Amendment to the United States Constitution which abolished slavery throughout the United States, 13th takes an in-depth look into the United States Prison System and explores topics of race, justice and mass-incarceration.
Released in 2016 and directed Ava DuVernay, 13th won the Primetime Emmy Award for Outstanding Documentary or Nonfiction Special.
15. Heathers
American dark comedy, Heathers, written by Daniel Waters and directed by Michael Lehmann, stars Winona Ryder and Christian Slater, who play a young teen couple drawn to each other after Veronica (Winona Ryder) has had enough of her three best friends, who are all called Heather, and finds solace in sociopath JDs character.
The pair go after her former "clique" and the drama soon escalates. Heathers was ranked number 412 on Empire's list of "The 500 Greatest Movies of All Time".
14. Poltergeist
An iconic 1982 American supernatural horror film, Poltergeist is a story about a young family that's home is haunted by a plethora of demonic ghosts. All is well at the beginning, but things soon turn nasty and the family are terrorised and their youngest daughter is kidnapped.
Directed by Tobe Hooper and starring JoBeth Williams, Craig T. Nelson, Heather O'Rourke, Poltergeist was both a major critical and commercial success, receiving several award nominations and winning the Saturn Award for Best Horror or Thriller Film in 1983.
13. Stripes
Dissatisfied with their jobs and after very little thought, John Winger (Bill Murray) and Russel Ziskey (Harold Ramis) decide to join the army.
The problem is, is that they're both clearly not solider material, however, to their luck they meet Stella and Louise, who both manage to help keep them on the straight and narrow. Stipes became the 5th most popular 1981 film at the US and Canadian Box office and grossed over $85 million dollars in North America alone!
12. The Wild Bunch
Directed by Sam Peckinpah, this epic American western tells a tale of how the traditional American West is dying and some of its inhabitants, "The Wild Bunch", aren't quite ready to go down without a fight, so they decide to take on one last job in Mexico.
After a few twists and turns, the gang end up in a dramatic and brutal gunfight with their enemies. This 1969 American Western is a great one to watch on a Sunday afternoon!
11. Little Women
Based on Louisa May Alcott's 1868 novel of the same name, Little Woman is an American family drama film. The story tells of 4 sisters lives, growing up with their father fighting in the American Civil War and their journey to find love and their own destiny in the world.
Starring Winona Ryder, Gabriel Byrne and Trini Alvarado, Little Woman grossed over $50 million dollars and still receives a 91% positive review score on Rotten Tomatoes.
10. A Separation
This dramatic thriller is about an Iranian middle-class couple who separate due to a difference of opinion about living abroad. Simin (Leila Hatami) wants to live abroad for better opportunities for their daughter, whilst Nader (Payman Maadi) refuses to leave as he feels it's his duty to stay in Iran to look after his father, who suffers from Alzheimer's disease.
Written and directed by Asghar Farhadi, A Separation made over $24 million dollars worldwide on an $800,000 dollar budget, making it a box office success. It currently holds a 99% "fresh" rating on Rotten Tomatoes, based on 171 reviews.
9. Star Wars: The Last Jedi
It can't be a top 50 without including a Star Wars film, now can it!
Released in 2017 and written and directed by Rian Johnson, The Last Jedi follows Luke Skywalker's (Mark Hamill) attempt to teach Rey (Daisy Ridley) the ways of the force, whilst Leia (Carrie Fisher), a former Princess, tries to lead the remaining Resistance fighters away from the First Order.
The Last Jedi became the highest grossing film of 2017, making a reported $1.3 billion dollars worldwide.
8. Under the Skin
Directed and co-written by Jonathan Glazer, Under the Skin is a 2013 science fiction film about an unearthly being that presents itself as a young woman, played by Scarlett Johansson, that preys on innocent men in Scotland.
She lures them into her dimension, strips them down and consumes them. However, she soon starts to look at herself as human and things quickly start to change. The film received multiple award nominations and currently ranks 61st on the BBC's 100 Greatest Films of the 21st Century list.
7. Quiz Show
1994 American historical film, based on a true story, was produced and directed by Robert Redford; and follows a young idealistic lawyer in the 1950s who discovers that TV Quiz shows are being fixed. Richard Goodwin, the young lawyer, played by Rob Murrow, makes it his mission to uncover more information about what's going.
His investigation focuses on two show contestants, Herbert Stempel (John Turturro) and Charles Van Doren (Ralph Fiennes). Film critic Roger Ebert gave the film 3 1/2 stars out of four, calling the screenplay "smart, subtle and ruthless. Quiz show currently holds a 96% rating on Rotten Tomatoes.
6. Strangers on a Train
Based on the 1950 novel of the same name, Strangers on a Train is an American thriller produced and directed by Alfred Hitchcock.
Released in 1951, it's a story about two strangers that meet on a train. One of whom is a complete psychopath that tries to convince the other that they could help each other out; by murdering someone that the other person wants gone.
However, the two strangers don't see eye to eye and only one of them ends up going ahead with the plan, eventually blackmailing the other to do the same.
Starring Farley Granger (Guy Haines), Ruth Roman (Anne Morton) & Robert Walker (Bruno Antony), this 1951 classic received mixed reviews upon its release and was nominated for several industry awards.
5. Apollo 13
Into the top 5!! Apollo 13 is an American space docudrama that's based on the true story of the failed Apollo 13 mission to the moon. Astronauts, Jim Lovell (Tom Hanks), Fred Haise (Bill Paxton) and Jack Swigert (Kevin Bacon) are on their voyage when they suffer major internal damage and things go terribly wrong.
NASA tries to devise a strategy to get the Astronauts home but the probability of a safe return fades fast! It was nominated for 9 Academy Awards, winning Best Film Editing and Best Sound; and grossed over $355 million worldwide during its theatrical releases and was well regarded by its critics.
4. The Departed
Released in 2006, The Departed is a crime-thriller directed by Martin Scorsese and written by William Monahan.
The film features a great cast, starring Leonardo DiCaprio, Matt Damon, Jack Nicholson and Mark Wahlberg. It's about a Mobb Boss planting a mole into the Massachusetts State Police, whilst simultaneously, the police decide to assign an undercover agent to infiltrate the Mobs crew.
The Departed was a massive success and won four Oscars, at the 79th Academy Awards, for Best Picture, Best Director, Best Adapted Screenplay, and Best Film Editing.
3. The Fifth Element
Directed and co-written by Luc Besson and starring Bruce Willis, Gary Oldman and Milla Jovovich, The Fifth Element is ultimately about the survival of the planet, with the responsibility falling on special forces major and taxicab driver, Korben Dallas's (Bruce Willis) shoulders.
When he meets a young girl in his cab, the pair join forces to track down the stones of the four elements; which are the only things that can protect the planet from the evil entity that's threating to attack. Earning more than $263 million at the box office on a $90 million budget, the film was a major financial success.
2. Gone Baby Gone
In 2007, Ben Affleck released his directing debut, Gone Baby Gone, a neo-noir crime drama-thriller starring Casey Affleck and Michelle Monaghan. After a Boston, girl disappears from her home, and the police fail to make any headway on the case, the girls Aunt decided to hire two private investigators.
Faced with a moral dilemma, the pair are forced to make some major decisions that could tear them apart.
Gone Baby Gone grossed a whopping $34.6 million worldwide the film was well-received by critics!
1. Silver Linings Playbook
Silver Linings Playbook is an American romantic comedy-drama written and directed by David O. Russell, released in 2012.
It follows the life of Pat, played by Bradley Cooper, who after serving an 8-month stint in a Maryland Mental institution, for beating up the lover of his wife Nikki and being diagnosed with bipolar disorder, is on a quest to get his life back on track and try to reunite his relationship with Nikki.
However, things don't quite go to plan, and Pat ends up meeting another woman, Tiffany (Jenifer Lawrence), who actually enhances his life in more ways than one!
The film was a massive success at the box office, grossing over $236 million dollars worldwide and received eight Academy Award nominations!
Summary
We hope you enjoyed our list of the 50 best movies on Netflix right now and we'd be really interested to know if you agree? Let us know in the comments below what your favourite movie is and why. Furthermore, if there's another great movie on Netflix right now that we didn't include, let us know!
Here's a quick recap of the 50 best movies on Netflix right now:
Silver Linings Playbook
Gone Baby Gone
The Fifth Element
The Departed
Apollo 13
Strangers on a Train
Quiz Show
Under the Skin
Star Wars: The Last Jedi
A Separation
Little Women
The Wild Bunch
Stripes
Poltergeist
Heathers
13th
As Good As It Gets
Coraline
The Fighter
Kill Bill
The Hurt Locker
West Side Story
The Truman Show
Private Life
Mustang
Annie Hall
The Aviator
Lincoln
Milk
Street Fight
The Invitation
No Country for Old Men
She's Gotta Have It
Miami Vice
Ex Machina
Hot Fuzz
Boyhood
Eternal Sunshine of the Spotless Mind\
Bonnie and Clyde
District
Jaws
Zodiac
Pulp Fiction
The silence of the Lambs
Pretty In Pink
Incredibles 2
Hellboy
Amy
About A Boy
The 40-Year-Old Virgin
The 10 Cheapest Countries To Retire To
What are the cheapest countries to retire to?
While some people dream of retiring on a sunny beach drinking cocktails, others prefer the idea of remaining active and exploring exciting new wilderness.
But whatever your vision of retirement looks like, how much it's going to cost to enjoy a good standard of living is an essential factor everyone has to consider.
This guide explores the ten cheapest countries to retire to based on the annual global retirement index, breaking down everything from the cost of living and infrastructure to the food and entertainment you can expect to enjoy.
The 10 Cheapest Countries To Retire To
We've analyzed some of the most popular countries, from the cost of living to culture, to bring you this list of the cheapest countries you can move to when it's time to retire.
Here's our list of the 10 cheapest countries to retire to:
10. Uruguay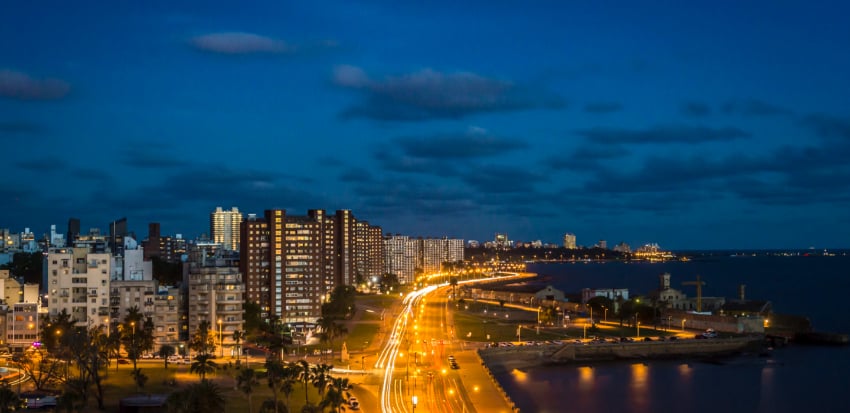 With its consistently warm climate, biodiverse rain forests, and rich and varied culture, Latin America is a popular region of the world to retire to on a budget.
Uruguay is one of the more popular Latin American countries for retiring abroad, nestled between Brazil and Argentina, with regular flights to and from the United States.
While Uruguay is among the smaller Latin American countries, there's plenty on offer for retired expats looking for a relaxing climate where they can live comfortably.
Its capital city, Montevideo, brings the lush green hues of the forests into its urban setting, with tree-lined streets and public parks available for leisurely strolls.
Foodies will appreciate the selection of exceptional street food on offer, with a particular emphasis on Italian and Mediterranean dishes drawn from a population mainly of Italian descent, alongside ethnic food and coffee shops.
Uruguay's culture matches the colorful flora and fauna, with regular carnival parades transforming the streets into parties and street tango performances livening up the coastal promenades.
Expect to invest around $1500 of your retirement dollars becoming a legal citizen, with a monthly cost of living between $2500 and $3500, giving a comfortable lifestyle.
If you'd prefer to avoid the bustle of Montevideo's city center, Uruguay's more remote coastal resorts, such as Punta del Este, offer some of the country's most impressive beaches, although you can expect your cost of living to increase for these locations.
9. Spain
If you'd prefer to retire abroad away from the American continent but would still like to brush up on your Spanish language skills, you should consider heading to Western Europe and settling in Spain.
A Mecca for expats from the UK, Spain offers a blend of year-round sunshine complemented by a cool Mediterranean Sea breeze, with delicious seafood and all the amenities you can expect from a fully developed country.
Hit the Costa del Sol for hot weather, endless bars, cafes lining the seafront, and freshly caught seafood straight from the sea, with a well-established expat community to welcome you.
For a more cultured retirement abroad, there are several major cities where you can find theaters and opera houses, and while the cost of living in places such as Milan and Barcelona is higher, the excellent food and rich history make it a worthwhile investment.
This rich culture is perfectly reflected in Spain's diverse architecture, with centuries-old Romanesque and Gothic structures sitting alongside the modernist works of architects such as Antoni Gaudi.
Life in one of Spain's many coastal towns is surprisingly cheap, and their affordable healthcare and efficient public transportation systems mean you can make additional savings from your monthly budget.
If you're interested in visiting a Unesco World Heritage Site in Spain, there are 49 to choose from, ranging from mountain landscapes to prehistoric rock art sites, a factor that makes the country one of the most popular tourist destinations in the world.
The Global Retirement Index's statistics for international living place Spain especially high when it comes to healthcare and development, ranking higher than most other countries on this list based on these measures.
8. Malta
Malta made international headlines when it was used for some of the footage for HBO's blockbuster series, Game of Thrones, where its baroque buildings, sandy stoned beaches, and 17th-century fort were used for a variety of settings.
Retiring to Malta isn't just for those who want to head out on a tour of the Game of Thrones locations; this deceptively small country is steeped in thousands of years of history, with a culture that reflects its role as a hub of international activity.
This tiny country boasts an abundance of activities to entertain expats, from the restaurants and festivals of the more populated settlements such as the capital Valetta to excellent hiking routes and places to scuba dive.
While the capital is an expensive city to purchase property, exacerbated by high property taxes, a single person can expect to pay in the region of $900 to $1600 for a one-bedroom apartment in the metro area.
Permanent residency can be achieved either through the costly Permanent Resident Program – which requires €500,000 in assets and other financial contributions – or through the "self-sufficiency" visa.
For this, you'll need to bring in an income of €50,000 per year, which can partly be social security), with evidence of medical insurance.
Malta isn't the cheapest of retirement destinations overall, but you can make huge savings on your overall cost of living with low transportation costs since it only takes a few hours to drive around the entire country and take in the stunning scenery.
It's a wonderful mixture of the ancient history of the Phoenicians, Arabs, and Normans, with a modern European sensibility woven into the food and culture of its small but vibrant cities.
7. France
Popular retirement locations have several things in common, including high-quality food and drink, a pleasing climate, attractive landscapes, rewarding culture, and excellent healthcare services.
France is no exception, a beautiful country that boasts everything from the world's "city of love," Paris, to countless medieval villages and a string of quaint coastal towns scattered along the west coast.
One of the key attractions for France as a place to retire to is its excellent social security benefits, with universal healthcare coverage available for all residents at an exceptionally low cost.
Overall cost of living is accessible, meaning you'll have plenty of your retirement income left over after your monthly expenses to enjoy France's many fine restaurants and entertainment venues.
Living expenses vary depending on where you choose to settle in France, with a lower cost of living expected in more rural regions compared to living the high life in urban areas.
Those who prefer the great outdoors over built-up urban conurbations may wish to settle in the Dordogne region, notable for its beautiful river and charming agricultural heritage.
Cannes and the Cote d'Azur bring a touch of elegance to the coast, although visiting these luxurious resorts, which feature some of the most expensive hotels in the world, will have less of a dent on your pension income than taking up permanent residence.
Sports fans in general – and cyclists in particular – can enjoy the world's most celebrated cycling tournament firsthand, with the Tour de France race taking part each year and spanning over 3,000 kilometers of this stunning country.
6. Ecuador
Returning once again to Latin America, Ecuador is another gorgeous country boasting extensive tropical rain forests where you can retire abroad and enjoy a low cost of living.
What Ecuador lacks in terms of modern amenities and services when compared to the European countries we've discussed, it more than makes up for with its incredible landscapes.
You'll still find modern conveniences such as high-speed internet here, so keeping in touch with friends and loved ones back home isn't going to be an issue.
Indeed, Ecuador is one of the most ecologically diverse places in the world, maintained by the protected status of its 11 national parks, which help to limit oil exploitation and protect the ecosystem.
Ecuador already hosts a well-connected and welcoming community of expats, which means you can easily find people to help you join local dinner clubs or sign up to art classes and try your hand at competing with the most expensive paintings ever created.
If you'd prefer to get away from the country's many fine sandy beaches, you can take day trips to explore the local culture, or if you're feeling more adventurous, set out into the hills and forests and connect with nature.
Ecuador's year-round growing seasons bring plenty of choice to the dinner table, from the pork, chicken, and beef dishes favored in the highland regions, to the fish and shrimp meals that dominate the coastal towns.
Overall cost of living comes at a truly affordable price, with cheap food matched by cheap transportation and services, and rent costing as little as $500 per month for a single person.
For those looking at retirement planning for a biodiverse environment with a more temperate climate, Ecuador deserves a place on the list of locations worth considering.
5. Colombia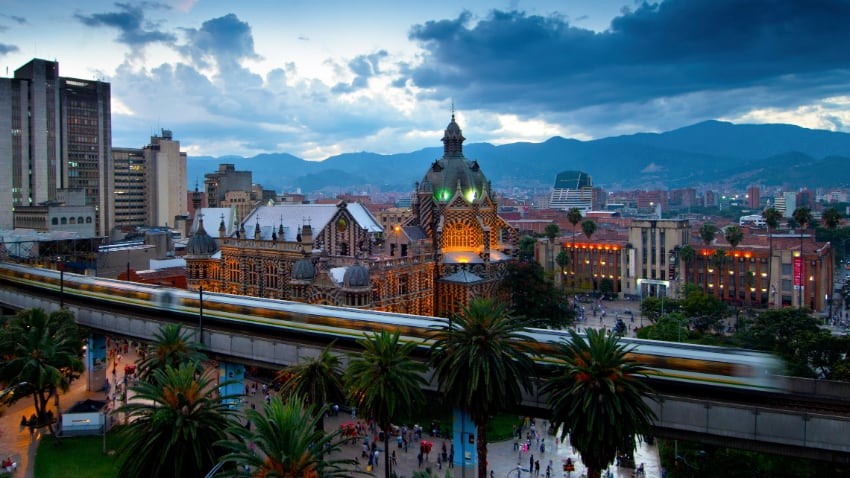 Colombia once had a reputation for conflict and violence, with warring political factions and international drug cartels once dominating the news cycle in the Western media.
Fortunately, this stereotypical depiction of the country no longer applies, and it is now one of the most affordable countries you can retire to, with an ever-growing expat community.
Colombia is the second most biodiverse country in the world; you can explore stunning mountain ranges and tropical rainforests or find sandy beaches scattered up and down the coastline.
As well as being one of the most ecologically diverse places you can retire to, Colombia also features a strong infrastructure, including efficient public transportation, decent healthcare facilities, and affordable utilities.
Culture vultures can make the most of Colombia's 3000 years of history, encompassing the early gold craftsmanship of the Tumaco people to the Baroque and rococo art and architecture of the Spanish Catholics, who settled in the country from the 16th century onwards.
It's also the home country of Shakira, ranked as one of the hottest women in the world with a reputation as a world-class singer, businesswoman, and philanthropist.
Colombian land produces excellent food, with regional dishes such as Patacones, Ajiaco, and Aborrajados livening the palette of the more adventurous expats who choose to retire here.
4. Portugal
Portugal resembles its neighbor Spain in several ways, including its warm and sunny climate tempered by cool sea breezes, to its eclectic seafood dining and vibrant culture.
The cost of living in Portugal is also lower than in Spain, making it the cheapest country in Europe and one of the most highly sought-after retirement havens in the world.
Voted the best place to live in 2020 by the International Living editors, Portugal offers a high quality of life with copious sunny shores to choose from, as well as some of the finest wines available.
Portugal's capital city, Lisbon, is one of the most affordable capitals in Europe while still offering the restaurants, nightlife, and modern facilities you'd expect to find in other major cities.
Professional healthcare comes at competitive prices, while accommodation can start from under $500 per month for a three-bedroom home (although, as always, expect higher prices if you want to live in the capital).
This is a country that brings historic towns, maritime history, and a timeless geographical beauty together with great value cost of living and friendly locals.
3. Mexico
American expats looking to apply for their retirement visa and move somewhere a little closer to home can often be found relocating to Mexico in Central America.
Mexican culture is firmly interwoven with American culture, with the Day of the Dead ceremony as iconic as the extravagant Mexican wrestlers and guitar-strumming mariachis.
This cultural familiarity, combined with its geographical proximity, has made Mexico as popular as a tourist destination as it is a home for retirement, enhanced by the low cost of living.
As one of the cheapest countries to live in, healthcare costs are considerably lower than in the US. In contrast, other social security benefits and low-income tax rates ensure the cost of living is even lower.
This adds up to an affordable cost of living of around $!500 to $2000 per month to cover the costs of a couple living in Mexico.
This large, geographically diverse country features a range of climates to suit various preferences, meaning you can holiday within Mexico depending on the season to find the temperature which suits you best.
Home of the Mesoamerican cultures, history buffs can take in the incredible spectacles of the Mayan and Aztec civilizations, and the country's rich and complex musical legacy can be found in its bars, clubs, and opera houses.
2. Costa Rica
Fly south from Mexico, and you'll find Costa Rica, a country surrounded by crystal clear seas that shares a maritime border with Ecuador.
Also known as "the Switzerland of South America," Costa Rica is one of the safest countries in the region, with affordable healthcare and other social security benefits to help keep your running costs low.
The residency process isn't convoluted, and this is one of the first countries to offer benefits explicitly aimed at expat retirees.
For those who don't see retirement as an opportunity for putting up their feet, and would rather get out and about, there's everything from jungle hikes to canopy tours and volcano expeditions to keep you on the move.
Leave the wilderness for one of the nearby towns or the capital San Jose, and you'll find plenty of quality restaurants and cultural events ready to feed and entertain you.
A global leader in biodiversity initiatives, Costa Rica has experienced keen interest from billionaires and world leaders eager to learn more about its revolutionary policies.
Even the founder of Amazon has visited the country, although you won't need Jeff Bezos' net worth if you're thinking of retiring here yourself.
1. Panama
Panama often conjures up images of a tax haven for some of the richest people in the world, but despite the financial institutions which dominate Panama City, it's also a place of tropical beauty and lush beaches.
You don't have to be a millionaire yourself to live a good life among Panama's super-rich; a couple can get by in Panama City with a cost of living under $3000 per month.
This cost of living is helped greatly by the fact you pay zero income tax for any revenue you earn in another country, as well as inheritance tax laws which mean your loved ones won't lose half your estate to the government.
There is an abundance of bars, cafes, and restaurants in Panama, which perhaps isn't surprising since it's also the home of one of the most expensive coffees you can buy.
Outdoor pursuits include sports, with the country well served by golf courses and forest treks, biking, and ziplining.
With its attractive cost of living based on the dollar currency, proximity to the States, and combination of modern amenities and attractive wilderness, Panama has earned its position at the top of the Global Retirement Index by International Living.
Summary
There are plenty of options when choosing the best place to retire abroad, catering for all manner of tastes and requirements, from the tropical paradises of Southeast Asia to the old-world charm of rural France.
We've explored the top ten retirement destinations based on the cost of living, healthcare and social security benefits, and the arts and culture you can expect to find.
Once you've decided which place is your dream retirement home, it's time to get in touch with a financial advisor and start saving for a future in the sun.
Here's a quick recap of the 10 cheapest countries to retire to:
Panama
Costa Rica
Mexico
Portugal
Colombia
Ecuador
France
Malta
Spain
Uraguay
Which one of the cheapest countries to retire to is your favorite? Leave a comment below.
Top 25 Behavioral Interview Questions With Sample Answers
What are the top behavioral interview questions?
Attending a job interview can be a stressful experience, so knowing what questions to expect is crucial if you want to be fully prepared.
This guide to behavioral interview questions will help you to think through the best answers relevant to your experience and help you land your dream job.
Top 25 Behavioral Interview Questions
We've covered a broad range of questions about how you handle motivation, teamwork, deadlines, and problem solving to make this a comprehensive resource for your next interview.
Here's our list of the top 25 behavioral interview questions with sample answers:
25. Give me an example of when you used logic to solve a problem.
Interview questions are frequently designed to help better assess the candidate's problem-solving skills, particularly their ability to use logic.
By demonstrating your ability to think on the fly and use logic when doing so, you show yourself to be capable of a coherent thought process in a challenging situation.
Example Answer:
To deal with declining social media engagement on our company's accounts, I conducted a competitor analysis to develop a new social media strategy.
By observing what our competitors did well and adapting it to our company's core mission, I increased our social media engagement.
24. Describe a time when you saw a problem and took the initiative to correct it.
A hiring manager will ask behavioral interview questions that seek to understand how actively engaged the applicant is within their role.
As such, they will be looking for job seekers who avoid being passive instead of taking a proactive stance whenever problems arise.
Example Answer:
While working on an important project for a former employee with a deadline approaching, I discovered one of our colleagues was called away on an emergency.
I suggested to my direct report that I stay and work overtime that evening to cover the work and make it a less stressful situation for my colleagues.
23. Tell me about a time an unexpected problem derailed your planning. How did you recover?
Hiring managers will frequently ask adaptability questions to gain a clearer insight into how the applicant responds to unexpected pressure.
Not everyone can switch up their planning on the fly, so giving specific examples of how you have managed to stay focused in these circumstances is essential.
It's also an excellent opportunity to show more generally how you change your schedule for better productivity when problems need to be addressed.
Example Answer:
While working in a restaurant, I discovered we had a shortage of certain ingredients necessary for some of the items on our menu.
After taking stock of our food inventory, I updated the menu with a new dish that utilized the food we had available to serve.
22. What do you do when your team member refuses to, or just can't' complete their part of the work? Give me an example.
A great employee is capable of working well with their co-workers, so expect to answer teamwork questions during a job interview.
Try to give a strong answer with concrete examples of instances when you have helped out a co-worker who has struggled with their workload and any tips when dealing with frustration you use.
Example Answer:
Our team was asked to put together a sales presentation for the board of directors, but one colleague had failed to prepare their work.
I understood the need to give a good impression and knew the topic well, so I committed more time to work through my colleague's section of the presentation.
21. Can you tell me about a time you gave a presentation that was particularly successful? Why do you think it went well?
The ability to deliver a great presentation demonstrates a range of abilities, including research, design, and communication skills.
Whether or not you're asked this question during a job interview will depend on the specific job description for the role, but it is relevant be sure to have sample responses ready.
Example Answer:
In my previous role, I was in charge of coordinating multiple projects across various departments, with various resources shared by these teams.
I delivered a presentation for a new system in which shared resources would be centrally coordinated by each team manager, visualizing the system in a way that made it easy to understand.
20. How do you handle irate customers? Give me an example.
At some point or another, most people have had to deal with an angry client who refuses to listen to reason.
Common behavioral interview questions will seek to gain an insight into your approach to dealing with a difficult client to assess your temperament.
There are a wide variety of ways you can deal with customer service complaints, so choose the best examples from your own experience when answering this question.
Example Answer:
While working in a shop a client became irritable and impatient, claiming they had been waiting for far too long and demanding special treatment.
I apologized and assured the client that this wait was due to an issue out of our hands, offering them a complimentary drink and discount on their next purchase.
19. Tell me about a time when you successfully explained a technical problem to a colleague or a customer who didn't' have a tech background?
A hiring manager will sometimes ask questions to assess how capable you are of taking a complicated subject and simplifying it for a layman's audience.
If you're asked this question, give a specific instance of a time you effectively used simplified languages and analogies to explain something complicated.
Example Answer:
A problem with the code for a company website meant that certain sections of the site were no longer working.
Instead of explaining the issue in detail, I focused on how it would impact visitors to the site directly and the time expected to take to resolve it.
18. Tell me about your first job in the industry. What did you do to learn the ropes?
Employers are most interested in hiring people who are capable of developing within a role and taking on new responsibilities.
Take this opportunity to demonstrate your willingness to learn, as well as to adapt to the expectations of a new job.
Example Answer:
I started my role as a junior coder for a small games developer but was unfamiliar with some of the tools the team was using on their latest project.
As a result, I invested in an online course for the new programming language and got up to speed in my spare time.
17. Give me an example of when you had to suddenly perform under pressure. What happened, and how did you handle it?
Some behavioral interview questions are designed to see how you respond to stress, particularly if the job posting you're applying for is likely to be intensive.
Your sample answer should reflect your ability to solve problems and keep a cool head when the pressure is high.
Example Answer:
While working on an important project, I was asked to move up the schedule and complete the project to a new, strict deadline.
Consequently, I worked with my team to share the additional workload and prioritize projects so that the new deadline could be easily met.
16. Have you ever had to work under someone who wasn't' very good at communicating? What happened?
While some people are talkative and extroverted, others sometimes struggle to articulate what they are thinking in clear and precise terms.
If this question comes up at your next interview, share examples of how you have helped poor communicators get their message across.
This can be anything from sharing body language tips that will exude charisma to helping with how they express their opinions verbally.
Example Answer:
A new employee at my previous company struggled to deliver a presentation, not because they hadn't prepared but because they had difficulty with public speaking.
I sat them down and worked through the presentation in a one-on-one session to help give them the confidence they needed in the future.
15. What would you do if you misunderstood an important task on the job? Give me an example.
Common behavioral job interview questions are designed to understand how well the applicant deals with their mistakes or misunderstandings.
When answering behavioral interview questions like this one, demonstrate your ability to take ownership of misunderstandings while offering solutions.
Example Answer:
After misunderstanding the content requirements for a specific project, I admitted my mistake and offered to work through my spare time to deliver the content as requested.
14. Can you describe an instance where your supervisor or manager just gave you too much work with not enough time? What did you do?
The ability to work under pressure is something hiring managers are keen to explore during an interview.
Answering this question is a good way to demonstrate your time management skills to your prospective new employer.
Example Answer:
My previous manager asked me to complete a report but without the necessary time to accomplish the task.
Rather than simply complaining there wasn't the time to do this, I wrote up a schedule that detailed the report so they could see for themselves what a reasonable deadline would look like.
13. Tell me about a time you set a personal goal for yourself. How did you ensure you would meet your objectives, and what steps did you take?
Some common behavioral interview questions are oriented towards examining how well you can manage your own goals.
Use this question to show relevant experience in setting and accomplishing personal objectives, breaking down the self-improvement techniques you've used and the steps taken.
Example Answer:
When I decided to lose weight, I knew I would need to establish a plan to help coordinate both my diet and exercise routines.
I accomplished this by meal prepping and setting a daily schedule with reminders to keep me on track.
12. Describe a long-term project you managed. How did you make sure everything was running smoothly?
Some behavioral questions are focused on determining how effective the applicant's leadership skills are.
When asked about project management, demonstrate your ability to coordinate teams to deliver the best results.
Example Answer:
When I managed a long-term project, I broke the project down into different stages and coordinated with each team member to maximize their unique skills.
Consequently, the entire team could work together with an understanding of how their roles interact with their colleagues.
11. How do you accomplish tasks when under a tight deadline? Give me an example.
With some job roles requiring employees to work under extreme pressure, interview questions are set to help establish the methods used by candidates to rise to the challenge.
Explain how you have managed to coordinate your schedule to deal with deadlines efficiently and meet the expectations of your role.
Example Answer:
After being given a project to complete by the end of the week, I pulled up my full work schedule and moved all less urgent tasks to the following week so the deadline could be met.
10. Give an example of how you worked on a team.
Most jobs will expect employees to work closely with colleagues as part of a team.
Whether your background involves working on a research team or management team, draw from this experience to show you are a team player.
Example Answer:
The department head at my previous company asked us to put together an analysis of our competitors.
I helped coordinate with the team members to break down the task into its constituent components so we could share the workload.
9. Describe a decision you made that wasn't popular, and explain how you handled implementing it.
Making unpopular decisions is sometimes a harsh reality in the workplace, particularly if you're tasked with leading a team.
This question is a great opportunity to show your leadership skills to the interviewer, diffusing potentially explosive situations.
Example Answer:
While managing a small team, I was asked to schedule overtime for everyone to ensure a deadline was met.
To minimize the disruption to everyone's personal life at short notice, I arranged a meeting so we could collectively coordinate this over time so that no one would have to sacrifice other obligations.
8. What do you do if you disagree with someone at work?
Disagreements in the workplace are inevitable, but the way they're handled can vary wildly from one person to the next.
When answering this question, give examples of how you were able to compromise or otherwise handle disagreement without causing conflict.
Example Answer:
After being paired with a colleague to put together a presentation, they insisted we approached it in a way that would take far longer than necessary.
To resolve the situation, I outlined my approach along with my reasoning, and we were able to compromise and complete the presentation on time.
7. Give an example of a goal you reached and tell me how you achieved it.
Business leaders are goal-oriented and want to know that any new hires are capable of reaching goals and how they accomplish this.
When answering, explain the things you can do to reach your goals easily and how you have applied these principles in the workplace.
Example Answer:
In my previous role, I was asked to increase the number of sales leads over a given period.
To accomplish this, I revisited the database of customers and expanded it to include potential clients from further afield.
6. Share an example of how you were able to motivate employees or co-workers.
Employee motivation is one of the driving forces behind effective performance management and can make the difference between failure and success.
A hiring manager is looking for examples of your ability to motivate others and the strategies you use to do so.
Example Answer:
When my previous company introduced a series of radical changes to the guidelines there was a great deal of resistance from some members of staff.
I took the time to review the changes and explain how they could be adopted with minimal stress, and the resistant employees were able to rise to the challenge.
5. Have you ever made a mistake? How did you handle it?
Everyone gets things wrong from time to time, from the big mistakes that stop people living their dreams, to simple mistakes that are easily corrected.
How we handle these mistakes shows a great deal about a person's character, so answer this question with an example that shows your ability to correct a mistake you've made.
Example Answer:
When dealing with a new customer I gave them incorrect quotes for our services, overcharging them by mistake.
I explained the issue to my team leader and posed a solution at the same time, rather than simply explaining my mistake and expecting them to deal with it.
4. Give an example of how you set goals.
Different people have different approaches to goal setting, with some using the SMART goals method and others preferring to tackle them with another style.
Whatever approach you prefer, make sure you explain your process clearly if asked this question in an interview.
Example Answer:
When setting goals, I break the overall objective down into its constituent components, then set up a schedule with milestones that I can use to monitor progress.
3. Have you handled a difficult situation? How?
Every line of work can throw up an unexpected, challenging situation, from a sudden lack of necessary resources to key staff being absent due to sickness.
If the interviewer asks this question, focus on how you managed to resolve the situation.
Example Answer:
When a project manager fell ill unexpectedly, the team lacked the relevant guidance to continue their work.
After reviewing the upcoming milestones, I could distribute work to each team member to ensure the work stayed on course in their absence.
2. Have you ever bent company policy to satisfy a client?
While company policy is often set in stone, sometimes you need to be adaptable to keep clients happy.
Explain to the interviewer how you've bent the rules enough to satisfy a client without going overboard.
Example Answer:
While working at a car rental facility, a potential client lacked one form of identification required under the company policy.
Since they had enough other IDs to verify who they were, I allowed the rental to go through, and the result was a happy customer.
1. Tell me about how you worked effectively under pressure.
A great interviewer is keen to understand how you deal with high-pressure situations at work and will likely ask you for an example.
Example Answer:
In my previous job, we were frequently under pressure to meet targets daily.
My strategy for dealing with this included mindfulness exercises to keep me focused and a system that used scheduling software with regular reminders to keep me on track.
Summary
We hope you've found this overview of behavioral questions helpful, preparing you for the next time you attend an interview for your dream job.
Be sure to check back on this article the next time you're going for a job interview, as we'll update it to include any new and relevant questions.
Here's a quick recap of the top 25 behavioral interview questions and example answers:
Tell me about how you worked effectively under pressure.
Have you ever bent company policy to satisfy a client?
Have you handled a difficult situation? How?
Give an example of how you set goals.
Have you ever made a mistake? How did you handle it?
Share an example of how you were able to motivate employees or co-workers.
Give an example of a goal you reached and tell me how you achieved it.
What do you do if you disagree with someone at work?
Describe a decision you made that wasn't popular, and explain how you handled implementing it.
Give an example of how you worked on a team.
How do you accomplish tasks when under a tight deadline? Give me an example.
Describe a long-term project you managed. How did you make sure everything was running smoothly?
Tell me about a time you set a personal goal for yourself. How did you ensure you would meet your objectives, and what steps did you take?
Can you describe an instance where your supervisor or manager just gave you too much work with not enough time? What did you do?
What would you do if you misunderstood an important task on the job? Give me an example.
Have you ever had to work under someone who wasn't' very good at communicating? What happened?
Give me an example of when you had to suddenly perform under pressure. What happened, and how did you handle it?
Tell me about your first job in the industry. What did you do to learn the ropes?
Tell me about a time when you successfully explained a technical problem to a colleague or a customer who didn't' have a tech background?
How do you handle irate customers? Give me an example.
Can you tell me about a time you gave a presentation that was particularly successful? Why do you think it went well?
What do you do when your team member refuses to, or just can't' complete their part of the work? Give me an example.
Tell me about a time an unexpected problem derailed your planning. How did you recover?
Describe a time when you saw a problem and took the initiative to correct it.
Give me an example of when you used logic to solve a problem.
What's the best behavioral interview question, in your opinion? Leave a comment below.
The 10 Happiest Countries in the World
What are the happiest countries in the world?
Life expectancy, quality of health and education services, and access to nature and culture all play a role in how happy we feel.
This article explores these important life evaluations which affect the standard of living for the residents of the happiest countries.
The Happiest Countries in the World
We've formulated the ranking of these countries on the World Happiness Report, created by the UN's Sustainable Development Solutions Network.
Here's our list of the 10 happiest countries in the world:
10. Austria
With its rich cultural heritage and lush mountain landscapes, Austria is a nation of contrasts to match its high standard of living.
The capital city, Vienna, has been ranked as the most livable capital city in the world according to the Quality of Living Rankings in 2019.
High-quality education, medical care, and leisure facilities are matched with countless museums, concert halls, and other outstanding entertainment venues.
There's plenty of history in both Vienna and throughout Austria, its Habsburg traditions reflected in opulent architecture, as well as world-class Baroque and Art Nouveau buildings.
Move away from the urban centers, and you'll find snow-capped mountains and the ski resorts of the Central Alps, where residents flock all year round for fresh air and relaxation.
A culture of bike riding contributes to Austria's overall happiness and well-being and a healthy life expectancy of just under 82 years.
With a strong social support system and good governance, Austria continues to draw in visitors and consistently appears in the top ten for happiness rankings.
9. New Zealand
Filmmaker Peter Jackson became one of the richest directors in the world thanks to the Lord of the Rings trilogy, which featured the breathtaking landscapes New Zealand has to offer.
These natural attractions contribute to the overall happiness levels and well-being of its citizens, who number around 4 million in a country the same size as Japan.
Residents enjoy an outstanding work-life balance, and the year-round pleasant climate undoubtedly contributes to their mental health and happiness.
New Zealanders also enjoy an exceptional diet, with one of the world's most expensive foods, manuka honey, produced in the country.
With copious amounts of seafront and beaches to enjoy, there's a strong culture of water sports, with some of the world's best surfers regularly visiting the country's 120 kilometers of coastline.
Visitors looking for a spot of nightlife can find everything they need in the capital city, Wellington, which is also home to the New Zealand government.
8. Luxembourg
The small country of Luxembourg, which sits between Belgium, France, and Germany, is known for its exceptionally diverse population.
With around 640,000 citizens, Luxembourg delivers a high quality of life and standard of living most other countries in the world can only dream of.
Its recent ranking on the World Happiness Report in eighth place can be accounted for in part due to its high GDP per capita, a statistic driven by its dominant financial sector.
Despite its small size, Luxembourg is steeped in history and culture, with the city of Luxembourg itself featured on the UNESCO World Heritage List.
A culture of cycling helps to keep its residents in shape, complemented by a range of other outdoor activities and pursuits.
Levels of perceived freedom are high, with life expectancy and quality medical care matched by a government committed to social support.
This healthy work-life balance is helped by the mandatory five weeks of vacation time offered to residents, which helps to alleviate any stress from the high-pressure jobs in the nation's capital.
7. Sweden
Sweden has a reputation as one of the most liberal countries in the world; its residents are given the freedom to make life decisions that contribute to the country's happiness.
This freedom was reflected in the findings of the World Happiness Report, where fewer COVID-19 restrictions contributed to higher deaths when compared to their Nordic neighbors.
Nevertheless, the country still experiences high social support and life expectancy, with the concept of social equality deep-rooted in their education system.
Sweden is also one of Europe's cultural hotspots, with a vibrant music scene and architectural tradition spanning centuries.
Perhaps Sweden's most famous export today is in the world of digital entertainment, with Swedish YouTube star Pewdiepie's net worth sitting at an impressive $40 million.
The Swedish government offers a range of benefits that improve well-being and help make it one of the world's happiest countries, with 16 months of paid leave when a new child enters the family.
The country also has lots of green spaces, extensive forests, and thousands of lakes, giving nature lovers plenty of options to get away from the city and clear their heads.
6. Norway
While Norway once occupied the second-place spot on the World Happiness Report back in 2013, it still offers more than enough to retain a place in the top 10 today.
It's one of the safest countries in the world to live in, with an exceptionally low crime and incarceration rate, which is reflected in the population's contentment and happiness.
The jaw-dropping scenery, which includes vast lakes, dynamic fjords, and the Northern Lights, can be explored easily thanks to their Allemannsrett law, which gives everyone the freedom to roam.
Norway's urban centers are as pleasant as their wilderness, with the capital city Oslo surrounded by forested hills and keeping its residents connected with nature,
As with other Scandinavian countries, Norway is leading the way in the race to go green, and electric cars are beginning to dominate their well-maintained roads.
A high GDP per capita, excellent education services, and universal health care all help make Norway a well-loved place to live and visit.
5. The Netherlands
Gaining a score of 7.415 on the World Happiness Report from the Sustainable Development Solutions Network, the Netherlands is known for having the best work-life balance in the world.
Excellent education, high life expectancy, low crime rates, and a high level of disposable income all contribute to its status as a leader in global happiness.
There's a fascinating history to explore along with its rich and studied artistic heritage, with the Netherlands even boasting the oldest national anthem in the world.
With the Netherlands home to some of the richest DJs in the world, you can expect a vibrant nightlife and music scene, particularly in the capital Amsterdam.
The capital is famous for its tree-lined canals and perhaps infamous for its sex museums and cafés, which nevertheless draw in thousands of tourists every weekend.
Beyond culture, there are more than just the stereotypical images of Dutch windmills and tulips from Amsterdam to enjoy, with a multitude of museums to explore, including the open-air Zaanse Schans.
As with the other countries featured here, the Netherlands is committed to building a thriving green economy, as well as offering extensive social support to improve its residents' quality of life.
4. Iceland
Iceland has consistently outperformed most other countries in the world when measuring well-being and happiness, from jobs and healthcare to environmental quality and civic engagement.
The country has revitalized itself since the 2007 financial collapse, with the government taking huge strides in delivering services that improve the lives of its citizens.
With stunning natural beauty including towering volcanoes, pastoral fields, and ice-capped glaciers, Iceland is one of the most photogenic countries you'll find.
Hot springs draw visitors from around the world, while the gorgeous fjords help create an otherworldliness to the landscapes.
The capital city Reykjavik has earned a reputation as one of the most cultured cities in Europe, its fine dining establishments, theaters, and other entertainment venues drawing in tourists.
Away from the city, the Golden Circle road trip, which encompasses Thingvellir National Park, Gullfoss Waterfall, and Geysir, offers a must-see snapshot of Iceland's visual splendor.
While the cost of living in Iceland is certainly high, those who can afford to live there will find a place that is ideally suited for happiness and well-being.
3. Switzerland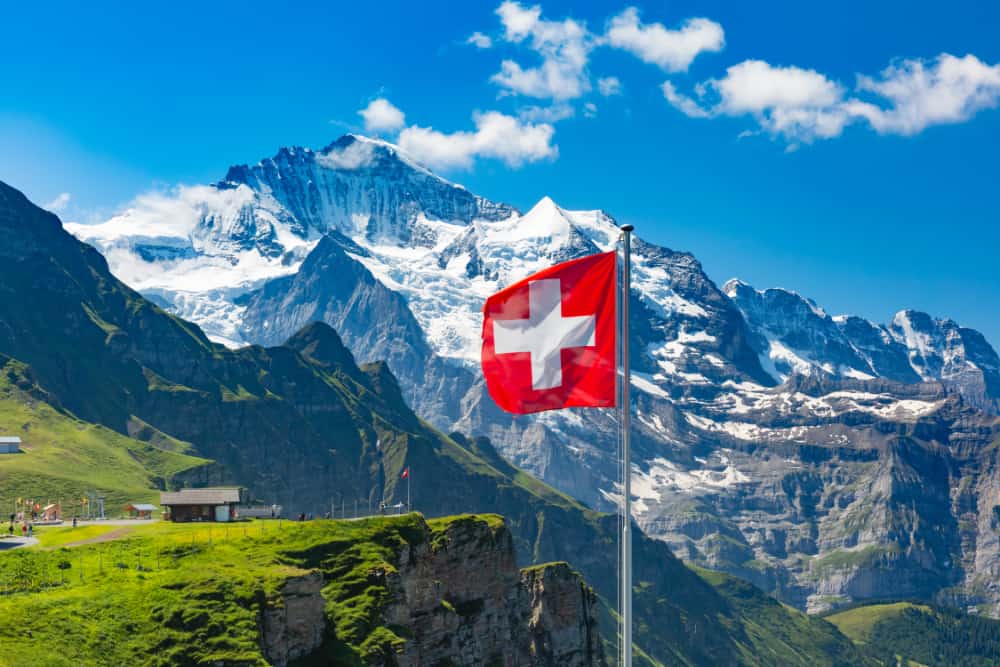 With its world-renowned Alpine ski resorts, it's not hard to see why Switzerland is among the most sought-after holiday destinations in the world.
As you'd expect, given its popularity among tourists, it's an exceptional place to live, with the fresh mountain air and high standard of living helping it achieve its high rank on the happiness index.
Well known for its banking sector and high-end watches, Switzerland offers residents a range of social support programs, while the government consistently ranks among the least corrupt on the planet.
As one of the most expensive countries to live in, Switzerland offers its citizens the wide range of amenities you'd expect from a country with a high GDP.
While the Swiss are known for being rather insular when it comes to dealing with outsiders, the social fabric which holds them together is tightly knit.
This extends to their appreciation for democratic principles, with votes being held on everything from immigration levels to how many vacation days per year its citizens should be allowed.
It's not shy on the cultural front, either, and as well as being the home to the Dadaist art movement, the country hosts numerous music festivals each year, from classical music to rock and dance festivals.
2. Denmark
At one point, the happiest country in the world, Denmark scores highly across all metrics in the annual survey and remains one of the most desirable places to live.
With a high level of confidence in the government, Denmark delivers a comprehensive social support system for its residents, with free education and health care respected for its high quality.
With a World Life Expectancy ranking of 23, quality of life is further enhanced by Denmark's natural beauty, which is easily accessible from the towns and cities.
Holidaymakers in Denmark can take advantage of the white sand beaches or go for hikes in the forests, while the country's history is represented in the many castles and palaces.
Capital city Copenhagen offers a wide variety of cultural outlets, with some of the most forward-thinking architecture in the world, including a giant complex designed to look like LEGO.
Denmark is also committed to renewable energy production, with over one-third of its energy derived from wind power and a culture of cycling in the cities.
Economic security, freedom of speech, and a healthy work-life balance are some of the other factors which make Denmark's residents report high levels of happiness.
1. Finland
The happiest country in the world currently ranks as Finland, which has retained its place in the top spot for the fourth year in a row.
Finland hits all the right notes when it comes to work-life balance, social services, and all-around quality of life, matched with an impressive GDP per capita.
Where the country truly excels is in its education system, which emphasizes experiential learning over quantitative testing, and requires all teachers to hold a master's degree.
Finland's capital, Helsinki, is one of the most futuristic cities in the world, leading the way in exciting technological developments, including point-to-point transportation systems and healthcare drones.
Away from the cities, Finland's natural resources are abundant, with seafronts and lakes offering a range of water sports and forests for those who prefer hiking and camping.
Visitors also flock to the country for the impressive Northern Lights, which light up the skies in autumn and spring with green, blue, and purple hues.
It's a Mecca for winter activities, including rides with huskies, igloo stays, and visits to Santa Claus to entertain children.
With residents who consistently report high levels of well-being and a social structure that values freedom, Finland outperforms all other countries on the happiness index.
Summary
The happiest countries in the world offer high life expectancy and strong social support, with bustling city life and beautiful countryside to escape to.
This article should help inspire you to find somewhere truly special to visit on vacation or even relocate if you're feeling adventurous.
Here's a quick recap of the 10 happiest countries in the world:
Finland
Denmark
Switzerland
Iceland
Netherlands
Norway
Sweden
Luxembourg
New Zealand
Austria
Which one of the happiest countries in the world would you like to visit? Leave a comment below.