What is Mila Kunis' net worth?
| Net Worth: | $75 Million |
| --- | --- |
| Age: | 39 |
| Born: | August 14, 1983 |
| Gender: | Female |
| Height: | 1.63 m (5 ft 4 in) |
| Country of Origin: | Ukraine |
| Source of Wealth: | Professional Actress |
| Last Updated: | March 8, 2023 |
Introduction
As of March 2023, Mila Kunis' net worth is roughly $75 Million.
Mila Kunis is an American actress, however she was born in Ukraine, in the Soviet Union, where her family is originally from. Kunis was only 7 years old when her family moved from the USSR to the United States of America.
You probably know Kunis from films such as Friends With Benefits, where she stars alongside Justin Timberlake, or Ted, where she stars alongside Mark Wahlberg.
Early Life
Milena Markovna Kunis was born on the 14th August, 1983, in Chernivtsi, Ukraine in the Soviet Union. Her mother, Elvira, is a physics teacher and runs a pharmacy; and her father, Mark, is a mechanical engineer, who is working as a cab driver.
The family left the USSR when Mila was only 7 years old, because they didn't see a future for her, or her elder brother Michael in the country.
Mila and her family moved to LA, California, with only $250 to their name. In Los Angeles, she attended Hubert Howe Bancroft Middle School, and graduated from Fairfax High School.
Career
Mila Kunis was already enrolled in acting classes by the time she was 9 years old. As a child, she was in various commercials, such as Barbie as Lisa Frank; and then started appearing in TV shows in 1994.
The big break came when she landed a regular role on 'That '70's Show', where she starred alongside future husband Ashton Kutcher.
In 1999, she became the voice of Meg Griffin, one of the characters in the TV show Family Guy.
She began starring in movies in the early 2000's, but it wasn't until after 2010 that Kunis starred in famous roles that would be a huge success. Her roles in the likes of Friends With Benefits, Ted, Bad Moms, and Jupiter Ascending.
Kunis has also worked with Channing Tatum, and many other famous actors.
As of March 2023, Mila Kunis' net worth is estimated at $75 Million.
Highlights
Here are some of the best highlights of Mila Kunis' career:
Get Over It (2001)
American Psycho (2002)
After Sex (2007)
Boot Camp (2008)
Forgetting Sarah Marshall (2008)
Max Payne (2008)
Extract (2009)
The Book of Eli (2010)
Date Night (2010)
Black Swan (2010)
Friends With Benefits (2011)
Ted (2012)
Jupiter Ascending (2015)
Bad Moms (2016)
Favorite Quotes from Mila Kunis
"I had a normal upbringing and went to public school. If I ever, even for a second, started getting a big head, I was brought back to reality pretty quickly. I was working full time and still had to fight for a cell phone." – Mila Kunis
"People have interpretations of what you're supposed to be like. If you're unattractive and overweight, you must have a great personality. If you're attractive, then you must not be the nicest person. People are always taken aback that I'm easygoing but not necessarily stupid." – Mila Kunis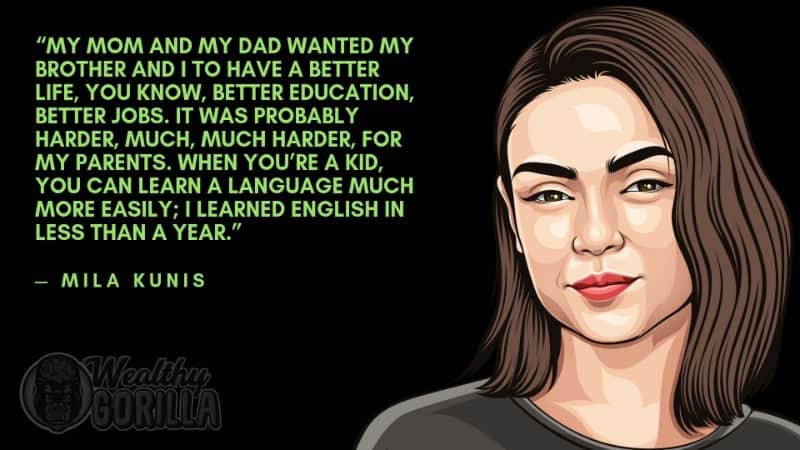 "My mom and my dad wanted my brother and I to have a better life, you know, better education, better jobs. It was probably harder, much, much harder, for my parents. When you're a kid, you can learn a language much more easily; I learned English in less than a year." – Mila Kunis
"It's not the most normal life in the world, but I screw up plenty of times to be a normal teenager." – Mila Kunis
"I wanted to quit the industry when I was eighteen and finish '70s', finish my contract on the show and go to college because I was pretty convinced that after '70s' and after being on a show for eight years that I would be very much pigeonholed for something specific that I didn't want to be a part of anymore." – Mila Kunis
"I think that when a person is insecure about who they are or who they want to be, then it translates on screen, and the choices they make are all about perception." – Mila Kunis
View our larger collection of the best Mila Kunis quotes!
Frequently Asked Questions
How much is Mila Kunis worth?
Mila Kunis' net worth is estimated to be $75 Million.

How old is Mila Kunis?
Mila Kunis was born on August 14, 1983, and is currently 39 years old.

How tall is Mila Kunis?
Mila Kunis' height is 1.63 m, which is equal to 5 ft 4 in.

Summary
Mila Kunis is an accomplished actress, and has built herself an incredible net worth throughout her career. She is now married to Ashton Kutcher, and the couple have two children together.
As of March 2023, Mila Kunis' net worth is estimated to be $75 Million.
What do you think about Mila Kunis' net worth? Leave a comment below.